DC Collectibles, and DC Direct before that, has released some pretty memorable Comic-Con exclusives over the years. Last year in particular, we were drooling over the Super Best Friends Forever three-pack and the six-inch Aardman Superman figures. Suffice to say, we can't wait to see what it has in store for 2014. The good news is, we won't have to wait long at all. The wait for SDCC 2014 is almost over, and we've gotten a glimpse of the exclusives our readers, and ourselves included, will be racing to the booth for.
We'll be updating this post as more DC Collectibles exclusives are announced. With that said, bring on the goodies!
[UPDATE July 13] DC Comics has unveiled a line-up of DC Collectibles figures, set to be revealed at San Diego Comic-Con, which includes pieces from Arrow, The Flash, Batman: Arkham City, and more. The products can be found at the DC Entertainment Booth #1915, so stop by for a look in person before the rest of the world.
As we previously reported, Diamond retailer booths around the convention will also be offering a "Con Exclusive", the Batman: Arkham City Harley Quinn statue for $124.95. For a list of retailers at Comic-Con offering that figure, head to DC Comics' site.
Here's a look at the figures, from DC's site:
[UPDATE May 28] The first exclusive for SDCC 2014 was revealed earlier this week during the DC All Access video show on DC Entertainment's YouTube channel. It's a new statue featurning everyone's favorite cosplay supervillan, Harley Quinn. The reveal is at the 5min 29sec mark of the video, which you can watch for yourself below:
Not many details were made available about this exclusive full-color statue – only that it would be a  "limited run" and available "at selected Diamond retailers throughout the show", per Jim Fletcher, Director of Creative Services for DC. The video also teased that this would be available at "a store near you" for those who wouldn't be making the trip to San Diego this July. Hopefully some high-res pictures will be made available soon of this, but for now we have a screen capture of the statue from the video: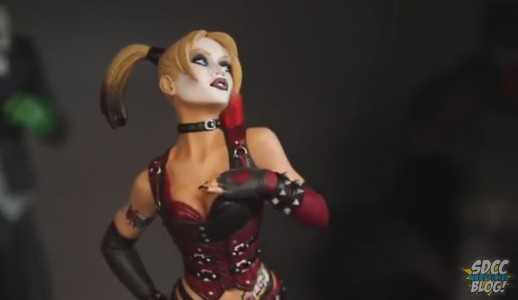 Which DC Collectibles exclusives are you most excited for? Let us know in the comments.