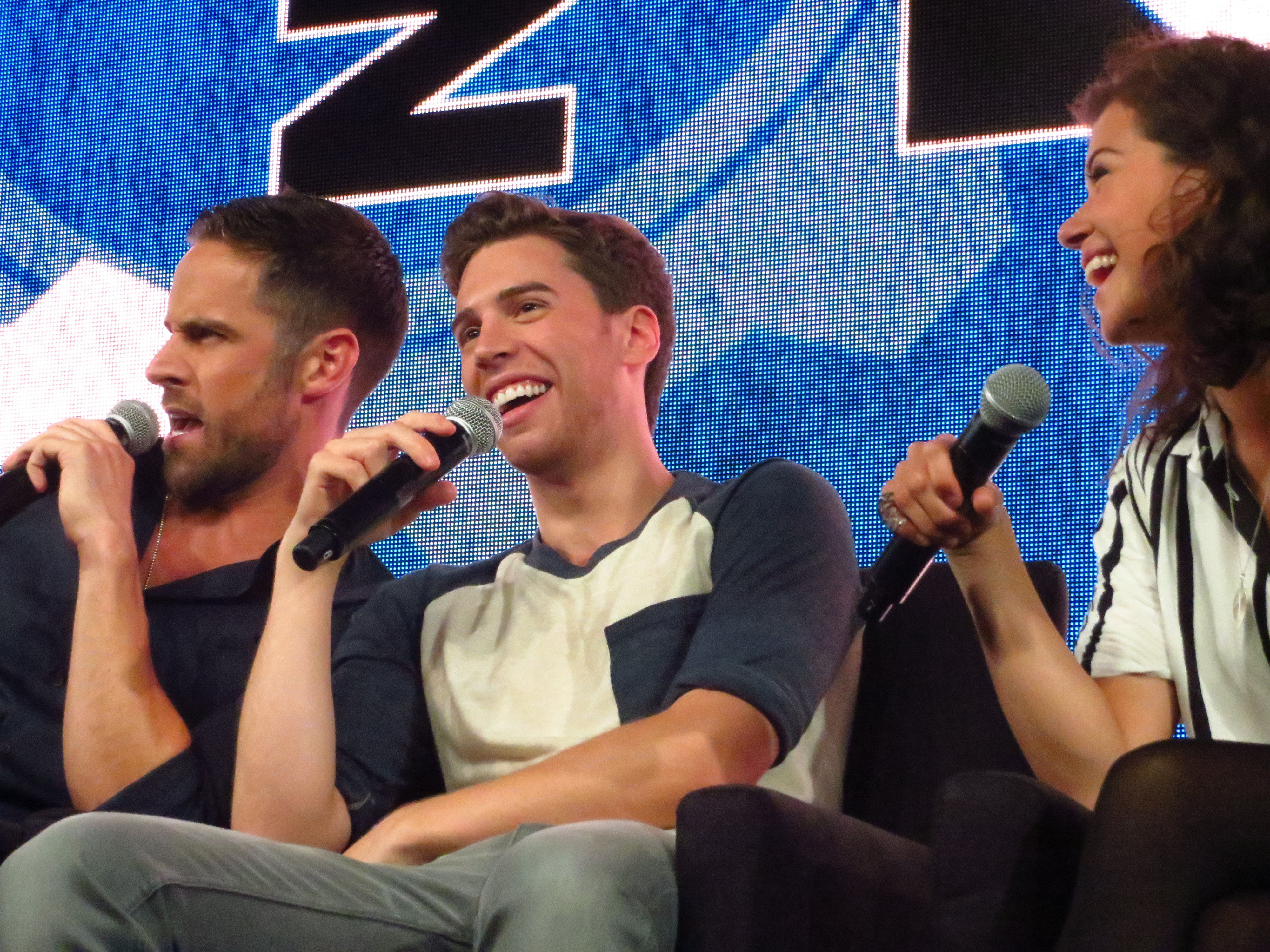 Last week Comic-Con International revealed a look at their WB TV panel lineup, which included iZombie, Gotham, and The Flash, but that's far from the only television shows that will be at WonderCon Anaheim 2015. Today, CCI has announced even more panel information for this year's WonderCon television lineup.
We have a whole new selection of exciting television panels to look forward to. Some of the panels that will be featured include a Wayward Pines screening with a Q&A (although neither cast or producers have been announced yet for the convention),  The Last Man on Earth with The LEGO Movie directors Chris Miller and Phil Lord on hand along with star Will Forte, The Messengers which we told you about last week, Orphan Black, The Nerdist, Geek and Sundry and so much more.
As we already announced, TNT will be back this year with Falling Skies, in a Saturday evening panel from 5pM-6PM in Room 300AB. TV Guide's Rich Sands will moderate as the cast Moon Bloodgood, Drew Roy, Doug Jones, and Sarah Carter discuss the series finale. Just like last year, though, that won't be the only TNT series on hand, as The Last Ship returns to WonderCon in a panel on Saturday from 12:30PM-1:30PM in Room 300DE, with cast members Adam Baldwin, Rhona Mitra, John Pyper Ferguson, Charles Parnell, Travis Van Winkle, and Jacko Sims.
Crackle's first all new scripted series, Dead Rising: Watchtower, will also have a panel on Saturday. Cast members Jesse Metcalfe, Meghan Ory, Dennis Haysbert, Rob Riggle as well as filmmakers Zach Lipovsky and Tomas Harlan will be on hand to discuss the new show that premieres on March 27th. You can read our recent interview with director Lipovsky here.
The main event, though, is likely going to be the Orphan Black panel at 6PM on Saturday in Room 300AB. While it seems star Tatiana Maslany won't be in attendance, BBC America's hit show has its first WonderCon panel (after only hosting a screening last year). Fans can gather for a Q&A with co-creator Graeme Manson and stars Jordan Gavaris, Dylan Bruce, Maria Doyle Kennedy Evelyne Brochu, and Kristian Bruun will be present. Expect a sneak peek of season 3 in addition to the usual Q&A.
From the Toucan Blog here is the full line-up of what television shows we can expect to see at WonderCon:
FRIDAY, APRIL 3

2:45–4:00 Wayward Pines: Screening of Premiere Episode and Q&A—Based on Blake Crouch's international bestselling series of books and brought to life by suspenseful storyteller M. Night Shyamalan, Wayward Pines is a 10-episode, intense psychological thriller, starring Academy Award nominee Matt Dillon as a secret service agent on a mission to find two missing federal agents in the bucolic town of Wayward Pines, ID. Every step closer to the truth makes him question if he will ever get out of Wayward Pines alive. The show was developed for television by Chad Hodge and executive-produced by Donald De Line, Ashwin Rajan, Hodge, and Shyamalan. Chad Hodge wrote and M. Night Shyamalan directed the premiere episode. An insightful Q&A will follow the screening. Room 300AB

4:00–5:00 The Last Man On Earth—What would you do if you were the last person on earth? Join this panel to screen a never-before-seen upcoming episode from the series critics are calling "the most original comedy in years." Plus, a Q&A, moderated by Jarett Wieselman (BuzzFeed), with star and creator Will Forte (Nebraska, Saturday Night Live), and directors/producers Chris Miller and Phil Lord (The Lego Movie, 21 Jump Street) as they discuss the twists and turns of this hilarious new comedy. Room 300AB

6:00–7:00 Salem: It's a Witch War!—Executive producers Brannon Braga (Star Trek, Cosmos: A SpaceTime Odyssey) and Adam Simon, as well as star Shane West (Nikita, ER, The League of Extraordinary Gentlemen) join moderator Eric Goldman (IGN TV executive editor) to reveal a sneak peek at the highly anticipated season two premiere episode of this epically witchy series from WGN America and Fox 21 Television Studios. In a bold re-imagination of the infamous 17th-century witch trials in colonial Massachusetts, Salem returns for a second season at the dawn of a witch war. As the disease and devastation unleashed by the Grand Rite in last season's finale continue to spread through the war-torn village, Salem's deadliest witch, Mary Sibley, must face off against new and old adversaries vying for her throne. Salem returns Sunday, April 5 on WGN America. The screening will be followed by an audience Q&A session. Room 300AB

6:30–7:30 Geek & Sundry's Trivia Game!—The Geek & Sundry family of Twitch Channel hosts and you, the audience, are tested in your geek culture knowledge. Cheer your favorites on or prove them wrong! There's a giveaway too! Come game with this panel for your chance to win a prize from the limited-edition International TableTop Day Gaming Kit. The items from this kit cannot be bought anywhere, ever! Room 300DE

7:30–8:20 Nerdist News Live—Jessica Chobot (Mass Effect 3) and the Nerdist News team catch you up on the latest in movie, TV, comic book, gaming, and tech news. The Nerdist crew break down the day's news, interview guests, and then turn some of the questions (and jokes!) over to you. Room 208

8:20–9:10 Nerdist Gaming—Take a trip to the frontiers of gaming culture as Nerdist Gaming editor Malik Forté and guests look ahead at the exciting year of video games to come. Join Malik to discuss everything from next-gen systems to the state of gaming culture directly with the people behind the bits. Room 208

SATURDAY, APRIL 4

11:30–12:30 Felicia Day Talks Geek & Sundry, Her New Book, & More!—Felicia Day (The Guild, Dr. Horrible, Eureka, Supernatural) talks about her upcoming projects, reveals the latest happenings at Geek & Sundry, and gives you a sneak peek into her hilarious and inspirational book, You're Never Weird on the Internet (Almost). This book is proof that everyone should embrace what makes them different and be brave enough to share it with the world, because anything is possible now, even for a digital misfit. Room 300DE

12:30–1:30 TNT's The Last Ship: A First Look at Season 2—The Last Ship returns to WonderCon Anaheim for a first look at the upcoming season and a revealing panel discussion with producers and cast, including Adam Baldwin, Rhona Mitra, John Pyper Ferguson, Charles Parnell, Travis Van Winkle, and Jocko Sims. The highly anticipated second season picks up after a global catastrophe has decimated the world's population, and Captain Tom Chandler (played by Eric Dane) and his crew are confronting the reality of what's been left behind. Panel attendees will be treated to never-before-seen footage and a revealing discussion led by TV Guide's Rob Moynihan. All-new episodes of The Last Ship air on TNT this summer. Room 300DE

1:00–2:00 American Dad—Join us for an exclusive look at a new episode of American Dad, as well as a Q&A with fans featuring Wendy Schaal (Six Feet Under, The 'Burbs), Rachael MacFarlane (Family Guy, Robot Chicken), Scott Grimes (Justified, ER), and executive producer Matt Weitzman, and producer Jordan Blum. Moderated by Marisa Roffman from the website GiveMeMyRemote.com. Room 300AB

1:30–2:30 The Messengers: Exclusive Screening and Q&A—In the New Mexico desert, scientist Vera Buckley watches in fascination as a mysterious object plummets to Earth and explodes, sending out a shock wave that briefly stops her heart. But Vera isn't the only one affected: she's instantly connected to four other strangers, who also collapse, only to miraculously come back to life hours later. These strangers will soon discover they have one thing in common: destiny has been thrust upon their shoulders. And as the Angels of the Apocalypse, with an impressive array of supernatural gifts, they must now work together to rewrite prophecy and prevent the Beginning of the End. The exclusive screening will be followed by a panel discussion with series stars Shantel VanSanten (One Tree Hill), Jon Fletcher (City of Dreams), J. D. Pardo (Revolution), Joel Courtney (Super 8), Diogo Morgado (Son of God), Anna Diop (Everybody Hates Chris), and Craig Frank (Mixology), along with executive producer Trey Callaway (Revolution) and co-executive producer/creator Eoghan O'Donnell (Teen Wolf). Room 300DE

2:30–3:45 American Odyssey Pilot Screening and Q&A—See the first episode of NBC's new drama American Odyssey, a complex and exciting journey through global politics, corporate espionage, and military secrets involving three strangers who have only one thing in common; the truth. Following the screening, executive producers/writers Peter Horton (Grey's Anatomy), Adam Armus and Kay Foster (The Following) will be on hand for a Q&A session. Room 300DE

3:45–4:45 TV Guide Magazine's Fan Favorites Showrunners—TV Guide magazine returns to WonderCon Anaheim with an all-star panel of TV's hottest showrunners. Moderated by TV Guide magazine executive editor Michael Schneider, the session brings together top producers for a look behind the scenes of your favorite shows. Room 300DE

5:00–6:00 TNT's Falling Skies: The Final Battle—Members of the cast of Falling Skies present an exclusive look at the highly anticipated final season. The alien power source may have been destroyed, but with a hybrid breed of beast and mutant running rampant on Earth, human survival is still at stake. In these last episodes,, Tom Mason and the 2nd Mass will face the final battle and the skies will fall. Stars Moon Bloodgood, Drew Roy, Doug Jones, and Sarah Carter dissect the epic series finale in a panel discussion moderated by TV Guide's Rich Sands. Don't miss the final season of Falling Skies premiering this summer on TNT. Room 300AB

6:00–7:00 Orphan Black: BBC America—The cast and co-creator reveal exclusive season three footage of BBC America's award-winning original series Orphan Black. Ahead of the April 18 season premiere on BBC AMERICA, co-creator and writer Graeme Manson joins stars Jordan Gavaris (Felix), Dylan Bruce (Paul), Maria Doyle Kennedy (Mr. S), Evelyne Brochu (Delphine), and Kristian Bruun (Donnie) for a sneak peek and Q&A session. You can catch up on the first two seasons of Orphan Black via On Demand, all digital platforms, and streaming on Amazon Prime. Room 300AB

7:00–8:00 Crackle Presents Dead Rising: Watchtower—Game on! The widely popular Capcom videogame franchise Dead Rising rises to life. Actors Jesse Metcalfe (Desperate Housewives, Dallas), Meghan Ory (Once Upon a Time), Dennis Haysbert (Men Woman & Children), Rob Riggle (Let's Be Cops, 21 Jump Street) and filmmakers Zach Lipovsky (On the Lot) and Tomas Harlan (Mortal Kombat) discuss the recent release of Dead Rising: Watchtower. Dead Rising: Watchtower is always streaming on Crackle, starting March 27. Room 300AB

7:30–8:20 The Nerdist Comics Panel—Your favorite comic creators talk shop with Ben Blacker and Heath Corson in a special edition of their Nerdist Comics Panel podcast. There are no taboos as the guys discuss art, film, writing, and more with the talent behind today's biggest titles. Room 208

8:20–9:10 The Nerdist Writers Panel—Hosts Ben Blacker and Heath Corson take you inside the processes of your favorite TV creators in a special live version of The Nerdist Writers Panel. Networks, writing blocks, critics, and fandom—a TV writer fears not these things. Room 208

9:10–10:00 Thrilling Adventure Hour Panel—Ben Blacker, Ben Acker, and members of the Workjuice Players take you inside the world of The Thrilling Adventure Hour, the home of the likes of "Sparks Nevada: Marshall on Mars" and "Frank & Sadie Doyle." Room 208

SUNDAY, APRIL 5

11:00–12:00 The Nerdist Panel with Chris Hardwick—Chris Hardwick (Comedy Central's @Midnight, AMC's Talking Dead) is joined by Jessica Chobot (Nerdist News) and the editorial team from Nerdist Industries—including Brian Walton (Overheard @ Nerdist), Dan Casey (The Dan Cave), Malik Forté (Nerdist Play), Matt Grosinger (Nerdist Sessions), Kyle Hill (Because Science) and Rachel Heine (Overheard @ Nerdist) for a lively conversation about the big things to come for Nerdist in the near future. Surprises, announcements, and, of course, quemments await! Arena

12:15–1:15 Powers: A Sneak Peek at the Final Episodes of Season One—The executive producers/co-creators of the Powers comics, Brian Michael Bendis and Michael Avon Oeming, are joined by showrunner Charlie Huston, and cast members Olesya Rulin (Calista) and Logan Browning (Zora) for a preview of what's to come in the remaining episodes of PlayStation's hit new original series. Arena

2:00–3:00 Nerdist Science—Nerdist Science editor Kyle Hill (Because Science) and panelists discuss the science hidden in your favorite fandoms. From Star Wars and Star Trek to dragons and dinosaurs, scientists, writers, and engineers will dissect everything geek and answer audience questions. Room 209
You can read the full update on Comic-Con International's Toucan Blog.
Are you excited about the television panels that will be at WonderCon Anaheim 2015? What are you most excited for?  Let us know in the comments.