With Hotelpocalypse out of the way (and thank goodness), the biggest hurdle that most attendees of San Diego Comic-Con still have to jump through is parking. As we previously reported, Ace Parking, the company which handles the sale, is moving to a lottery based system this year. You have through April 12 to submit your information to Ace to be entered for a chance – and you can find more details about the sale in our original post or on Ace's FAQ.
What you might not know, though, is what lot you should be hoping for, or what sort of price you'll be paying — and Ace has now answered those questions. Here's a look at the prices and available lots, from Ace's FAQ: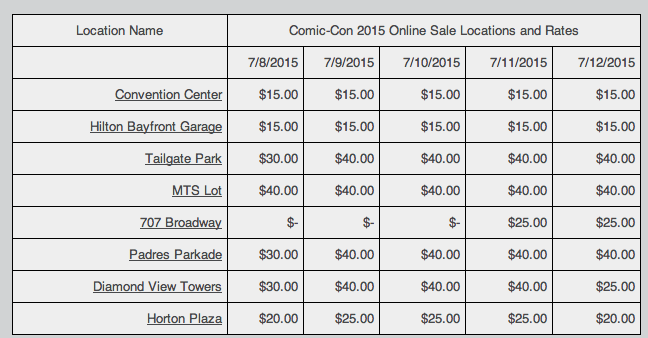 Just as we previously reported, the Campus lot, which was home to 520 spots, is now gone due to construction. We're also down a few other smaller lots, like the Gaslamp City Square (190 spots).
Prices across the board seem to have gone up this year. Where lots like the MTS lot and Padres Parkade were $20-$30 in 2014, they've now been raised to $30-$40 per day. There are still plenty of close, cheaper parking options though — namely the convention center, which stayed flat with 2014 to offer $15 a day parking. But the closest lots will be most in demand, and will sell out.
We've also created a Google map with markers for all of the Ace Parking locations above, to give you a better idea of where these lots are located:
Attendees who are picked from the lottery will be able to purchase a parking pass for any/all days that they need, at both the lot that they were chosen for, and any lower lots. For those who are not picked, Ace has stated that after lottery winners have had a chance to purchase, remaining inventory will go on sale to the general public.
Will you be trying for parking? Let us know in the comments.