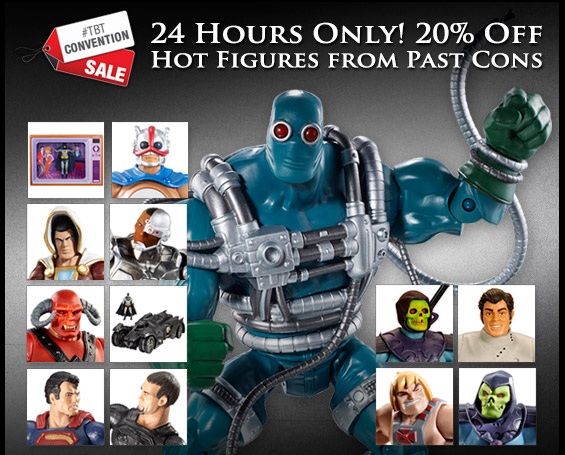 If you weren't able to get your hands on Mattel's San Diego Comic-Con 2014 exclusives, there may be another answer other than eBay. The company announced today that beginning at 9AM PT on Thursday, April 2, they'll be hosting a "#TBT Convention Sale" on some of their hottest convention exclusives from the past. Best of all, the prices are all 20% off.
Although there's no Monster High (arguably the most sought-after SDCC 2014 Mattel exclusive), there are still plenty of other great options straight from San Diego, including Goat Man, Batman Arkham Knight Batmobile for $85, the DC Comics Total Heroes Ultra Cyborg for $25, and DCU Classics Doomsday for $35.
San Diego Comic-Con exclusives aren't the only ones represented, either, as fans can also snatch up exclusives like the Masters of the Universe Classics Mini He-Man and Skeletor Figures for $20, Strobo for $25, Batman Classic TV Series Batman Batusi Batman for $30, and plenty of others.
You can find the full list on Mattel's site. All exclusives will go on sale at 9AM PT on Thursday, April 2.