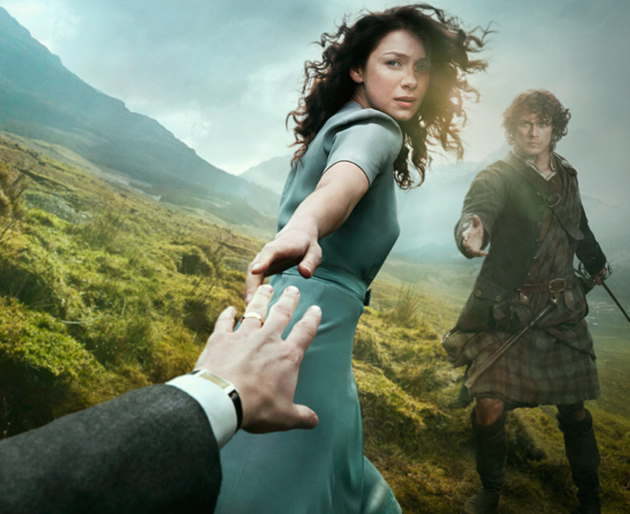 The signs have been there for awhile, but we're one step closer to not only a confirmed panel for Outlander at San Diego Comic-Con, but also potentially a date.
[UPDATE 2] Official word from Starz puts the panel on Saturday, July 11, 4:00pm – 4:45pm, in Ballroom 20!
[PREVIOUS] Deadline has the exclusive today that Outlander is indeed returning to Comic-Con, but on Friday, July 10, in Ballroom 20 at 4PM.
According to Deadline, cast members Sam Heughan, Caitriona Balfe as well as author Diana Gabaldon, will all be on hand with Executive Producer Ronald D. Moore for what's sure to be a fun panel. That's a pretty major room upgrade from last year, and surely good news to those who waited out long lines last year.
[PREVIOUS]
Author Diana Gabaldon, who wrote the book on which the series is based and who appeared on last year's Comic-Con panel for the Starz series, mentioned to Zap2It Associate Editor Terri Schwartz on Twitter that she's heard their panel is on Thursday, July 9.
@Terri_Schwartz Look forward to it! Our panel is on the 9th, they tell me.

— Diana Gabaldon (@Writer_DG) June 5, 2015
This shouldn't come as shocking news to fans, as Starz launched a contest earlier this year to send one lucky fan to Comic-Con along with a "special Outlander experience", implying that the show would have some kind of presence. Entertainment writer Kristin dos Santos also hinted that she might be moderating the panel just last week on a Meerkat chat.
Last year's panel included not only Gabaldon, but Executive Producer Ronald D. Moore, and cast members Caitriona Balfe, Sam Heughan, Tobias Menzies, Graham McTavish, and Lotte Verbeek.
We've also heard that Bruce Campbell's Ash vs. Evil Dead is set to make some sort of appearance from Starz at this year's Comic-Con.
Are you excited about a possible Outlander panel? Let us know in the comments.