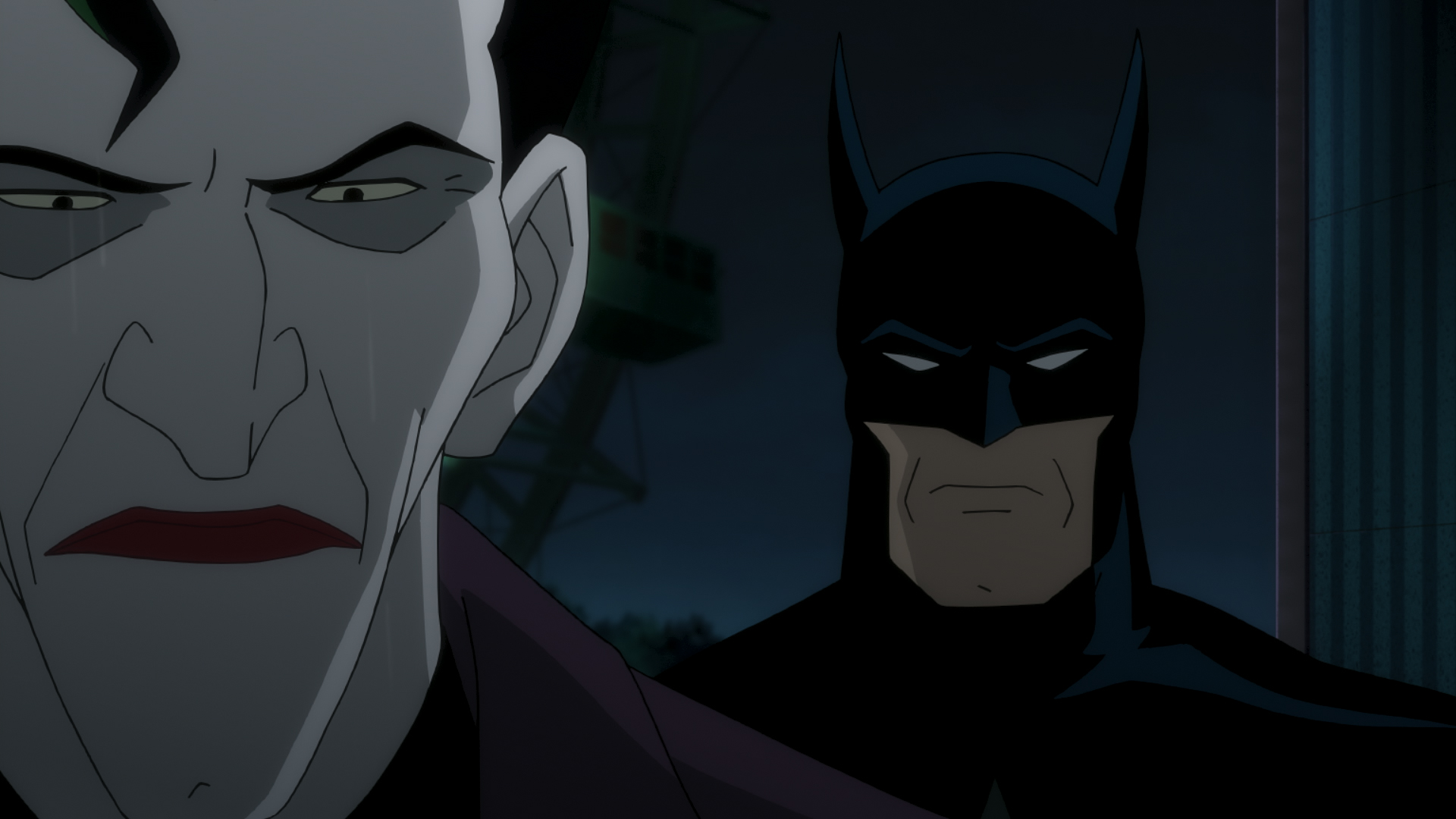 What we announced months ago is now official: the Warner Bros. Home Entertainment DC Universe Original Movie, Batman: The Killing Joke, will hold its world premiere at San Diego Comic-Con 2016.
Based on the DC graphic novel of the same name by Alan Moore, Brian Bolland, and John Higgins, Batman: The Killing Joke takes you into the dark psyche of the Clown Prince of Crime – from his humble beginnings as a struggling comedian to his fateful encounter with Batman that changes both of their lives forever. Years later, and now escaped from Arkham Asylum, The Joker devises a plan to prove that one bad day can make anyone as insane as he is – setting his sights on Commissioner Gordon. It's up to the Dark Knight to put a stop to The Joker's latest scheme and save one of Gotham City's finest.
Fans will be able to attend the premiere screening at Friday night at Comic-Con (July 22, 2016) — and while no panel room was announced, we'd put serious money on Ballroom 20. Following the screening, you'll be able to stick around for a panel led by members of the core cast and filmmaking team.
Exact panelists weren't yet revealed, and will depend upon availability, but the film features the voice talents of Kevin Conroy (who already mentioned he will be attending the convention) as Bruce Wayne/Batman, Mark Hamill as the Joker, Tara Strong as Barbara Gordon, and Ray Wise as Commissioner Gordon. Could we really be lucky enough to get Hamill at Comic-Con again? Time will tell.
Warner Bros. Home Entertainment and DC have a long-running tradition of premiering their latest animated film for Comic-Con attendees first, and it's always one of the highlights of the convention.
For those unable to attend the panel, you can also get your hands on Batman: The Killing Joke when it arrives on Blu-Ray and DVD on August 2, 2016. Fans can own also the film on Digital HD starting July 26, 2016 via purchase from digital retailers.
Will you be heading to the screening on Friday at SDCC 2016? Let us know in the comments.