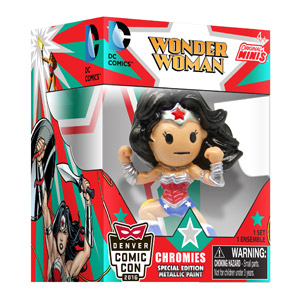 Our friends at UCC Distributing always bring some of the most unique exclusives to San Diego Comic-Con – whether that's Guardians of the Galaxy Groot and Rocket plush figures or My Little Pony MLB mash-ups (and just wait until you see what they have in store for 2016!).
However, it's not just San Diego that they bring their exclusives to – so attendees at Denver Comic Con will be able to get their hands on an exclusive Wonder Woman mini figure.
The special edition figure features a metallic paint job and comes with a stand, and retails for only $9.99. It's a limited piece of only 1,5000.
So if you're at Denver Comic Con between June 17-19, 2016, be sure to stop by UCC Distributing Booth #267 to pick one up – or look for them at San Diego Comic-Con, at Booth #700. Their 2016 San Diego Comic-Con exclusives will be revealed soon!