Star Wars is going to have their usual large presence on the show floor this year with their Pavilion. That means there will be a lot of exclusive treasures to track down…Galactic Treasures. The Star Wars Pavilion won't be the only place to find them though as there are multiple exhibitors with Star Wars exclusives throughout the convention and thanks to StarWars.com we know what to look for.
We're already aware of some of them coming from the likes of Mattel, Hasbro, ThinkGeek, Hallmark, Loungefly, and more. Below is a rundown of everything you can grab this year, starting off with the give-aways.
Hallmark: Look for give-away buttons featuring this year's Star Wars Hallmark Keepsake Ornaments; a different button will be available each day, and limited to 1,000 each. A limited itty bittys Captain Phasma button give-away will be at Nerd HQ only on Friday (Star Wars Day).
Sphero: Giving away a commemorative BB-8 poster featuring their app droid at an iconic San Diego location. Free with e-mail signup!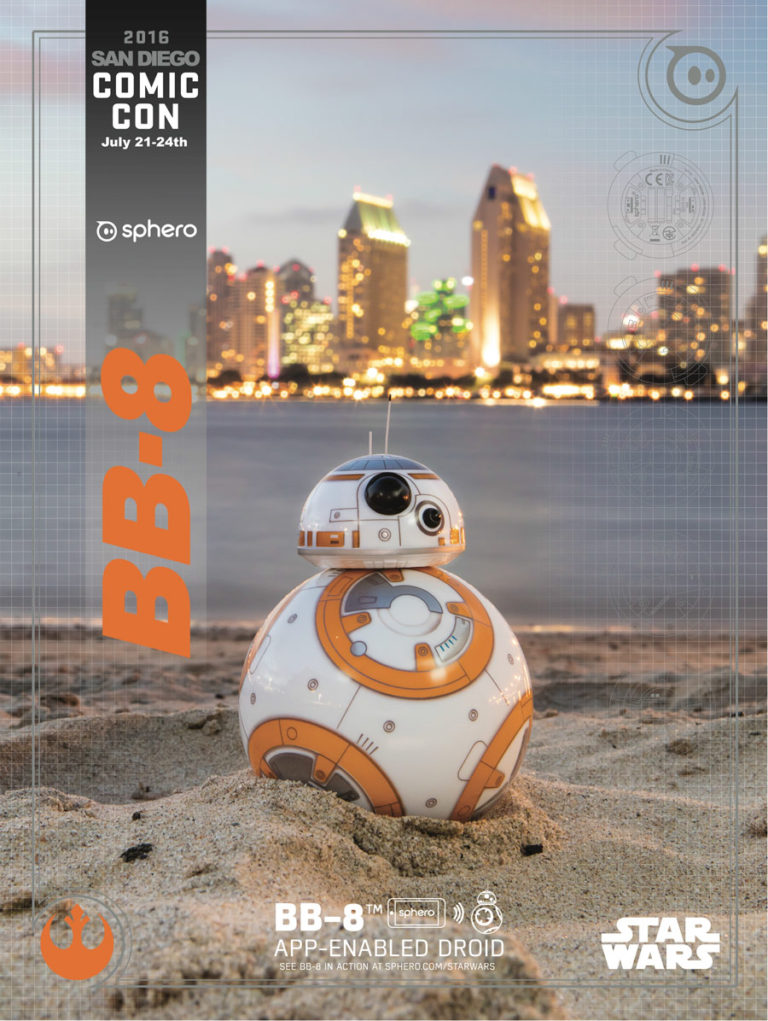 ThinkGeek: Rey with Speeder pin (free with a $60 purchase) and BB-8 pin (free with $90 purchase).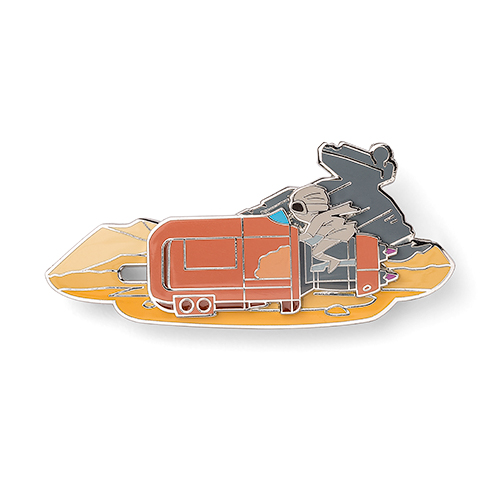 Star Wars Super Deformed Plush: Receive one free plush (quantities limited to 100) of Rey, Finn, and one other character with the purchase of ABC-3PO. Plushies are also for sale, see below.

Santa Cruz: Giving away free posters (while supplies last).
Chewbacca Sentry Leather LTD ($300): Nixon's Chewbacca watch strap features bandolier rivet strap details, a bowcaster and blast fire seconds hand, a laser etched "Let The Wookiee Win" casebook, and a custom LTD box with authentic "Chewbacca Roar" sound.
Star Wars Socks (limited edition of 100 pairs, $20 each pair): Stance presents 8 special Star Wars socks featuring characters from across the original trilogy!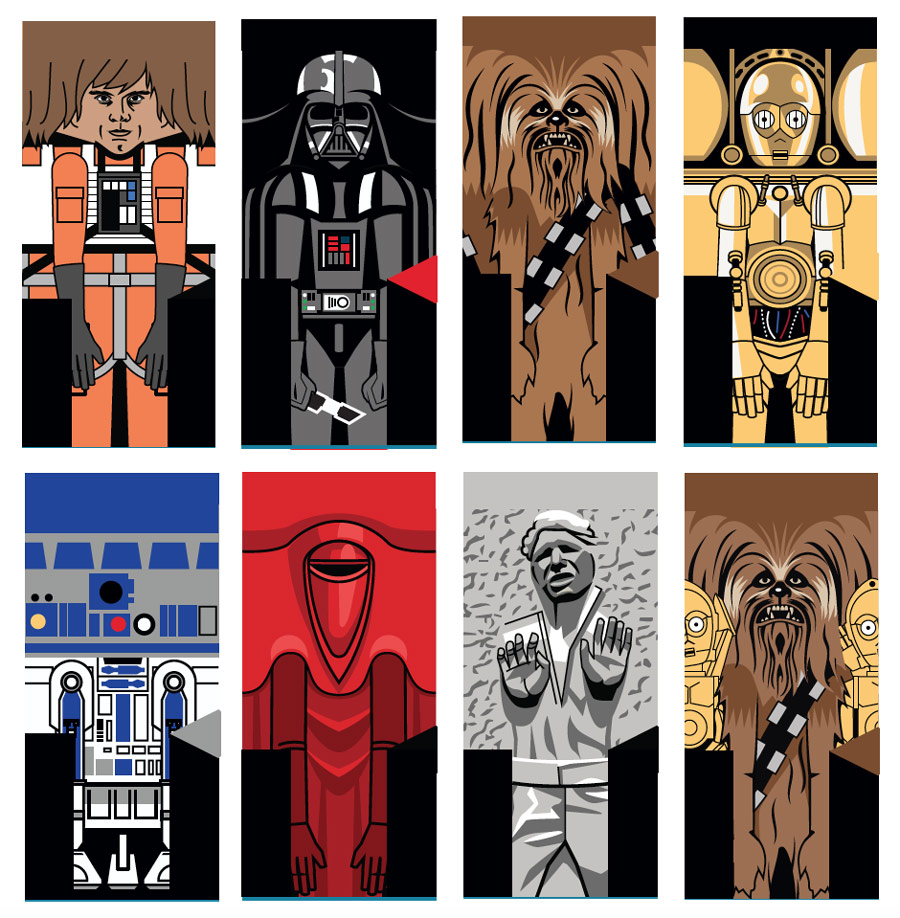 Rey Backpack (limited to 200, $65): Loungefly's handsome Rey backpack features a Rey-on-speeder design and comes with a collector's pin and eye goggles.
Star Wars Double Packs (numbered and limited to 300 per design, $25 each)
: 3D Innovation's Double Packs feature full-color duo stickers.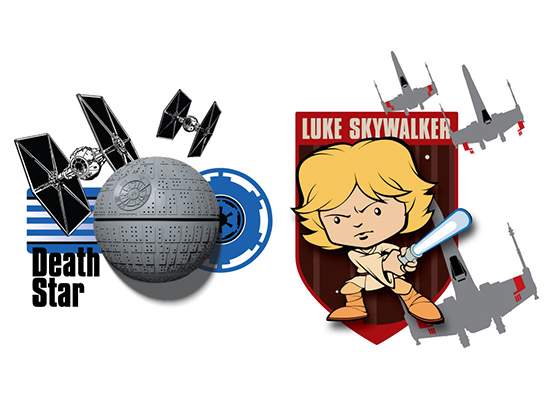 Star Wars Hallmark Keepsakes and Itty Bittys: Hallmark's Beginnings: Boba Fett Keepsake ornament two-pack is inspired by the work of concept designer Ralph McQuarrie. One ornament details Boba Fett's helmet as originally sketched, while the other depicts an all-white full-costume concept.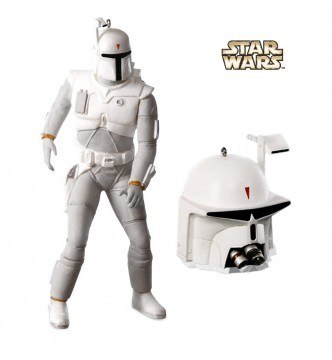 Princess Leia and Jabba the Hutt (Return of the Jedi) come in an exclusive itty bittys plush two-pack.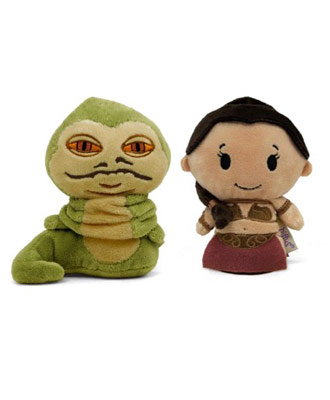 Star Wars Super Deformed Plush ($20 each): Comic Images will premiere 12″ super-deformed plushies. Receive one free plush (quantities limited to 100) of Rey, Finn, and one other character with the purchase of ABC-3PO at the publishing booth in the Star Wars pavilion.

Star Wars: The Black Series 6-Inch Obi-Wan Kenobi Pack and Kylo Ren ($44.99 each): Recreate the noble journey of the great Jedi Master with the highly collectible Black Series Obi-Wan Kenobi Pack. Featuring authentic, movie-accurate detail, this elite 6-inch scale Obi-Wan Kenobi figure comes equipped with Jedi robe, 2 lightsabers, an electronic light-up table, and Princess Leia hologram delivering a vital message. Includes 1 figure with multiple points of articulation and 5 accessories. Following the convention, a limited number will be available on HasbroToyShop.com.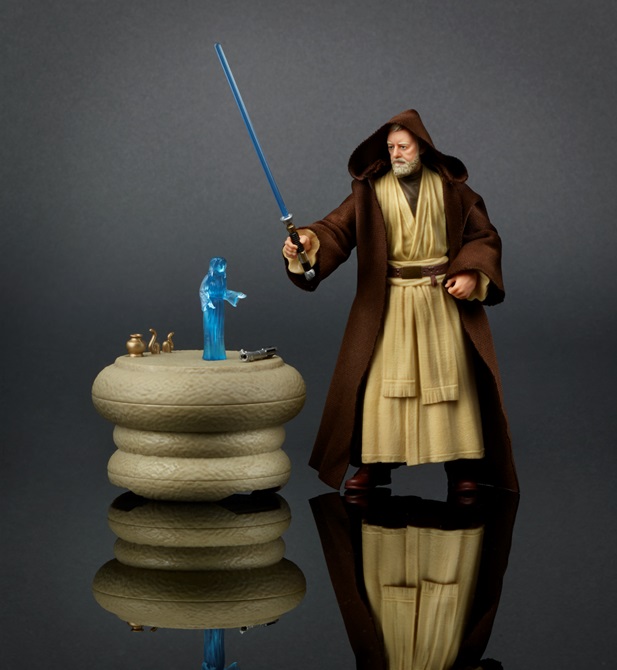 Although the Star Wars The Black Series 6″ Kylo Ren figure was originally announced as heading just to Star Wars Celebration – we've confirmed with Hasbro that it's now heading to San Diego as well. Kylo also retails for $44.99, and comes equipped with Darth Vader's helmet and a First Order banner and stand, as well as his lightsaber and a lightsaber hilt.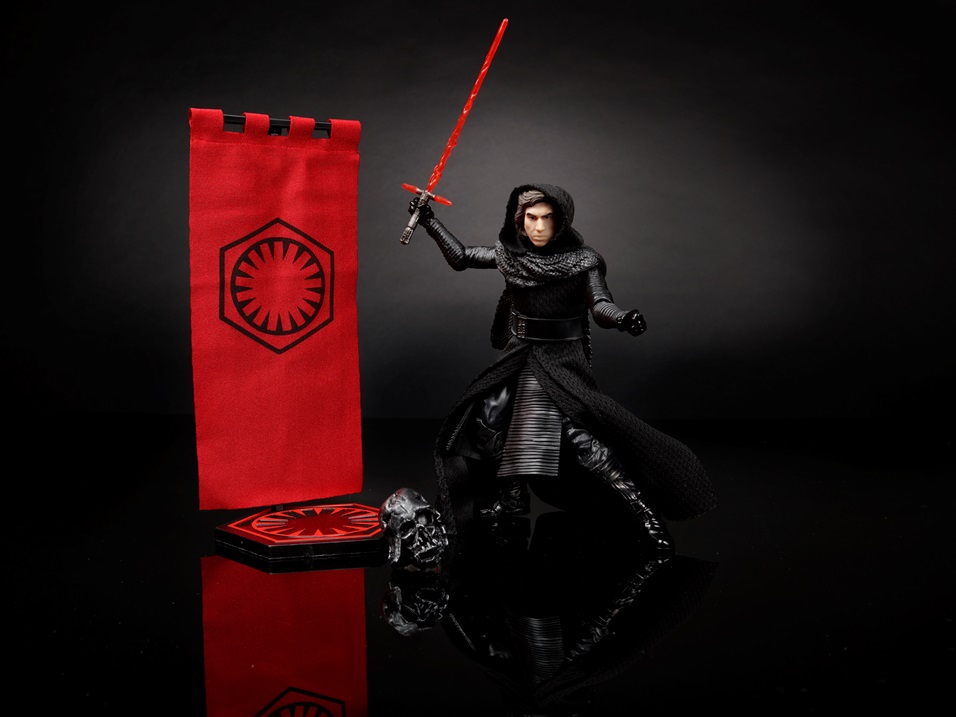 Hot Wheels Star Wars Carships Trench Run ($50): Hot Wheels reimagines the famous finale of Star Wars: A New Hope as a thrilling car race by transforming starfighters into slick, speedy "Carships." Cased in gorgeous packaging, this premium set features a light-and-sound show that includes sound effects and firing LED laser cannons; the vehicles feature full die-cast bodies, chassis, and Real Riders wheels.
Star Wars: The Force Awakens Premium Edition Vac-Metal C-3PO and Captain Phasma 18-Inch Big Figs Action Figures ($59.99 each): Jakks introduces two new additions to the Big Fig 20″ collection: Premium Edition C-3PO and Captain Phasma from Star Wars: The Force Awakens and available exclusively at SDCC!
Star Wars Pop!: Funko presents two new exclusive Pop! vinyl figures: Han Solo with Chewie bowcaster (shared with GameStop) and BB-8 with thumbs up (shared with Hot Topic)! (Also, look for Pop! Indiana Jones with idol!)
Star Wars Trading Card Posters: Topps will feature 5 exclusive 8.5 x 11″ posters (1,000 available of each design), created in the style of its various trading card series.

R2-D2 Unpainted Prototype: Based on the R2-D2 Deluxe Sixth Scale Figure, everyone's favorite astromech has been re-imagined as an unpainted prototype droid with a distinctive monochromatic silver finish. Equipped with hinged panels and articulated light-up dome, this unique limited edition exclusive will be an excellent addition to any Star Wars collection.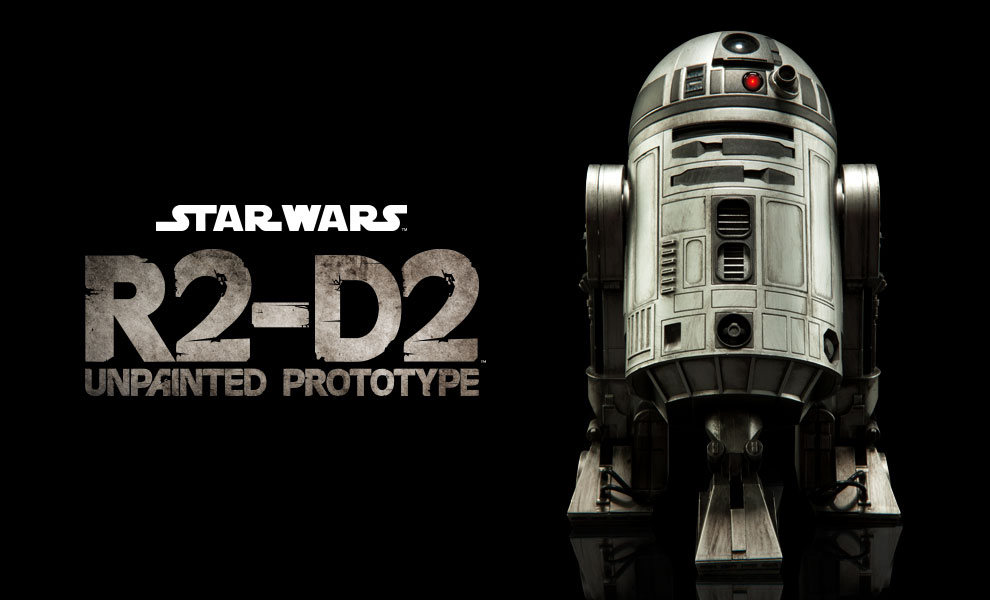 Captain Phasma and Chewbacca McQuarrie Concept Mini Busts ($120 each): Gentle Giant's Captain Phasma and Chewbacca McQuarrie Concept Mini Busts are digitally sculpted and cast in the highest quality polystone; each mini bust is hand-painted and comes hand-numbered with matching certificate of authenticity.
Farm Boy Luke 1:4 Jumbo Figure Return of the Jedi Packaging ($80 each): Farmboy Luke (Yellow) Return of the Jedi Jumbo Figure and Farmboy Luke (Brown) Return of the Jedi Jumbo Figure are digitally scanned from the original 1983 action figures and enlarged to 1:6 scale, and packaged with era-accurate backer cards. Limited to 250 pieces.
Meisho Movie Realization Teppou Ashigaru Sandtrooper Special Version ($90): The artillery packed Teppo Ashigaru Sandtrooper is back with a new, and highly exclusive black pauldron design! The right pauldron (shoulder armor) is charcoal black and indicates that this feudal Sandtrooper of the Galactic Republic (or in this case perhaps a Galactic Han) is of enlisted status. The Sandtrooper Special Version comes with two gun powder type rifles and a Japanese katana sword ready for battle. The special backpack is designed with meticulous detail and finished with a rusty look. The set includes interchangeable hands (x6), blaster rifles (small and large), Japanese katana set, backpack, and interchangeable white pauldron.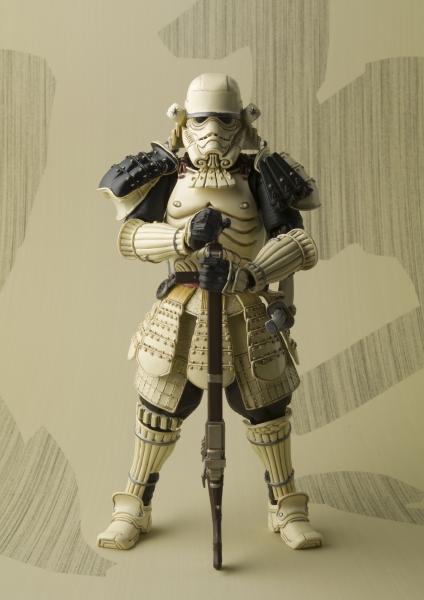 Egg Attack Star Wars Figures($85-100): Beast Kingdom is set to offer 3 exclusive Egg Attack figures: a chrome electroplated Stormtrooper ($100), a gold electroplated Sandtrooper ($100), and an electroplated Captain Phasma ($85). Each figure is 6″ tall, includes 24-30 points of articulation, and multiple accessories.
Star Wars Plush and More: Think Geek's plush exclusives include a set of 4 bounty hunters ($30), Han Solo in carbonite ($12), Slave I with Han in carbonite ($12), and a Rey with Speeder pin (FREE with a $60 purchase). Also look for a set of 8 propaganda postcards, free BB-8 pin with $90 purchase, 24×36″ Rey poster, and an 18×24″ "Incident on Ord Mantell" poster.

Star Wars Skateboards($100 each): Santa Cruz is bringing 5 exclusive skateboards to SDCC and giving away free posters (while supplies last).

Star Wars Car Decal: Plasticolor will offer a "First Order Warriors" car decal, featuring the troopers from Star Wars: The Force Awakens.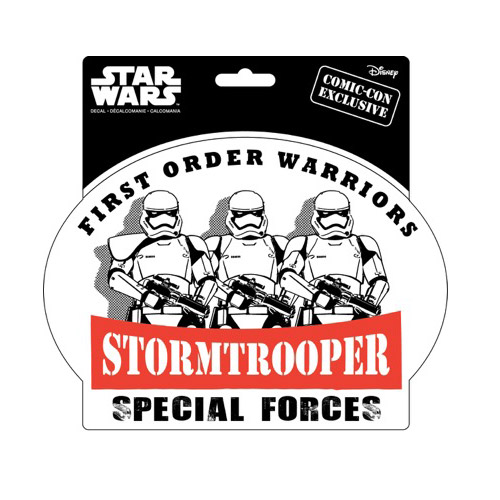 What treasure from a galaxy far, far away are you planning to pick up? Let us know in the comments.