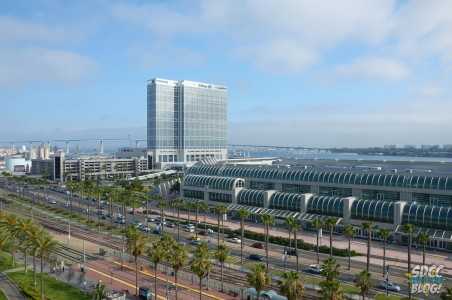 Hotelpocalypse. Say the word, and chills run down every SDCC attendee's spine. The name by which Comic-Con International's hotel lottery has come to be known is no less descriptive as it is accurate. Just as with SDCC badges, there are far fewer hotel rooms than there are people who want them – 19,500 or so rooms in the CCI hotel block compared to 130,000 attendees, which can make finding a place to crash at night difficult. Very difficult. (And no, we don't have a date yet for this year's General Hotel Sale — but it will likely take place sometime after Open Registration).
Some, however, feel they've found a shortcut around it: short-term rentals. They go onto sites like Airbnb, HomeAway, or VRBO, and within seconds they've booked a place to stay. No muss, no fuss. More importantly, no Hotelpocalypse.
In many tourist communities, short-term rentals are not a problem. This is not necessarily the case in San Diego, though. Visitors who come to San Diego seeking to stay in short-term rentals find themselves in an extremely gray area with few places to turn should the rental go bad, and they often do. Every year, we hear from con-goers who thought they'd beaten the system with a short-term rental. Instead, the property owner realizes the premium they could charge for their space during SDCC and significantly increases their rate or cancels the reservation at the last minute, often not telling the renter. Since there is little to no regulation on short-term rentals, these poor, unfortunate souls find themselves with no recourse but to pay the inflated rate or sleep in the Hall H line.
The issue of short-term rentals in San Diego communities has become heated over the last year. Many residents in high-end communities like Del Mar do not want short-term rentals at all. They see their communities as places where neighbors know and trust each other and don't feel safe with neighbors who only come for a weekend. In April of 2016, the Del Mar City Council voted to place a moratorium on short-term rentals. This stopped new rentals from popping up but did not prevent the current rentals from operating. As of time of publication, the moratorium still stands. That's the extent of action their city council has been willing to take, however, and residents are becoming very upset. Those residents who do offer their homes as short-term rentals see it as a way to gain equity on their homes, and local communities see it as a way to boost tourist economy. The residents who oppose them see them as a nuisance that brings noise complaints, crime, and depreciated property values.
The City of San Diego itself voted against outright banning of short-term rentals in November, 2016, as regulations on short-term rentals in the city's code were not clear enough for an outright ban. At that meeting, however, council member Todd Gloria moved that city staff develop clear regulations to enforce short-term rentals in San Diego — something that's still ongoing.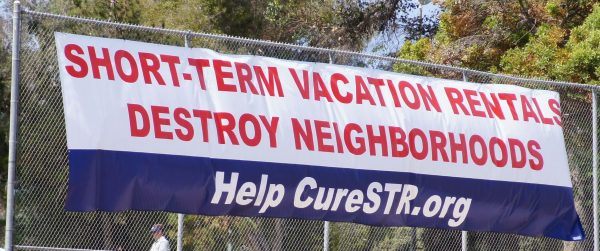 That same month, residents of Crown Point, a popular beach community in San Diego, sued Mayor Kevin Faulconer and then-City Attorney Jan Goldsmith, claiming short-term rentals are illegal and destroying their community. Citing the same municipal code council members described as unclear, they filed their lawsuit, hung banners, and posted signs to shame current short-term renters. They are being fueled by the site CureSTR.org, which cites studies done by Harvard and Penn State to discredit short-term rentals. These residents are also blaming a recent shooting in that neighborhood on short-term rentals.
Recently, the city attorney's office has added some clarity to the short-term rental issue in San Diego. City Attorney Mara Elliott, who replaced Jan Goldsmith this year, declared short-term rentals illegal in single-family residential zones in San Diego. She argues that the current code does not allow for businesses to be run in single-family residential communities, including the business of short-term rentals. The San Diego City Council plans to continue discussions on the issue and hopes to reach a compromise. In the meantime, the city attorney's memo stands.
Are short-term rentals a good short-cut around Hotepocalypse? There is definitely a high risk involved. Even if the city code does allow for short-term rentals in some instances, readers report every year having their reservations cancelled as property owners figure out they can charge a much higher premium for Comic-Con week. In other words, if the deal seems too good to be true, it is.  While it seems like an easy way to find a place to stay during SDCC, it's just not worth the risk. We would rather go through Comic-Con International's hotel lottery than risk being ousted from our rental by an angry mob.
Have you had experience with short-term rentals in San Diego? Let us know in the comments.