Did you catch all the SDCC news that dropped yesterday and today? We're still recovering from all that was announced, but that doesn't mean we're slacking. News is coming at warp speed, and we're not dropping to impulse anytime soon. Our latest Under the Tents brings great announcements and a ton of cuteness from Martin Hsu, Hero Initiative, The Geeky Hooker (crochet!), and a lot more. This edition has so much sweetness in it, four out of five dentists will label it as a major cause of tooth decay.
Here's a look at what you might have missed:
If you think Dirk Gently's Holistic Detective Agency won't be at SDCC this year, think again. Show creator Max Landis responded to a disappointed tweeter, indicating that their disappointment is premature. We have yet to hear panel announcements from BBC (among others), so Landis' tweet is a strong indicator that Dirk Gently will be back at SDCC this year. See? It's all connected!
https://twitter.com/Uptomyknees/status/880575772443811840
Last year, Lionsgate debuted their Comic-Con HQ streaming service, dedicated to all things San Diego Comic-Con related. If you're an active member of CCHQ, you can head to Lionsgate's Booth #4045 and pick up a free exclusive pin.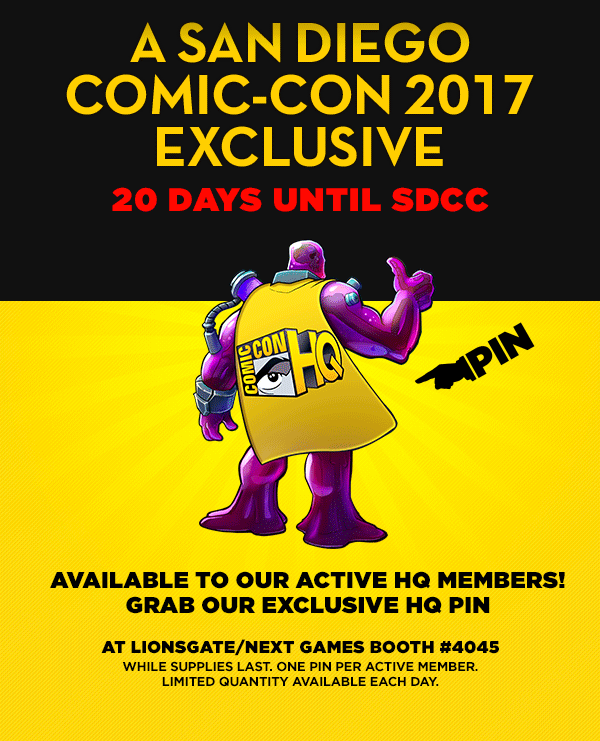 If you're looking for Ninjabot's table at Small Press #L-08, he made it a lot easier to find him. Check out his new banner for SDCC this year. And don't forget to pick up your button while you're there.
Brand spankin' new look for @comic_con! My banner feels gigantic! Now you know what to look for during the show. I'm at Small Press L-08! pic.twitter.com/DEGKVe0eEr

— Arnel Baluyot (@theninjabot) June 28, 2017
YouTube stars The Screen Team, which consists of cosplayers Angie Griffin and Chad Nikolaus, announced they will be at SDCC this year. Apparently, they're looking for a place to crash, too, so if you know a place, hook them up.
We are officially coming to COMIC CON!! If anyone has a hotel room available, let us know! We gotta book something soon lol #sdcc #ComicCon

— Chad – Screen Team (@TheScreenTeam) June 28, 2017
You may have noticed that one or two exclusives were announced yesterday. If not, you're definitely not paying attention. This is one exclusive that was too adorable to ignore. Chris Ryniak from cardboard spaceship designed this cute vinyl Slumberguppy from Thimblestump Hollow as an SDCC exclusive. You can find it at Booth #5638 for $15. This little critter is so sweet, you'll have to brush your teeth after reading this.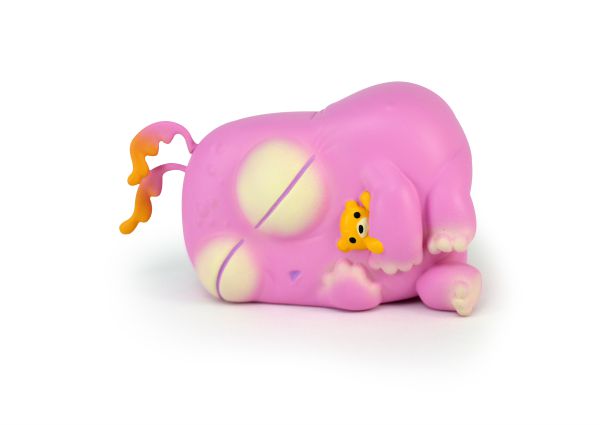 I've opened my #SDCC Pre-Con Commission list, for San Diego Comic Con PICK UP ONLY. If interested, you can order at: https://t.co/KjojdNR1U4 pic.twitter.com/Q504LBKY1n

— chrissie zullo uminga (@Chrissie_Zullo) June 28, 2017
Kid Comics' Keithan Jones shared a work-in-progress from his upcoming Power Knights #3, which will debut at SDCC. Check it out at Booth #1943 to see the finished product.
https://www.instagram.com/p/BV6YAJOhT0m/
Available San Diego @Comic_Con July 19: The Hero-exclusive Overstreet with @robertliefeld Deadpool cover! pic.twitter.com/IPsGjEwa8p

— The Hero Initiative (@heroinitiative) June 28, 2017
Little Diana lending a helping hand 🍉 Making new artwork for #SDCC2017 #MartinHsuBooth4530. Presale begins now 💛 #WonderWoman pic.twitter.com/TNakGbph4G

— Martin Hsu 徐 👨🏻‍🎨 (@MartinHsu) June 29, 2017
https://www.instagram.com/p/BV56ygIlYDt/
Yer a wizard, Jabba! Chris Gugliotti keeps crossing fandoms in his work, and it's brilliant. His latest piece and a lot more will be available at Table #BB-15 in Artists Alley.
https://www.instagram.com/p/BV5uXATl-Zm/
Liana Hee is getting in on the Wonder Woman action with this lovely mini-painting she'll have available at Booth #4715.
https://www.instagram.com/p/BV590t8A6sV/
If you're at Gallery Nucleus' Booth #2643, you'll find these Harley Quinn mini-paintings from Lorelay Bové. Which one will you take home with you?
https://www.instagram.com/p/BV6c-qOlOHk/
By the power of Grayskull! Sean Forney channeled all the power in Eternia in this He-Man sketch he'll have at his Table #AA-15 in Artists Alley.
https://www.instagram.com/p/BV6FbnMBos8/
The art in this post is so sweet, it's going to give you tooth decay. That's OK – we'll risk it. Ash Evans adds to the sweetness factor with her Shooting Star print. Because who doesn't love kittens in space? Look for her work at the Art Show in the Manchester Grand Hyatt.
https://www.instagram.com/p/BV5_RWHALo_/
Artist Nan Hockin will have a lot to offer at Booth #F-11 in the Exhibit Hall this year. Not least among them is this mermaid piece she's bringing to SDCC with her.
https://www.instagram.com/p/BV462QBnVx0/
https://www.instagram.com/p/BV3woWYBncE/
https://www.instagram.com/p/BV6T3DVhcAr/
Ricky Dean Logan, who you might recognize from Back to the Future II ("Those boards don't work on water!") and Freddy's Dead: The Final Nightmare, announced he will be in the Sails Pavilion signing autographs this year. Look for him at Table AA22 on Friday, July 21 from 10AM-2:30PM and Table AA26 on Saturday, July 22 from 2:30PM-7PM.
https://www.instagram.com/p/BV5mYIzFoO5/
https://www.instagram.com/p/BV6OEkcHSgO/
Yesterday saw a lot of exclusives released by CCI, including those by Furry Feline Creations. These little cuties can be pre-ordered starting Friday, June 30 from their pre-order site, or you can pick them up at Booth #5149.

Kai-Kai Kaiju Plush ($55) – This adorable monster will make you squee with cuteness overload. These arms are wide open for you to hug him. Measures  12 x 8 x 12 using premium soft fleece, felt and polyfill. Handmade by Cheri Lynn Ong.
Purridge Negora Plush ($69) – Purridge transforms into a Negora, also known as Catzilla or Neko Kaiju. It has two tails and spikes on its back. On its paw is a Japanese fish-shaped cake called Taiyaki, which is one of the popular street foods in Japan. The fish attaches to its paw using very strong magnets. Measures 12 x 12 x 12. Handmade by Cheri Lynn Ong.
The Bullsh*t or Bullcrap ($35) – What do you call a poop that comes from a bull? A Bullsh*t or Bullcrap. Whatever way you look at its all "BS".
https://www.instagram.com/p/BV58EgNDlvP/
https://www.instagram.com/p/BV5bAt1nBa1/
Mike Wellman from The Comic Bug announced Book 5 of Guns Blazin will debut at SDCC. He gives us a little sneak peek of this awesome issue.
https://www.instagram.com/p/BV5CPUxB9tB/
Got a GIANT box of crocheted goodies to drop at #SDCC from Facebook follower Amy yesterday! (https://t.co/EhYOnDgHg4) pic.twitter.com/efLfU0tot2

— Geeky Hooker (@GeekyHooker) June 29, 2017
She also made a white rabbit from my book #LiteraryYarns! https://t.co/5Lm0DxPbvR pic.twitter.com/dtC7ldFSsU

— Geeky Hooker (@GeekyHooker) June 29, 2017
And a pokeball beanie! First wearable item I'll be dropping at SDCC, ha! (Made by Amy! https://t.co/EhYOnDgHg4) pic.twitter.com/8NPwBlewQe

— Geeky Hooker (@GeekyHooker) June 29, 2017
https://www.instagram.com/p/BV4yVK7jt_m/
I am going to be releasing X-Men mini prints at #sdcc! This is a very limited run, enjoy! pic.twitter.com/o2ZgIyQ9Qo

— Tony Bui (@tonybuifanclub) June 29, 2017
Lion Forge Comics announced they will have an SDCC exclusive cover for Superb from artist Alitha E. Martinez available at Booth #1903.
SDCC is right around the corner! In less than three weeks you can get the SDCC exclusive cover for Superb by @Ariotstorm! #CatalystPrime pic.twitter.com/vsloewwyVm

— Lion Forge (@lionforge) June 29, 2017
Anything we missed? Let us know in the comments, drop us a line, or tweet us at @SD_Comic_Con.