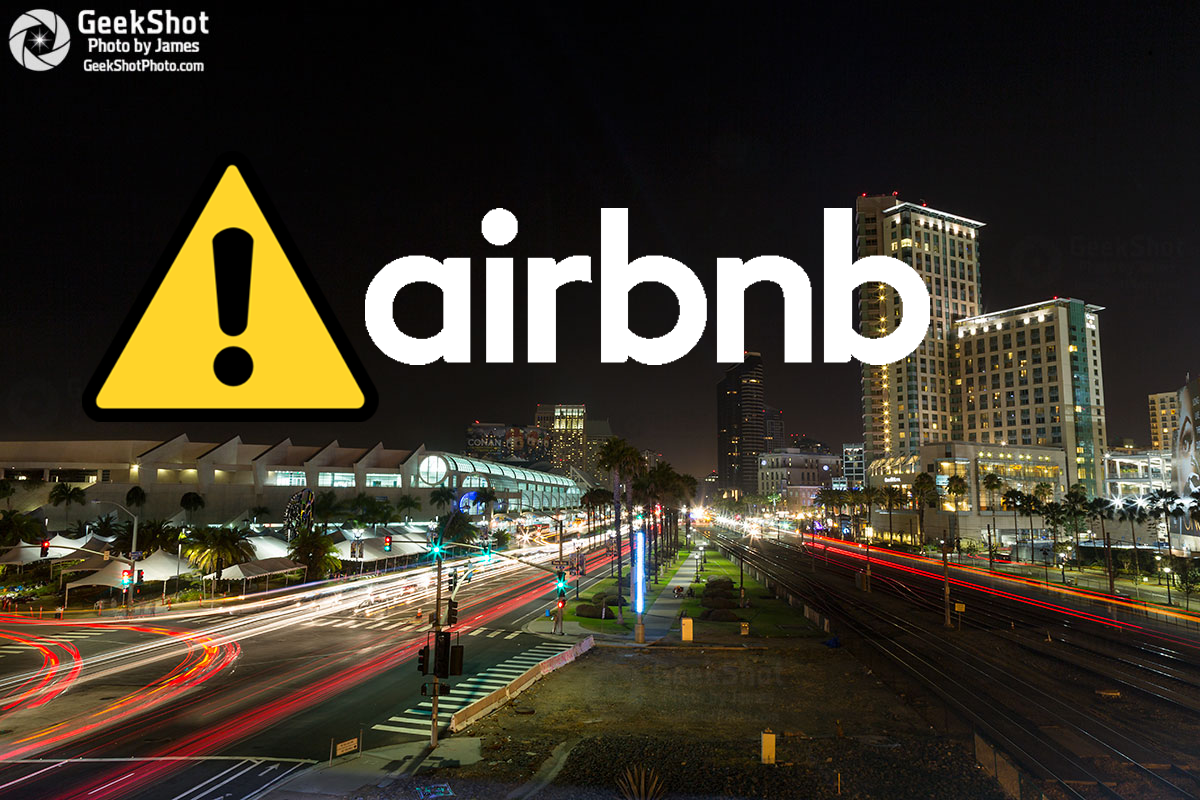 Hotelpocalypse. The word alone strikes fear in the hearts of many San Diego Comic-Con attendees, as there simply aren't enough downtown hotels to lodge the 130,000+ attendees who descend upon the Gaslamp Quarter and surrounding areas every July. Obviously, not everyone attending the convention needs a hotel or even wants to stay downtown – but with only 11,000 or so hotel rooms included in the downtown hotel block, it's not difficult to see why thousands of people hoping to stay close to the convention center simply won't be able to. And for those that do, the prices tend to run from $200-$400/night (and that's after Comic-Con International has negotiated the rates down).
All of that means that many look "outside the system" to try to secure their Comic-Con accommodations, hoping to find some hidden venue which offers a sort-of-mystical check-list: Close to the convention center, reasonably priced (by Comic-Con standards anyway), big enough to fit your entire party, a hot shower, and the hope that you won't be sharing space with a murderer. Sometimes, you'd settle just for the hot shower.
For many, that means turning to Airbnb, the short-term rental website which lets locals rent their home or a spare room out to visitors. Attendees often feel they've hit the jackpot when they can actually book rooms in the Gaslamp for Comic-Con week a year out at reasonable prices. Locals get a little cash on the side, and attendees get an alternative to the headache-inducing hotel sale. It's win/win, right?
Sometimes. And sometimes, it's not.
"I was excited about finding a great looking Airbnb in a reasonable price range," David Schecter said of his experience in 2016. "The photos looked amazing and the host had really great reviews. I was also very close to the convention center. I thought then that I struck gold and didn't need to deal with Hotelapocalypse and trying to get a hotel room."
That all quickly changed, though, when the host cancelled Schechter's reservation about a month before San Diego Comic-Con. Airbnb tried to help, but with only a few weeks to go before the convention, there weren't many options still available. For his trouble, he got a $200 discount from Airbnb, and found a new Airbnb listing – that definitely didn't live up to the original booking.
"The [new] room was underneath the house so it was extremely warm, and all we had was a loud fan to cool us down. The room was also so small I couldn't stand up," Schechter said. "I've learned not to use Airbnb during Comic-Con from other stories I've heard. I had a hotel during 2017, and I'll have one during 2018."
Of course, plenty of attendees have amazing experiences with Airbnb, including Tish A., who was a first-time attendee back in 2015 when she decided to try it out.
"Really, for me and my friend it was the path of least resistance," Tish said. "After going through the General [Hotel] Sale crazy I decided to try Airbnb. I figured I would want to make the most of my time at Comic-Con and I also liked the idea of getting away from all the noise at the end of the day. Not to mention the prices seemed more in line with my budget."
Her first experience with her Airbnb host went so well that Tish has stayed with the same host for the last four years. Although her host did raise prices last year, the host also reached out to communicate the change ahead of time. "They truly enjoy hosting and opening up their home," Tish said. "To date they don't seem to be in it for the money, per se. It's something they really enjoy."
That's unfortunately not true for all Airbnb hosts. Although Airbnb policy head Chris Lehane told the Union-Tribune San Diego last year that "it's pretty clear that our hosts don't engage in gouging" and that when you look at big events "there's maybe a $20 increase but not the type of gouging you'd see on the hotel end", that isn't true for many listings during Comic-Con.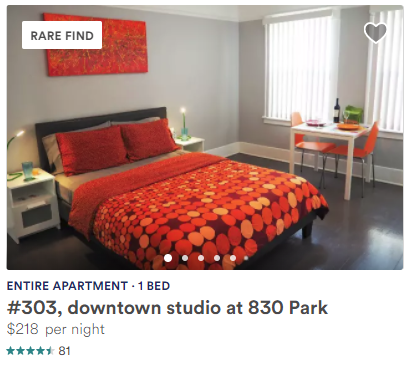 Although you can still find some reasonably priced accommodations during Comic-Con, that's often no longer the norm. In fact, on their site this week, Airbnb even labeled a one bedroom apartment downtown at $218 per night (which is as much as you'd pay for some of the downtown hotels offered through onPeak and CCI) as a "rare find". There are other options, like this one, for $250 per night – but there are no photos of the actual space, making the decision to use Airbnb even more difficult.
The more disturbing trend may be just how high the rate increases go. There were several offerings listed at over $1,000/night – higher even than, say, a night at the Hilton Bayfront booked outside of the convention center block. Here's a look at rates for several of the more expensive Airbnb listings during Comic-Con week, compared to similar weeks in July, which show that many are increasing their rates 3-10x as high as normal:
| | | | | |
| --- | --- | --- | --- | --- |
| AirBNB Listing | Comic-Con July 18-22 Rates Per Night | Comparable July Dates Per Night | Difference | Percentage Increase |
| Wonderful High Rise Apt. in Little Italy | $1,713 | $155* | $1,558 | 1105% |
| Amazing Over-the-Top- 4 Bedroom 3 Bath Gas Lamp | $2,000 | $550* | $1,450 | 364% |
| Modern 2BRM/2Bath Marina District/Convention Condo | $1,175 | $375** | $800 | 313% |
| San Diego Modern Loft | $974 | $591** | $383 | 165% |
| Steps from the Convention Center and Nightlife | $1,199 | $374** | $825 | 321% |
| GaslampLoft B FreeParking Walk2Conv | $1,200 | $400** | $800 | 300% |
| 5 MIN WALK TO CONVENTION CENTER-GASLAMP-COMIC-CON | $1,149 | $259*** | $890 | 444% |
| $$99 SPECIAL$$•LUXURY 2/2 Loft•Gaslmp•Petco•Parkng | $1,624 | $466* | $1,158 | 348% |
| Stylish and Central Location/walk to Convention! | $975 | $189* | $786 | 516% |
*July 4-8
**July 11-15
***July 4-6
As many hosts realize that Comic-Con week is "worth more", they're often coming back to those who have already booked with them and either demanding more money, or canceling the reservation altogether.
In May 2017, Sandra S. booked a room through Airbnb – only to receive an e-mail a few days later from Airbnb's support team telling her there was an issue with the pricing.  She had initially paid $343 for the reservation – but now the host was claiming that it had been listed at the wrong price, and that the listing was really $791.
"[She] pretty much doubled the price. I find the technical error hard to believe. I really believe that she realized that SDCC happened that week and tried to get more money out of me," Sandra said.
Stephanie Taylor experienced a similar problem in 2015, when "the host cancelled two months before SDCC and demanded 5x the original rate".
Taylor turned to Airbnb, whose initial response was to suggest a shared hostel bunk that was the same price as the original two-bedroom apartment. Eventually, they did offer a voucher as compensation for "a nice place" that was 2 miles away, but it still caused unnecessary headaches.
There's no guarantee that Airbnb will step in, either. Last year, Elizabeth Keyes was initially excited about the prospect of Airbnb – it was further out from the convention center, but with a kitchen she could save on dining out, and she felt the rate was reasonable.
"Almost immediately after receiving my confirmation e-mail from Airbnb, I got a message from the host saying that there was an error with the system, and that the nightly rate would instead be $600 a night for our stay. He then told me that if I wouldn't accept his adjustment, then I should cancel. After several calls with Airbnb, they ended up canceling my reservation. They offered me $200 credit to re-book somewhere else, but by the time this all got resolved, all apartments in the area were outrageous prices or not available for our full stay," Keyes said. "I will never use Airbnb again for any type of large event since it was too easy for him to demand more money from us and Airbnb sided with him. It was not worth the headache of having to make multiple calls to support to get my money back."
Sometimes, even when everything seems to be going right with an Airbnb booking, attendees can still be left feeling blindsided. Bryan Bowen thought he had lucked out by planning early and booking his Airbnb reservation in November the year before. He even e-mailed the host to verify the rates were accurate since it was during Comic-Con week, and was promised that they were correct.
"The listing seemed great. It was a block from the convention center [with a ] rooftop pool, with lots of room at a moderate price. It wasn't cheap but was reasonable for what we were getting," Bowen said. "About a month before SDCC I got an email from Airbnb saying my reservation was canceled with no real explanation at all. I emailed the owner and was told that the condo building would not allow short-term rentals. [The] funny thing is, I found it available for rent at three times what I had originally paid for the same dates."
Airbnb didn't offer to help Kimberly Lujan in 2017, when she booked an Airbnb and could never get ahold of the host. In June of last year, the booking was canceled, and Airbnb told Lujan it was a system glitch and not the host's fault. With the convention only a month away, it was too late to find something comparable within the same price range, and although Airbnb did give her a refund, they still kept their service charge and made no offer of correcting or helping the situation.
Still, despite the risks, many still find Airbnb preferable to dealing with Comic-Con's General Hotel Sale.
"It's considerably cheaper than a hotel, especially when booking in high-expense living areas like California, and plus, you get way more space than you would compared to a hotel room," Kyle F. said of his experience using Airbnb in 2017. "Although I only used it once specifically for SDCC, my wife and I have used it on many occasions when traveling. I highly recommend it."
It can also be a good option if you have unique needs – like Ben Young, who was traveling to the convention with his entire family of six, including an infant. Going the hotel route likely would have meant a minimum of two hotel rooms, which would have made an already expensive convention experience cost even more.
"[I] got a house about 2 miles from the convention that worked great for my whole family," Young said. "The price was less than a single bed hotel downtown. [It] wasn't as convenient for the distance, but was great for the family and price."
But with so many potential problems, Airbnb likely shouldn't be your first option – there are simply better, less risky choices. But for those who strike out in the hotel sale, and feel they have no other alternatives, it can be a lifesaver.
"My trip in 2015 would not have happened if not for Airbnb," R.P.G. said. "I have always been of the mind that unless I'm in the Gaslamp or right outside of it, I don't go. Going with 2 newbies, one of them suggested getting one as a backup if the lottery fell through. Sure enough, it ended up being our home base, and a quick 5 minute Uber from the convention center."
Even R.P.G. knows it's all luck of the draw, though, as in 2016, he had the opposite occur – he couldn't find an Airbnb host with reasonable rates to respond to him, but he wound up getting what he wanted from the hotel lottery.
If there's any lesson to be learned with Airbnb, it's basically that, like almost all other lodging options available to attendees, it's a bit of a mixed grab-bag as far as what to expect. Some report nothing but wonderful things – some report back with horror stories. One said their host was so attentive they helped them schedule a massage to unwind from the stresses of the convention, while another said their host wouldn't even give them a key, and made them call them each night just to be let in, leaving them worried they might not actually have a bed to sleep in that night.
When it comes to lodging for San Diego Comic-Con, it can sometimes feel like there truly are no good options – the Early Bird hotel sale may mean that you miss out on a closer option, the General Hotel Sale is a game of chances that could leave you with nothing, and Airbnb isn't as regulated, which can lead to hosts canceling at the last minute with little repercussions and raising rates to levels that even the hotels closest to the convention center wouldn't dream of asking.
If you do choose to go the Airbnb route, we recommend remembering the old adage: If it seems too good to be true – it probably is.
Have you booked with Airbnb for San Diego Comic-Con before? Let us know in the comments.
Special thanks to AirbnbWATCH