For many of us, the San Diego Convention Center is already one of our favorite sights – but it just got better.
Yesterday, on February 21, the San Diego Convention Center unveiled the latest in a series of upgrades to their iconic Sails Pavilion: LED colored lights (which change color and are visible across the Gaslamp Quarter and to Coronado Bay) that illuminate the newly renovated fabric roof.
From the San Diego Convention Center's website, here's a look at the new lights in action: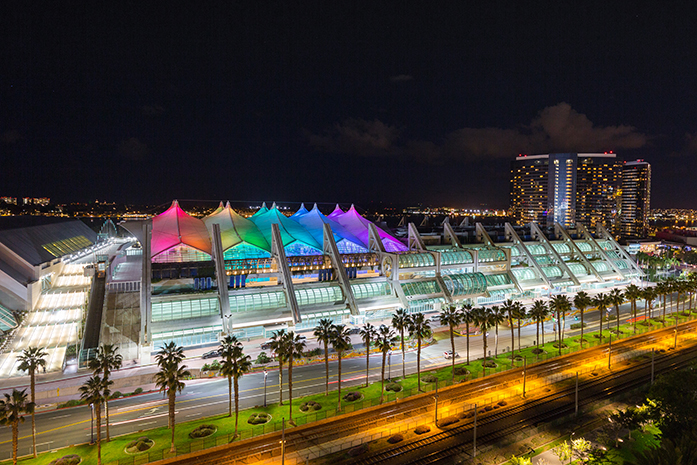 The Sails Pavilion debuted 28 years ago, but for a long time, had been slowly falling into disarray. The San Diego Convention Center has made repairing it, and some other much-needed areas, one of their top priorities of late though, with upgrades like a new concrete floor (which you may have noticed at SDCC 2017), new Hall H chairs (also in effect for SDCC 2017), new Ballroom 20 chairs (hopefully in time for SDCC 2018), and more.
"The renovation of the Sails Pavilion and the other important capital improvements taking place around the Convention Center have been a major priority for our Board of Directors," Gil Cabrera, Chair of the San Diego Convention Center Corporation Board of Directors, said in a press release. "The work being done ensures we will remain the region's premier gathering place. Each project improves upon our role as an important economic driver that will generate an estimated $1.2 billion in regional impact this year alone and provide $27.5 million in hotel and sales tax revenue to the City of San Diego."
The San Diego Convention Center won't be the only thing lighting up the San Diego night sky, though.
"I'm especially excited because this illumination of the Sails Pavilion is the first step in what will be a bay-wide illumination," Rafael Castellanos, Chairman of the Port of San Diego Board of Port Commissioners, said in a press release. "That includes the lighting of the San Diego-Coronado Bay Bridge, lighting up what will be the new home for the San Diego Symphony on the waterfront and the Central Embarcadero."
From Castellanos, here's a look at the view inside:
The view inside the @SDConventionCtr tonight for the unveiling of the new #SailsPavilionLights pic.twitter.com/o61zyzYrpz

— Rafa Castellanos (@RafaSanDiego) February 22, 2018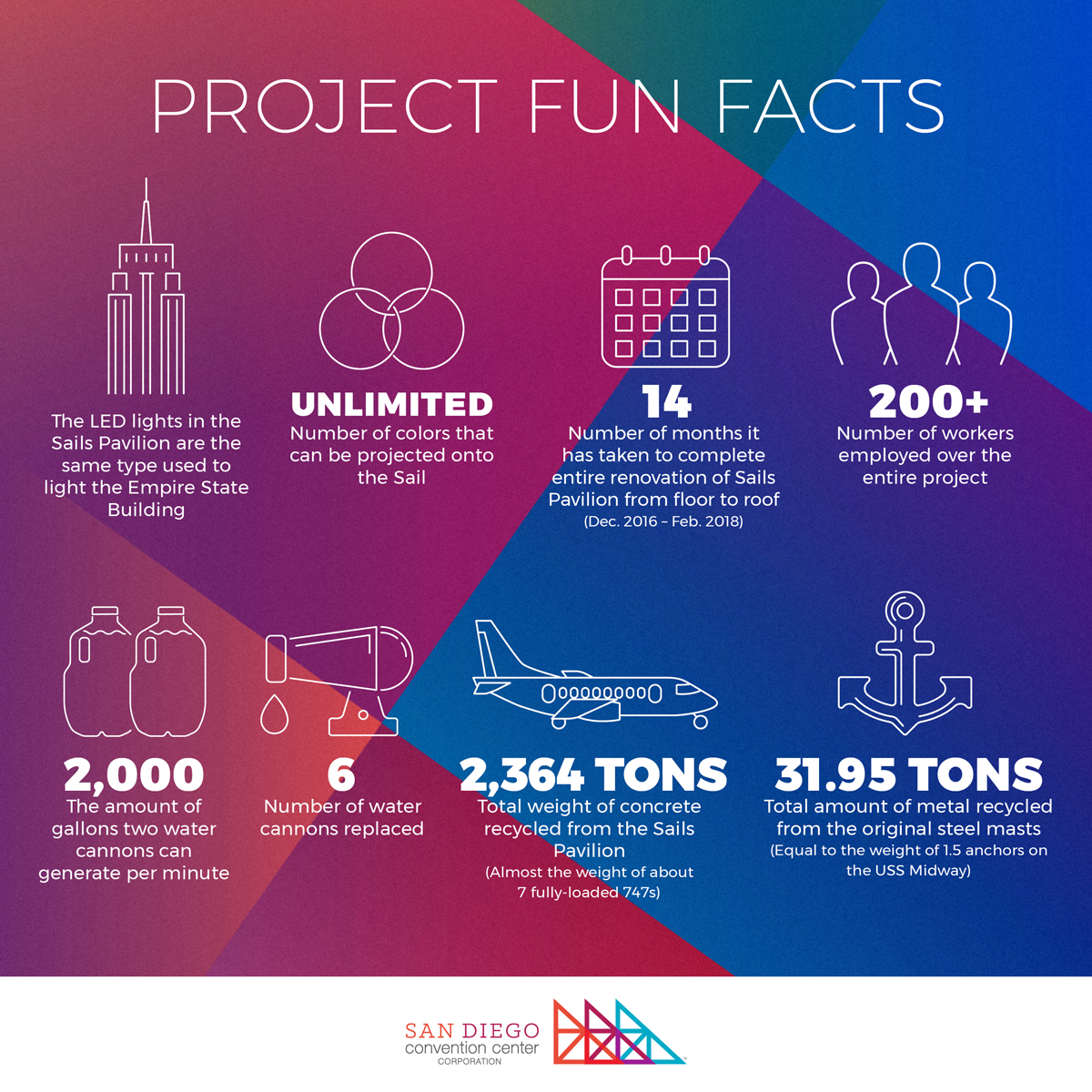 Are you excited about the new San Diego Convention Center upgrades? Let us know in the comments.