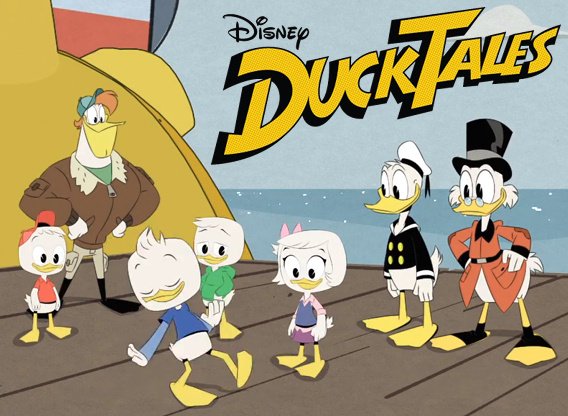 Television series comprise a huge chunk of the schedule for San Diego Comic-Con — and every year it seems like they become a larger and larger piece of the pie. The lines for Ballroom 20 rival even those of Hall H, and they won't be getting any shorter any time soon.
As the anticipation builds for the official announcements from networks and CCI as to which television shows will be on the panel schedule, we like to take time out earlier in the year to speculate which shows have the best chances of appearing at SDCC. We've broken up our picks into three segments, including the Broadcast Networks and Cable & Streaming Networks, and we're wrapping up today with the family channels — Cartoon Network, Disney XD/The Disney Channel, and Nickelodeon.
So what do we think you'll be seeing at Comic-Con this summer? Let's take a look:
Cartoon Network
To our total surprise, Cartoon Network didn't bring Adventure Time to San Diego Comic-Con last year. It's well into its final season – with only a four-episode-special to go, airing sometime later this year. So will they bring it along for one last final hurrah and to promote the final special? Considering it didn't go last year, the odds are much lower than we would have guessed this time a year ago.
In happier news: Teen Titans Go! was recently renewed for a fifth season, which is expected to start airing in June, so they should have plenty of footage to show off at SDCC. Plus, Teen Titans Go! To the Movies is releasing in theatres just days after San Diego Comic-Con ends, so there's no reason that both Cartoon Network and Warner Bros. wouldn't want to go really big with Teen Titans this year (and could we be looking at an offsite screening of the new film? Time will tell). Fan favorite Steven Universe should also be a lock for the convention.
Otherwise, Cartoon Network has several options, many of which we've seen before. Expect some combination of The Amazing World of Gumball (which will be in the middle of its sixth season during SDCC), We Bare Bears, The Powerpuff Girls (which will be in the middle of its third season), Ben 10, and OK K.O.! Let's Be Heroes.
The network also has a few things on the horizon they could push, including Summer Camp Island, about best friends Oscar the elephant and Hedgehog, a homonym mammal, who are dropped off at a surreal summer camp. It was originally supposed to air last summer, before being pushed off to 2018. They also have Victor and Valentino, about two opposite half-brothers who search their quiet town and find strange and supernatural happenings.
Disney XD / The Disney Channel
Star Vs The Forces of Evil is getting an upgrade, and moving from Disney XD to The Disney Channel for its fourth season. With that relatively recent announcement, we suspect that it will be heading back to San Diego Comic-Con for some additional promotion, even though a release date for the new season hasn't been announced yet.
Then, of course, there's DuckTales, which saw a star-studded cast (including David Tennant, Kate Micucci, and Danny Pudi) in a crowded Room 6A. It's one of the most Comic-Con-friendly voice acting casts on either Disney network, and we'd be surprised if they didn't bring it along aheads of its second season.
All the Marvel animated series also receive a yearly, joint panel (Marvel Animation Presents, which is actually presented by, y'know, Marvel rather than Disney — but we're talking about it here because we're drunk with power). That panel should have a presence of basically all the Marvel animated series, including Spider-Man, Guardians of the Galaxy Mission: Breakout!, and Marvel's Avengers: Black Panther's Quest.
The real question is, is it too early for a Star Wars Resistance panel? The upcoming animated series, the successor to Star Wars Rebels, is set to premiere sometime this fall. Rebels' Dave Filoni is behind the wheel of the new series, and stars Oscar Isaac and Gwendoline Christie will be reprising their roles from the new films in the series – but not much else is known about it at this time. Rebels never got the San Diego Comic-Con love that it really deserved, but will Resistance? It's too early to tell.
They've also got Space Chickens in Space on the horizon, but it's an international import, which makes it less likely.
Nickelodeon
Nickelodeon has gone 90's retro with most of their San Diego Comic-Con programming the last two years, and we're expecting a similar result in 2018. Rocko's Modern Life got a panel last year, where they previewed the upcoming special. It now has a name – Rocko's Modern Life: Static Cling, but no release date except for sometime in 2018. If it's slated for after SDCC, would they bring it back for some more promotion? It's definitely possible.
In 2016, Nickelodeon hosted a (closed, invite-only) segment of Double Dare at San Diego Comic-Con, and broadcast the results later in the year. Now, that special has launched a whole new revival, set to premiere on June 25. It's entirely possible that Nick could choose to bring the game show back to Comic-Con, but if they do, we hope they open it up to more Comic-Con attendees – otherwise, really, what's the point?
At 11 seasons in, you can't quite call SpongeBob SquarePants retro – but it's definitely been a long-time anchor at the convention. The series will be in the middle of its eleventh season during SDCC, so we're sure Tom Kenny and the gang will be on hand to talk about upcoming episodes.
Teenage Mutant Ninja Turtles is transforming itself – into a whole new series, known as Rise of the Teenage Mutant Ninja Turtles. The new series, which boasts a a whole new voice cast (including Ben Schwartz and Josh Brener), is hitting the small screen in September – which makes Comic-Con the perfect place to promote it.
They've also got a made-for-TV Invader Zim movie on the horizon, slated for sometime in 2018. It doesn't have a title or a release date yet, but we wouldn't be surprised if Nickelodeon chose SDCC to announce either of those things.
Television Graveyard
Clarence (Cartoon Network)
Teenage Mutant Ninja Turtles (Nickelodeon)
Star Wars Rebels (Disney XD)