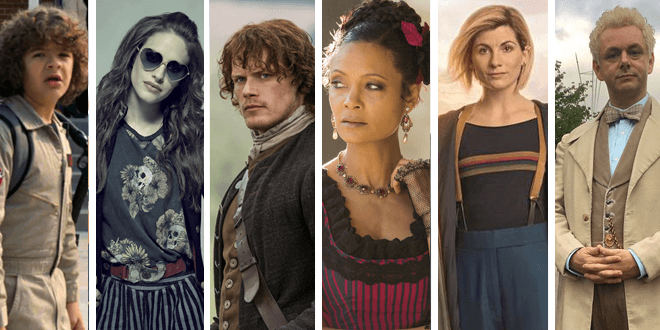 Television series comprise a huge chunk of the schedule for San Diego Comic-Con — and every year it seems like they become a larger and larger piece of the pie. The lines for Ballroom 20 are starting to rival even those of Hall H, and they won't be getting any shorter any time soon.
As the anticipation builds for the official announcements from networks and CCI as to which television shows will be on the panel schedule, we like to take time out earlier in the year to speculate which shows have the best chances of appearing at SDCC. We'll be breaking this into three segments, starting with the Broadcast Networks which we did on Monday, and followed by the Family Networks soon. But today, we're focusing on the Cable & Streaming Networks — and there's a lot of them.
So what do we think you'll be seeing at Comic-Con this summer? Let's take a look:
Adult Swim
Considering Adult Swim has already confirmed the return of The Rickmobile – the mobile merch shop for the series – we can pretty much guarantee that you'll be seeing Rick & Morty back at the convention. Which only makes sense, given that it was just renewed for an astounding 70-episodes. The series isn't going anywhere for a long time. You can also expect mainstay Robot Chicken to return.
After that, things get tricker to pin down. Adult Swim has so many series that it's always a bit of a guessing game. Mike Tyson Mysteries usually comes, but it technically hasn't been renewed for a fourth season yet. The Jellies came in 2017, but it hasn't been renewed or cancelled for a second season yet either. Instead, we think the "new series" slot will go to Mostly 4 Millennials, produced by Eric Andre. It kicks off sometime this year, and Comic-Con seems like as good of a place to promote it as any.
Again, Adult Swim has an insane amount of programming, so it's also entirely possible that there are shows they could bring that we haven't mentioned here. – Kerry Dixon
Amazon
Amazon has gone big at San Diego Comic-Con for the last few years with their big new series. Last year, that was The Tick – and in the past, that's included The Man in the High Castle and Hand of God. For 2018? The most obvious choice is Good Omens, which should excite those who love amazing literature, as well as fans of Neil Gaiman, Terry Pratchett, David Tennant, and/or Michael Sheen. Basically, it should just really excite you, okay?
Whereas typically Amazon has stuck to smaller rooms, we sincerely hope Good Omens moves them up to a Ballroom 20 presence. We're also fully expecting some sort of offsite for the series – Amazon has had large-scale offsites for the last few years, and there's no reason to skimp out now on one of their most Comic-Con friendly show to date. So if you haven't read the book yet, you should maybe get on that.
Then, of course, there's the looming eleventh hour decision to revive The Expanse for a fourth season. Assuming the pick-up becomes official, they won't have shot anything, which means they would be much further out in their production cycle than Good Omens, but the goodwill they'd get from fans alone should see Amazon bringing it.
Will we see either The Tick (which got a second season renewal) or The Man in the High Castle (with a third season coming sometime this year) return to San Diego Comic-Con? That's hard to say. Last year, The Man in the High Castle skipped, as they had nothing to show – but this year, they potentially would, depending on when the third season premieres. Instead, in 2017, Amazon brought Danger & Eggs, a weird little cartoon show about two friends, one of which happens to be a giant, talking egg, who believes in safety first. So basically, Amazon is gonna do what Amazon is gonna do. – Kerry Dixon
They are amazing. This is them in the opening scenes, 11 years ago, in St James's Park. David and Michael, demon & angel. #GoodOmens pic.twitter.com/ceK4XYY881

— Neil Gaiman (@neilhimself) September 18, 2017
AMC
The Walking Dead should be a lock in for this year's con, like always.
The series is an unstoppable force and has been for years, and there's no reason to change a winning formula – which also includes a Comic-Con presence. We think there's a good chance AMC will double down on the series again this year, and pair it with a back-to-back panel with their spinoff show Fear the Walking Dead.
Also expect Preacher to return this summer to Hall H. The series should be only four or so episodes into their third season run, so they'll have plenty to tease for fans.
Into The Badlands could potentially make a return this year, but season three has already finished by the time the con comes around – meaning they wouldn't have anything to show. – Kerry Dixon
Audience Network
Audience Network – the channel owned by AT&T – went big last year at San Diego Comic-Con with Mr. Mercedes, based on the Stephen King novel. There's a second season premiering on August 22, which means they'd have plenty to tease for attendees — and we fully expect to see them back in force at the con. They can bring the ice cream truck back too, that would be just fine with us. – Kerry Dixon
BBC America
Will attendees get to meet the new Doctor at Comic-Con this year? That's the question on many minds.
Unfortunately, the precedence here is not great for Doctor Who fans. The new season — which will see Jodie Whittaker take on the role of the 13th Doctor — is set to premiere sometime in October. The last two years we've had Comic-Con's when a new Doctor hasn't yet made their official TV debut (2010 and 2014), the series has skipped the convention entirely.
Granted, those other years, BBC America had other series they could bring along to the convention (including Being Human and Orphan Black), so they still had a strong presence. This year, the pickings are much slimmer. Killing Eve, which stars Sandra Oh as a desk-bound MI5 officer who tracks down a talented sociopathic assassin, didn't attend last year and already finished its run for this year — which doesn't make it very likely to attend in 2018. But, the network also felt strongly enough about it to renew it for a second season ahead of its April debut, so it's certainly not impossible.
This is one to watch, but we think we could be looking at a greatly reduced BBC America presence this summer. – Kerry Dixon
Cinemax
Robert Kirkman's Outcast hasn't been at San Diego Comic-Con since 2016 — but for good reason: It hasn't actually aired in the US since August of 2016. But it was recently announced that the series will launch its second season on July 20 (though, if you live in the UK, you may have already seen it last summer), which would make a Comic-Con appearance even more likely.
If Cinemax wanted to shake things up and have a larger presence, there's also Warrior – an upcoming series based on an idea by Bruce Lee, which follows a martial arts prodigy in the late 1800s in San Francisco. It doesn't have a release date yet, but it's one to watch.
Technically, the network also has Strike Back, which made our "TV Graveyard" of cancelled SDCC shows back in 2015, before being revived. It's been renewed for a seventh season, but considering it hasn't been to the convention since 2013, we don't think it's coming back. – Kerry Dixon
Comedy Central
Last year, Comedy Central had a very reduced presence — represented only by the amazing Broad City. Will the Ilana Glazer and Abbi Jacobson comedy be gracing a convention center stage again in 2018? Well, maybe. 2017 was the first year it had been at San Diego, which means it's definitely not a lock. And then there's the matter of the final season not airing until sometime in early 2019, and Comedy Central typically doesn't bring shows out with a release date set that far in the future.
Case in point: Drunk History had been coming to the convention for a few years, but it skipped last year when the network knew there would be no new episodes until January of 2018. Currently, there's no return date for the remaining episodes of that series either, which also means it's not a guarantee to return. Another Period also skipped in 2017 when it wasn't returning until January 2018 (do you sense a pattern here?), and hasn't been renewed for a fourth season yet, so we don't think you'll be seeing that back at SDCC either.
So just what will you be seeing at Comic-Con from Comedy Central? We think Detroiters, a series about two friends who set out to start a local advertising firm with very little in the way of money, connections, or talent, has a strong chance. Its first season already aired last year, and normally we would say that would be a hindrance to it suddenly appearing at Comic-Con, but Comedy Central has never shied away from promoting their ongoing series at the con. The second season is set for June 21 — which would mean they'd have plenty of footage to show off for attendees. – Kerry Dixon
DC Universe
There's a new kid on the block — and he's coming to Comic-Con (probably, anyway). DC's new streaming service, DC Universe, seems poised to make a big splash at this year's event. Three new series have already been announced for the not-yet-launched digital platform, including Titans, from everyone's favorite executive producer Greg Berlanti, is based on the DC team of the same name, whose roster includes Robin, Starfire, Raven, and Beast Boy. It doesn't have an official launch date beyond "2018" at the moment — which is the only thing that might potentially keep DC Universe from being at the convention, as it might just be too early, but we would think that DC and Warner Bros. would want to get a jumpstart on promoting the platform.
DC's already so sure about the series that they've also ordered a spin-off series, Doom Patrol, which will be set after the events of Titans. Whereas Titans is already well into production, Doom Patrol is still early days, and has less of a chance of attending beyond some general promotion for it and the streaming service. In between those two series is Swamp Thing, produced by Aquaman director James Wan, about the iconic character. Of the three, this is the one with the most hype surrounding it, and again, we think DC and WB would be missing out on an opportunity if they chose not to promote the service and their upcoming series at San Diego. – Kerry Dixon
Freeform
We believe Shadowhunters will once again be at the convention this summer, since a producer on the series already hinted on Twitter back in March that it would be attending. While that doesn't completely confirm a presence, it's a very good bet. The show hasn't officially been picked up for a fourth season, and Comic-Con seems like a great place to announce it.
Another show Freeform could bring is Marvel's Cloak and Dagger which premieres June 7. The show already had a panel at WonderCon, well ahead of its release, so it makes sense to bring it to San Diego in the middle of its run. Considering its a Marvel series, it should be a lock. Cloak and Dagger centers around two teenagers from very different backgrounds who get superpowers they have to navigate, all while falling in love. – Kara Dupree
https://www.youtube.com/watch?v=PZCs93cGcdY
FX/FXX
Legion hasn't been renewed yet for a third season – so that's a crucial step before it heads back to San Diego Comic-Con.
It's been two years since American Horror Story stepped foot on a San Diego Comic-Con stage (though we've had some scattered promotions as part of the yearly FX offsite) — is 2018 the year that it makes a comeback? We're pretty skeptical. Ryan Murphy is known for being incredibly tight-lipped about the series, and right now, season eight doesn't even have a title. Production won't begin until only a few weeks before the convention, so it could surprise us (as it has in the past) — but we wouldn't put any bets on this one.
What we're more curious about is actually Mayans MC, which takes place in the same world as Sons of Anarchy, and follows the motorcycle club on the California/Mexico border. Anarchy was an anchor in the Hall H Sunday schedule for years, so it seems only right that its predecessor should take center stage at the con as well. Going against it is the fact that Anarchy never made total sense for the con, so as much as we loved it, FX might decide that the tradition is dead.
They've also got What We Do In the Shadows, from the crazy minds of Jemaine Clements and Taika Waititi (and if you haven't seen the original film — run, don't walk). Just like the 2014 film, it will follow three vampires who have been roommates for hundreds and hundreds of years — which definitely makes it Comic-Con fare. However, it doesn't premiere until spring of 2019, so it may just be too far out to promote at SDCC.
Finally, there's Archer, which is as guaranteed a panel as you're going to find anywhere on the schedule. Word on the street is that the series might wrap up after season 10, so this could be your last chance to see the gang all back together. – Kerry Dixon
https://www.youtube.com/watch?v=z7HhvZkh7F4
HBO
Game of Thrones doesn't return with its final season until sometime in 2019, but anyone worried about that meaning it won't be at San Diego Comic-Con 2018 clearly hasn't been paying attention. Last year was actually the first time the series had ever been to the convention in the middle (or even before) its run, as typically it uses Comic-Con for more of a victory lap. What you may need to worry about a little, though, is its usual offsite presence. This marked the first time in recent years (to our memory) that the network skipped having an offsite presence at Austin's SXSW, choosing instead to go all-in on Westworld, which may not bode well for an offsite for Comic-Con. But especially with this being Game of Thrones last time at San Diego, HBO will still want to go big.
And speaking of Westworld, we think you can count on it returning to Hall H as well. HBO is surely hoping it can take over the HBO San Diego Comic-Con series mantle following Thrones final bow next year, and it being between seasons certainly didn't hurt it last year either. While we don't think you'll be getting the amazing massive offsite that SXSW got, we feel pretty confident that the network will have something up its sleeves for those looking for something to do outside the convention center as well.
Silicon Valley only attended once, in 2016 — so we don't think you'll see it back this year, when HBO already has two big shows they want to promote. – Kerry Dixon
History
Vikings love two things: Ale and Comic-Con (okay, we made that up). But the History series always makes a big splash in San Diego, both inside and outside of the convention center, and this year should be no different.
Last year's other big series, Knightfall, hasn't been renewed or cancelled yet, so it seems unlikely to head back to the convention with nothing to show. However, History has something else on the books that makes perfect sense for the SDCC crowd: Blue Book, which sees Game of Thrones' (or original Queer As Folk's, if you prefer) Aidan Gillen as an astrophysicist who delves into investigating supposed UFO encounters and unexplained phenomenons in the 1950's and 1960's. Last year, some Knights Templar closely guarded our bags in the Gaslamp. This year, maybe little green men will. – Kerry Dixon
Hulu
Hulu has big plans for San Diego Comic-Con this year. We know, because they said so. The streaming giant looks to be heavily promoting Castle Rock, which will intertwine characters and themes from across Stephen King's prolific work, set in the fictional town. It's already been confirmed, so the only real question left is: Will Hulu be bringing Stephen King along for the ride?
Hulu went bigger than ever in 2017, with a panel at the convention center and offsite offerings in conjunction with Nerdist and IMDb for the Seth Rogen produced Future Man. It's possible that Castle Rock may get the bulk of publicity in 2018, especially with a release date so close to the convention, but the streaming network also has an upcoming second season of Future Man, as well as Marvel's Runaways, and the new Blumhouse series Into the Dark. An off-site and/or panel presence that combines several of their series is certainly not out of the question. – Kerry Dixon
https://www.youtube.com/watch?v=H14tqKZYhgg
MTV
Since Teen Wolf ended its run, and there's no news on when Scream's third season will premiere (if ever), it's entirely possible that MTV could completely skip out on the convention this year.
We know what's on everyone's mind though: Since MTV doesn't have anything to promote at the convention this year, what happens to MTV Fandom Fest? Over the last few years the event has slowly been ramping down on what the event entails, and didn't even announce musical guests last year until the convention had already started. We really wouldn't be surprised if MTV Fandom Fest simply didn't happen this year. – Kara Dupree
Netflix
How amazing is it that after last year, we can officially start daydreaming about what Netflix might actually bring to SDCC, rather than sighing about everything they should bring but won't because they never show up?
Season three of Stranger Things is currently underway, with no release date announced yet. It's possible that we may be too far out into the production cycle to see a return to Hall H, but fans went so crazy for the series last year, we're hopeful that Netflix decides to bring it along anyway.
More likely (unfortunately) is the second season of Marvel's Iron Fist. It's the next of the Marvel Netflix seasons to come out, slated right now for sometime in 2018, which means it would have the most footage to show and of the series, it's the one that could probably use some fan goodwill and extra promotion the most. That said, the first season was pretty much universally panned, so Marvel and Netflix may choose instead to combine promotion with Marvel's The Punisher, whose second season is currently in production.
For their new series, the most obvious choice is Chilling Adventures of Sabrina, as in, the teenage witch variety. The upcoming series comes from WBTV, sees Greg Berlanti as an executive producer, and has a cast that includes Kiernan Shipka, Jaz Sinclair, Michelle Gomez, Miranda Otto, and Lucy Davis. In order words, it's tailor-made for promotion at SDCC.  They've also got The Innocents, a British series from Netflix worldwide about two young lovers with special gifts and powers who run away together. It releases in August, which puts Comic-Con in the sweet spot during the promotion cycle. And then there's Disenchantment, the upcoming animated series from The Simpsons' Matt Groening. It's also getting an August release date, and Groening is usually at the convention anyway, which would make it an obvious fit.
If Netflix wanted to make all of my childhood dreams/nightmares come to life, there's also The Dark Crystal: Age of Resistance, a prequel TV show to the beloved Jim Henson film. Not much is known about the series right now, which makes it a bit more of a dark horse, but it's The Dark Crystal for crying out loud (and it has already started production, so they'd have footage to show).
Last year, Netflix brought along a few streaming movies, so we wouldn't be surprised to see that trend continue into 2018. But we'll cover those in the Movie editions of this post, out on Monday. – Kerry Dixon
https://www.youtube.com/watch?v=6XshabV0010
Paramount
Paramount, formally known as Spike, doesn't have a lot of series on their network but one show that could potentially have a presence is Heathers. Yes, you read that right, Heathers as in the 1988 film starring Winona Rider, is getting a TV reboot. The series was originally supposed to air back in March, but was postponed due to the school shooting at Parkland High School. Now, it's set to premiere on July 10 — just a few days before the con. – Kara Dupree
Sony Crackle
Sony Crackle, formerly known as just Crackle, burst onto the Comic-Con scene in 2015 with stop-motion-animated SuperMansion, but the timing hasn't worked out since. It will finish up its third season run ahead of San Diego Comic-Con, which is why it was promoted at WonderCon instead this year. There's really not much else they could promote at the convention, as again, the timing just doesn't really work out. – Kerry Dixon
Syfy
Syfy has a tendency to bring everything and the kitchen sink — but one thing we've been hearing won't be back is Syfy Presents Live From Comic-Con. You'll just have to get your kicks from one of Syfy's other hundreds of offerings (we kid. Kind of).
We already know that Wynonna Earp is returning to San Diego, and with a season premiere in the middle of the convention, a watch party definitely doesn't seem out of the question. We also expect to see the return of Z Nation, Van Helsing, HAPPY!, Krypton, and The Magicians. Killjoys has never squeaked out an invitation to the con. Granted, this year, the fourth season premieres on July 20, so if ever there was a time to bring it, it's this year. Channel Zero isn't heading back to the small screen until 2019, so we wouldn't be surprised to see that skip this year.
Then, of course, there's Sharknado 6, the last of the epic shark-weather-related-incident movies. Syfy has always used San Diego for heavy fanfare for the series, even going so far as to throw shark parades (and please bring them back, we loved them), so there's no reason they wouldn't wrap the series up with one final lap around the Comic-Con pool.
For new series, there's three possibilities. Deadly Class, based on the critically acclaimed graphic novel by Rick Remender and Wes Craig, and hailing from executive producers Joe and Anthony Russo. It follows a homeless teen in 1980's San Francisco, who is recruited into an elite private school where the world's top crime families send their next generations. With a pedigree like that, and a hot trailer already out, it seems like a no-brainer. There's also The Purge, based on the film series. It's more pure horror than Syfy usually brings to the convention, and they may not be far enough along in production to bring it, but it's a strong contender.
And then, there's Nightflyers, based on the George R.R. Martin novella published almost 40 years ago. The novel, and presumably the series, follows a group of scientists aboard a spaceship called The Nightflyer, who hope to discover whether they can make contact with alien life — but as so often happens in movies and in TV, the plan goes horribly awry. There's no official release date yet, but Syfy has said before they hope to launch around July 2018 — and really, if you had the opportunity to put George R.R. Martin on your panel at Comic-Con, wouldn't you? – Kerry Dixon
Showtime
The years when Showtime used to use San Diego Comic-Con to promote all of their shows — whether they were genre or not — seem like a distant memory now (though if I close my eyes, I can still picture Michael C. Hall's face plastered everywhere). The last time Shameless attended SDCC was all the way back in 2012, during the heyday of Dexter (and also the year of those bizarre/amazing Dexter memes all over the convention center). Now, the network only comes if they have something they feel will truly resonate with attendees, such as the since-cancelled Penny Dreadful or last year's limited series Twin Peaks: The Return.
And in 2018, there's really nothing that would fit that description. Instead, we expect the network to repeat their 2015 and 2016 presence, which was to skip entirely. Maybe we'll see you in 2019, Showtime. – Kerry Dixon
Starz
In years past, Starz has opted to only bring one series to the con at a time. Could this be the year that all changes? Outlander seems like the safest bet, with season four premiering in November. They would have plenty of footage to show fans this summer to get excited for the new season.
American Gods season two has no premiere date yet, although it's supposed to return sometime in 2019. The show has undergone a lot of changes since season one, with cast member Gillian Anderson leaving, as well as creators Bryan Fuller and Michael Green. This could be an opportunity to show fans footage from season two, which is currently in production, and to get them excited about the series again.
As far as new shows, they do have one in particular that could show up if they decide to go all out this summer: The Rook. The series follows a young woman pursued by shadowy paranormal adversaries while dealing with her own extraordinary abilities, all while resuming her position at the head of Britain's most secret service. The show is based upon the Stephenie Meyer book with the same name. No matter how you feel about Meyer, her novels have definitely been a draw at Comic-Con in the past, so it would make sense to bring the series along. The only setback is that while the series has been filming in London, there's currently no news on when it might premiere, so it might be just a little too early. – Kara Dupree
TBS
Three years ago, TBS decided to make the trek to Comic-Con with Conan. Last year, the network decided to bring three shows on top of Conan to the con People of Earth, Final Space (which shared a panel with American Dad), and Wrecked.
We suspect People of Earth and Final Space to be back at the convention this summer with a panel for both shows. The last two years TBS has gone heavy on People of Earth, using airport wraps and their booth to try to boost attendee's interest in the series — so it's a safe bet for being heavily promoted again in 2018 (and while we don't have the exhibitor list yet, TBS' booth is also likely to return).
While Wrecked didn't have any sort of promotion inside the convention center they did have one of the coolest offsites, the Wrecked barge. At the offsite fans could stop at their pop-up bar, ride a bull, play mini golf, and that was just the beginning. Since they didn't have an official panel at the convention, the odds of them returning in 2018 could go either way, but we don't think anyone would be mad if they brought that offsite back. -Kara Dupree
TNT
The Last Ship has become something of a Comic-Con mainstay, and with the series going into their final season sometime in "mid-2018", we fully expect it to get a proper bon voyage farewell in San Diego this summer.
After it sets sail (yes, we worked as many boat puns in here as could), TNT's going to be looking for something to take its place at Comic-Con — and that replacement is likely to be Snowpiercer. The upcoming series, based on the same French graphic novel that inspired the 2013 Chris Evans film, was recently ordered to series by TNT under showrunner Graeme Manson (co-creator of Orphan Black). It will star Hamilton's Daveed Diggs and Jennifer Connelly, and is sure to be a lock for San Diego. We're just not sure if it's a lock for this year. It's still early days, and considering the series was just ordered to series a few months ago, we may be looking at a 2019 panel instead. – Kerry Dixon
TV Land
TV Land is hit or miss. While in the past they've brought series to the convention, the last two years they skipped completely. If they do decide to come, we could see a panel for Teachers (which attended in 2015) whose third season kicks off in June, or, less likely but not impossible, Younger (which also premieres its fifth season in June). – Kerry Dixon
USA
Give me liberty, or give me a Mr. Robot ferris wheel! (No, sorry, I won't ever let it go). You'd barely know that Mr. Robot didn't hold a panel last year, given that they still had amazing promotion going on all over the streets of San Diego. A Red Wheelbarrow pop-up serving BBQ lunches. A follow-the-clues secret offsite. A chance to score your own Ecoin card. But 2017 saw it move out of USA's summer series timeslot and into the fall, and it doesn't look like it's heading back to the summer in 2018 either, which makes an appearance inside the convention center a bit less likely. We think you'll still see some promotion for it though, just like last year. (We're still rooting for that ferris wheel).
Shooter — the Ryan Phillippe series about an expert marksman — hasn't attended San Diego Comic-Con yet, and it's heading into its third season, so it doesn't seem likely to suddenly show up. There's really not much else on USA's slate that makes sense for the convention. – Kerry Dixon
YouTube
To our recollection, YouTube has never really had a presence at San Diego Comic-Con. But that could be because they've never really had a reason to, and in 2018, they just might. Cobra Kai — the web series sequel to The Karate Kid, which sees Ralph Macchio and William Zabka reprising their roles in a series taking place 34 years after the original film — launched earlier this month on YouTube. It's already been renewed for a second season, which is set for 2019. It's a bit of a stretch, considering the first season just aired and they presumably won't have any new footage to show, but if YouTube wants a presence, this would be the year to do it. – Kerry Dixon
TV Graveyard
We'd also like to take a moment to reflect back upon our dearly departed shows that won't be gracing the stages at San Diego Comic-Con this summer, either because they were canceled, or simply ended their run. Here are the cable shows that you won't be seeing at SDCC again, at least until that ten year reunion (or until Hulu, Netflix, or some streaming service that hasn't been invented yet inevitably picks it up):
12 Monkeys (Syfy)
Ash Vs. Evil Dead (Starz)
Blood Drive (Syfy)
Dark Matter (Syfy)
Dirk Gently's Holistic Detective Agency (BBC America)
Ghost Wars (Syfy)
@Midnight (Comedy Central)
Orphan Black (BBC America)
Stitchers (Freeform)
The Shannara Chronicles (MTV/Spike)
The Strain (FX)
Teen Wolf (MTV)
Twin Peaks (Showtime)
Vice Principals (HBO)