First, a reminder! If you rent a bike or scooter, please be sure to obey all traffic laws (neither can be ridden on the sidewalk — even the scooters!), be kind to pedestrians, and park them where you are not obstructing walkways or doorways.
A big change from Comic-Con last year is that downtown San Diego is now home to hundreds of "dockless" bicycles and scooters, making it even easier to get around but also causing a bit of a clutter problem. There are three major dockless bike companies that you'll find in the Gaslamp: LimeBike, Mobike, and Ofo. These bicycle rentals are all app-based, making the bikes easy to find, unlock, ride, and leave at your destination.
As reported by the San Diego Union Tribune, last Thursday the Port of San Diego and Convention Center officials announced new rules for the dockless bikes around the convention center for this week. There will be 4 zones where you can park the bikes and scooters near the convention center:
On the grassy corner of First Avenue and Harbor Drive
On the grassy corner of Fifth Avenue and Harbor Drive
Area adjacent to the pedestrian bridge stairs next to Petco Park
Area adjacent to the public walkway in Embarcadero Marina Park North (behind Seaport Village) in the grass area.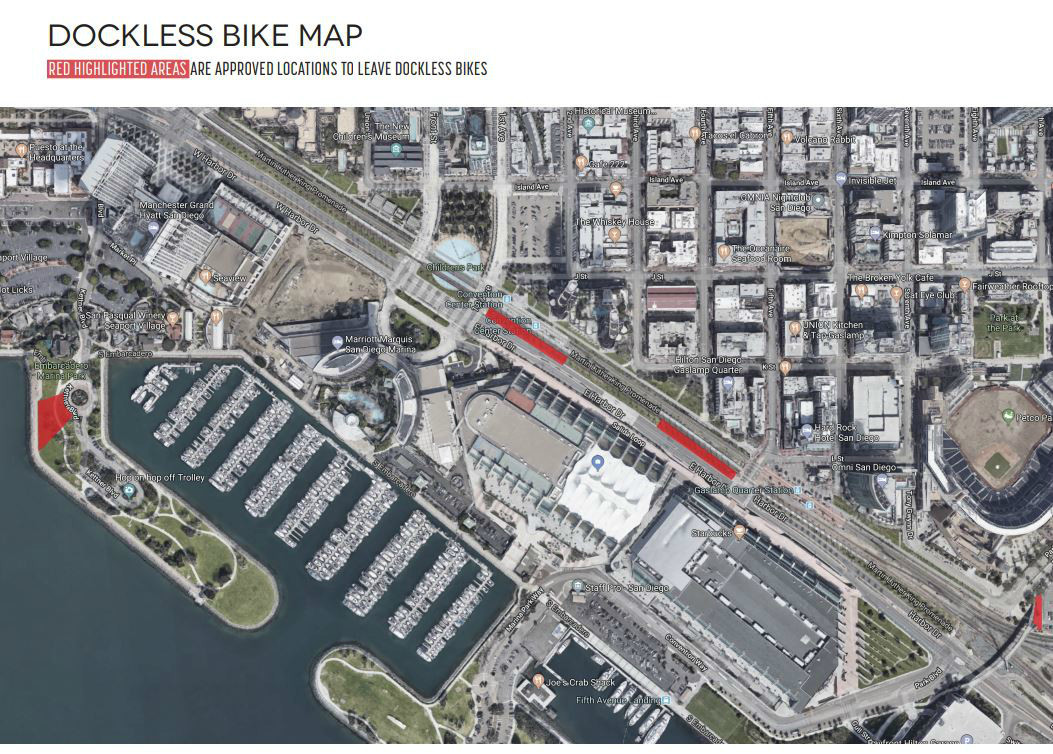 A little more about the bike share companies:
LimeBikes are one of the more prevalent of the new companies. Their green bikes come in regular bike format, as well as electric bikes and scooters. The cost is $1 per 30 minutes.
Ofo bikes are yellow, and work on the same principal as the LimeBikes. You join the app, locate a bike, and unlock it with the bike's QR code. The cost is $1 per ride.
Mobike only requires you to validate your phone number and agree to terms and conditions before you get going. Scan the QR code to unlock the bike, then manually close the lock when your ride is complete, to end your trip.
Also still in downtown is Discover Bike, formerly known as Deco Bike, which we wrote about a few years back. This is a docked bike with numerous stations all over downtown – see their map here. With the new restrictions on where you can leave the dockless bikes this week, the Discover Bike stations may be useful.
While it's wonderful to have all these enviromentally-friendly bike rental options, downtown San Diego doesn't quite have the infrastructure to host the hundreds of bicycles, and they are currently found littering the sidewalks. Riders who rent these bikes do agree to leave them out of the way when done, but we will see how it affects the pedestrain traffic flow during the crazy time that is SDCC.
Will you try to use one of the bike rentals when visiting for San Diego Comic-Con? Discuss in the comments!