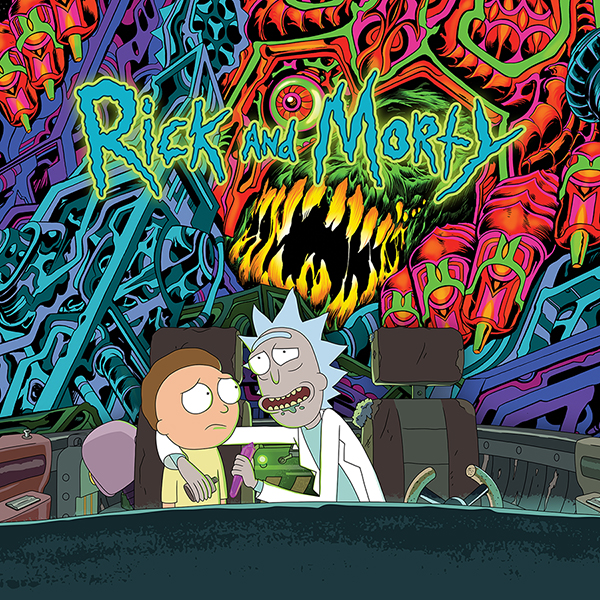 While Rick and Morty won't have a panel at San Diego Comic-Con, attendees still have a chance to get their hands on something pretty cool for the series.
Sub Pop and Adult Swim will be releasing a 26-song album featuring music from the series – set to release this fall. Attendees at San Diego Comic-Con though can get a version first, as SDCC is bringing an exclusive, colored vinyl variant of the deluxe box set to the Adult Swim State Park Camp Store. It's limited to just 1,000 pieces.
The regular double LP will include the standard LP pressed on an exclusive colored vinyl housed in a box with an etched plexiglass window with LED lights which make the etching glow. The box also contains a custom poster, a patch, a sticker, and a bonus 7" single (featuring an extended mix of the screaming sun from the 2nd season finale.) So you can probably expect something similar for the Comic-Con version.
The Rick and Morty Soundtrack
Tracklisting
1. Rick and Morty Theme Song
2. Jerry's Rick
3. The Small Intestine Song
4. The Flu Hatin' Rap
5. African Dream Pop
6. Look On Down From The Bridge – Mazzy Star
7. The Rick Dance
8. Goodbye Moonmen
9. Summer and Tinkles
10. Do You Feel It – Chaos Chaos
11. Unity Says Goodbye
12. Get Schwifty (C-131)
13. Raised Up (C-131)
14. Stab Him in the Throat – clipping.
15. Help Me I'm Gonna Die
16. Let Me Out
17. Memories – Chaos Chaos
18. Stuttering Light – Chad VanGaalen
19. Alien Jazz Rap
20. For The Damaged Coda – Blonde Redhead
21. Fathers and Daughters
22. Seal My Fate – Belly
23. Terryfold – Chaos Chaos
24. Tales From The Citadel
25. Rick and Morty Score Medley
26. Human Music