You don't have to travel to a galaxy far, far away in order to grab Star Wars exclusives. StarWars.com has unveiled a plethora of Star Wars San Diego Comic-Con exclusives, from companies including Hasbro, Mattel, LEGO, Hallmark, Topps, and more.
If some of these look familiar, it's because they are. We've shared the Hasbro, Mattel, LEGO, Hallmark, and Gentle Giant exclusives before – but we're including them here to make it easier to find.
Here's a look at this year's Star Wars exclusives:
Hasbro – Booth #3329
Star Wars Forces of Destiny Chewbacca and Porgs set – $49.99
Chewbacca's roar isn't so fearsome when he's helping two soft, flocked porgs and their nest of porglets. The fuzzy set is housed in a package that carefully recreates the cockpit of the Millennium Falcon, for display and play.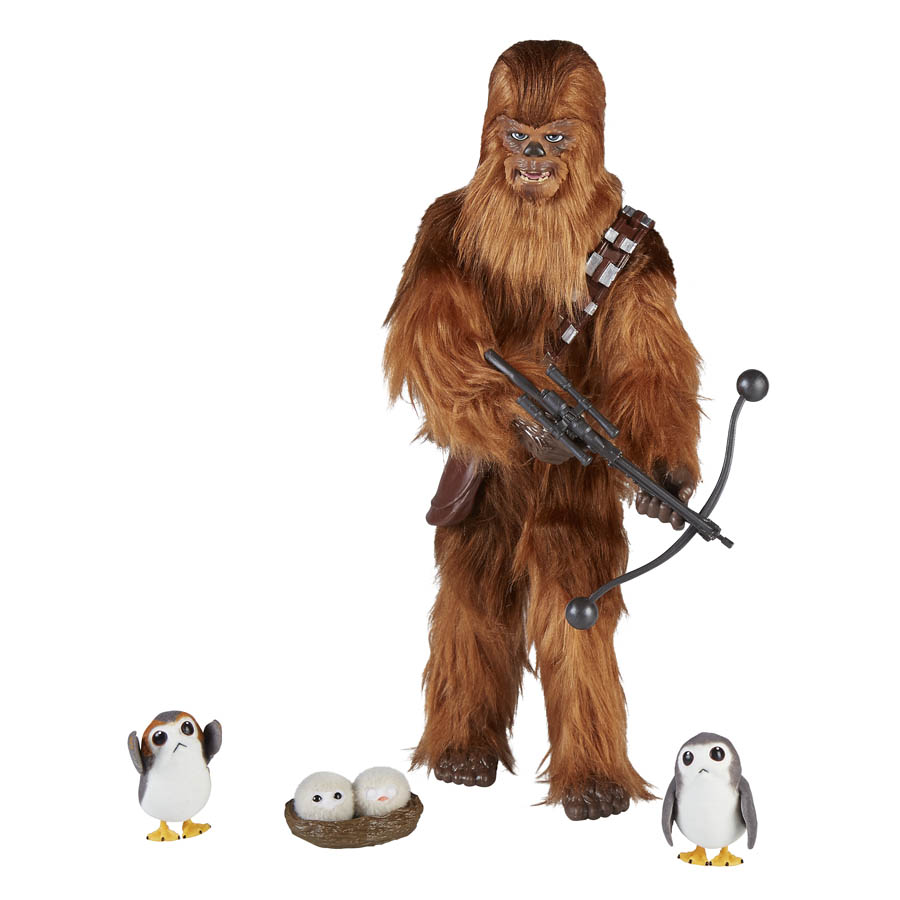 Other convention exclusives include The Vintage Collection Doctor Aphra Comic Set ($49.99), a striking Starkiller Base Black Series Centerpiece ($109.99), and The Black Series: Han Solo ($34.99) in Bespin gear (complete with mynock!)
LEGO – Online Exclusives Portal Winners only
Millennium Falcon Cockpit set – $39.99
Buckle up and prepare to make the jump to hyperspace with Han Solo and Chewbacca in this special limited edition set from Solo: A Star Wars Story.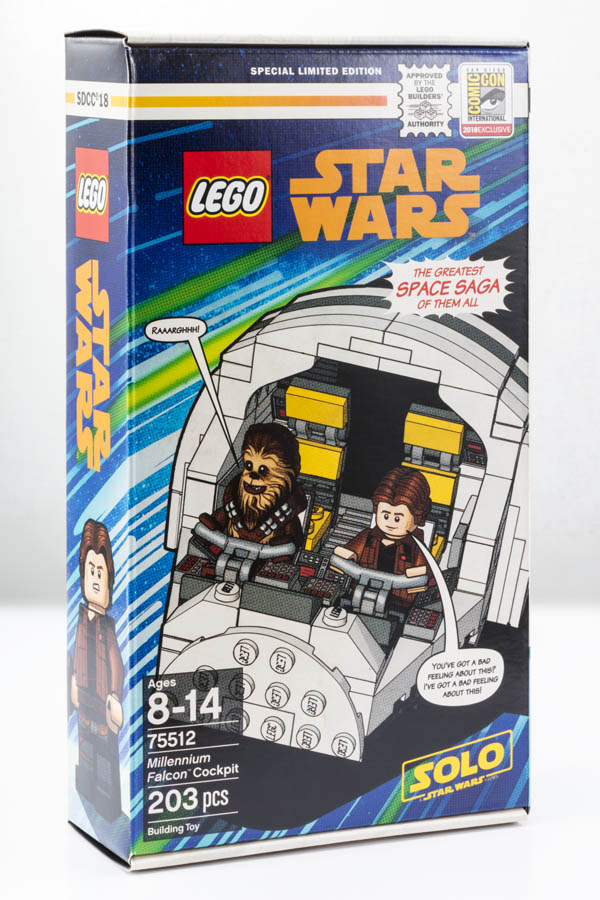 Mattel – Booth #3029
Hot Wheels Battle Rollers – Porg and Millennium Falcon – $10
A porg! In a teeny, tiny Millennium Falcon! What's not to love?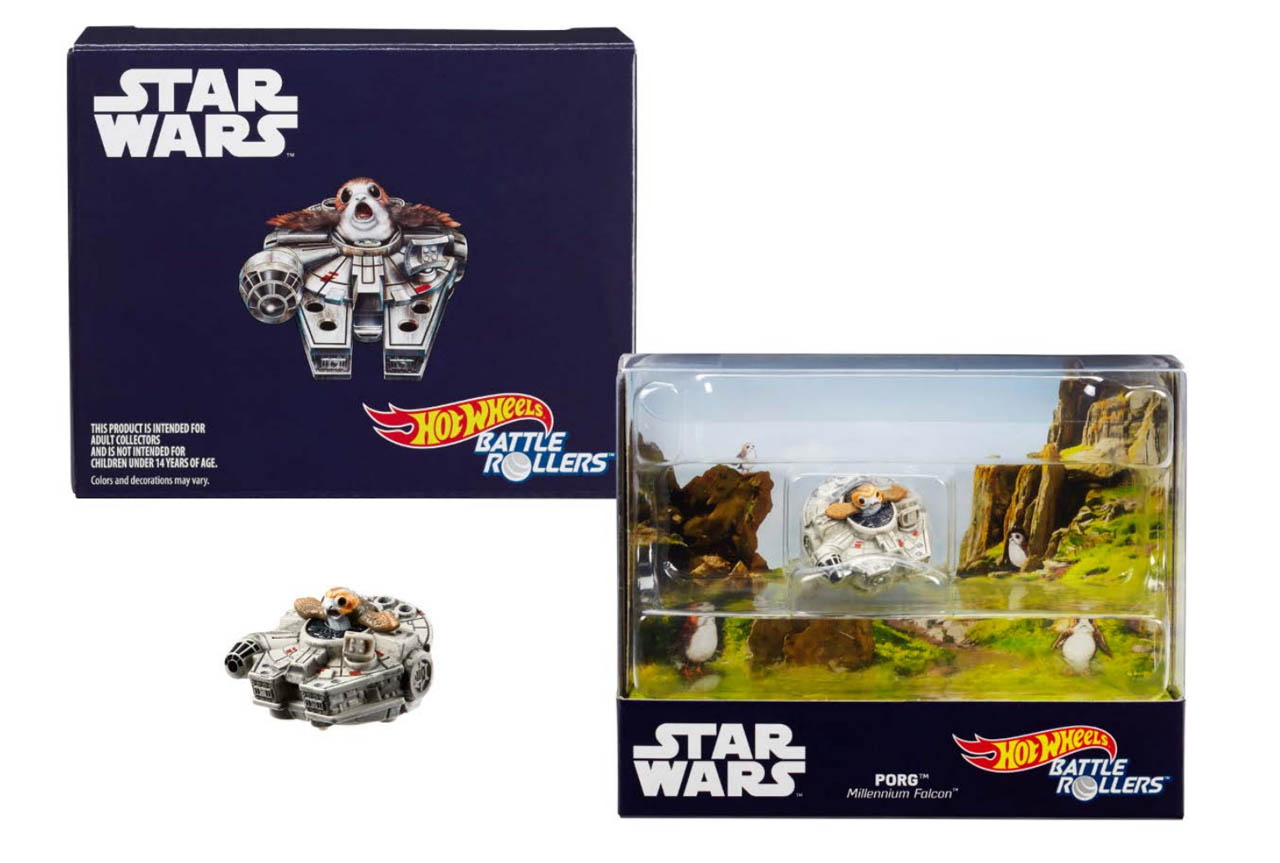 Hallmark – Booth #2913-K
Lando Calrissian and Lobot Keepsake Ornament Two-Pack $40
The respectable business man running Cloud City and his faithful, cybernetically enhanced aide join your crew of Keepsake Ornaments with original sculpts based on their first appearance in The Empire Strikes Back.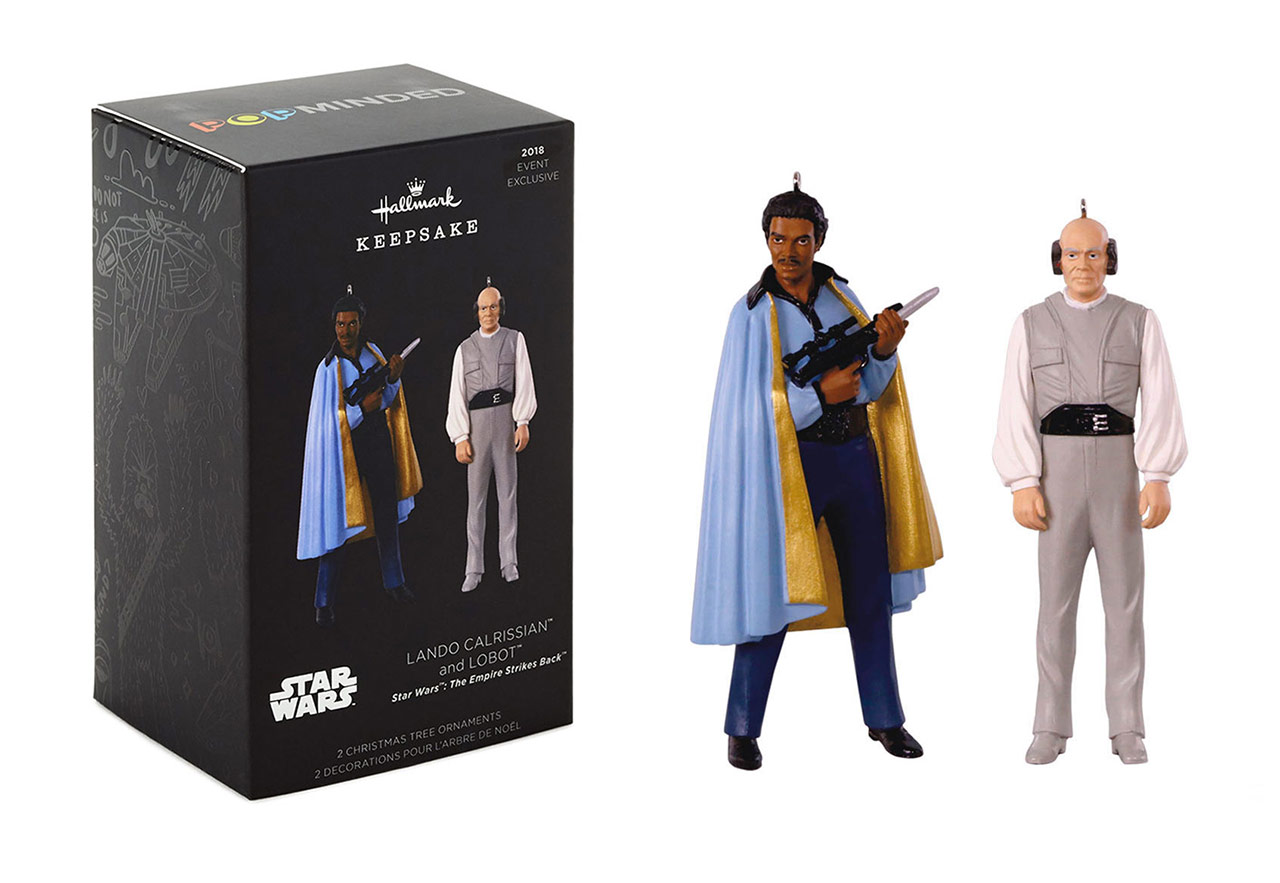 Other convention exclusives include a Boba Fett itty bittys plush in blister-card packaging ($18), and a golden BB-8 perpetual calendar complete with an additional set of date cubes in Aurebesh ($40)
Hallmark – Booth #1505
PXL8-style collectible enamel pins featuring 8-bit renditions of Leia in Boushh disguise and Han Solo in Carbonite from Return of the Jedi ($15).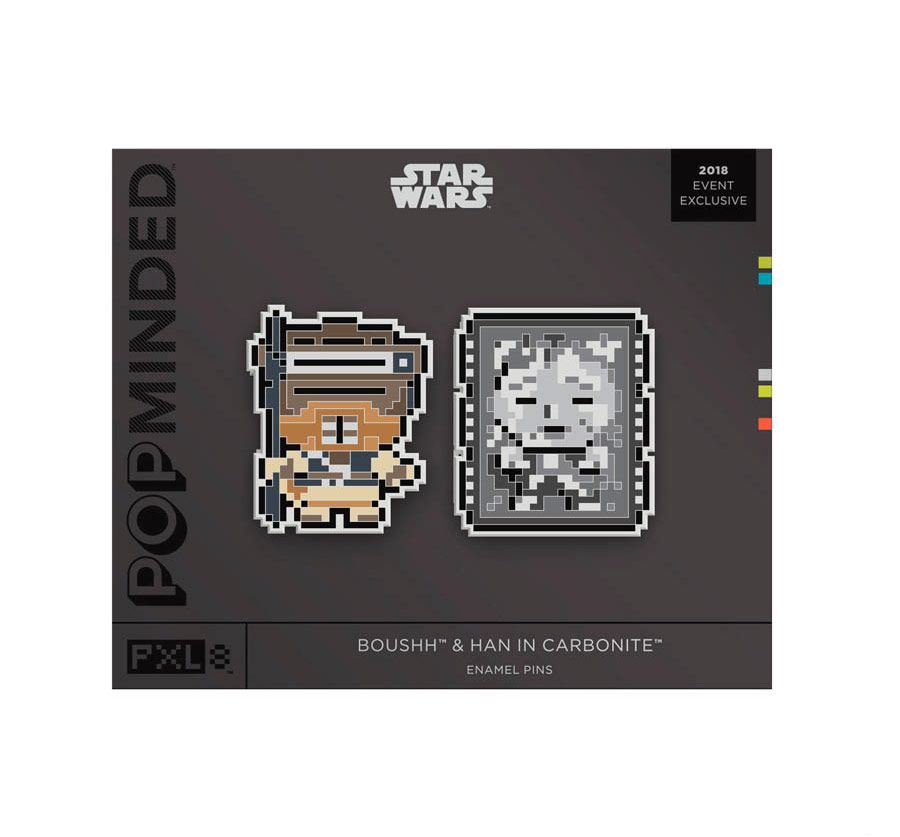 Trends – Booth #2913-D
Russell Walks Triptych Posters – $25 each
Light. Darkness. A balance. Artist Russell Walks will be available at specific times Thursday, Friday and Saturday to sign his own poster trilogy depicting the prequels, sequels, and original films.
Funko – Booth #5347
POP Star Wars: The Clone Wars Cad Bane and Star Wars: Solo Stormtrooper – $15 each
The ruthless bounty hunter and blaster-for-hire Cad Bane joins a legion of bobbleheads from the Star Wars galaxy, along with a stormtrooper on patrol.
Loungefly – Booth #5346 for the porg backpack and #2343 for Jabba's Palace print (available only from Entertainment Earth)
Porg mini backpack – $65
Take flight with a backpack that's as cute as the Ahch-To natives that inspired the design, from the wide-eyed exterior to a playful porg print hidden inside.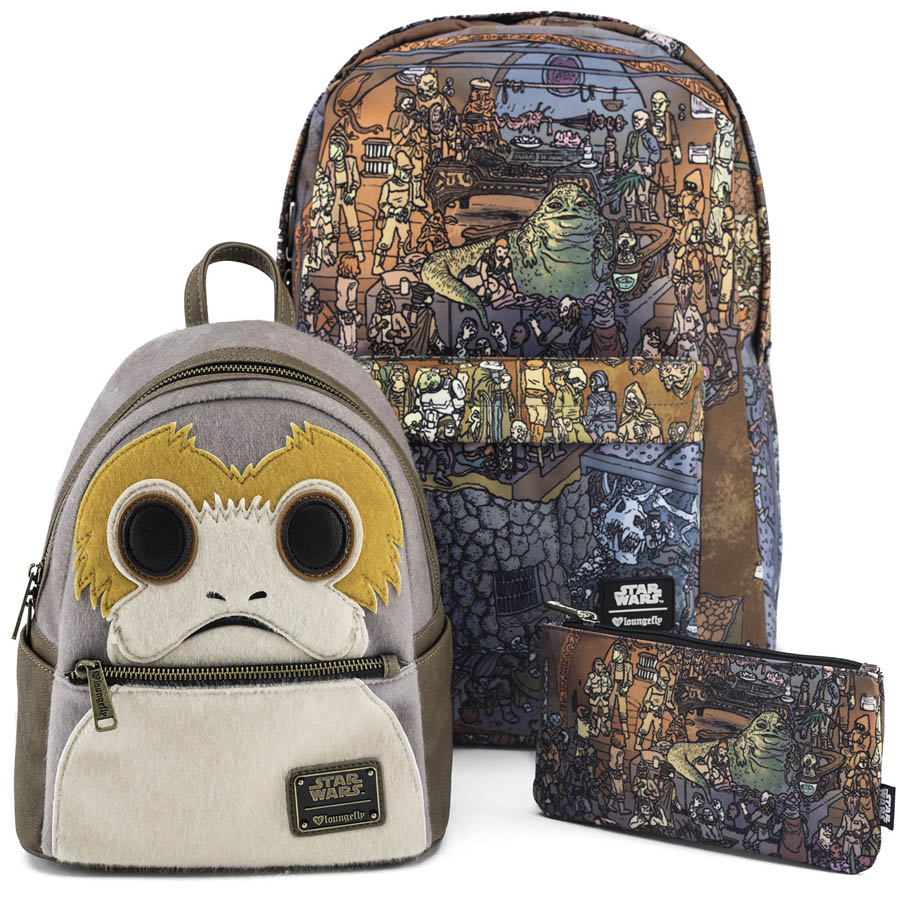 Other convention exclusives include a festive print of Jabba's Palace ($40) on a backpack that comes with a matching nylon pencil case ($8).
Gentle Giant – Booth #3513
Boba Fett Jumbo Figure – $80
To celebrate the 35th anniversary of the notorious bounty hunter's appearance in Return of the Jedi, the fan-favorite gets the 12" jumbo treatment, up-sizing the classic vintage figure design in the finest detail. Utilizing a digital scan for the most faithful reproduction, this figure is just like the one we remember from the toy box, right down to his non-removable rocket, 5 points of articulation and black blaster rifle.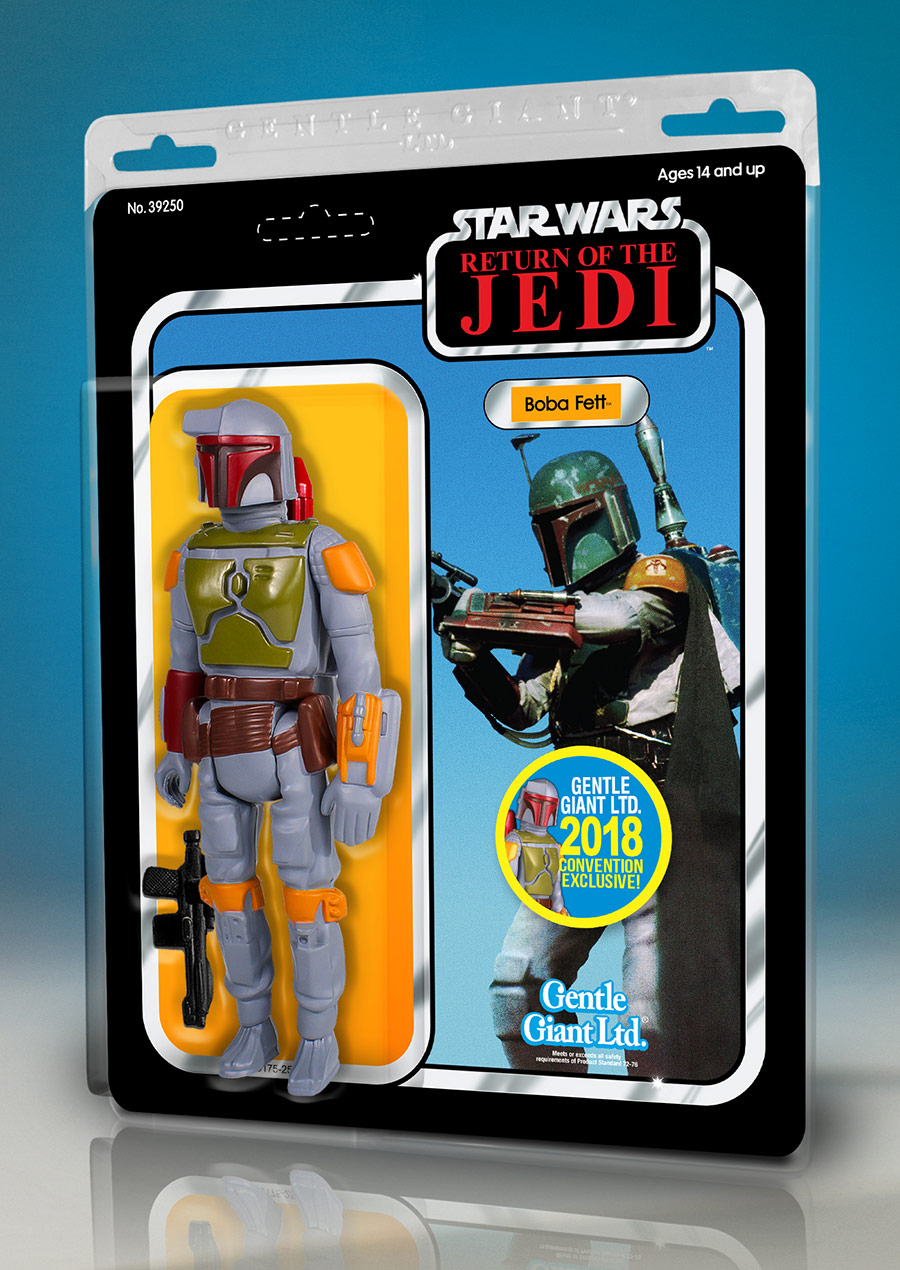 Other convention exclusives include two new mini busts depicting Jedi Luke Skywalker with a green, switch activated light-up lightsaber ($120) and a Concept Yoda ($100) inspired by the original artwork that helps designers develop the iconic look of the beloved Jedi Master.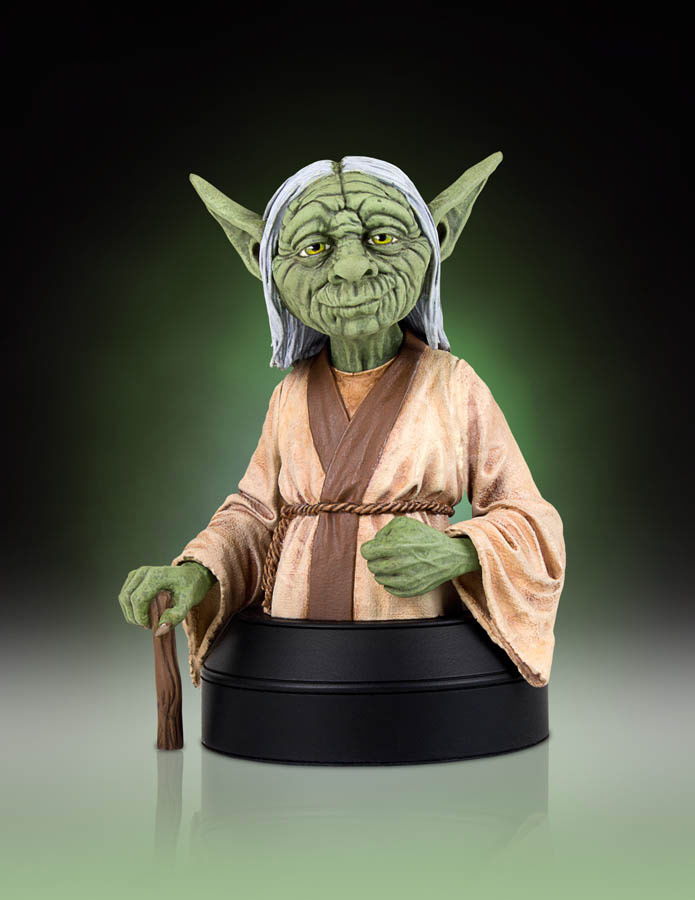 The toymaker will also debut a new line of enamel pins including 2" pins depicting a dianoga, porg, and AT-AT ($6), and a set straight from Ahch-To showcasing the thala-siren and a delicious bottle of fresh green milk ($12). There are also two lines inspired by the vintage Kenner action figures: the Cantina Adventure Boxed Set packed together in a retro-inspired box ($24) and a larger, 3.75" blind box variety styled after the original wave of action figures ($20 each).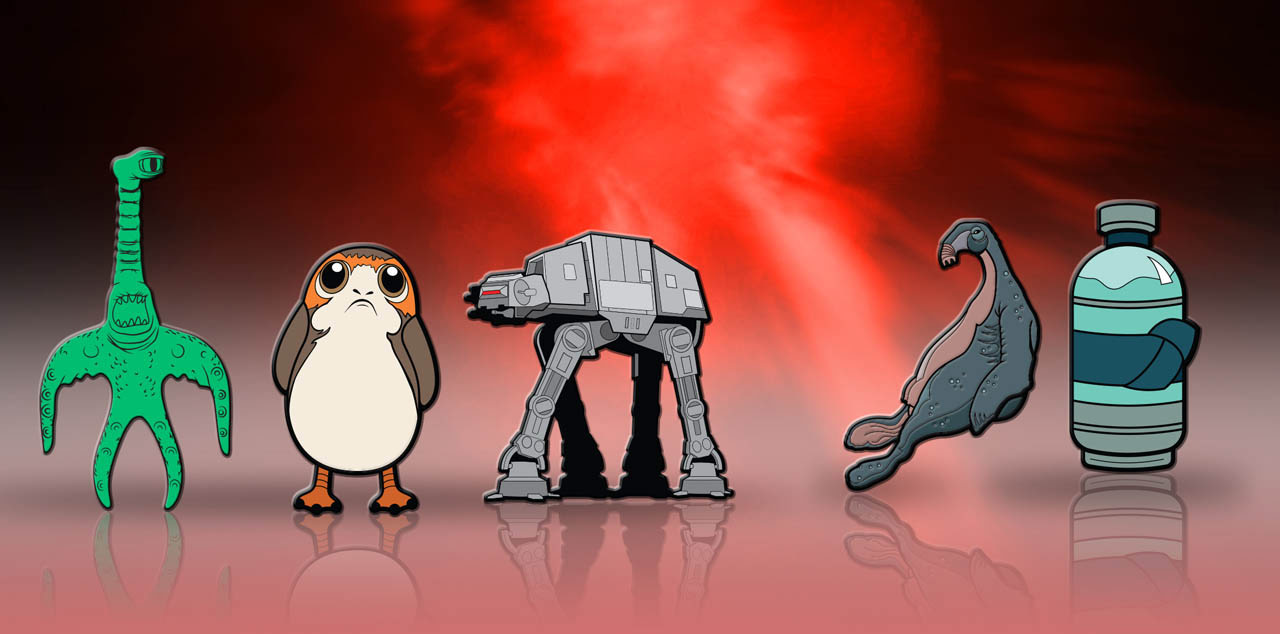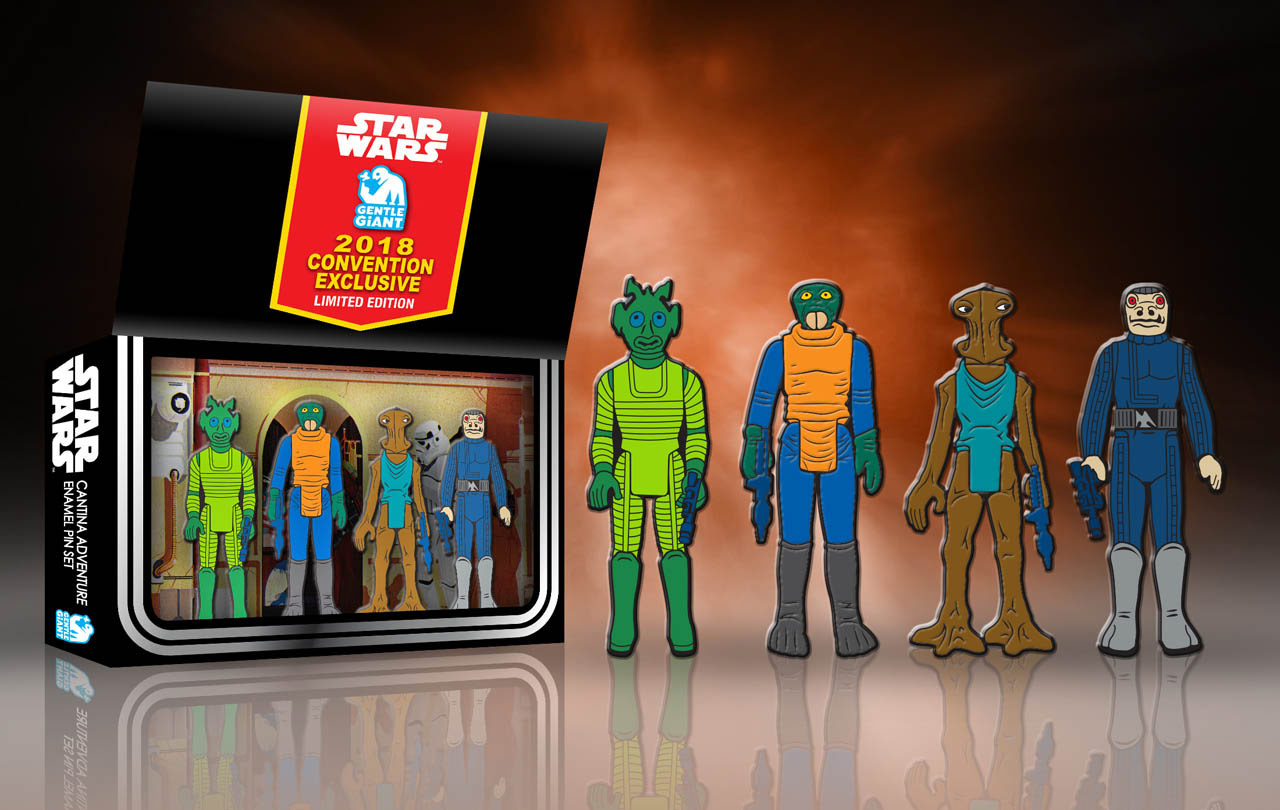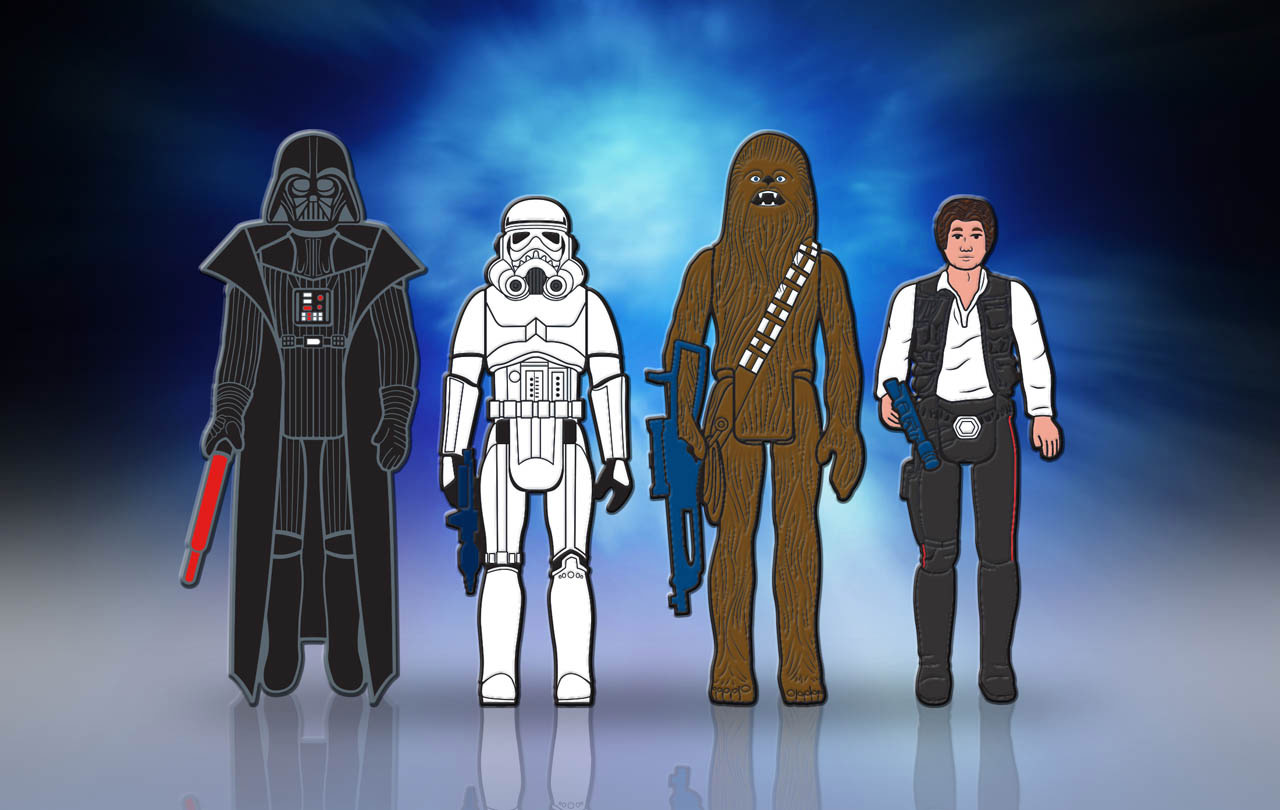 Bandai – Booth #3535
B-Wing Starfighter Limited Edition Version 1/72 Scale Model Kit – $58
No Rebel Alliance fleet is complete without a B-Wing starfighter, a diminutive yet highly detailed part of the model ship line.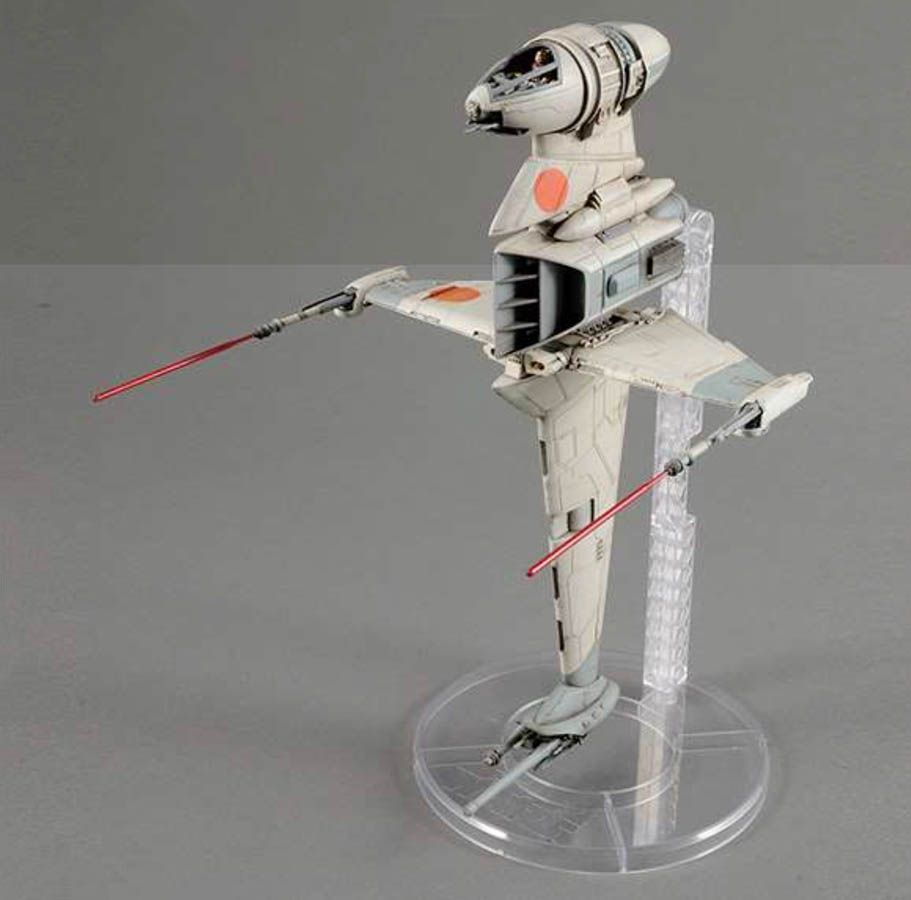 Topps – Booth #2913-R
Physical Trading Cards – $20 per set
This limited edition set of 199 brings back the classic 1977 blue star field Topps Star Wars trading card design and pairs it with new photos never-before-seen in this format. Collect all 5: Luke Skywalker, Han Solo and Chewbacca, Princess Leia, Darth Vader, and Boba Fett.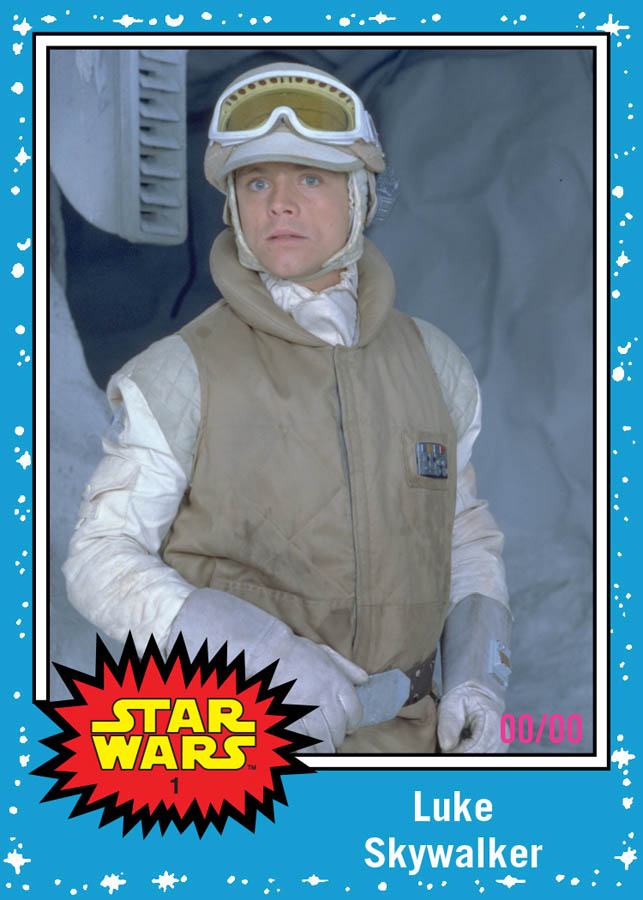 Other convention exclusives include the Topps Digital App giveaways of one "Outlaw Oath" exclusive insert per day featuring Lando from Solo: A Star Wars Story.
Performa – Booth #2913-X
Rebellion PerfectShaker $16.99
A woman's place is in the Rebellion.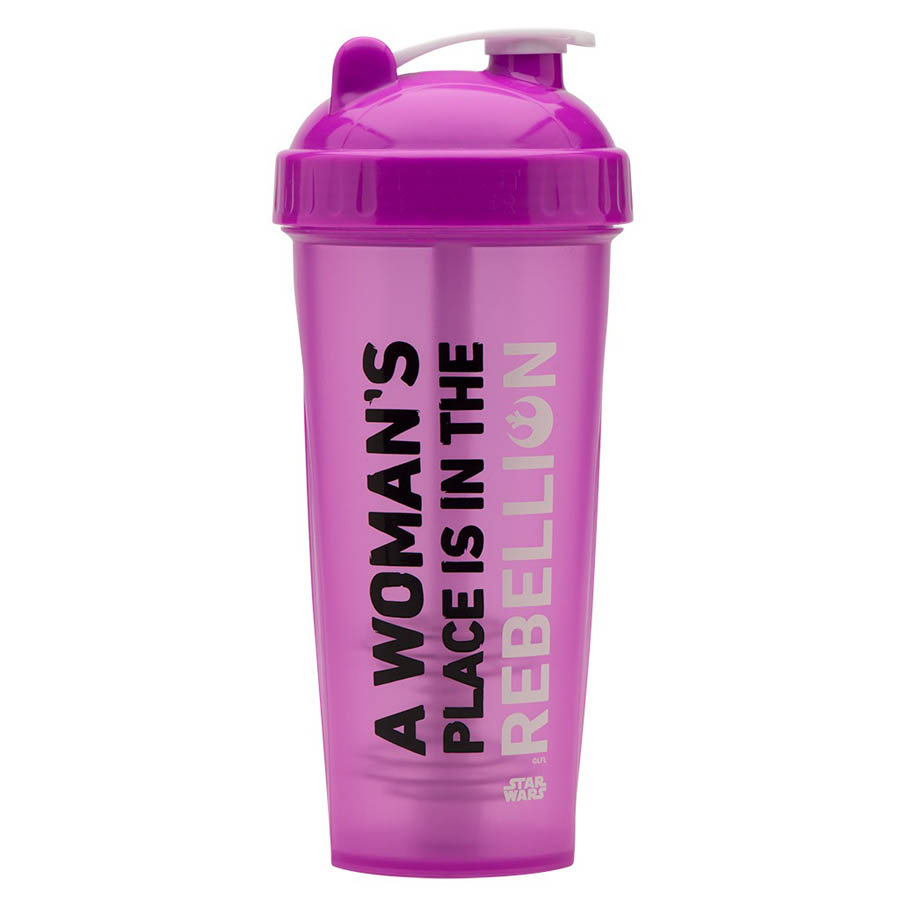 SalesOne – Booth #2913-F
Millennium Falcon Card Pin – $10
Show your love for Lando's pristine and notoriously fast ship with this exclusive pin.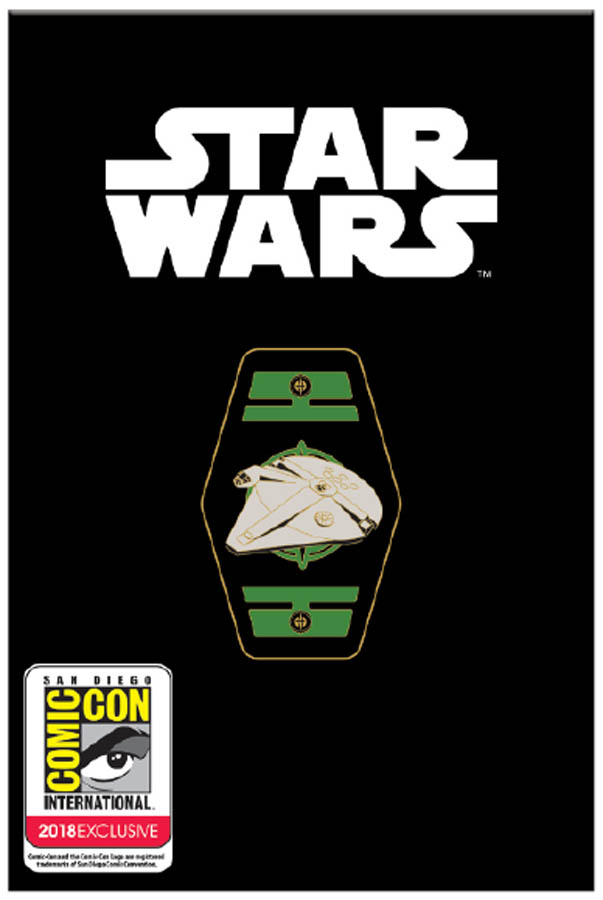 Other convention exclusives include a complete set of movie logo pins ($25), and droid inspired jewelry sets ($25 each).
Nixon – Booth #2913-S
Boba Fett Watch – $200
Keep track of your schedule and your next bounty with a watch reminiscent of Boba Fett's personalized armor. Just remember: no disintegrations.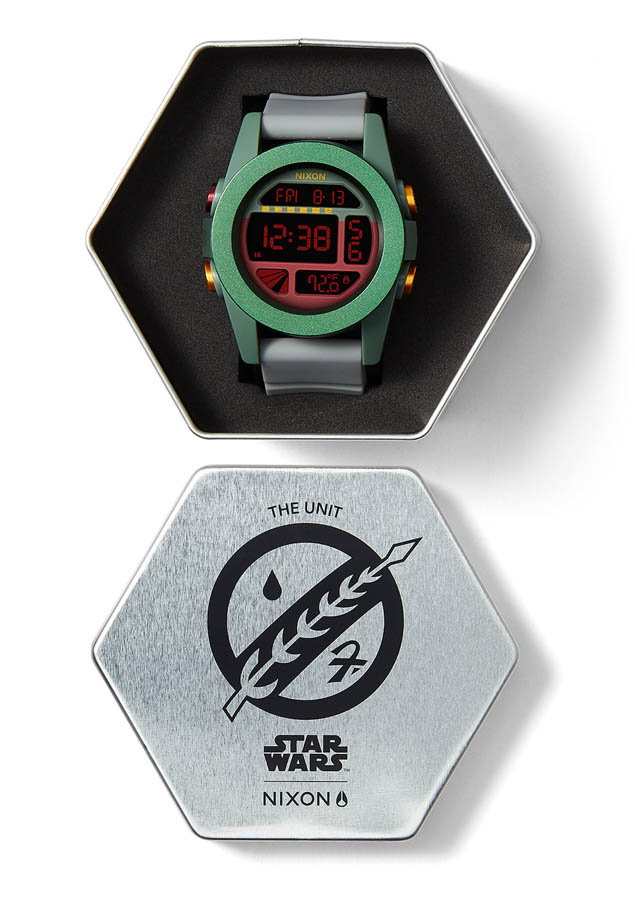 C4 – Booth #2913-O
Chewbacca bumper sticker – $8
All your ride needs is a pair of lucky dice hanging from the rearview mirror and this bumper sticker.

Sideshow – Booth #1929
Hot Toys Anakin (Dark Side Version) – $267