Did you think we were done with Under the Tents for 2018? Not quite yet. We can give thanks this week for some early SDCC 2019 news from artists like Patrick Ballesteros, Mary Bellamy, Russell Nohelty, and more. We even have some toddland news for you.
Here's a look at what you might have missed:
During the course of SDCC, you'll most likely find one or all of us hanging out by Patrick Ballesteros' table in Artists' Alley. We're looking forward to everything he fills his SDCC 2019 planning sheet with.
https://www.facebook.com/680416191/posts/10156761698236192/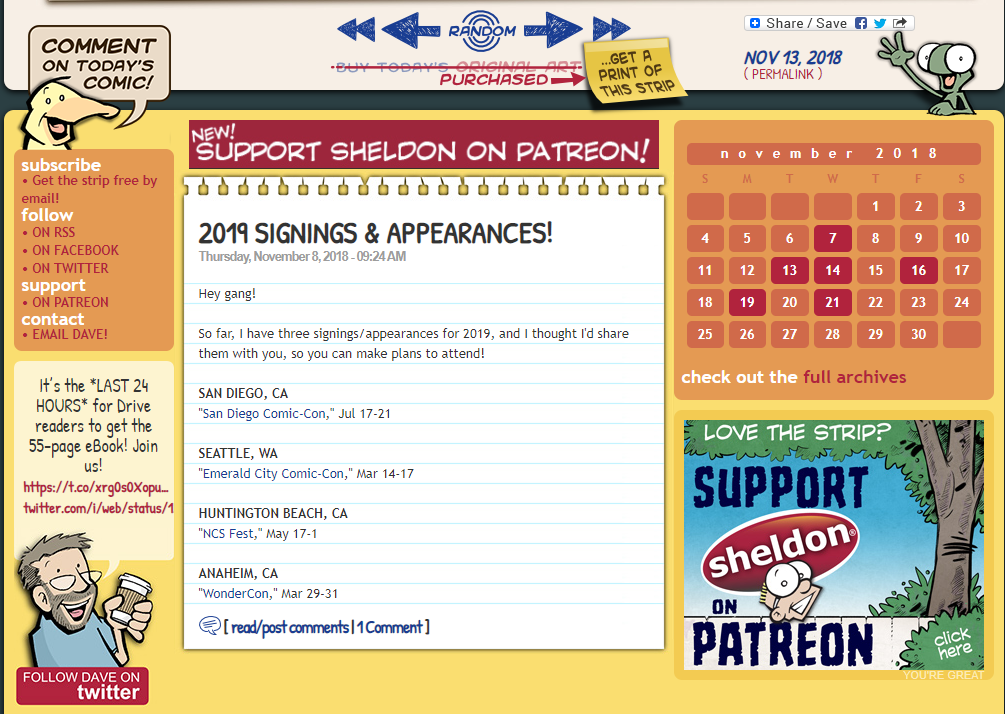 Diana Levin of Ghoulish Bunny was excited to post via Facebook that she will be back in Small Press for SDCC 2019 at Table #N-08. Ben Russel can also be found in that thread mentioning he'll be in Artists' Alley at Table #EE-04.
https://www.facebook.com/704837349/posts/10156716640607350/
https://www.instagram.com/p/BqOB-75hMav/
Another artist excited to return to SDCC for 2019 is Russell Nohelty with his Wannabe Press. Make sure you find him and congratulate him for his fifth Comic-Con.
https://www.facebook.com/5715316/posts/10107604378296788/
In case it's not too obvious, artists get just as excited about returning to SDCC as the fans do. Sean Forney is no exception, as he illustrated on Instagram that he will be at Table #BB-05 in Artists' Alley for SDCC 2019.
https://www.instagram.com/p/BqTyPuzh-Bn/
https://www.instagram.com/p/BqOD90shBPy/
Critical Entertainment posted on Instagram they will be back at SDCC for 2019. Look for Planetary Expansion, Zombie Zero, First Americans, Space Dragon, and more to make their debut at Small Press Table #M-11.
https://www.instagram.com/p/BqOMdaThu67/
Mary Bellamy also revealed via Instagram she will be bringing her Zorilita back to SDCC for the eleventh time in 2019.
https://www.instagram.com/p/BqOLO1Ghi1L/
Chris Thayer announced with a subtle "Boom" via his Instagram he is bringing Inland Blue Comics to Comic-Con for 2019.
https://www.instagram.com/p/BqN7Y4WACxr/
The Exhibit Hall floor will see a new face in Small Press for SDCC 2019; Gazbott will make their first appearance at Comic-Con this coming year. Let's make them feel welcome.
https://www.instagram.com/p/BqN5LZ8hH6I/
It's definitely not toddland's first year at Comic-Con, but it will be their first year for… something? According to Instagram, they'll offer their usual licensed Family Guy, Bob's Burgers, and American Dad merch, along with a mysterious new addition.
Christmas is good, but receiving our booth confirmation for @Comic_Con is the greatest day of the year. We still get goosebumps when it comes through. We'll have @BobsBurgersFOX @FamilyGuyonFOX @AmericanDadTBS back again and we're adding _________ this year!! @SD_Comic_Con pic.twitter.com/NRbdglepE3

— toddland #stayrad® (@toddlandstore) November 16, 2018
Artist/illustrator Vince Alvendia was "freakin' excited" to tweet he'll be at SDCC 2019 in Artists' Alley at Table #FF-12. Apparently, hugs and hi-5's are welcome at his table, so be sure to give him one or both.
SDCC2019

FF-12

It's happening. pic.twitter.com/kWHFnsNLlV

— 🇵🇭🇺🇸See you at Wondercon AA B-30! (@EggdropRamen) November 16, 2018
Confirmed for San Diego Comic Con next year! Same spot (AA-21), see ya in a while! 😀 @Comic_Con #sdcc2019 pic.twitter.com/SNhKiVtfPs

— 🍂Lady Sara Richard 🍂 (@SaraRichard) November 16, 2018
Comic book writer/artist Steve Bryant may be counting the days to Christmas, but we're counting the days to SDCC 2019, when Bryant will be back at Small Press Table #M-13.
Book it! SDCC 2019, Small Press M-13 again this year.

Looking forward to seeing my west coast friends!

— Steve Bryant writes and draws comics (@SteveBryantArt) November 15, 2018
You don't have to wait this year for LEGO DC SUPERVILLAINS artist Dan Veesenmeyer to announce that he's returning to San Diego Comic-Con – which is great news (but we hope he sticks around on Sunday!).
https://www.instagram.com/p/BqN2KepnwS6/
Anything we missed? Let us know in the comments, drop us a line, or tweet us at @SD_Comic_Con.