It's almost May — which means we're inching ever closer to San Diego Comic-Con 2019, and it's almost unofficially "con season". Today, we've got updates for you on everything from commission lists from some of your favorite artists, to Kevin Smith, and more.
Here's a look at what you might have missed:
What would San Diego Comic-Con be without a Kevin Smith panel? It appears that you won't have to find out in 2019, at least, as Smith mentioned on his Fatman Beyond podcast that attendees should be getting some kind of look at his upcoming film, Jay and Silent Bob Reboot. "By Comic-Con, which is only like three months away, I'm sure I'll be ready to be like, 'Here, I want to show you something," he said. Each year, Smith takes over Hall H to present the An Evening with Kevin Smith panel, where he talks about anything and everything — so expect some of that time to be focused on the new film.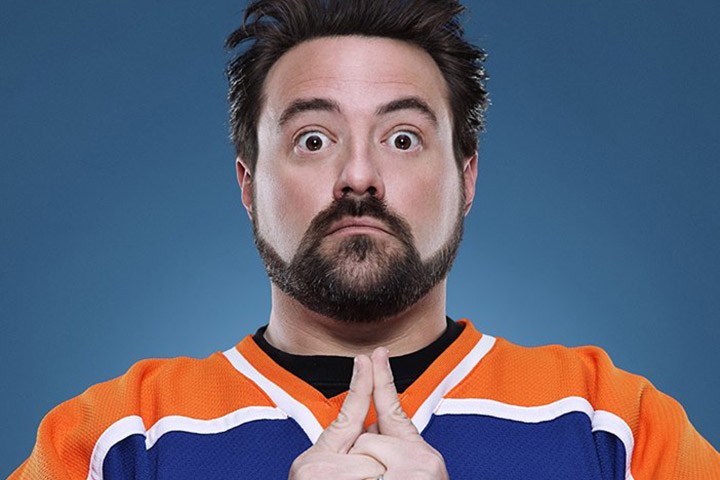 There are few artists out there who are more prolific than Patrick Ballesteros — and he's hard at work creating 100 (yes, you read that right) mini-originals for San Diego Comic-Con. They will be available for $45 each at Artists Alley DD-08, with a few released each day of the convention, on a first come/first served basis.
"The lasso compels you tell the truth, you're hoping for us to team up in a new movie aren't you?" So far these 2 have been my fav for DC.

What other 80s/90s comic book characters would you like to see mini-originals of for #SDCC2019? Have at it people of Twitter! pic.twitter.com/1sp8mb8rqU

— Patrick Ballesteros SDCC DD-08 (@PatrickBallest) April 24, 2019
90's Summers…great time to be a comic book geek. #Cyclops #SDCC2019 pic.twitter.com/MD7WL5SYc7

— Patrick Ballesteros SDCC DD-08 (@PatrickBallest) April 23, 2019
Speaking of Ballesteros, he'll also have this Avengers: Endgame Black Widow magnet available at the convention.
Can't wait to see #avengersendgame tomorrow. Social media ban starts tonight so see you all after my showing!

And yes this is a magnet for #SDCC this summer 😬.#dontspoiltheendgame #blackwidow #sdcc2019 #sdcc50 pic.twitter.com/ajRAK4yY3I

— Patrick Ballesteros SDCC DD-08 (@PatrickBallest) April 25, 2019
It's that time of year! Many of your favorite artists are opening their pre-convention commission lists, including artist and colorist Tony Washington. He's offering 11×17 or 24×36 penciled, inked, or fully colored commissions to be picked up at Artists Alley FF-22 or mailed after the convention.
#SDCC art commissions are open! 🙂 only 8 spots are available currently and will open them again in the fall.

Once I wrap up my remaining 2 commissions that I have currently, I'll get started on all new art. #comiccon #sandiegocomiccon pic.twitter.com/6MoCRK7jTp

— Tony Washington (@stationsstories) April 25, 2019
Yes, I will be taking a commission list for SDCC. @comiccon https://t.co/ffNGHybtxC

— Norm Rapmund (@NormRapmund) April 26, 2019
Our friend LEGO artist Dan Veesenmeyer has also opened up his pre-convention commission list, with prices starting at just $80 for a 9×11 or comic sketch cover half figure (inked and color marker sketch). You can pick it up from the convention at Artists Alley HH-23 — and as the proud owners of our own Veesenmeyer commission, let us promise you that he does good work.
And here we go…

My San Diego Comic-Con Sketch Commission List is officially open. #sdcc sdcc19 pic.twitter.com/tfn61IJFy6

— Dan Veesenmeyer (@dveese) April 27, 2019
d'Errico) May 31 – June 2 @galaxyconrichmond
💖 Anime Ink June 14-16 @animeink_con (Team d'Errico)
🖤San Diego Comic Con SDCC July 18-21 @comic_con Booth 4723
💓Pasadena LightBox Expo September 6-8 @lightboxexpo
❣Saskatchewan Entertainment Expo September 14-15 @saskexpo
🧡New pic.twitter.com/7UvacZdTXR

— helmetgirl (@Helmetgirl) April 23, 2019
If you still need a badge to San Diego Comic-Con, one of the best ways to make that happen is to volunteer to work for a booth. The folks at Beast Kingdom are currently looking for volunteers between 16-50, with preference given to those who understand Mandarin. In return, they'll provide you with access to the convention, cover one lunch per day, and even give you a Beast Kingdom exclusive collectible. Let them know if you're interested.
It's bad news bears for fans of Marvel writer Dan Slott — as he revealed that he's pulling back on the number of conventions he attends, including San Diego Comic-Con.
"What shows are you doing next?"

@RaleighSupercon July 25-28.@NY_Comic_Con Oct 3-6 (not sure how many of the 4 days right now)

That's about it for 2019.
Will keep you up to date about signings in the NY area.

Pulling back on shows, signings & podcasts. Focusing on the work.

— Dan Slott (@DanSlott) April 22, 2019
On that same note, GLAAD nominated comic writer Tee Franklin also told a fan that unfortunately, she won't be heading to the convention either.
https://twitter.com/MizTeeFranklin/status/1121093758831951872
Enough sad news! Murder Falcon and Extremity artist Daniel Warren Johnson confirmed that he is heading to San Diego Comic-Con 2019.
MCBA spring con and Heroes and then SDCC

— Daniel Warren Johnson (@danielwarrenart) April 27, 2019
Deeep breath… ️Denver. HeroesCon. SDCC. Rose City. NYCC. Annnd Thought Bubble. Excited for them all. See you at TB!

— Brian Schirmer (@BrianSchirmer) April 28, 2019