We thought that everybody could use a little break from talking/reading/arguing about Game of Thrones, and we're here to give you one. We have in-progress peeks at exclusive prints, a nice husky Thor original from Patrick Ballesteros, a Studio Ghibli plushie that could be yours and much more.
Now let's take a look at the news you might have missed:
"If you want to be a true fighter… go and train." Storm Collectibles has announced they will be offering four Ultra Street Fighter II action figures first to market at San Diego Comic-Con. You'll have your choice of the previously announced Sagat, as well as Ryu, Guile and Ken. These deluxe figures will be sold separately and come with multiple head and hand sculpts, effect pieces and stands and for Guile, his trusty comb.
Character designer

Steven Gordon teased a possible mash-up print featuring characters from X-Men and Central Perk from the show Friends. My favorite part? Rogue has her feet up on the sofa….classic Chandler move.
https://www.instagram.com/p/BxfHdCkgVOD/
Author Cynthia Diamond is once again hosting  a "Seek and Swag" event on Friday, July 20.  She'll post a location and those who find her will walk away with a free book. Follow along with the fun on her Facebook event page.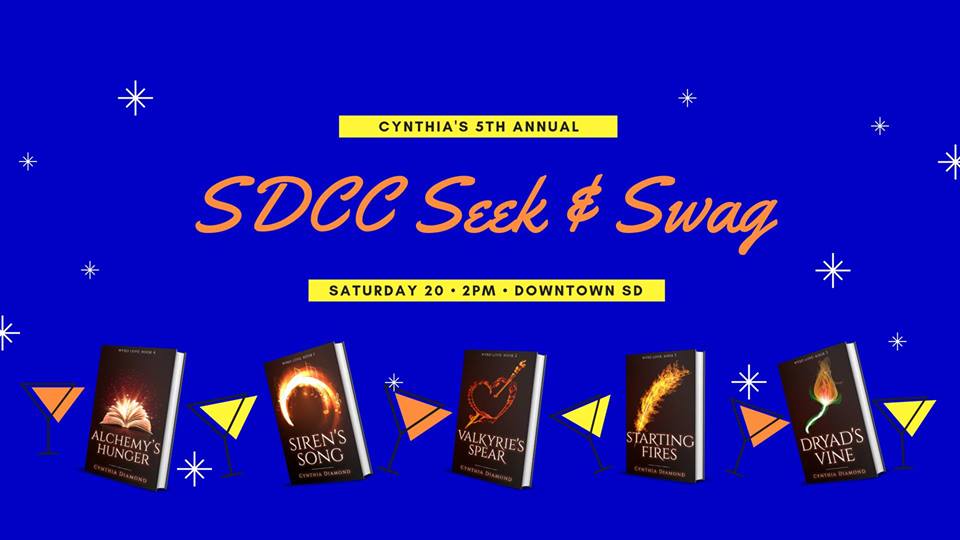 Our pal Ninjabot announced on Twitter that he has has officially closed his SDCC commission list. If you were one of the lucky few that made it onto his list, congratulations, we're not jealous. At. All. *sobs*
I've officially closed my #SDCC Commission Pre-Orders. Thank you so much to everyone who signed up for one. Can't wait to get started!

— Arnel Baluyot (@theninjabot) May 16, 2019
https://www.instagram.com/p/BxgLLW4DI_S/?igshid=1emjfl7vly0mw
PopCult Plushies made all the Studio Ghibli fans swoon when they revealed their delightful Totoro piece. This is one of their many crocheted pieces that they will be giving away at SDCC. Don't forget to give them a follow so you can find out where and when to search for these cuties.
@snyder_tory gets it! This lovable little rabbit will be dropped at #sdcc on Friday July 19th! All you #studioghibli fans had better follow so you don't miss him! #Totoro #SDCC2019 #comicon2019 #FreeStuff pic.twitter.com/ebdfvKHV1V

— PopCultPlushies (@PlushiesPop) May 17, 2019
Scarlet Huntress vs Cryptids exclusive SDCC print in progress. #sdcc #scarlethuntress pic.twitter.com/8YSbckgSBK

— Sean Forney at C2E2 O-6 (@SeanForneyArt) May 17, 2019
If you joined us last week on our SDConCast, you might have seen Patrick Ballesteros show off a few of  the 100 (!) mini-originals he will have at San Diego Comic-Con. Well, here is another to wet your whistle. We don't know how he does it but we're glad he does.
Thanks again to @SD_Comic_Con for having me on the podcast. Always a joy hanging out with the con fam. Just wanted to say us fans appreciate all that you do for everyone and on that note…have a "PHAT THORSDAY!" #sdcc #AvengersEngame #minioriginal pic.twitter.com/axPpq7woTO

— Patrick Ballesteros SDCC DD-08 (@PatrickBallest) May 16, 2019
And speaking of Patrick….don't forget that on Friday, May 24 at 9AM PST you'll be able to order his Game of Thrones cross-section prints. This is a one day only sale, and the only time they will be offered outside of SDCC. Set an alarm, maybe two alarms.
For those asking yes there are prints & yes I will be making them available in my online store. It will be a 1 day only sale before they debut at #SDCC. Limited quantity of each so set your alarms for:

🔥Friday, May 24 at 9AM PST🔥

Stay tuned for more surprises before then! pic.twitter.com/LrTwRdsx5B

— Patrick Ballesteros SDCC DD-08 (@PatrickBallest) May 15, 2019
Illustrator Kata Kane was very proud to announce that their cover of Dragons by the Yard #4 from Kymera Press will debut at San Diego Comic Con. Those baby dragons look pretty mischievous!
I got to do the cover art for DRAGONS BY THE YARD Issue #4! This is a really exciting issue for Anna and her baby dragons & it's debuting at #SDCC! #comics pic.twitter.com/8NLZzy6D3O

— Kata Kane ✨ (@kata_kane) May 11, 2019
We were surprised last summer when Warner Bros. TV — which has long brought along every single one of their even-slightly-genre series, opted not to bring any of their midseason offerings. Unfortunately, creator of Roswell, New Mexico, suggested that this is going to be an ongoing policy. What does it mean? Well, as we explained in today's Broadcast TV Shows of SDCC 2019 (our annual breakdown of which broadcast series might be at the con), it means you're probably not getting, Legends of Tomorrow, The 100, Roswell, New Mexico, or some of your other favorite series. Womp womp.
Just a new studio policy!

— carina adly mackenzie (@cadlymack) May 16, 2019
There's some very good #SDCC news coming next week – so enjoy your weekend, because the wild ride that is con season starts in earnest on Monday. pic.twitter.com/hUlZ9817Gy

— SDCC Unofficial Blog (@SD_Comic_Con) May 18, 2019
Anything we missed? Let us know in the comments, drop us a line, or tweet us at @SD_Comic_Con.