Mezco Toyz is returning to San Diego, and while the manufacturer is smaller than some of the exclusive giants (Hasbro, Mattel, etc.), they still hold some exciting licenses (including Marvel, DC, and many more) and offered some exciting exclusives at Comic-Con 2018. What will 2019 bring?
All Mezco exclusives are available for pre-sale on their site for shipping after the convention, or you can pick them up at Booth #3445 during SDCC 2019.
Here's a look at Mezco's 2019 offerings:
[UPDATE June 26]
Mezco's next Summer Exclusive is also dark knight-related… sort of. They expand their list of One:12 exclusives with Marvel's Moon Knight – Crescent Edition. Moon Knight comes already fitted in his Adamantium suit that includes a 3D crescent insignia and removable hood. You can customize Moon Knight with one of two head portraits, eight interchangeable hands, wrist gauntlets, a duty belt, tactical boots, a crescent blade, staff, nunchucks, or grappling hook baton. Created by Mezco (not The Committee), this 1:12-scale exclusive will retail at $85 with a $21 non-refundable deposit required at purchase. If, however, you're a patient person, you can add your name to the waitlist, and it will ship to you in early August after SDCC. If you're like most of the rest of us, the pre-order will go live this Wednesday, June 26, at 10:00AM PT on Mezco's exclusives site, for you to pick up at Booth #3445 during the con.
[UPDATE June 19]
Mezco's next summer exclusive is also from their One:12 series: Commissioner James Gordon and Bat Signal – Deluxe Edition. You can help Commissioner Gordon summon the Dark Knight to help protect Gotham with this $125 exclusive. The Bat Signal is rotatable and shines brightly on any flat surface. Just flip the switch on the base to summon Gotham's Caped Crusader. Commissioner Gordon comes equipped with two head sculpts – one for "mid-career" and the other for the older, more season Jim Gordon look. He also comes with his own GCPD badge, radio, removable trench coat, tac vest with working zipper, and handgun with holster. Standing at 17cm (about 6.69″) tall, you can pose him separately or use the included diorama display.  Pre-orders for Commissioner Gordon and Bat Signal are live on Mezco's exclusives website. If you'd rather have this shipped to you, Mezco will start shipping orders in August following SDCC.
[UPDATE June 12]
Mezco is starting their Summer Exclusives line with Gomez – Street Edition. This urban variant of their mascot is part of their One:12 series and comes wearing a very urbane striped shirt, removable army jacket that is also customizable for you to rep whatever crew you want with a set of cloth stickers, and jeans. He also rocks a back pack with adjustable straps and a removable hoodie with working zipper. As far as weaponry, his boom box sidekick Boom Boom guards his arsenal of a Cosmic Pea Shooter, Doom Cocktail grenades, and a Zip-Sword. Pre-orders for Gomez are live on Mezco's exclusives website. If you want to bring Gomez home, you'll need to put down a non-refundable deposit of $22.50 on this $90 figure. If you can't make it to SDCC, don't worry – shipment begins in August after SDCC is over.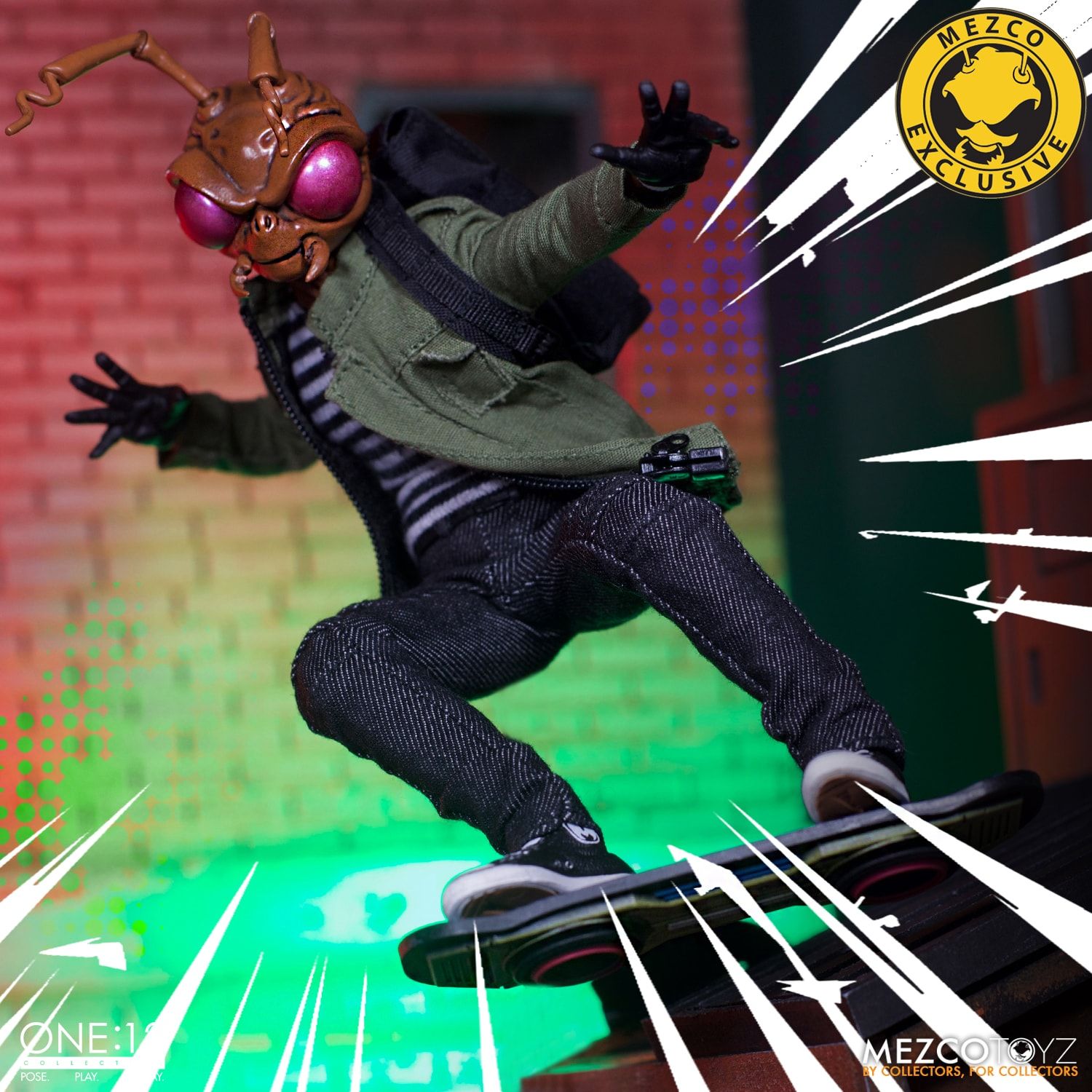 Are you excited for Mezco's 2019 Summer Exclusives? Which one is your must-have? Let us know in the comments.