Hopefully everyone's blood pressure has returned to normal after Wednesday's news about Warner Bros skipping Hall H. Are you ready for some fun news? There are still tons of reasons why SDCC 2019 is going to smash it and be amazing and we've got a bunch of news tidbits to prove it. Commissions! Exclusive art! Plush! And so much more.
Let's take a look at the news you might have missed (through your Warner Bros. tears):
My #SDCC commission list is open:

9×12 1-character, ink $50
11×17 1-character, ink $100
11×17 2-character, ink $150
11×17 3-character, ink $200
11×17 montage, ink $250
11×17 cover recreation, ink, inquire

Email SteveBryantArt at gmail to order yours! pic.twitter.com/EMrSvTNIlC

— Steve Bryant writes and draws comics (@SteveBryantArt) June 3, 2019
Announcing a Monumental Illustration Panel Event Celebrating 50 Years of Entertainment Art! @comic_con #SDCC2019 in association with @asifahollywood and @paulshipperart

'Masters of the Illustrated Film Poster'

Panel Guests will be announced soon!! Stay tuned!! pic.twitter.com/SbLEdImHYr

— Art by Paul Shipper 🎨 (@paulshipper) June 3, 2019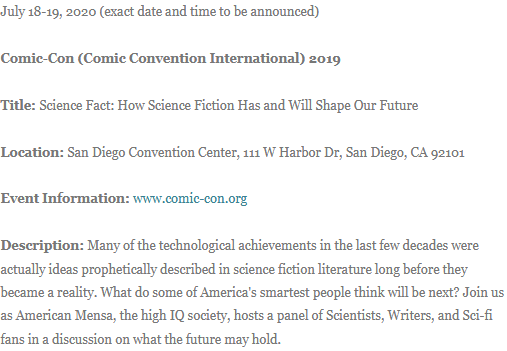 Okay, my flight is booked! I'm heading to my first ever San Diego Comic-Con this summer. I'll be hanging out at the Top Shelf booth to release RED PANDA & MOON BEAR, only days before it hits bookstores and comic shops!

— Jarod Roselló (@jarodrosello) June 3, 2019
https://www.instagram.com/p/ByRM0uWAW-y/?igshid=2gx2h1w1uobb
In case anyone wanted their own #rymesona or send someone a gift, I have 10 open slots for commissions.
$30 each with a washi tape add-on for +$5 (shipping excluded) Venmo preferred but if you're going to Ronin Expo, AX or SDCC, we can pay in person and exclude shipping cost pic.twitter.com/pV7FU0l9hW

— Queer F.Orc 👹 ➡️ Stitching up a Storm (@pitangawang) June 3, 2019
Diana Harlan Stein, 4821, will be taking commissions during the convention, most completed overnight. Specializing in fantasy, D&D themes, furries.

— David M Stein – Most Wonderful Time (@drzarron) June 4, 2019
Okay, let's do this! #coverroughs for secret @thecoffincomics/@CrusadeComics #LadyDeath #Shicomics crossover covers #SDCC special editions. @TheBrianPulido #comics @CrowdFundComix #sdcc19 pic.twitter.com/aEnu9U8COa

— Billy "Let's Go Islanders!" Tucci (@BillyTucci) June 4, 2019
Tickets for The Great #SherlockeDCC Scavenger Hunt will go on sale this Saturday, June 8th at 12PM EST.

Prize tiers are now up at https://t.co/GBbpbSfIYS

But here's a feature of a top prize: an 1892 1st Edition of The Adventures of Sherlock Holmes. 😱 #SDCC #SDCC19 #Sherlock pic.twitter.com/444EdrXHvx

— Baker Street Babes (@BakerStBabes) June 4, 2019
Sadly, I won't be at SDCC this year, but best of luck! https://t.co/JKu0EoyCDr

— ralphgarman (@RalphGarman) June 5, 2019
I am! 😊 pic.twitter.com/JClrtlkm7z

— Artist Jennette Brown 🎨 (@sugarpoultry) June 4, 2019
My sdcc Commission list is open! This will be my 22nd year Exhibiting! https://t.co/pJcXZMvSzW

— Erik Arreaga Art (@erik_arreaga) June 4, 2019
We will have Mighty Moose action plushes available in Small Press at table L-09! Be sure to check out these handmade toys by creator J Lynn Warner! #SDCC #sdcc19 #ComicCon #smallpress #indiecomics #creatorowned #superhero #crimenoir #anthropomorphic pic.twitter.com/Ugl6bqzT6p

— J. Lynn Warner (@josh_L_warner) June 4, 2019
"HELLRAZOR". My theme for this year's Comic Con releases is "DUMB". What other dumb stuff do you want me to bring to #SDCC? pic.twitter.com/Z0CFz7BUQ0

— Alex Pardee (@alexpardee) June 4, 2019
I hate to be one of those people but I just got news about a thing and I've been kinda squealing for ten minutes now and maybe I'll get to tell some of you at SDCC or something…

— Peter Clines (@PeterClines) June 5, 2019
Excelsior! Can you all guess what I'm drawing? 😙 Here's a sneak peek of an SDCC exclusive for #wipwednesday for ya! I'm making a new print image that's gonna be an exclusive for #SDCC @comic_con 😊 I wanted to celebrate my favourite creator of all time, his life made me realize pic.twitter.com/biUihefYib

— helmetgirl (@Helmetgirl) June 5, 2019
Anything we missed? Anyone you're really excited about seeing this year? Let us know in the comments, drop us a line, or tweet us at @SD_Comic_Con.