The day we have been looking forward to has arrived, June 14, the day badges are supposed to start shipping out. And sure enough, they are. While you are patiently waiting for shipping confirmation, browse this hefty dose of new news and announcements. There is hope for Dan Veesenmeyer fans, free buttons at Hanging Chad, a Vampirella #1 exclusive and heaps more.
Here's a look at the news you might have missed:
https://www.instagram.com/p/ByqgTUeltvH/
https://www.instagram.com/p/ByrLC-FF67I/
Comic artist Alex Kotkin is heading to San Diego Comic-Con next month, where he'll be exhibiting at Booth #619 with exclusives, prints, and original art — and he'll also be taking commissions at the booth.
https://www.instagram.com/p/ByqvQm_BQdV/
Speaking of commissions, artist Carla Cohen will be signing at Scott's Exclusive Artist Booth #4401 during the con, and she's also taking a pre-commission list. Want more art? Make sure you check out our Commissions List, who is continually updated.
https://www.instagram.com/p/ByqgUcyhoxw/
https://www.instagram.com/p/Byq5KiJgq66/
I'll see you @Comic_Con! @farscape Has a panel on and I'll be signing all week at the convention up at the Sails. There is also a Farscape VIP meet and greet and party on Friday too! 🙂

— Gigi Edgley (@GigiEdgley) June 13, 2019
Artist Lea Hernandez Seidman will be at Artists Alley BB-9 all week, where she'll have new enamel pins (and needs your help) for $10, along with art cards.
https://twitter.com/SeidmanLea/status/1139401860580704257
https://twitter.com/SeidmanLea/status/1139401437484503043
Artist Chandra Reyer has big plans for San Diego Comic-Con this year. Not only is she taking commissions, which can be picked up at Artists Alley AA-20, but she will also be debuting four new prints and a sketchbook/comics anthology called Drawing With Cats and Other Hazards.
Terry Moore revealed another look at a design he's bringing on a shirt for SDCC, this time with color.
https://www.instagram.com/p/ByrP_v1B2_m/
Storm Collectibles has released anther of their Street Fighter V Arcade Edition actions figures which will be first to market at Comic-Con. Cammy features her battle costume and lots of extras: three heads, three hairstyles, four hands and two movement effects.
In addition to Cammy, Storm Collectibles will have this first to market Mortal Kombat Scorpion. He comes with two mask/skulls, four hands, one axe, one spear and three blood effects.
Hope is not lost for those of us (like me) who missed out on artist Dan Veesenmeyer's commission list. He's hoping he'll have time for a few more once he gets caught up. Keep your eyes peeled on our List of Open Artist Commissions for updates.
My #SDCC Sketch Commission flow/mojo has been good. If things go well I should be caught up next week sometime 🤞and will likely reopen my commission list to squeeze in a few more requests before the event in July.

But I'm not committing to anything new until I'm through. pic.twitter.com/u0EGaZ6W5O

— Dan Veesenmeyer (@dveese) June 14, 2019
Artist Kael Ngu posted a pic of the Vampirella #1 SDCC Exclusive Variant Cover that he did. This cover will be offered through Comic Kingdom of Canada.
My retailer exclusive variant cover for Dynamite's 50th anniversary Vampirella #1, debuting at SDCC 2019! 😁
Special thanks to Comic Kingdom of Canada!
Pre-orders available :: https://t.co/S1OyVQhm0i pic.twitter.com/woCQsvSsJK

— Kael Ngu (@KaelNgu) June 14, 2019
2019 will be artist Vince Alvendia's first time tabling in Artist Alley and he's coming well prepared. Here are four prints he's got ready to go. The Miles Morales and the Thundercats prints will be limited to 20 copies each. You can find Vince at Artist Alley FF-12.
COME SEE US AT SDCC! BRING YOUR COMICS, WE SIGN FOR FREE! #SDCC19 #jimbalent #comics #convention #hollygolightly #batman #catwoman #jimbalentcatwoman #dccomics #Archie #witch #tarot #tarotcards #fun #cosplay #sexy #pinup #swords #broadsword pic.twitter.com/Qc1dWWTmkE

— Jim Balent (@RealJimBalent) June 14, 2019
In today's "Awwwwww" segment, here is a peek at a new print by Brett Bean which you'll be able to find at SDCC.
New art print coming to SDCC #brettbean #zoo #animal #giraffe #artprint #sdcc pic.twitter.com/LzwG0ypmDZ

— Brett Bean Artist and Author (@2dbean) June 14, 2019
Here's another reason to swing by the Hanging Chad booth (Small Press LL-09), they will have free daily buttons for their Adventures of Mighty Moose title. A new button every day while they last.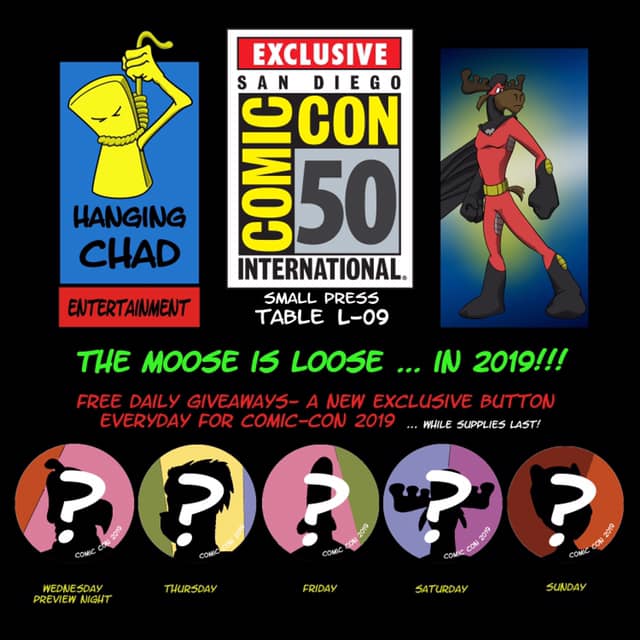 The fate of Dane Ault's new Monkey Minion Press piece is now in the hands of San Diego Comic-Con. Fingers crossed for him, and for us.
https://www.instagram.com/p/BysxSWABdGj/?utm_source=ig_web_copy_link
And lastly, it looks like we have another contender is entering the "free print drop" arena. Artist Jesse Torres shows off his Hulk and Thor print declaring "If you find it, it's yours." Follow him on Twitter for more information.
https://twitter.com/IAmJesseTorres/status/1139591654938238977
Did we miss anything? Are you super excited about anything you saw? You should let us know! You can leave us a note in the comments, drop us a line, or tweet us at @SD_Comic_Con.