Perhaps you're still reeling over your first round Hotelpocalypse placement, or lack thereof. Maybe the Multiverse of Madness is still scrambling your brain. Maybe you just need a virtual hug. We are here to help with all of that and much more, with a dose of what's to come in just 11 short weeks. We have attendance confirmations galore, a crocheted Jedi and much more.
Let's take a look at the news you might have missed:
Evil Ink Comics, home to the Amory Wars and Key of Z comics, recently posted a not-so-cryptic message on Twitter. We'd recognize that logo anywhere!
We're coming home pretty soon… pic.twitter.com/UISXzIjXXS

— Evil Ink Comics (@EvilInkComics) May 5, 2022
Fresh off his appearance on the Late Night with Seth Meyers, creator of the much praised graphic novel Adora and the Distance, Marc Bernardin, has plans to attend San Diego Comic-Con. Given that Kevin Smith has already mentioned the Mooby's offsite will likely include live podcasts for Fatman Beyond, that's likely at least some of Bernardin's time blocked off. You can bet we are hoping nothing messes those plans up!
https://twitter.com/marcbernardin/status/1522041426950823943?s=20&t=HQPE3HtWZb1X-S5mTulHQg
We received two great pieces of information in one tweet here. Artist Daniel Danger confirms that both he and Mondo will be attending San Diego Comic-Con. Huzzah! No response as of press time if Mondo will grant permission to spruce up their blank outside wall.
@MondoNews were sdcc neighbors so i can hang prints on the outside wall of your booth that doesnt have anything on it right? wasted space imho.

— Daniel Danger (@tinymediaempire) May 6, 2022
If you've been following the Image Massive-Verse series (Radiant Black, Rogue Sun, Supermassive and more) you should be delighted to hear that the orchestrator and editor of that universe, Michael Busuttil, will be attending SDCC, among other conventions, this summer.
American friends! It looks like I'll be in the US for SDCC/C2E2/ECCC/Morphicon – gonna be a truly packed schedule, but if you're in LA/Chicago/Seattle or are going to one of those shows I'd love to catch up!

— michael busuttil (@m_busuttil) May 1, 2022
I'll be there!

— Tom King (@TomKingTK) May 3, 2022
It pays to never give up hope, as Dawn Wolf, artist and web comic illustrator, found out after getting off the wait-list for the Small Press area. You can find Dawn at booth N-07, also known as Commander Shepard's favorite booth on the Citadel. *wink*
We just got off the waitlist for San Diego Comic-Con. Yay! We'll be in Small Press at booth N07 (As a Mass Effect fan I'm always happy to get this booth number).
Now hoping we successfully get a downtown hotel from our hotel entry through SDCC.

— Dawn Wolf (@artofdawn) May 2, 2022
Actor, producer, and musician Thomas Nichols posted his new tour dates on Twitter. They include two nights in San Diego during Comic-Con and the location seems to coincide with that of Kevin's Smith's Mooby's Pop-Up. Will Thomas be spending his days at the convention center and his nights on stage? We'll have to wait for more details to confirm.
Tour… pic.twitter.com/Kj6oI3nITB

— Thomas Nicholas (@TINBand) May 5, 2022
I made the lineart for several packaging items for SDCC today and decided to color it. 🙂 This will be used on the retail bags as well as the plush bags. 😀 #dailypaint 2407 pic.twitter.com/pOBtN5ppEP

— BeKyoot (@bekyoot) May 3, 2022
The Hollywood Horror Museum also received good news this week. After a week in SDCC limbo they can say with confidence that they will indeed be exhibiting in 2022.
Ready for some really great news?

Our Hollywood Horror Museum is going to have a booth at San Diego COMIC CON in July!!!

More details soon😁 pic.twitter.com/7aNa9DIHq4

— Hollywood Horror Museum (@horrormuseum) May 6, 2022
If you have missed the Geeky Hooker's #CritterDrops and we are happy to share they will be coming back this year. You'll have to follow them (and maybe use the force?) during the convention if you want a chance to snag this adorable Luke Skywalker.
Today's the day! I made a little Luke Skywalker, and this little Jedi will be coming with me to SDCC now that things are in motion for it! It's been a long couple of years, but #critterdrop is back! I'm still working out the details, stay tuned! (@MarkHamill) pic.twitter.com/pqvfCAwMll

— Geeky Hooker (@GeekyHooker) May 4, 2022
Toy collector @RMaster007 broke down the essentials of Super 7's recent interview with The Fwoosh about their Ultimates action figures line. Super 7's Brian Flynn dropped some news that they will be offering fewer San Diego Comic-Con exclusives this year than in the past. Considering the supply chain challenges all companies are facing, this is to be expected. Whatever they bring, we'll probably want it!
For those who aren't interested in watching, here are some key takeaways:

– Around 30 Ultimates figure said to be leaving the factory late May-July
– Figures take two months to produce and three months to ship overseas according to Brian https://t.co/QF1gbQKXnY

— RMaster (@RMaster007) May 4, 2022
– …and they don't have access to the mold
– Disney Ultimates will focus on a single movie each wave starting with wave four
– Less exclusives planned for SDCC this year

— RMaster (@RMaster007) May 4, 2022
 

 

View this post on Instagram

 
Fine jewelry and ceramic artist Adorable Mayhem recently posted on Instagram that they will be setting up shop at booth #4537 and will hopefully have silver versions of this sweet little sheep with flowers pendant.
 

 

View this post on Instagram

 
Non-profit organization Stack Up is dedicated to helping military service members recover from traumatic physical and emotional injuries with the power of video gaming. Part of that mission is their Air Assaults program, which provides all expenses paid trips for veterans to attend life-changing video game and geek culture events, including San Diego Comic-Con. If you know a veteran who could benefit from from an Air Assault trip, you can nominate them here.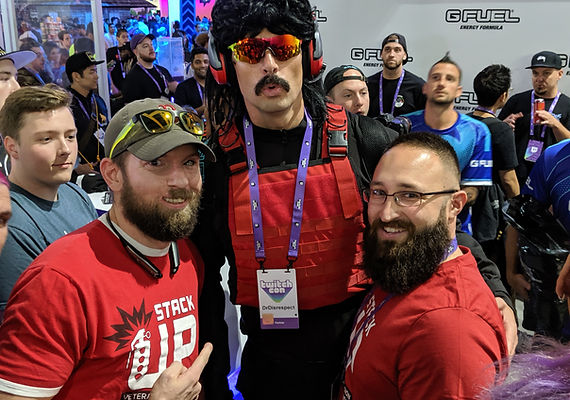 Anything we missed? Let us know in the comments, drop us a line, or tweet us at @SD_Comic_Con.
If you missed our previous Under the Tents 2022 posts, you can find them HERE.