Con news season is finally starting to feel like it's in full swing! We've got a packed AM edition of Under the Tents for you today, with your first look at one of Image Comics' SDCC exclusives this year, as well as updates on autograph signings, mini originals, and more.
Let's take a look at the news you might have missed: 
Jonathan Hickman, Mike Del Mundo, Mike Hiddleston are the exciting team behind 3 Worlds / 3 Moons — and they'll all be heading to San Diego Comic-Con next month, with their own Booth #2806. They also mention "Special events and offerings for Founders".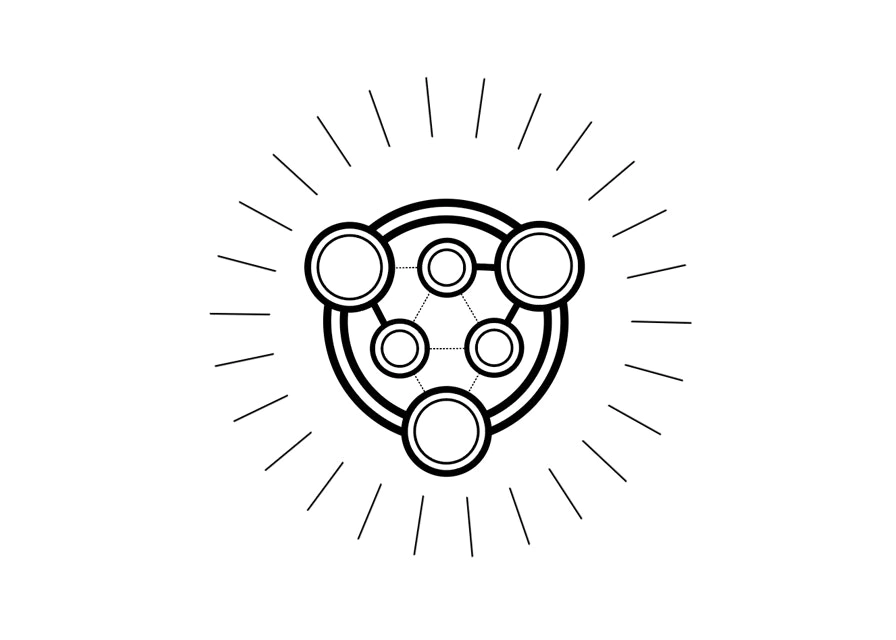 Can you BELIEVE that Patrick Ballesteros has created 30 mini originals for the con? You'll be able to grab them, like this Ted Lasso piece, at the convention each morning, with the exact release schedule of original art still TBA.
I do "BELIEVE" this makes 30.#roadto100 #SDCC2022 #SDCC22 pic.twitter.com/8hNK61Ybx4

— Patrick Ballesteros SDCC DD-08 (@PatrickBallest) June 27, 2022
As part of Warner Bros. Discovery's announcements yesterday, it was revealed that the first two episodes of season three HBO Max animated Harley Quinn will be screened for attendees at the con. Details beyond that are mum (and we suspect it may not be a normal panel) — but writer/producer for the series, Patrick Schumacker, mentioned that he'll be in attendance. It's also worth mentioning that actor Alan Tudyk, who voices the Joker, Clayface, and more in the series, RT'd the tweet. Could that signal cast will be at the con? We hope so!
Hope to see you in San Diego! #SDCC2022 https://t.co/l7vqgSyUpE

— (Patrick Schumacker) (@PMSchumacker) June 27, 2022
Apparently my copies of #StarHenge #1 will be arriving at our house on FRIDAY!!!!!! I can't quite believe it! I hope it's printed nicely!
Here's the cover for the SDCC exclusive, available only on the Image stand! pic.twitter.com/8XZ4WcMFSS

— Doc Sharpy (@LiamRSharp) June 28, 2022
Artist Jose Pulido will be putting his own fun spin on some DC and Star Wars items, with new stickers, pins, and a t-shirt at the con. You can stop by Booth #H-03 in Small Press to pick them up.
 

 

View this post on Instagram

 
Farscape actress Gigi Edgley is always a fan favorite at the con, and she'll be doing several signings in the Sails Pavilion this year, including:


Thursday, July 21 – 2:30pm-7pm
Friday, July 22 – 2:30pm-7pm
Saturday, July 23 – 2:30pm-7pm
Sunday, July 24 – 1:30pm-5pm
See you soon @Comic_Con xo @SD_Comic_Con @farscapenow @farscape @CreatureShopTV @hensoncompany @TrekContinues @FeudFX

SIGNING UP UNDER THE SAILS:
Thursday 2:30 PM – 07:00 PM
Friday 2:30 PM – 07:00 PM
Saturday 2:30 PM – 07:00 PM
Sunday 1:30 PM – 05:00 PM

— Gigi Edgley (@GigiEdgley) June 28, 2022
Are you feeling fired up by all this Comic-Con news? UDON sure is! UDON gave a sneak peek of one of their Street Fighter pins, and it's straight fire.
What's your mood today???
Check out this sneak peek of some of the new #StreetFighter products coming to SDCC with @UdonEnt

Join our discord
👇🏻👇🏻👇🏻👇🏻https://t.co/GNmlyyOyjG pic.twitter.com/56YM3UdVtV

— PeteFighter (@PeteFighter) June 28, 2022
Is it even a UTT without young artist Ethan Castillo showing off his latest Spidey print? We think not, and we wouldn't want to deny you. You can pick it up at Artists Alley #AA-01.
'Tis but a scratch#ComicCon #SDCC #SDCC2022 #SanDiegoComicCon #SpiderMan #SakuraofAmerica #PigmaMicron #GellyRoll pic.twitter.com/3qePLV2Mx3

— Ethan Castillo (@EthanCastillo05) June 28, 2022
Comic book writer Tom Taylor mentioned he'd be doing signings at San Diego Comic-Con. Could this be a sign of hope that some DC artists will be doing signings at the con after all? Or is he merely referring to the already-announced CGC Series signings or signings at other booths? We'll just have to stay tuned to find out.
It's true! I'm coming back to San Diego Comic-Con for the first time in years. Signing schedule to come soon.
And you'll get two Tom Kings on one panel! https://t.co/OhL5sUatcC

— Tom Taylor (@TomTaylorMade) June 28, 2022
Voice actress Sandy Fox, best known for her work as Betty Boop and Chibiusa in Sailor Moon, will also be signing at the con. You can catch her in the Sails Pavilion on Saturday, July 23 from 2:30pm-7pm.
Just announced!
I will be signing at San Diego Comic-Con in the Sails Pavillion Autograph Area Saturday, July 23rd from 2:30-7pm https://t.co/l1qFjAWszv#comicon #SanDiegocomiccon pic.twitter.com/1Rtib2IiVs

— Sandy Fox (@SandyFoxWorld) June 28, 2022
While we'd already shown off artist Rob Liefeld's cool Comic-Con VIP packs, he also mentioned he'll be doing signings each day. We'll have to stay tuned to find out where.
I'll be in San Diego for @Comic_Con and I'll have signings each day. My VIP packs get you to the front of the line and provide exclusive variants only available here! https://t.co/pjUqLIl7tS pic.twitter.com/XNk2yJEIkX

— robliefeld (@robertliefeld) June 28, 2022
I'm excited to inform you guys that I will be exhibiting some of my artwork at Comic Con Artshow in San Diego on July 21, 22, 23 and 24.✨
Hope to see you there.💖💖💖 pic.twitter.com/3FpxyAGAf5

— Vanilla Lake (๑´•.̫ • `๑) (@lake_vanilla) June 28, 2022
Anything we missed? Let us know in the comments, drop us a line, or tweet us at @SD_Comic_Con.
If you missed our previous Under the Tents 2022 posts, you can find them HERE.