[UPDATE July 18]
The My Orders tab in your Member ID should now show which exclusives you have won. All losses will have the "Removed" text above it, so anything you have won will not have "Removed". Emails were sent out for winners on Sunday, July 17. If you did not receive an email but have items without "Removed" our best suggestion is to print the page and bring it to the booth you won at the listed time.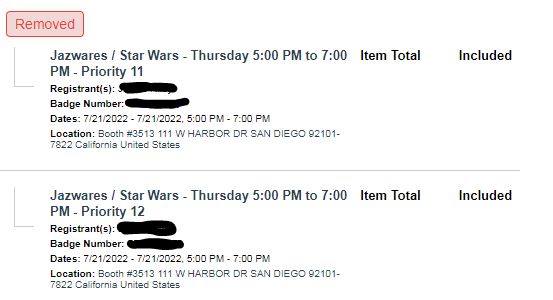 [UPDATE July 16]
With the addition of Jazwares to the Portal (despite Comic-Con International telling those who asked that they wouldn't be adding additional items), and the cancelling of the Wesley Snipes Exiled signing, many are wondering: Can I reallocate my points?
For now, at least, the answer appears to be "no". At the time of press, here is what we do know:
1. If you have unused points, you can use the add/manage button to allocate any unused points.
2.  If you've applied points to an item, they can't be changed.
3. The only reallocation exception is the cancelled Exiled signing
To access the "View Details / Manage Add-ons" option, from your home screen click "My Orders".
From the next screen, click "View Details / Manage Add-ons"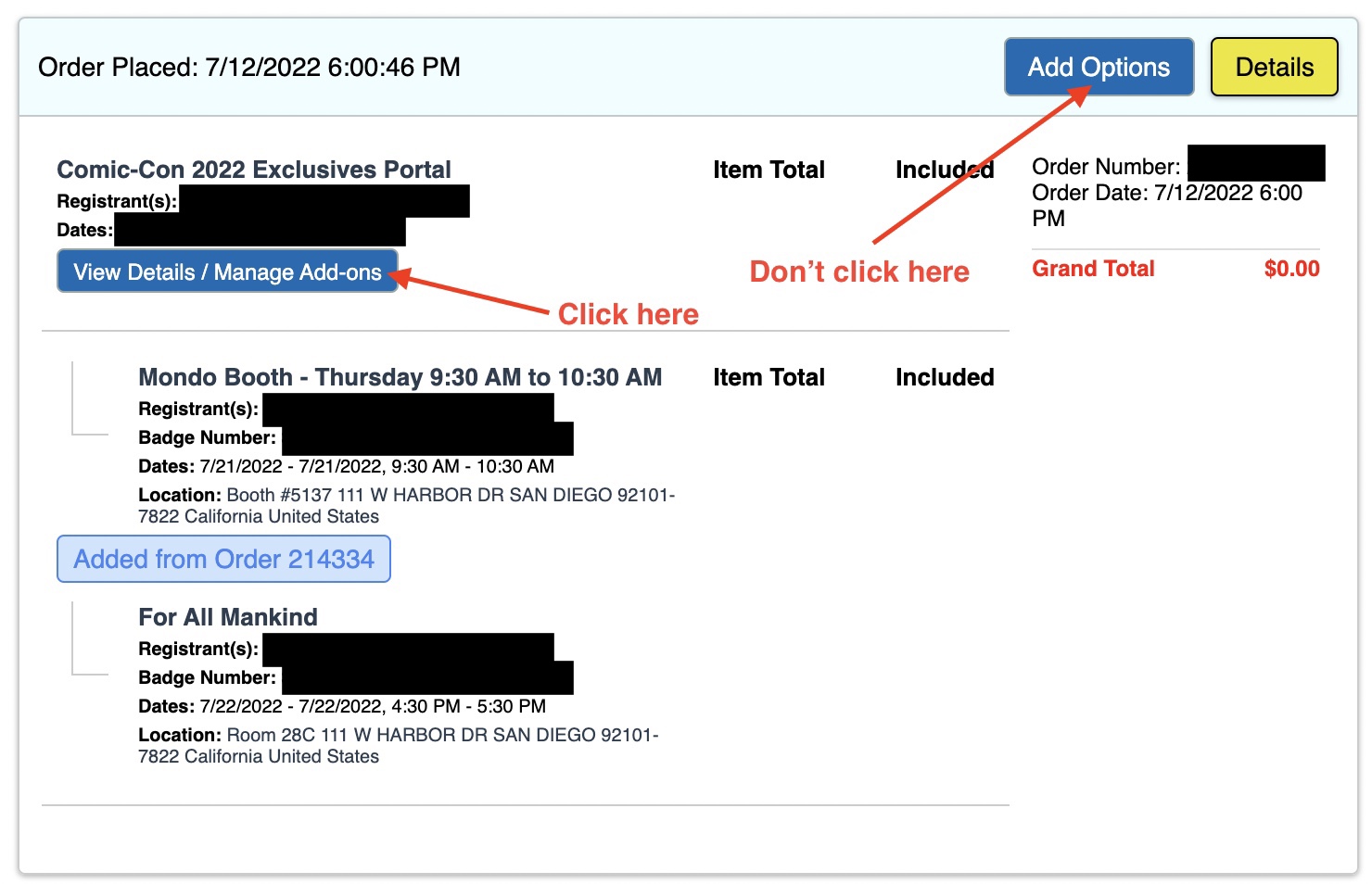 From this screen, you have the ability to allocate any unused points, but ONLY if you have unused points on that day: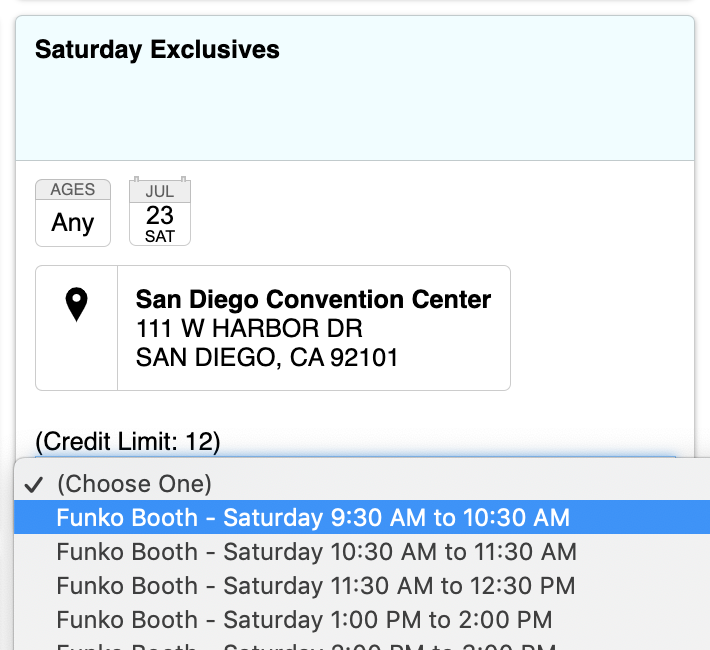 Interestingly, there is a "My Lotteries" option in the bottom of the sidebar on the homepage. If you click that, click the yellow edit button by "2022 ComicCon", then again by your name, it will take you to a page which says you can "Rearrange the products for each participant to set the priority". So, can you really give yourself a higher chance to win something by resetting the priority?
Like most things in this lottery… ¯\_(ツ)_/¯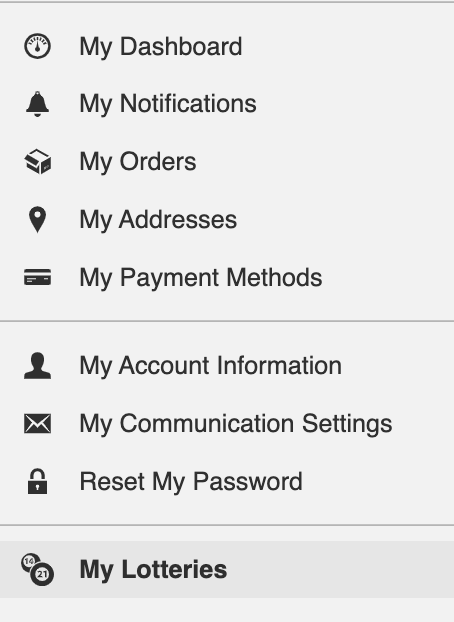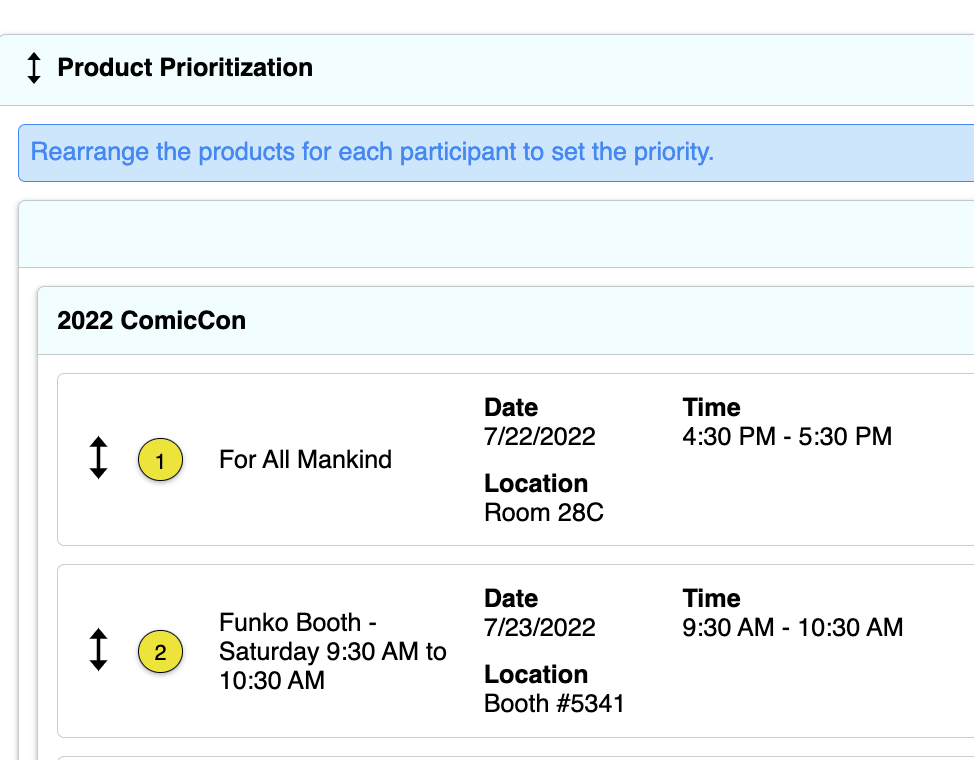 [UPDATE July 14]
Presumably due to the glitches, Comic-Con International has extended the date to submit your exclusives through Sunday, July 17 at 12pm PT.

[UPDATE July 13]
It seems the issues may finally be fixed now.
[UPDATE July 9]
Currently, there are several ongoing issues with the Online Exclusives Portal. We strongly recommend waiting to submit until later in the week to submit, as items may be added, and it does not appear that you can reallocate your points. The portal closes Friday, July 15 at 12pm PT Sunday, July 17 at 12pm PT so you only need to submit by that deadline.
[PREVIOUS]
You've been wondering — we know because you've asked us approximately one million times — but we can now say that yes, the Online Exclusives Portal is returning for San Diego Comic-Con 2022.
This is the online lottery system where you'll sign up for things you're interested in and later find out if you're a winner — for various exclusives and signings for San Diego Comic-Con. Just like previously, you can select "time slots" for the thing you are interested in, which includes Funko, Loungefly, Mondo and UCC Distributing — as well as signings from comic creators like Jim Lee and Tom Taylor, the cast of For All Mankind, singer Ozzy Osborne, actor Wesley Snipes, and a few other autograph signings.
You have "points" for each day, which you can allot as you see fit. Want to put all of Saturday's points towards one Funko timeslot, to give yourself more chances? You can do that. Want to split your points between a few different things? You can do that too. The only thing you CAN'T do is use one day's points towards a different day — ie, if nothing catches your interest for Sunday, you can't put those points towards something on Friday instead.
Here's a look at the points: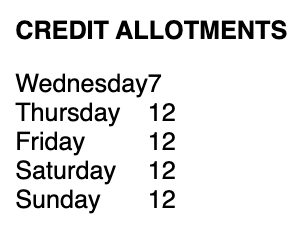 Visual Guide
If you're interested, you must login to your Member ID and hover over "Exclusives Portal", then select "Comic-Con 2022 Exclusives Portal". From there,  you need to click "Add to Cart" to load the Exclusives Portal – and select the time slots you are interested in trying for.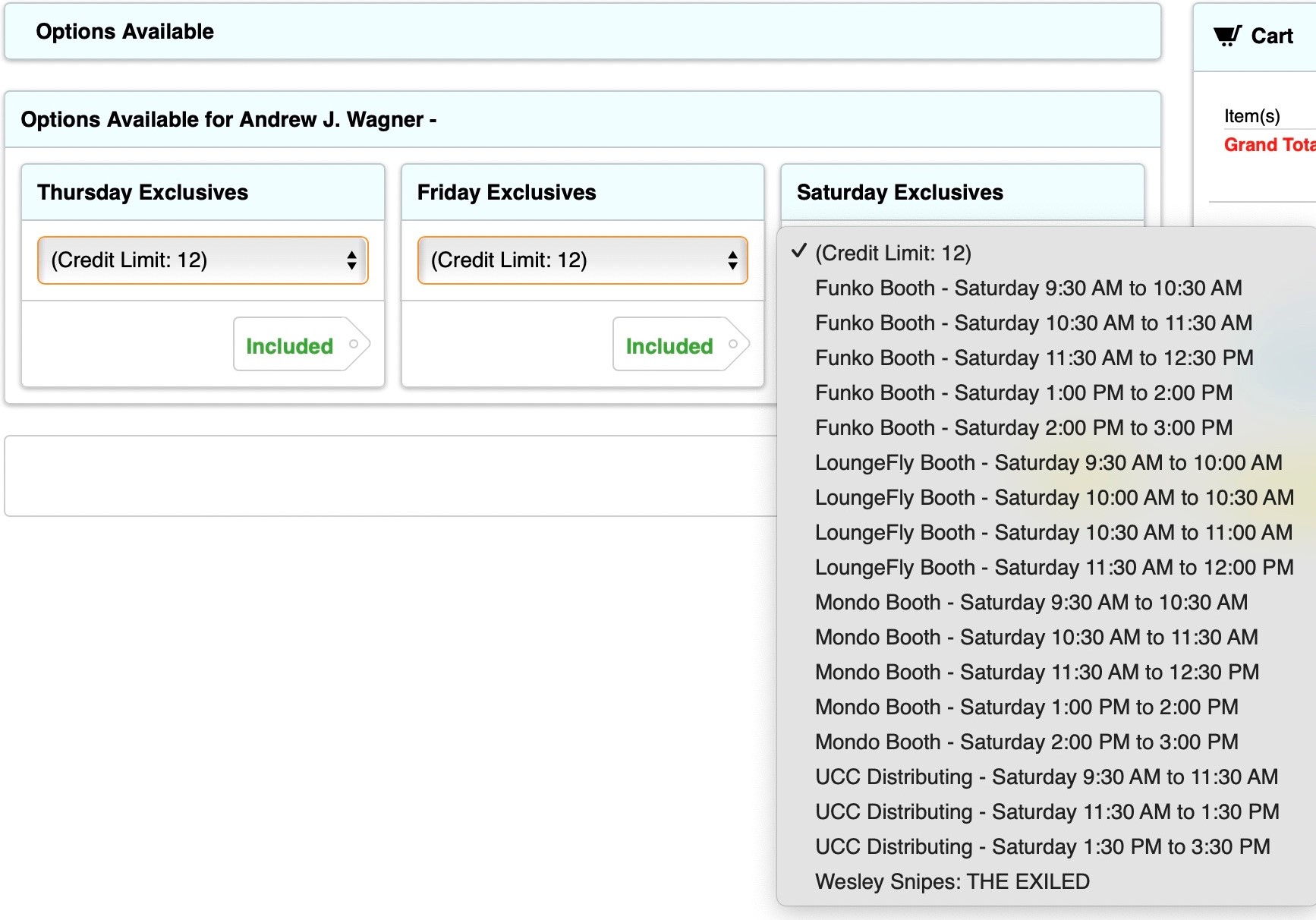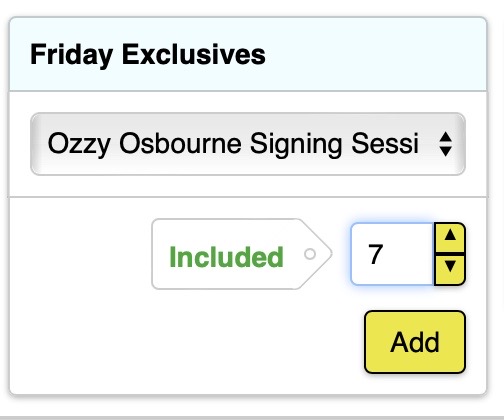 Currently, this process appears to ONLY be available for those with General Attendee badges and Professionals (and their guests). This could change in the coming days. 
Submitting for a time slot does not guarantee you will be selected as a winner. You must be 13 years or older and have a valid Comic-Con 2022 badge linked to your Comic-Con Member ID account for the day(s) which you are selecting for. In the event an exclusive or exhibitor signing is cancelled, for any reason, your submitted credit(s) will not be returned and cannot be used to submit interest in an alternate exclusive.
You have between now (yes, RIGHT NOW) and Friday, July 15 at 12pm PT. Then, winners will be selected at random.