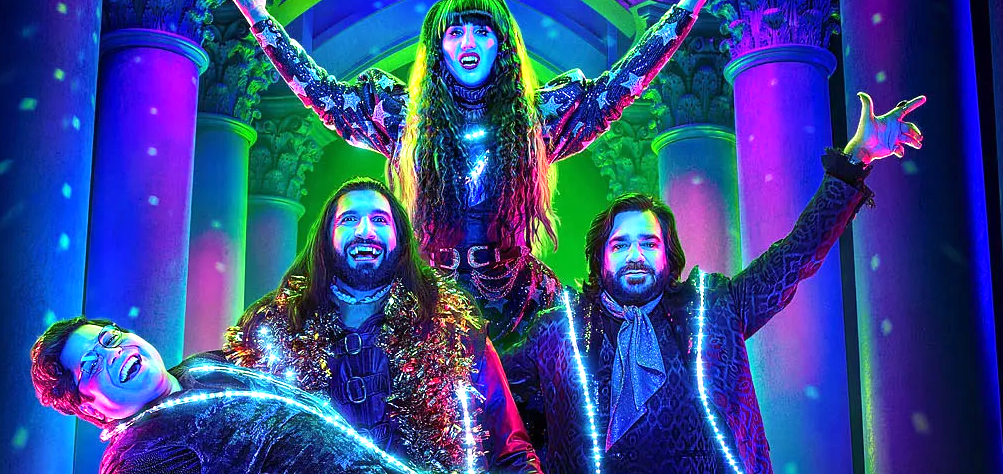 It's less than two weeks away from Comic-Con, and CCI is releasing the programming schedule for Comic-Con 2019 in its annual fashion. We'll be bringing you the highlights of each day as they're announced.
We'll also be discussing our thoughts on this year's lineup, including our top picks, room flow, and what time we think you should line-up in a special series of live podcasts this weekend. The first of which covered Thursday's and Friday's lineup, and the second segment — in which we break down Saturday and Sunday — will be on Sunday, July 10 at 4pm PT / 7PM ET (that's tonight!)
With that said, let's dive right into Sunday.
Sunday is always the lightest day of programming, as it's a shortened day, and they close both Ballroom 20 and the Indigo Ballroom. For Sunday, with the Riverdale panel cancelled, there are only three things on the menu: Mayans M.C. at 12pm, What We Do In the Shadows at 1:15, and Funko's first Hall H appearance at 2:30pm.
There's more TV and films to be found on the schedule though, with a panel featuring the original voices of Kim Possible and Ron Stoppable at a "I Hear Voices with Will Friedle and Christy Carlson Romano" panel at 10:15am in Room 6BCF; Marvel production designers, fight choreographers, stuntmen, and propmakers discussing bringing your favorite superheroes to life at 1:45pm in Room 6DE; a screening of Lightyear at 12:45pm in 6BCF if you haven't seen it yet; you'll find Babylon 5 cast and author Mark O'Bannon at a "Remembering Babylon 5" panel at 11am in Room 32AB; and actor Omar Epps presents a look at a new adult lit fantasy lit called Nubia: The Awakening.
We'd also like to point out the 40th Anniversary of Blade Runner panel at 3pm in Room 7AB, which features creatives from the 1982 classic. You can also get a look at The School for Good and Evil, an upcoming Netflix film, with author and executive producer Soman Chainani, which promises a "one-of-a-kind merch giveaway and some special surprises" at 11am in 7AB.
Clint and Travis McElroy of The Adventure Zone talk generations of nerds at 10am in 6DE, you can learn about getting into the business of cartoon voice acting at 3pm in Room 25ABC, 9B Collective, the first Black-owned concept art studio, discuss world building for film and TV at 11am in Room 24ABC; and Power Ranger actors celebrating 29 years of the series at 2:45pm in Room 5AB.
Fans of comic and the arts have plenty to be excited about on Sunday.  Artist and illustrator William Stout gets his own spotlight panel at 10am in Room 29AB; the annual Jack Kirby Tribute Panel as led by Mark Evanier is also at 10am in Room 5AB; Bone creator Jeff Smith also gets a spotlight at 11am in Room 29AB; Scott Snyder, Tula Lotay, Jamal Igle, and Dan Panosian discuss their Comixology titles at 12:30pm in Room 6DE; and find out what goes into making the cover of a book or comic at "Cover Story: The Art of the Cover" at 2pm in Room 25ABC.
Dive into the world of underground comix with Love and Rockets' Gilbert Hernandez and more at 11:15am in Room 5AB.
Inkpot award-winning artist/writer Billy Tucci discsses the return of his character Shi in a new epic trilogy at 3:45pm in Room 5AB. Dive deeper into both theatre and the life of Bill Finger, co-creator of Batman, with select readings from the upcoming play Bill Finger: Rise of the Bat at 4pm in Room 4. Celebrate comics education and advocacy with Little Fish Comic Book Studio at 1:30pm in Room 23ABC. Jam out with CBLDF and their top artists to talk censorship, creative process, and more at 12:15pm in Room 5AB.
Eisner Award winning artist Zander Cannon wants to teach you how to create comics at 11am in Room 2.
And speaking of creating, Sunday is unofficially "Kids Day", which means there's lots of fun panels for budding creatives or the young-at-heart. We can tell you how to get to Sesame Street, and it's at 1:45pm in Room 5AB with "Sesame Street Mecha Builders". Create your own special effects from Doctor Who at this interactive DIY panel at 2pm in Room 7AB with real effects luminaries on hand to teach you. Combine food and fandom with a 10am panel in Marriott Marquis Grand 10 & 11. Learn how to draw more effective expressions for your characters with Ron Lemen at 12pm in Room 11. Go "behind the bricks" with a LEGO panel at 11:30am in Room 6BCF. Artists from graphic novels, comics, and animation will work with individual kids to create an original superhero or villain in just 5 minutes at 11am in Room 11.
Hear from professional creatives Jane Baer, Ezra Clayton Daniels, and Phil La Marr in "An Animated Life" at 1:30pm in Room 10.
Elsewhere on the schedule, we're also into the "Bound for Disney: Disney Bounding" fan panel at 11am in Marriott Marquis Grand 10 & 11; the annual "Buffy: Once More With Feeling" sing-along at 3pm in Room 6BCF; the second panel for "Cartoon Voices" at 11:45am in Room 6A; the BrownCoat "Meeting Room" at 1pm with special guests like artist Nick Kremenek; and Pac-Man: Birth of an Icon author Tim Lapetino discussing his book.
There's also the perennial favorite, "Starship Smackdown", at 2:45pm in Room 6A which is always a lot of fun. Also always a favorite is NASA and their "No Tow Trucks Beyond Mas" panel at 11am in Room 25ABC.
And of course, you can end the day with Comic-Con Talk Back, the annual "town hall" where you can tell Comic-Con International directly what you liked, hated (bring back the carpet!), or anything you want, really. That's at 3:30pm in Room 23ABC.
You can also read the programming highlights for Thursday, Friday, and Saturday.
What will you be lining up for on Sunday of Comic-Con? Let us know in the comments.