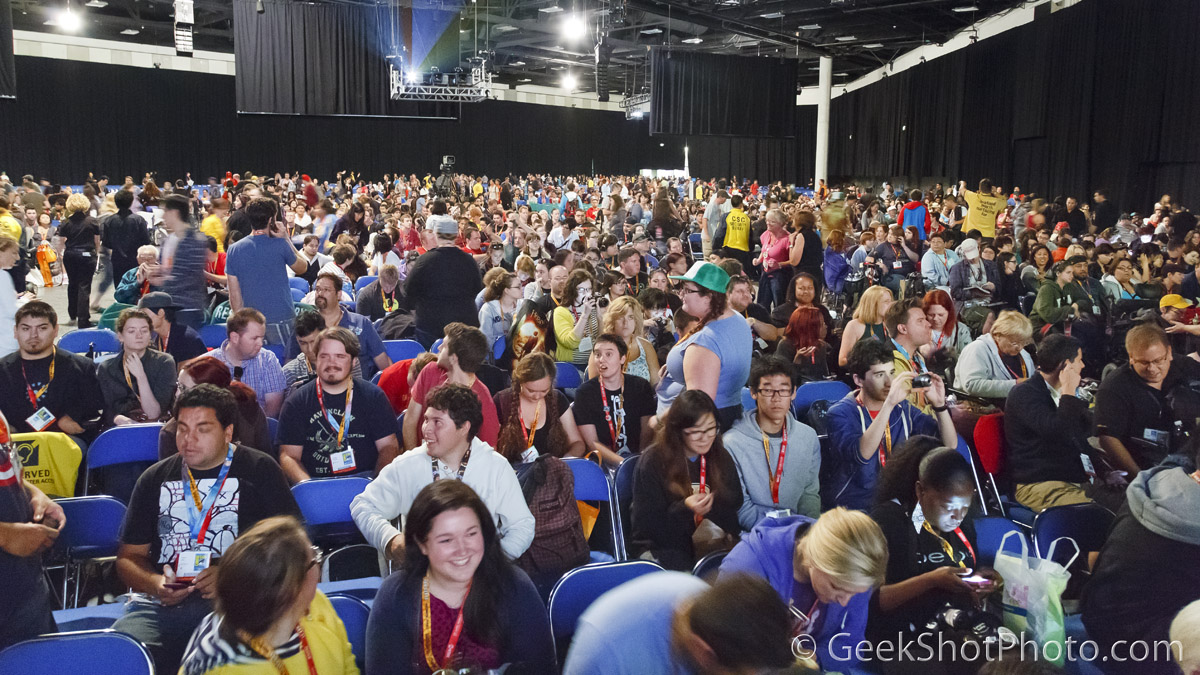 It's two weeks away from Comic-Con, and CCI is releasing the programming schedule for San Diego Comic-Con 2022 in its annual fashion. We'll be bringing you the highlights of each day as they're announced.
We'll also be discussing our thoughts on this year's lineup, including our top picks, what time we think you need to line up, room flow, and more — in a special series of live podcasts this weekend. The first of which will cover Preview Night, Thursday's and Friday's lineup, and will be on Friday July 8 at 9:30PM ET/6:30PM PT.
As we suspected, with Warner Bros. massively paring down their appearance at San Diego Comic-Con, gone are the Preview Night pilot screenings.
So instead, it's straight on to Thursday!
Paramount again kicks off the day in Hall H at 12pm, with Dungeons & Dragons: Honor Among Thieves. Then, Teen Wolf gets a major upgrade from its old TV show days, as the film will be heading to Hall H at 1:30pm with series creator Jeff Davis and "cast". At 3pm, Kevin Smith will be celebrating 40 years of Masters of the Universe by interviewing several VIPs involved with the franchise throughout film, TV, toys, and publishing. To end the day in Hall H, you'll find William Shatner at 4:30pm as Kevin Smith stays on to talk to the legend about… William Shatner.
On the movie side outside of Hall H, you'll find upcoming horror film Nix in Indigo Ballroom at 5:15pm (with the director of Sharknado), and author Paul M. Sammon and illustrator William Stout will discuss stories from the 1982 classic Conan the Barbarian at 5:30pm in Room 6A. Disney animation legends Ron Clements and John Musker, who directed films like The Great Mouse Detective, The Little Mermaid, Aladdin, Hercules, Moana, and more will get a panel at 1:30pm in Room 10. More Disney animation luminaries, including Floyd Norman and Jane Baer, will discuss animation at 2:30pm in Room 10.
Continuing on the TV side, which takes up a huge portion of the schedule, there's a million things we're pumped for. In Ballroom 20, you'll find The Rookie, CBS' Ghosts, National Treasure: Edge of History, Severance, and Beavis and Butt-Head Do Comic-Con.
There's plenty more TV where that came from though, with the day's offerings rounded out by Abbott Elementary (sadly virtual, though it will at least be live-streamed rather than pre-recorded) in Indigo, The Wheel of Time Origins in 6A, G4's Attack of the Show returning including WWE star Xavier Woods in 6A at 8pm, Nickelodeon's Rugrats in 6BCF at 1pm, SpongeBob at 3:30pm in 6BCF, The Dragon Prince at 4:45pm in 6BCF, Miraculous Ladybug at 11:45am in 6BCF, and more, including Solar Opposites, Koala Man, and Marvel's Moon Girl and Devil Dinosaur. Motherland: Fort Salem will also get a panel at 3pm in Room 7AB.
You can also catch a screening of the first two episodes of the new season of Harley Quinn at 10pm in Room 5AB. X-Men: The Animated Series will be celebrating its 30th anniversary with a panel in 6DE at 5:45pm.
Into comics? We recommend the Spotlight on Jim Lee at 12:45 in 6DE and the 30th anniversary of Todd McFarlane's Spawn at 3:15p in 6DE. There's almost more talent than can fit in 28DE at 6pm as Jonathan Hickman, Mike Huddleston, and Mike del Mundo will be on hand to discuss their 3 Wolds/3 Moons project. Discover the universal cinematic influence of Jack Kirby, from Star Wars to the MCU, at 12:30pm in Room 4. Fan favorite Scott Snyder will be unveiling news about his Dark Spaces, a new anthology series, at 2pm in Room 6DE. Brian Michael Bendis and more will be at Abrams ComicArts panel at 4pm in Room 25ABC.
Matt Kindt is launching Flux House, a new boutique imprint with Dark Horse, and you can get the scoop at 3pm in Room 23ABC. Fans of Doctor Who will want to check out the Doctor Who Comics panel at 2pm in 5AB. 
Director and actor Andy Serkis will join Scout Comics virtually for a panel in 32AB at 5pm about upcoming titles. Z2 is bringing the world of music to comics, and you can find them with Major Lazer (including Diplo, Walshy Fire, Ape Drums, and Gouw) discussing their new graphic novel at 1pm in 5AB.
Toy fans will want to check out the Mattel & WWE Squad Fan Panel at 11:15am in Room 6A, for a "star studded" panel including WWE stars Cody Rhodes and Queen Zelina. You can get an update on "The Future of Collectibles" at 2pm in Room 9.
Authors Jonathan Maberry, Scott Sigler, Peter Clines, and David Mack will present a Writers Coffeehouse at 2:30pm in Marriott Marquis Ballroom D.
Fans of The Lord of the Rings films and Sherlock will want to check out Moriarty: The Devil's Game: An Audible Original, which sees not one but TWO hobbits reuniting with Dominic Monoghan and Billy Boyd at 12:15 in Indigo Ballroom.
Want to find out what's new at the Comic-Con Museum? Museum Executive Director Rita Vandergaw and CCI Senior Director of Programming Eddie Ibrahim, and others, will be talking about the amazing new "Marvel's Spider-Man: Beyond Amazing" exhibit at 12pm in Room 32AB. You can also get a look at SDCC history at 2pm in Room 23ABC, with SDCC founders, staff, and more.
While HBO Max's Our Flag Means Death won't be sailing into the convention this year, you can find a fan panel in Grand 10 & 11 at the Marriott Marquis at 4pm.
You'll find a slew of Godzilla-related talent at 2:30pm in Room 29CD for "Up from the Depths: Toho's Godzilla: Past, Present, and Future of Collectibles" which includes folks from Super7, Mondo, Stern Pinball, SHAG, Attack Peter, IDW Publishing, and more.
There are plenty of other exciting things happening all day, like "Jaws: The Trial" in which real attorneys will discuss the legalities of the film at 7pm in Grand 12 & 13 of the Marriott Marquis. Talented composers from Black Panther: Wakanda Forever, Thor: Love & Thunder, Shazam! Fury of the Gods, and She-Hulk: Attorney at Law will discuss making music for TV/film in an 11am panel in Indigo Ballroom, led by the legendary Michael Giacchino. This year's Roddenberry panel at 1:30pm in Room 24ABC will also see moderator Clare Kramer, of Buffy fame.
Get a look inside the upcoming Gotham Knights video game at 3pm in Room 6A. Bill Morrison discusses his historic career in animation at 4:30pm in Room 4.
The Her Universe Fashion Show will be presenting its annual spectacle at the Manchester Grand Hyatt at 6pm.
You can also read the programming highlights for Thursday, Friday, and Sunday.
What will you be lining up for on the first full day of Comic-Con? Let us know in the comments.