In less than two weeks time WonderCon 2023 will be in full swing. You've seen the exhibitor list and map. You've scanned the panels schedule. You even have penciled in some offsite time.
What else is there? Oh, plenty, my friend, PLEN-TY! Stickers, prints, roly-poly kitties with droids and so much more.
Let's take a look at the news you might have missed:
Why did the attendee cross the aisle? To get to the chicken shirt, obviously. Megan Porch will have very limited quantities of this new shirt at her booth, Artist Alley #C-62. There will be "mush" more at Megan's booth, including these brand new stickers and her signature tote.
Very excited to announce I'll be selling my first ever t-shirt at #wondercon this year! These will be available in S-XL, but I have SUPER limited quantities!! pic.twitter.com/NiUT134nuO

— Meow'Dib 🍄 (@magpiegram) March 9, 2023
Here are some new stickers I'll have at #WonderCon23! Artist alley C62! pic.twitter.com/18d7mFUnH2

— Meow'Dib 🍄 (@magpiegram) March 9, 2023
I'm also restocking my favorite colorway of my mushroom tote, yellow and purple! These will be at #wondercon and then on my sh0p if any are leftover! pic.twitter.com/JLVOuHMJLJ

— Meow'Dib 🍄 (@magpiegram) March 9, 2023
Sizzling circuits! Artist Jeff Pina isn't done making prints yet! He'll have Mega Man at his booth, Artist Alley #C-59.
MEGA MAN!!! One of my favorite side scrollers of all time is Mega Man II. What's yours?

Grab this new print at #WonderCon Artist Alley, C-59!#art #print #megaman #80s #video #game #classic #anaheim #California pic.twitter.com/AakAAWeQM1

— Jeff Pina WonderCon AA C-59! (@JeffPina78) March 11, 2023
 

 

View this post on Instagram

 
Funko Fanatics are invited to a casual meet-up to mingle with like minded collectors on Friday, March 24, at 7:30pm at a local restaurant, nFuse. Reservations recommended.
WonderCon 2023 Funatic Meet Up
I'm inviting all Funatics to come hangout, Friday Night 3/24/23 start time 7:30pm. Location nFuse Restaurant, Bar & Lounge
(714) 750-8000https://t.co/1itSOePWDo
Location takes reservations just not for huge groups. I suggest you call & make reserv pic.twitter.com/NEqZoz5EHy

— The4thCurator (@The4thCurator) March 11, 2023
"Home is now behind you, the world is ahead!" Hand Crafted Geekdom has two more prints which will be available at WonderCon, a charming "Hobbi-dots" print of Hobbit Doors, and a Dungeons & Dragons Mimic print. Get either, (or BOTH!) at booth #F-22.
 

 

View this post on Instagram

 
 

 

View this post on Instagram

 
Hey SoCal, it's my 1st time at #WonderCon23 this year Artist Alley D21! I am super excited and Ill have early @DarkHorseComics BREAK OUT in graphic novel! Will also have Mindset, Metal Society, Forever Forward + my other comics! Old friends and new ones, come say hi and hang out! pic.twitter.com/SApC5Jw0zS

— Zack Kaplan @C2E2 F-03 (@zackkaps) March 10, 2023
You're not the type of person who folds over the corners of your book pages to mark your place are you? Well, you don't have to be anymore! Freelance illustrator Joy will have these bookmarking beauties available at booth #E-56.
Tadaaaaa!!! New art on bookmarks! These will be available at WonderCon this month! pic.twitter.com/UQ9BiOkfl0

— Imaginative Joy (Taylor's Version) (@imaginative_joy) March 10, 2023
Bindman Art has Tweeted for more 5″ x 7″ pieces that will be available at WonderCon. Find them in Artist Alley at #D-31.
A few of the brand new 5 x 7s I'll have at @WonderCon in a little over a week! pic.twitter.com/D5VhKvKdzh

— BindmanArt @ Megacon AP67 (@BBindman) March 10, 2023
The panel for the Fleischer Cartoons has leveled up with a special guest announcement. Dave Wasson, showrunner for The Cuphead Show will be joining them on Saturday, March 25 in room 300E at 10am. Wasson is also the creator of Time Squad and created the story for Star vs the Forces of Evil.
⚠️Special Guest Announcement⚠️
.
The @CupheadShow runner, Dave Wasson, will be joining us as our special guest at the Fleischer Cartoons @WonderCon Panel on Sat, March 25th at 10am Room 300E!
.@SD_Comic_Con #cuphead #fleischerstudios pic.twitter.com/k0XpW45cPG

— Fabulous Fleischer Cartoons Restored! (@fleischertoons) March 10, 2023
Speaking of panels, Gary Sassaman, the former director of programming and print & publications for Comic-Con International: San Diego and WonderCon, will be hosting his first-ever WonderCon panel this year, titled "Tales from My Spinner Rack LIVE! at WonderCon". The panel is based on a series on his Innocent Bystander blog, where Sassaman discusses 1960s comic books he owned and loved as a child. Catch it at 1pm on Sunday, March 26 in Room 213CD.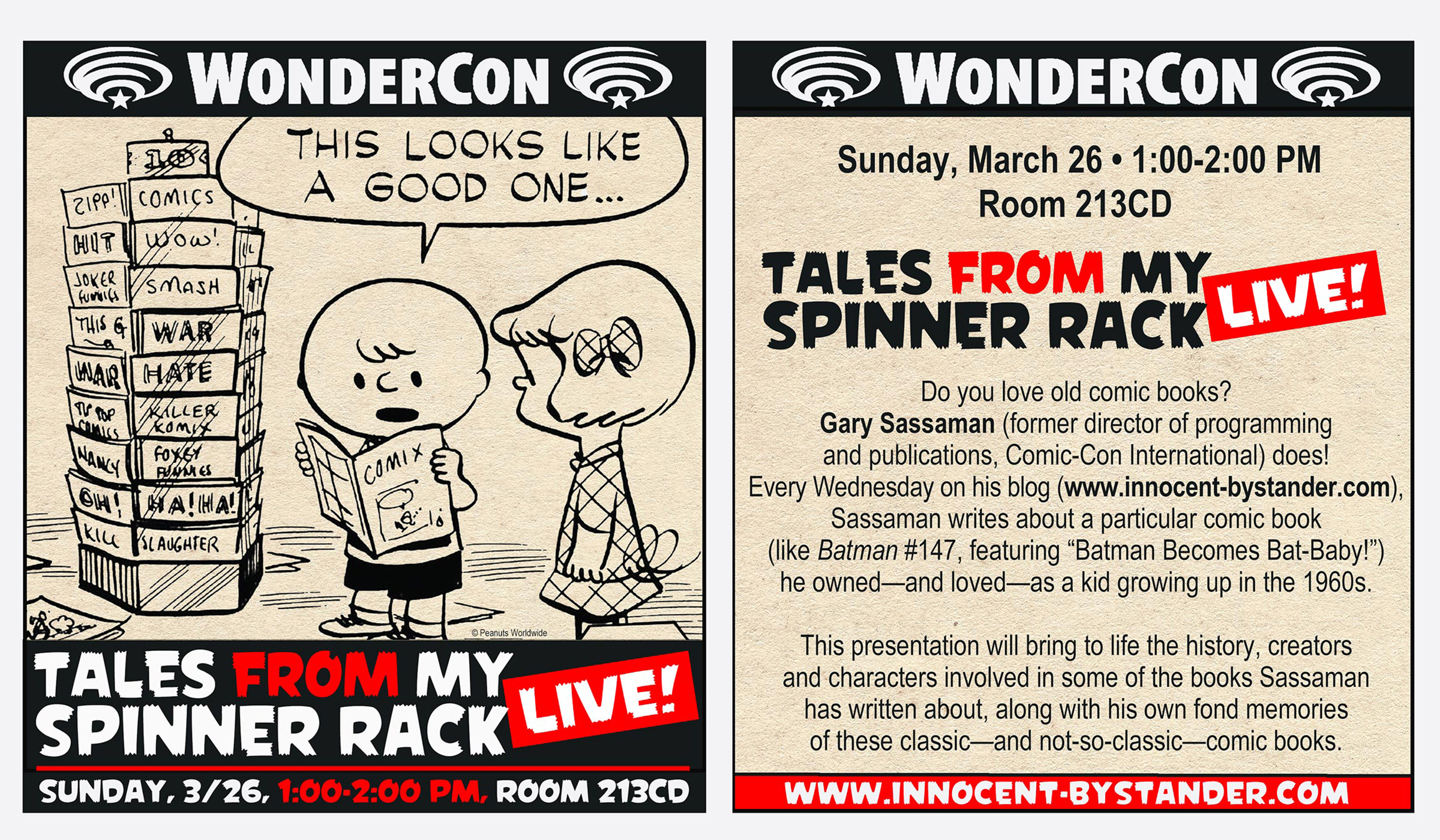 You'll be able to hop aboard Patrick Ballesteros' next JEEPNEY KULTURA print at WonderCon. Patrick showed off a work in progress recently on Twitter.
WIP on the next JEEPNEY KULTURA piece for #WonderCon23. pic.twitter.com/oyqfKthNFE

— Patrick Ballesteros SDCC DD-08 (@PatrickBallest) March 11, 2023
Power Rangers fans should plan on morphin' over to booth #1347 where Power Morphicon will be hosting meetings and signings with a variety of Power Rangers all weekend long. More details forthcoming.
 

 

View this post on Instagram

 
Turkish artist Görkem Demir has announced that he will be signing and remarquing books at the AMKM Comics booth, #609. You'll also be able to sketch covers, and exclusive variants.
And finally today, Nat Gertler has been self publishing with About Comics for 25 years and is honoring the occasion with a panel at WonderCon. Attendees at the panel will receive a free gift.
2023 is the 25th anniversary of About Comics publishing, and I'm throwing… a panel! At #WonderCon
(If anyone going wants to talk to me for any reason, whether a friendly meet or to talk business, just let me know!) pic.twitter.com/Ed6GpeGCKP

— Nat Gertler lives at Gertler.com (@NatGertler) March 11, 2023
If you have yet to get tickets to WonderCon 2023, there is still time. 
Anything we missed? Let us know in the comments, drop us a line, or tweet us at @SD_Comic_Con.
And if you have missed any of our previous WonderPosts, you can find them here.