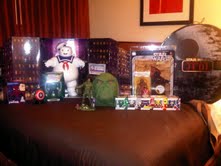 With only a little over 4 months to go until San Diego Comic-Con, the exclusive rumors are coming fast and frequent. With Toy Fair not providing as many details as in the past few years, it has only fueled speculation on what the usual suspects will be shilling at this year's show.  SDCC exclusives have become more competitive each year, so it is important to go into the con with a plan (something we'll discuss in much more detail as we get closer to July). So, despite few official statements, we have tracked down a few leads that seem to have more than just rumor and innuendo holding them up. Here are some exclusives that seem destined for this year's Comic-Con:
Six-Inch Black Series Boba Fett with Han Solo in Carbonite: Expect the Hasbro line to be more challenging than ever this year, as a fanboy favorite seems likely to make its debut at SDCC. For nearly as long as there has been Star Wars, fans have clamored for mid-sized (six to eight-inch) figures. As with so many things in this brave new world of Star Wars fandom we are living in, fans are finally getting their wish. The first figures in the line are hitting later this year and feature four iconic characters: Luke Skywalker (X-Wing), Stormtrooper, R2-D2 and Darth Maul. The line, and these specific figures, were all confirmed by Hasbro at Toy Fair. Without any official announcement of an SDCC exclusive during their presentation, a hint was thrown out at the very end with a Mandalorian logo and the message that they would see everyone at SDCC. Some of the most reliable collecting sites around (i.e., GalacticHunter.com, SWActionNews.com and YakFace.com) have all validated the rumor and confirm that we will see the new scale Boba Fett with a frozen Han Solo at the SDCC Hasbro booth.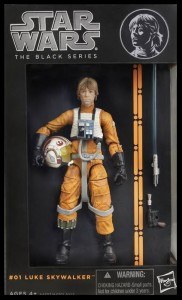 Chew Chog T-Shirt and Vinyl Toy: John Layman and Rob Guillory have been the quiet exclusive hit of SDCC for the last several years. Chew is a comic set in a fanciful world where a number of characters have the strangest abilities. The story centers around a detective named Tony Chu, a "cibopath", that gains psychic impressions by tasting things (even humans? Especially humans!). Each year the Chew crew brings a new exclusive variant to SDCC and sells them fast and furiously. With the rumor of a television deal nearing finalization in 2012, Chew reached a new level of SDCC prominence as it became a scalper favorite. Although Hasbro and Mattel consistently see the most scalping at the con, Layman and Guillory's Chew: Secret Agent Poyo variant sold briskly at $10 each and then immediately found their way onto eBay for as much as $75 on the secondary market. The dynamic creators of Chew have been known to dip their toe in the water of merchandising before with limited runs of t-shirts available at cons and at RobGuillory.com, but toys have been requested nearly as much as a TV version of this award winning comic. It looks like we might finally see this wish come to fruition at this year's SDCC. While at Amazing Arizona Comic-Con, we had the opportunity to speak with John Layman and see up close a prototype of a vinyl Chog (Get it? Chicken…frog…Chog! Told you it was an awesome world these guys have created):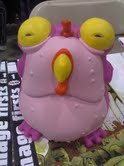 Layman stated that there was a possibility that the toy would be ready for WonderCon, but he had much higher hopes to have them in time for SDCC with a variant addition. If this item makes its way to SDCC, it will undoubtedly be a quick sell-out and have a secondary mark-up price on eBay that will only be rivaled by the Hasbros of the world. In addition to the vinyl toy, Layman just recently posted a picture of a Chog shirt on his Facebook page with the following caption: "WonderCon?"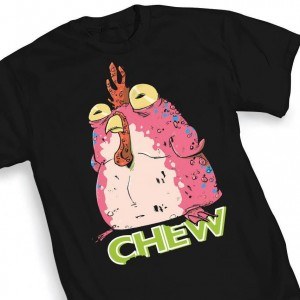 While the shirt may or may not be ready in time for WonderCon, it would seem certain that the creators will have an exclusive shirt ready in time for SDCC. Maybe an SDCC version of the the Poyo shirt that sold out years ago?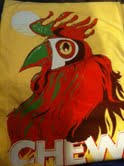 G.I. Joe-Transformer Exclusive Figures and Vehicles: Hasbro has used the last few SDCCs to provide mash-ups of two historic toy franchises: G.I. Joe and Transformers. Last year's Shockwave HISS Tank was a proven hit that still fetches over $100 on eBay (it had a $60 price tag at the show). That being said, there is much speculation that this course will change this year. Rising costs and reduced profit margins have greatly impacted the collecting scene in recent years, so it wouldn't be surprising to see Hasbro scale back on the scope of their offerings. Although they have no problem selling out at SDCC, these items do not have the same profit margins as many of their younger-aged toys (we're looking at you, Fighter Pods). Nothing has been substantiated by Hasbro, but it would seem likely that the SDCC G.I. Joe exclusive(s) will be revealed at the International G.I. Joe Convention in Indianapolis, April-4th-7th. "What's on JOE Mind", a leading G.I. Joe podcast, reported in their Toy Fair coverage this is the likely plan. This would seem consistent in convention trends in that it is becoming a norm that companies like Hasbro try to hold information back to give out in small handfuls at each show they attend. The growth in popularity of conventions like Star Wars Celebration, Joe Con and New York Comic-Con have caused many companies to restructure the way they deliver information to attendees.
In addition to the leads in this article, we've had some informal conversations with other SDCC toy and comic creators, but can't discuss details of their SDCC plans quite yet. Keep checking back here as we gather as much exclusive news as possible and aggregate it.
What exclusives do you hope to see on the SDCC floor this year? Let us know in the comments.