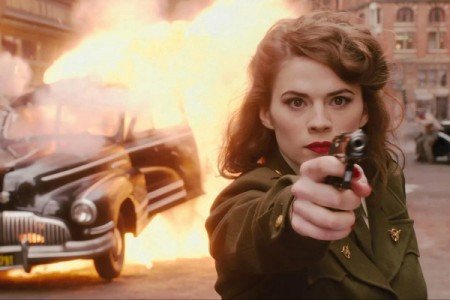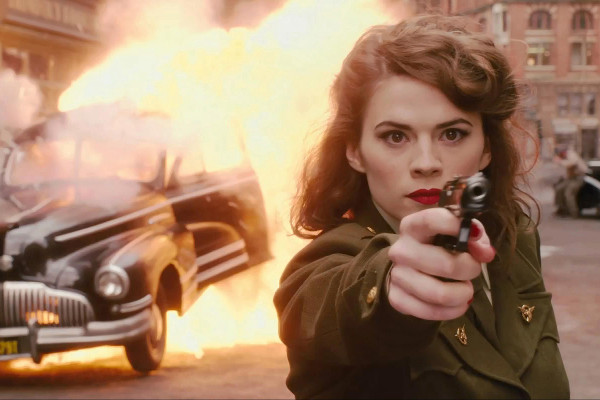 In an interview with Australian entertainment website The Age, actress Hayley Atwell was asked about her involvement in next year's Marvel sequel Captain America: The Winter Soldier. Atwell, if you recall, played Steve Rogers' love interest Peggy Carter in the 2011's Captain America: The First Avenger, as they battled Hydra through Europe during World War II. Atwell seems to indicate her character will be seeing a lot more of the action first-hand this time around:
"I think the director had seen The Duchess and there was something in that that he liked in terms of the character of Peggy. He brought me in and we had an initial chat and then I think his main interest in my auditions was whether or not I was able to, or had an interest in, any stunts that may or may not be required.

"I did a full day of stunt training with a stunt co-ordinator just to see how convincing a punch would be, and if I could load and unload a gun, and how many guns, and machine guns – as well as about four or five pages of dialogue. They put you through your paces, obviously, because we're talking such a huge studio film that they really are very, very thorough in absolutely every aspect of it because they want to please their fans. So it was quite an ordeal."
Where things get interesting is her next statement, which leads directly to San Diego in July:
Atwell hopes we will see even more of Peggy. "There's been an online campaign for Peggy to be featured. People really liked her. So Marvel have made sure that as part of Comicon there will be a little kind of snapshot as to what Peggy's actually really capable of, which was finished here and which was great fun. Hopefully, it will lead to other things."
Bleeding Cool picked up this story and connected the dots, saying it's possibly a future Marvel One-Shot to be shown at SDCC, claiming the information is consistent with previous rumblings they've been hearing.
Taking punches and shooting machine guns? Sounds like what Carter is "capable of" will be loads of action, perfect for those shorts which have accompanied the Marvel Studios home video releases. It also makes sense that, although Captain America: The Winter Soldier won't be released until April 2014, it would be a perfect candidate as an extra on the Iron Man 3 home video release slated for later this year.
What do we think the implications of this could be? A couple of things. One, it could be more evidence to the rumor that, indeed, Marvel will be showing Captain America: The Winter Soldier at a Hall H panel this year. Two, it could be more in vein of the Item 47 scavenger hunt, leading to a separate offsite screening and Q&A. Either way, it does seem like Marvel Studios won't be leaving out the SDCC crowd completely, although the extent of its involvement remains to be seen in the weeks and months ahead.
We've reached out to the studio for comment, and have not yet received a response at the time of publication. We'll update if and when they do comment on this.
[UPDATE] According to Comicbook.com, Louis D'Esposito, director of last year's Marvel One-Shot Item 47, confirmed a One-Shot featuring a "female character" is in the can, and will indeed premiere at Comic-Con this year.
Louis D'Esposito said, "I've just done a couple of short films for Marvel that feature female protagonist." When asked when fans would be able to take a look at those short films, Louis D'Esposito responded, "Item 47 was on The Avengers Blu-ray DVD, and I can't really tell you the next one yet. It's still top secret, but we will be premiering it at Comic-Con."
Putting Atwell and D'Esposito's quotes together confirms that a Peggy Carter One-Shot will be shown at Comic-Con. Whether this is during a panel or another scavenger hunt remains to be seen. We'll keep digging for the missing pieces and will let you know what we find out.
Are you excited for a Peggy Carter One-Shot? Let us know in the comments.