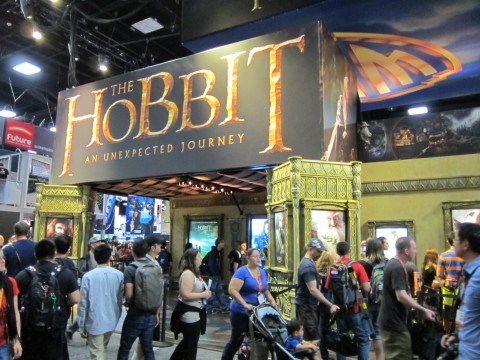 CCI's first convention of the year is drawing closer, and we've got news on several aspects of the convention. The biggest news is obviously that WonderCon badges are finally available to purchase online — but it's not the only news. Artists have confirmed their attendance, we've got news on panels, on how to pick up your badge, on vendors, and more.
Here's some news you may have missed:
One of WonderCon's special guests, Jim Pascoe, announced on Twitter that he will announcing his next collaborative work — including the title and who he will be working with — at his Spotlight panel during WC.
I'm announcing the title & collaborator of the new series during a spotlight panel at WonderCon.

— Jim Pascoe (@jimpascoe) January 27, 2014
WonderCon announced on The Toucan Blog that they have added nine additional special guests to the convention, including artists and writers Jim Lee, James Robinson, and Gail Simone.
Additionally, WonderCon updated their badge information to reflect instructions for attendees to pick up pre-purchased badges. Those that purchased Friday or 3-Day badges in advance have the option of getting them as early as Thursday. Saturday and Sunday's badges may be picked up starting on Friday.  If you're hoping to purchase a badge for 2015, CCI released another schedule. All of the times are pictured below: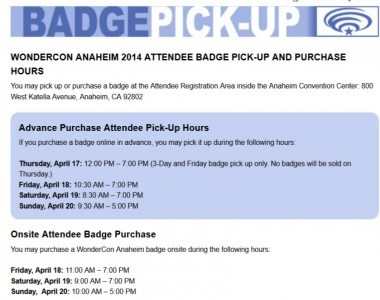 The Elites Unit 52 comic editor, Michelle Gonzalez has confirmed via Facebook fan page that she will be headed to Wondercon with the Creative Writer to launch The Elites Issue #1.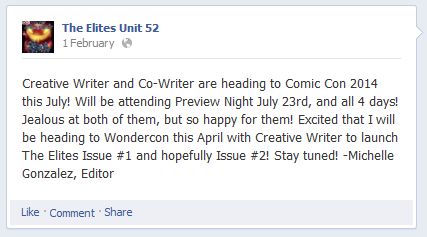 Cartoonist and creator of the CRAZYVERSE, Mike And Mindy, and more, Jon Esparaza, has confirmed via Twitter that he is booked for Artist Alley at WonderCon.
@jlindwall I'm booked for artist alley! 🙂

— Jon Esparza (@JonsCrazyTweets) February 6, 2014
CCI also announced under the 'Volunteering' tab for Member IDs that open registration for volunteers for WonderCon will take place in early March.

Museum of Robots, who makes retro-futuristic housewares and personal accessories, announced on Facebook that they will be at WonderCon this year.

Full Stream radio also announced on Twitter that they'll be at WonderCon, and handing out swag – though it's unclear whether they'll have a booth or a panel.
@FullStreamRadio will be at Wondercon'14 on April 19th to promote the show and talk with the fans!! Now you have a reason to get out of bed!

— Josh Gorden (@JustJoshuaJ) February 10, 2014
Artist Andrew Kafoury has also confirmed via Twitter that his summer plans include a booth at WonderCon.
https://twitter.com/AndrewKafoury/status/432725533416099841
Tony Daniels has announced on deviantART that he is currently taking commissions for pieces to be picked up at WonderCon at his booth in Artist Alley. An 8×10 head and shoulders piece with a basic shaded background will run you $100, with larger and more detailed pieces going up as high as $650.
TheOneRing.net, a perennial staple at SDCC, announced on Twitter that will be at WonderCon this year as well with a panel, presumably talking about what fans can expect from the final installment of The Hobbit.
YES! WonderCon is like to feature our panel. 😀 "@BeefyAmazeBalls: @theoneringnet I stopped going in 2010. Will you guys be at Wondercon?"

— TheOneRing (@theoneringnet) February 9, 2014
Illustrator and writer Kraig Rasmussen will also have a panel at WonderCon this year, he announced on Twitter, called The Creator's Body.
Hey @JimLee – how's the hand these days? I want to invite you to be on my panel "the Creator's Body" at Wondercon. Pls follow & DM for info

— Kraig Rasmussen (@kraigcomx) February 9, 2014
E-mails to Professionals have started going out about their upcoming registration, though CCI hasn't yet given a date for Professional Registration for WonderCon. Here is part of what was e-mailed out by CCI:
If you plan on attending WonderCon Anaheim as a professional, please do not purchase an attendee badge through attendee registration.  Professional registration for WonderCon Anaheim 2014 will occur some time within the next 4-6 weeks.
This implies that attendee registration will take place prior to Pro Registration, presumably sooner than the four to six week timetable given to Pros. Which is good news, as WonderCon actually happens in nine weeks!
Oni Press, the comic author of Down. Set. Fight! , has revealed via his Twitter account that he will not be present at WonderCon.  However, he will be attending SDCC.
https://twitter.com/theisb/status/433485750399959040
Warner Archive also confirmed on Twitter that they'll be returning to WonderCon.
Guess who's going to be there? <—hint "@SD_Comic_Con: #WonderCon badges are on sale – right now! http://t.co/FklRnhjSzk"

— Warner Archive (@WarnerArchive) February 14, 2014
Ken Choy has confirmed on Twitter that the ABC Development team will be hosting a panel at WonderCon, "just for you".
Stay tuned for news re @abctaldev wondercon panel just for YOU. Reminder: no onsite sale of wondercon badges

— Ken Choy (@kenchoy) February 15, 2014
Also returning to WonderCon is Andrea Letamendi, who announced on Twitter that she'll be holding more panels at this year's convention, with more details announced soon.
Yes! Details will be posted soon! "@Blackmasks: Will you be holding more panels at Wondercon this year, @ArkhamAsylumDoc?"

— Dr. Drea | Psychologist (@ArkhamAsylumDoc) February 18, 2014
Anything we missed? Let us know in the comments.