Today's big Doctor Who bombshell may have been the focus of the day, but news about Comic-Con exclusives, events, and artists stops for no man (or Time Lord, for that matter). Fortunately, our team is on top of it all. Today's "Under The Tents" brings you a Talking Catbug exclusive, enough Power Ranger appearances to populate an entire Megazord, first looks at the CBLDF auction art, a color-changing Harley Quinn mug, limited editions of Brian Lee O'Malley's new book, and more.
And don't forget to check our Offsite Event calendar, presented by Eventbrite. New events added daily.
Here's the news you might have missed:
PopCultureShock announced its first Comic-Con exclusive for 2014, and it's a beauty. The Talking Catbug from Pendleton Ward's Bravest Warriors is limited to 100 pieces, with a limited allocation each day so everyone will have a chance to get one. It will come with and autographed and numbered original print. You can pick this up for $60 at booth 4437 on the exhibit floor.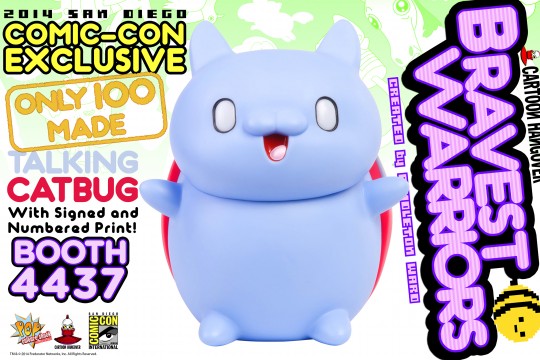 Chuck Palahniuk, author of Fight Club, will be at SDCC with a secret project in tow:
I will be at San Diego Comic-Con this July. Details are secret for now, but plan on being there. You won't wanna miss what's going down.

— Chuck Palahniuk (@chuckpalahniuk) June 26, 2014
Giant Robot will have a set of dolls by artist Rika Shibazaki available at their Comic-Con booth, as shared by Uglydoll on Twitter.
https://twitter.com/uglydolls/status/482022482593869825
The fifth in a line of posters from I-Mockery featuring pixel art of pop culture characters will debut at SDCC.
@Cherri2290 @CANADABrian @SLKSheWolf Thanks for sharing! We've actually made 4 posters, not 3. We have a 5th one coming out at SDCC in July!

— Roger Barr (@imockery) June 26, 2014
Here's a look at three of the previous posters in the line:
https://twitter.com/Cherri2290/status/474381981632200704
If yesterday's Power Rangers autograph announcements weren't enough for you, there are more today: Alison MacInnis (Pink Lightspeed Ranger on Power Rangers Lightspeed Rescue), Danny Slavin (Red Galaxy Ranger on Power Rangers Lost Galaxy), and Blake Anthony Foster (Blue Turbo Ranger on Power Rangers Turbo) will be signing at the Power Morphicon booth at Comic-Con. Details on signing dates and times are below, announced via Facebook, Instagram, and Twitter.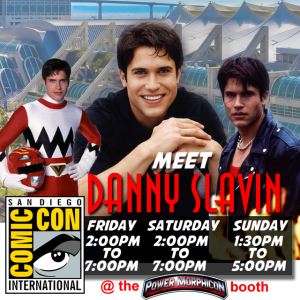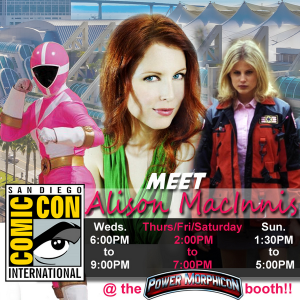 https://twitter.com/BlakeAFoster/status/482234376751550464
Ninjabot, who previously announced their SDCC exclusive Godzilla print, will also be releasing two new Origin Series designs at the con next month. The series has previously featured a number of characters, including Spider-Man, Teenage Mutant Ninja Turtles, and Wolverine.
Rumors are true! We have 2 New Origin Series designs that will debut at @Comic_Con this year!! Previews are coming soon! #SDCC

— Arnel Baluyot (@theninjabot) June 26, 2014
On Instagram, artist Gabriel Ba shared a sneak peek of a sketch from The Umbrella Academy and announced he will be at Comic-Con this year.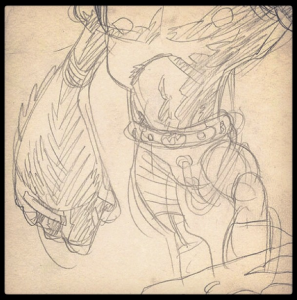 Artist Tula Lotay, who also runs UK comic arts fest Thought Bubble, revealed on twitter will be selling prints at SDCC of the cover art she did for Warren Ellis' upcoming Image title Supreme Blue Rose.
Man v. Liver co-creators Neil Hinson and Paul Friedrich will be signing at Comic-Con, according to the Raleigh/Durham area Triangle Business Journal. The book is currently in development as an animated series as well.
Author Scott Westerfield announced he will be appearing on a panel and doing a signing at SDCC. The young adult fiction panel, "What's Hot in YA," will be Sunday, July 27 from 1:00 PM – 2:00 PM in Room 25ABC. His signing will follow in the Sails Pavilion.
Writer Justin Robinson will also be at Comic-Con, appearing on a panel ("How Fan Fiction Can Lead to Being a Professional" on Thursday, July 24 from 11:00 AM- 12:00 PM) and signing autographs. Robinson will be signing at the Arcana Studios booth (#2415) on Thursday, July 24, from 3:30 PM – 4:30 PM, and on Saturday, July 26, from 11:00 AM – 12:00 PM.
The Comic Book Legal Defense Fund/Things From Another World charity auction will return to Comic-Con this summer, offering pieces from Emma Rìos (Pretty Deadly), Frank Quitely (Jupiter's Legacy), Nick Dragotta (East of West), and Larry Marder (Beanworld). Donors will receive one of four limted run 11″ x 17″ prints from the artists as a thank-you gift:
Xbox announced Comic-Con will play host to the final round of the Kinect Sports Rivals World Championship gaming tournament, to be held at the Xbox Gamers Lounge at the Manchester Grand Hyatt San Diego on Saturday, July 26 from 11:00 AM – 8:00 PM. The Xbox site has details on all the tournament finalists.
Trendsetters Ltd will bring an exclusive color-changing Harley Quinn mug to SDCC, DCCollectors.com reports. Limited to 150 units, the mug will be available at booth #4734. Trendsetters Ltd has a video of the color-changing feature in action:
http://youtu.be/PUYitSA_cT0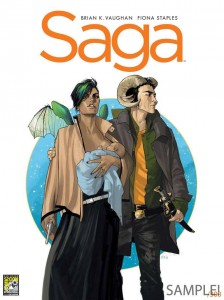 Marvel Unlimited Plus members will have access to two special members-only events at SDCC this year, Marvel Executive Editorial Director Ryan Penagos teased on Twitter:
What?! We may have not just one, but TWO special events for #MarvelUnlimited Plus members at #SDCC? WE MUST BE MAD.

— Ryan Penagos (@AgentM) June 26, 2014
Can't get enough of those Alex Ross Comic-Con pieces that have been teased for a few weeks now? The artist will also have a full-color book available at the con. A preview of the cover art was released:
Cover to #Sdcc2014 -Marvel Alex Ross full color art book.@SD6ComicCon @SDCCsurvival @sdccgotgirl @headgeek666 . pic.twitter.com/S3DUmehBid

— Sal Abbinanti (@SalAbbinanti) June 26, 2014
Bone creator Jeff Smith revealed his San Diego Comic-Con plans, including a few panel appearances (to be announced), a special convention cover for a full-color edition of Tuki #1, and a color hardcover RASL omnibus. The Boneville booth will also display a life-size RASL statue, previewed below: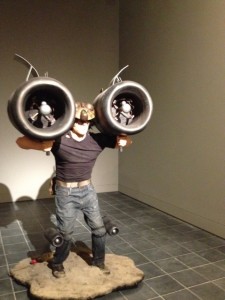 Scott Pilgrim creator Brian Lee O'Malley will bring two different limited editions of his new book Seconds to SDCC. Centered on a down-on-her-luck restaurateur who meets a girl offering magic mushrooms that provide "a do-it-yourself do-over," Seconds will be available at the Ballantine Books booth. There will be a both a lettered and a numbered edition, each available in extremely limited quantities: just 26 for the lettered edition ($250, featuring a unique sketch and signed by the author) and 250 for the numbered edition ($125, signed by the author and packaged in a slipcase). Here's a look at both:
It's never too early to start trying for badges to Comic-Con 2015. Enter to win a trip to Comic-Con by pre-ordering the latest Assassin's Creed title, Assassin's Creed: Unity (sorry, US residents only). GameRant explains the complicated entry system: pre-ordering earns you five tokens a week, and each token can be used to enter the contest – encouraging gamers to pre-order early for more chances to win. Not interested in pre-ordering the game? Dig through the fine print to find the free, alternative entry method:
To receive a pre-order code without purchase, send a self-addressed *stamped envelope to Guillotine Prize Drop Sweepstakes Promotion Code Request, PO Box 601, Garden City, NY 11530-0601. Please allow 2-3 weeks to receive your pre-order code. Limit one (1) mail-in request per person. Mail-in requests must be received by October 7, 2014.
Captain Action, the "Original Superhero Action Figure", will be flying in to San Diego Comic-Con with a contest, panel, and prizes. Action Figure Insider announced a contest for the superhero action figure, where fans can "Create costume sets/figures for existing heroes or new heroes they have created". At the Captain Action panel, an all-star panel of judges and the audience will choose the winner, who will receive a $500 Captain Action Shopping Spree. More details about the contest can be found on AFI's site.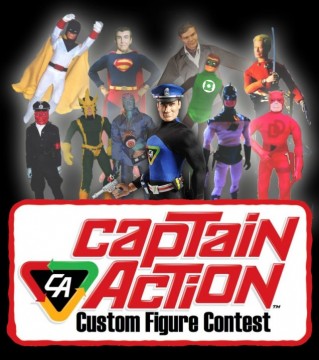 Furry Feline Creatives will be bringing four exclusives to San Diego Comic-Con, in the form of the "Kawaii Kaiju Friends". Attendees can snatch up Purridge – dressed in both Tangerine and Lightning Blue as Kawaii Kaiju Purridge, Dude dressed in black as "Go-Go Supaiku Dude", or Ringo in an alien suit as "Ultra Mega Ringo". Purridge will be $60 each, while Dude and Ringo are $50. Each of the plushes are limited to only 10 pieces, and can be picked up at Booth #5149.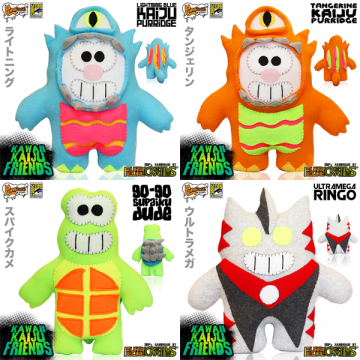 Anything we missed? Let us know in the comments, drop us a line or tweet us at @SD_Comic_Con.