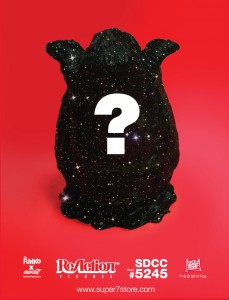 We had the opportunity to speak with Super7 owner and founder Brian Flynn and gain insight on the company's big plans for Comic-Con this year. We also got the big scoop on not one but two unannounced Super7 exclusives as well as a big Friday night event the company has planned for SDCC.
After last year's success with the Alien ReAction early bird kit and prototype figures, Flynn wanted to do something exciting and fun at this year's Comic-Con – that's how he came up with the idea for a blind box action figure, brought to fruition with the Alien Deep Space Mystery ReAction Figure they are selling this year. The figures will come in a variety of sculpts and colors, blind-packaged inside a collectible Alien egg doubling as a figure stand. The egg will never be offered anywhere else again, which Flynn says cost more to make than the action figure itself. "You gotta do it right, and doing it right costs money."
Inside the translucent egg, "there will be a black blind-bag figure," Flynn told us. " It could be a brand-new sculpt you've never seen before, definitely will be a color or something you've never seen before…you're just going to have to open them to find out what you get and have some fun."
And to add to the fun, Super7 will be having a swap party at the booth Friday night. So for attendees who have a double or if they see a sculpt/color over the course of the weekend they really want, they can trade with fellow collectors at the party.
For all of Super7's toy exclusives, Flynn says they will be limiting quantities per person and stamping badges like last year to combat the "flipper" competition, where people snatch up exclusives to sell aftermarket. "What was good about last year is the fact that people could buy only one of the two-pack, [which] meant that you didn't see them pop up on eBay. People kept them. It wasn't the guy that says, 'okay I'm going to to go and buy two of everything at every booth and I'm going to keep one and sell the other one to pay for my trip, and I'm going to gouge you for it.' I don't want that guy coming to my booth. I want you as a collector to buy this and keep it for yourself."
Lastly, Super7 just received word that their booth on the exhibit floor is moving a few aisles over, so be sure to keep reading as we'll announce the new booth number as soon as it is available.
We could talk more about how much we love Super7 and how awesome the exclusives are, but we think it would be better for you to see for yourself. Watch the video below where Brian reveals to us exclusively details and images of the Super7 x Funko: Alien Deep Space Mystery ReAction Figure, as well as the Super7 x Funko: Gimp in a Box ReAction Figure packaging.
But that's not all they will be offering fans – stay tuned for the complete reveal of the entire Super7 exclusives line-up later today.
Are you excited to stop by Super7's booth during Comic-Con? Let us know in the comments.