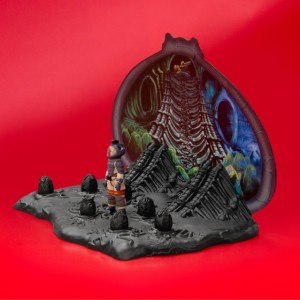 [UPDATE July 14] Due to the "unexpected outpouring of enthusiasm and support", Super7 has elected to make the Alien Egg Chamber playset available for pre-order.
From the blog post on the Super7 site:
In response to the unexpected outpouring of enthusiasm and support for the Alien Egg Chamber Playset, we are thrilled to offer this limited pre-order for the black box edition of the playset for fans of Alien and ReAction Figures everywhere. This version features the black packaging and a charcoal base with printed cardboard inserts with custom artwork. As this was originally a labor of love project for us here at Super7, we had no idea it would touch the hearts of as many fans as it has. Thank you so much for your support of Super7 and this crazy playset of ours, we hope you enjoy it as much as we do, and that we can continue to make special and unique items like this in the future for you.
The playset will be available for pre-order starting Wednesday July 23 at 6pm PT through Sunday July 27 5pm PT, both at the Super7 booth and online at  www.super7store.com. The playset will be made to order, meaning everyone who pre-orders the playset will be guaranteed one. Right now the playset bases will be made from hand cast resin, unless enough orders are received to manufacture the bases in injection molded plastic.
The Alien Egg Chamber playset will sell for $100 each plus $15 shipping, to account for the large size of the playset. Expected delivery for resin bases will be 3-4 months, and injection bases will be 6-7 months.
Check out the entire post on the Super7 blog.
Original story is as follows…
Super7 might be partnering with Funko on their ReAction line of retro action figures, but the designer toy manufacturer also has an entire slate of its own exclusives it will be selling at next month's San Diego Comic-Con.
We've already gotten a peak at what's in store for their ReAction line via the weekly Funko updates, but we're going to be listing all of Super7's exclusives in this master post. And a quick note for our readers – Super7's booth location has changed since it was first announced. They will now be in booth #4945. You're going to want to know that or risk losing out on some of these fantastic exclusives.
Yesterday we spoke with Super7 owner/founder Brian Flynn and gained some insight into the company's plans for this year's SDCC, and even got a sneak peak at two of their exclusives. But now their full slate of SDCC exclusive merchandise has been announced, and we're happy to bring you details and pictures of what's sure to draw some big crowds on the exhibit floor.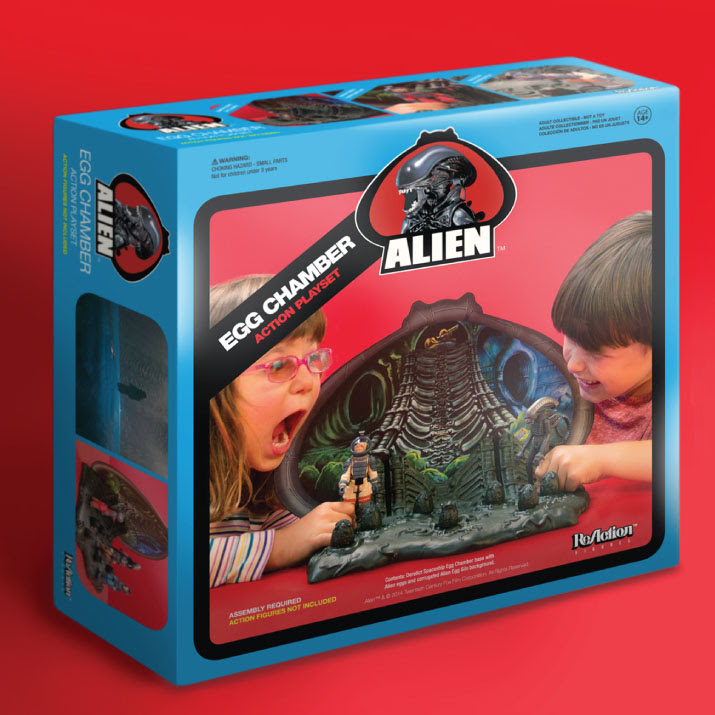 Alien Egg Chamber ReAction Playset: The highly anticipated playset that will pull on nostalgic heartstrings of 70's youth will be exclusively released at this year's San Diego Comic Con. Now you can relive the excitement of the Nostromo Crew's journey into the Derelict Alien Spaceship! Venture with Kane deep into the mysterious Egg Chamber ReAction Playset and pose your sturdy ReAction Figures on the detailed, egg-covered base. Inspired by the playsets of the 1970's and packaged in an era appropriate photo box, the playset provides the perfect backdrop for all of your ReAction Adventures.  The playset comes complete with classically styled action base made from durable hand-cast resin and corrugated cardboard, full-color Alien Egg Silo backdrop that slides into the base for display. ReAction Figures sold separately. Limit to one per person for the entirety of the show.  Limited run of 250/numbered.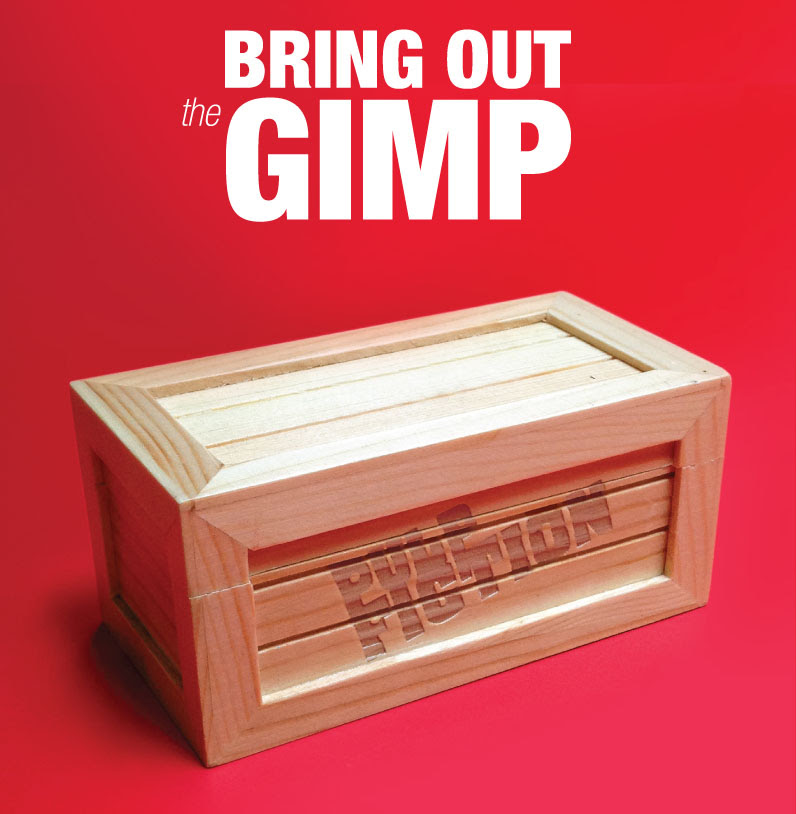 Super7 x Funko: Gimp in a Box ReAction Figure: One of the strangest characters seen in the cult movie phenomenon Pulp Fiction is being released from his basement dungeon as a poseable ReAction Figure! Now you can hide the Gimp away in your own authentically detailed wooden crate and bring him out to play when you need that special kind of release only he can provide. The 3.75" tall ReAction Figure features an ornately detailed outfit and comes packaged inside a wooden storage box.  Limit to one per person. $25 ea.
You can also learn more about the Gimp in a Box ReAction Figure in our video interview with Super7's Brian Flynn.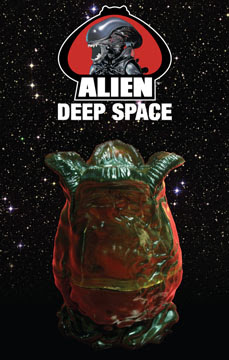 Super7 x Funko:  Alien Deep Space Mystery ReAction Figures: From Deep Space comes a mysterious Alien Egg containing an unknown life form! Only by looking inside the hideously detailed egg can you find out what ReAction Figure lurks inside. Doubling as a blind box, each Alien egg contains an extremely limited, secret ReAction Figure.  Hidden in these eggs are new sculpts and colors never before seen in the Alien universe. Once opened, the egg doubles as an action figure stand featuring a foot-peg to pose your ReAction Figure standing in the terrifying open mouth of the Alien Deep Space Egg!  In space no one can hear you scream… Limited to four per person. $25 ea.
You can also learn more about the Alien Deep Space Mystery ReAction Figures, and the Friday night swap party, in our video interview with Super7's Brian Flynn.
Super7 x Secret Base: Alien Vinyl Figure: Following up on the amazingly popular Alien ReAction figure, Super7 took another cue from the vintage figures of the 1970's, this time in Japan, and partnered with Secret Base to make the 4.5″ tall vinyl Alien figure. Styled in the tradition of classic Popy figures from the 1970s, this Alien features articulation at the waist, arms and neck, as well as a clear dome over the head packaged in a retro box referencing the original Kenner 18″ Alien package. $45ea
Super7 Vinyl Figure Collection: A selection from Super7's new series exclusive to SDCC.
Pie Guy – "Cookies and Cream" edition (brown and glow-in-the-dark swirled vinyl wit painted details) $25ea.
Milton – Cookies and Cream" edition (brown and glow-in-the-dark swirled vinyl wit painted details) $25ea.
Caveman Dinosaur – "Volcano Fire" edition (red vinyl with painted details) $35ea.
Mummy Boy – "Adventure set" Mummy Boy with Standard, Pumpkin and Mishka head (pink and metallic silver swirl vinyl) $65ea.
Honoo – "Burnt Offerings" edition (metallic copper and black swirl with gold painted details) $35 ea.
Fossila – "Radioactive Puke" edition (yellow, green, blue, orange, brown drip vinyl with painted details) $95ea.
Crystal Mecha – "Bug Splatter" edition (grey, blue, black, glow drip vinyl with painted details) $95ea.
Ooze Bat – "Ooze It Tribute" edition (green vinyl with yellow painted details, an homage to the 1970's Ooze It toy) $50ea.
Mongolion – "Marbled Madness" edition (neon green and gold glitter swirl vinyl with painted eyes) $65ea.
Check the gallery below for pics of the above vinyl figure collection.
Super7 2014 Apparel Collection: A collection of ten exclusive Star Wars T-Shirts will debut at the show; designed by Super7 and produced in collaboration with LucasFilm and MightyFine. Super7 will also release a series of new original T-Shirt designs presenting as highlights of the collection.Attendees will have the opportunity to browse classic designs at the booth as well.
Super7 x Acme Archives: Star Wars Print Series: These prints are available now via the Super7 online store and will also be for sale at the booth, #4945.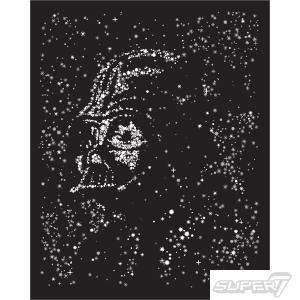 Space Vader: Limited Edition of 200/numbered, 16″ x 20″ – Gaze deep into the night sky, and a familiar pattern from the dark side will emerge in the stars. Silkscreened on black heavy archival stock with light grey and glow-­in‐the-­dark inks. $50 ea.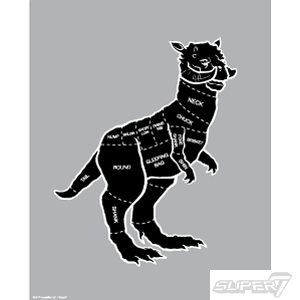 Tauntaun Cuts: Limited Edition of 200/numbered, 16″ x 20″ – Perfect for a galactic butcher's shop far, far away, the Tauntaun Cuts print highlights the choicest cuts of meat inside the furry snow-­‐romping creature which, though they smell badon the outside, are delicious on the inside. Silkscreened on heavy archival stock with white, black, and grey with metallic silver flake inks. $50 ea.
Ready to sprint to the Super7 booth to pick up these exclusives? Let us know in the comments?