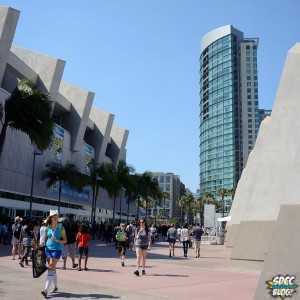 We're only a few days into the new year of 2015 and as we say in the land of San Diego Comic-Con, it's never too early to start planning.  Some lucky few have already managed to nab their highly coveted Con badge during Pre-Registration.  Meanwhile other hopefuls are still waiting to try their luck for a Comic-Con badge during Open Online Registration.
Even though it's still early in the year, it truly is never too early to begin thinking about what needs to be done to help prepare ourselves for Comic-Con.  Are you planning on attending San Diego Comic-Con 2015 or attempting the task of trying for a badge?  If so, we have put together a SDCC 2015 Pre-Prep list just for you.
Here are some things you might want to start thinking about now as you begin to make your plans for attending SDCC 2015 in July:
Member ID – For those attempting their first go at a San Diego Comic-Con badge, if you haven't already done so, be sure to sign up for a Comic-Con Member ID now.  You will need a Member ID to participate in the open online badge sale which, according to Comic Con International, will happen sometime in "early 2015". The registration for Member ID will temporarily close to changes sometime shortly before badge sales begin.  The Member ID system is usually closed without advance notice, so you want to make sure you don't miss out on that opportunity.
Stay Informed About Badges – As we mentioned above, CCI has stated that Open Online Registration will be held sometime in early 2015.  We still don't know the exact date of when this will happen, but we most likely won't know until a short time before the sale starts.  So now is the time to start keeping an eye out for badge sale news. Be sure that your Member ID is not opted out of e-mail communications, and to periodically scan your e-mail as Comic-Con International's preferred method of contact is e-mail, and you can probably expect an e-mail will be sent to your inbox to alert you to the details of when and how the sale will be taking place.  In addition, make sure you're following both The San Diego Comic-Con Unofficial Blog (on Twitter and Facebook) and Comic-Con International (on Twitter and Facebook), and that you have push notifications turned on for both.  We will post any info as soon as we have it.
Hotel or Other Accommodations – Many of the surrounding San Diego hotels offer up room reservations at a discounted rate during the two Comic Con International hotel sales, the Early Bird Hotel Sale and the General Comic-Con Hotel Sale (which we've lovingly nicknamed Hotelpocalypse).  However many people also like to book in advance or choose other accommodation options.  While we're not telling you how or when to book your accommodations, it is wise to at least start thinking about how you want to tackle this hotel beast, as well as making sure your roommates are on the same page (and starting the process of finding roommates if you need them).  It's now time to start giving some consideration to what plan of attack will best fit your needs.
Travel & Airfare – Another beast to tackle is how you will get to San Diego for Comic-Con 2015.  Travel and Airfare is something you may want to begin thinking about now.  Skim the flights occasionally and keep an eye out for the price range that fits your budget. Recently we tweeted that flight prices were lower than in the previous months, so it's always worth checking and keeping an eye out. We highly recommend sites like Yapta, where you can earmark flights you're interested in, and receive an e-mail when the fares drop.
Money & Funding – With the holidays over, 2015 is here and now is a perfect time to start getting your funds in order.  Before you know it (six months to be exact), SDCC will be in full swing.  For those of you who managed to obtain your Pre-Registration Badges, it might be time to start thinking about saving for the big event, whether it be for those precious exclusives or hotel and travel expenses, or both.  Yet, for those of you who still need badges, you will need to be sure to have those funds in place when badge sale time comes.
Get Your Social Media in Order – Now that the new year has arrived, SDCC 2015 news will slowly begin to trickle in until finally we hit the fast paced frenzy of the Con season.  Take this down time to get your SDCC Social Media in order. Make sure you are following your favorite celebs, companies and blogs for any Comic-Con news. You can check out our lists of who to follow on Twitter both during and "outside" of the convention.
Catch up on your Fandom – Now is the perfect time, while the winter winds blow and you're lazing on the couch cuddled in cozy blankets, to catch up on your favorite fandom shows and movies.  Marathon those shows that need catching up on, or even those that you perhaps became interested in learning more about during one of your previous San Diego Comic-Con visits.  You may even find something new to geek out about at Comic-Con 2015.
Lose Those Holiday Pounds – Yes, we know we just endorsed sitting on the couch and catching up on your favorite shows, but those extra holiday food pounds aren't going anywhere if you laze about for too long.  Now is the time to get a plan together and figure out how you might best get into con shape (after all, that showroom floor is no easy feat).
If this will be your first time at San Diego Comic-Con, you can also check out our San Diego Comic-Con FAQ for more information on the process of buying badges.
What is on your San Diego Comic-Con Pre-Prep List? How are you preparing for Comic-Con now that 2015 is here? Let us know in the comments.