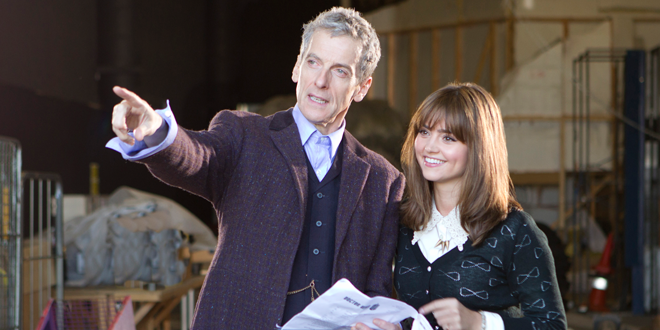 Television series comprise a huge chunk of the schedule for San Diego Comic-Con — and every year it seems like they become a larger and larger piece of the pie. The lines for Ballroom 20 are starting to rival even those of Hall H, and they won't be getting any shorter any time soon.
As the anticipation builds for the official announcements from networks and CCI as to which television shows will be on the panel schedule, we like to take time out earlier in the year to speculate which shows have the best chances of appearing at SDCC. We'll be breaking this into three segments, starting with the Broadcast Networks which we did on Monday, and followed by the Family Networks soon. But today, we're focusing on the Cable Networks — and there's a lot of them.
So what do we think you'll be seeing at Comic-Con this summer? Let's take a look:
A&E
A&E is big on Bates Motel at Comic-Con – the last few years have featured parties, very cool booth installations, panels, and more. So expect that back again. But the bigger question is, will that be the only series that A&E brings this year? They've also got Damien, based on The Omen, which stars Merlin's Bradley James as the spawn of Satan himself. It doesn't premiere until 2016, but the recent teaser trailer looks appropriately creepy for Comic-Con audiences.
Adult Swim
Last year, Adult Swim cut down on the amount of panels inside the convention center – using their offsite in the Interactive Zone for panels on Black Jesus, Superjail!, and Mr. Pickles. They could repeat that strategy again this year, keeping only their biggest draws (Robot Chicken, The Venture Bros., Children's Hospital, Rick and Morty, The Jack and Triumph Show, and Mike Tyson Mysteries) for the convention center. Or, they could go the offsite route again, as each year, it seems to keep getting bigger and bigger.
Adult Swim has an insane amount of programing, so it's also entirely possible that there are shows they could bring that we haven't mentioned here.
AMC
Look, The Walking Dead will be there. It's now a lynchpin in Hall H's schedule, and we'd be shocked if that changed this year, especially with The Walking Dead offsites expanding so much this year. The series is an unstoppable force and has been for years, and there's no reason to change a winning formula – which also includes a Comic-Con presence. We actually think AMC has a good chance of doubling down on the series this year, with the new spinoff Fear the Walking Dead set to premiere this summer (no official date has been announced yet). They'll have footage, as the series is already underway filming, and they already have a built-in audience.
Then there's Humans, which premieres in June, and is one of the shows we're most excited about this year (even outside of Comic-Con!). It stars Katherine Parkinson, William Hurt, Colin Morgan, and more in an adaptation of the Swedish series Real Humans, about a world where everyone is obsessed with the latest must-have gadget, a "Synth" – an eerily lifelike robot servant. It looks both awesome and tailor-made for Comic-Con.
With Breaking Bad gone, we'd also love to see Better Call Saul get the Comic-Con treatment, the same as its parent show did. Unlike Breaking Bad, it could actually use the promotion – but they didn't bring it out last year, even with the pilot already shot, so AMC may not feel SDCC is the right venue for the show.
BBC America
Is Doctor Who moving to Thursday? One of the producers of Con Man seems to think so – which would be a big move for the BBC America series, which has typically gotten the Sunday Hall H treatment. The series had skipped in 2014, the same as they had the first year when Matt Smith took over the titular character, but we anticipate they'll return in a big way this year.
With Orphan Black officially a go for a season four, we also expect that to return to the convention — though we're hopeful it can finally graduate up to Ballroom 20, as the line for that panel is infamously long every year.
Cinemax
Cinemax has had original programming for years, but 2014 finally put them on the map (more on that in a moment). We fully expect Banshee to return to the convention this year, and despite skipping in 2014, Strike Back could also make a return as well. Series star Sullivan Stapleton had suffered an off-set injury last year, which delayed filming and the airing of the episodes by an entire year — which is why, with Strike Back's final season set to air this July, we're definitely not counting them out.
Then there's also The Knick. It's arguably their most famous series ever, thanks to both Clive Owen and lots of critical love, and it's pulp-y tone makes it genre enough for Comic-Con. If we were Cinemax, we'd be trotting this one out, if only to show attendees what the network is fully capable of.
Crackle
The free, online streaming service Crackle could also be poised to break into panels at this year's San Diego Comic-Con, after bringing their first feature, Dead Rising: Watchtower to WonderCon earlier this year. They've got the upcoming stop-motion series SuperMansion, which features the voice of Bryan Cranston as Titanium Rex, who leads a "seen-better-days" group of super heroes. The cast also includes Seth Green, Keegan-Michael Key, and Jillian Bell – which is an awful lot of Comic-Con friendly talent.
FX
Last year, it seems like FX put together a mostly-last-minute panel for American Horror Story (it's the only explanation we have for it being shoved into so small of a room), but we're hoping that they're back in 2015, and in a bigger room. We also expect the usual panels for Archer and The Strain.
There are other shows on the FX roster that make sense to us for a Comic-Con appearance, including Fargo and The Americans – but we're much less certain if FX agrees with that assessment.
HBO
We'll be shocked if Game of Thrones isn't back this year, even if creator George R.R. Martin is using the time to write instead. With True Blood having finished its run though, there is some question of whether or not HBO will use that open slot to fill it with another one of their series. The Leftovers is the most obvious fit, as it already got some promotion at last year's convention with a small exhibit at the Petco Interactive Zone and banners up around the convention center, but they could throw a curve ball and decide to show off Westworld instead.
History
It may sound strange, but the History Channel is a big fan of San Diego Comic-Con. Although 2013 was the first time the network had ever brought a program to the convention, in 2012, even before it had anything to show at the convention, it hosted a backyard BBQ for attendees. The last two years, the History Channel brought along Vikings and a cool offsite event dedicated to the show, and quite frankly, we'd be shocked if Vikings didn't make a return in 2015 — likely with another awesome offsite.
MTV
MTV really loves Comic-Con — which is one of the reasons this year's Fandom Awards will be back. And along with that, we fully anticipate Teen Wolf to be in attendance again, with star Dylan O'Brien possibly pulling double promoting duty for The Maze Runner: The Scorch Trials. We think this might be the year MTV brings a second series, though, with the all-new Scream series, based on the movie franchise.
Netflix
Netflix has never been to San Diego Comic-Con. That sentence just feels wrong, and we've got very high hopes that with the popularity of Marvel's Daredevil, we could finally see the streaming service enter the hallowed hall of Ballroom 20. After all, they've made the trek to both WonderCon and New York Comic Con before. There's an insane amount of programming that they could show off to attendees, including not only Daredevil, but fellow Marvel series AKA Jessica Jones which is already filming and is the most obvious choice after Daredevil, and Luke Cage, and Iron Fist. In fact, let's just have an entire hour of Marvel/Netflix TV, with stars from all the series.
Plus, we've long insisted that Netflix's entire roster is incredibly Comic-Con friendly. If they brought House of Cards, Unbreakable Kimmy Schmidt, BoJack Horseman, or Orange Is The New Black – we're very certain attendees would pack the rooms. This one is really all a matter of what Netflix wants to do, which this year we just hope is something.
Also, we know Netflix isn't technically "Cable" – but we thought they fit enough to be included here.
Showtime
Although for a good run of years, Showtime trotted out every series on their network (Californication, Weeds, and of course, Dexter), last year they only brought out Penny Dreadful. Given Showtime's comment that Penny Dreadful has "Comic-Con appeal", we fully anticipate the series being back again. The biggest question is, of course, Twin Peaks. It's officially back on again (and hopefully for good this time), but we doubt they'll have much new information to share for an actual panel. Still, Showtime has to know that fans are really excited, and that might be enough goodwill to warrant bringing the upcoming series out anyway.
Shameless hasn't been since 2012, which isn't a good indicator that it's likely to return either — much as we wish it would.
Starz
Given Ronald D. Moore's comments about attending San Diego Comic-Con this year, and that Starz is giving away an Outlander-themed trip to Comic-Con, it seems like a no-brainer that the Scottish time-traveling series Outlander will be back.
Less certain, unfortunately, is Black Sails, whose pilot screened on one of the tall ships in San Diego's harbor back in 2013, but which didn't make a re-appearance in 2014.
This could also mark the first time in two years when Starz won't use the convention as a launching pad for a new series. The only thing they have on their horizon that might make sense is the Patrick Stewart series Blunt Talk produced by Seth MacFarlane, but that's a long-shot. We think if Starz really wants an offsite, they'll use Outlander as the basis again instead.
https://www.youtube.com/watch?v=RLBPSSVVOe4
Syfy
Syfy lost a couple of series over the last year — Lost Girl, Helix, and Ascension – but we think all of those are likely to be replaced by new fare. We think we'll still see the usual panels for Haven, Defiance, and Dominion.
But being Syfy, there's no shortage of other series that make sense for Comic-Con. This year, we wouldn't be surprised at all to see post-apocalyptic zombie drama Z Nation get a panel as it enters its second season, and the same for 12 Monkeys. Then there's also new series The Expanse, which follows a future in which humanity has colonized the Solar System, and must unravel a conspiracy that threatens peace in order to survive. The Syfy co-produced series Killjoys is also a good bet, especially as it stars Comic-Con favorite Aaron Ashmore as one-third of a trio of interplanetary bounty hunters. Dark Matter is also a possibility. Based on the comic book of the same name, it follows six individuals who wake up in a spacecraft with no memory of their past.
TNT
Several of the stars of Falling Skies have pretty much flat out said they'll be in attendance this year, so plan on TNT giving the series a proper send-off. Last year, the network also brought along The Last Ship and Legends, and we think both make sense for a return this year. The former will be in the middle of its run during the convention, meaning there will be plenty of teasers for upcoming episodes to show fans, and the latter will be starting back up again in the fall.
USA Network
USA Network's SDCC presence has never made total sense given their "Blue Skies" programming, but we're at least glad that they show up at all, as they tend to be one of the networks that really get Comic-Con and how to do it right. Plus, collecting their branded sunglasses is usually one of the highlights of our con. Seriously.
This year, we think we'll likely see a panel for Colony, the Carlton Cuse drama which stars Josh Holloway in a futuristic story that takes place in Los Angeles, which exists in a state of occupation by a force of outside intruders. Holloway and Cuse give it the Comic-Con pedigree, over fellow newcomer Mr. Robot, which stars Christian Slater as an anarchist who recruits a programmer with anti-social disorder into an underground hacker group. It's also possible that Dig could return, but as it hasn't been renewed for a second season yet, it seems like less of a sure thing.
Other
Although they don't really fit with anything above, there's a few other things we can guess about this year's Comic-Con TV offerings, like that Hulu will bring back The Awesomes which was renewed for a third season, or that you can still expect American Dad to still be in attendance, even though it's moved from airing on FOX to TBS. It will likely continue to air in the usual Ballroom 20 Animation Domination block, along with The Simpsons, Family Guy, and more. TV Guide will hold their annual Fan Favorites panel, as well as Women Who Kick Ass, and probably also the Bravest Warriors mens-edition of that panel. If we had to guess for a TV Guide reunion panel this year, we actually think that honor might go to Twin Peaks, which probably won't have anything to show during an actual Showtime panel, but could be a lot of fun for an hour of just discussing the original series and a few tidbits of what's still to come.
Workaholics skipped out in 2014, making it a bit more of a long shot. Community's return likely hinges on whether or not the series is picked up for another season.
Television Graveyard
Ascension (Syfy)
Brickleberry (Comedy Central)
Covert Affairs (USA)
Helix (Syfy)
Intruders (BBC America)
Lost Girl (Syfy)
Sons of Anarchy (FX)
True Blood (HBO)
Wilfred (FX)
Witches of East End (Lifetime)
Which shows are you excited about, or what shows do you think will be at the convention that we may have left off? Let us know in the comments.