Three weeks from today, Comic-Con will just be wrapping up. But we've got a long way to go — and a lot of news to cover.
Here's a look at the news you might have missed:
Monkey Minion Press offered a sneaky peek on Instagram of what look to be some prints they're unrolling at Comic-Con.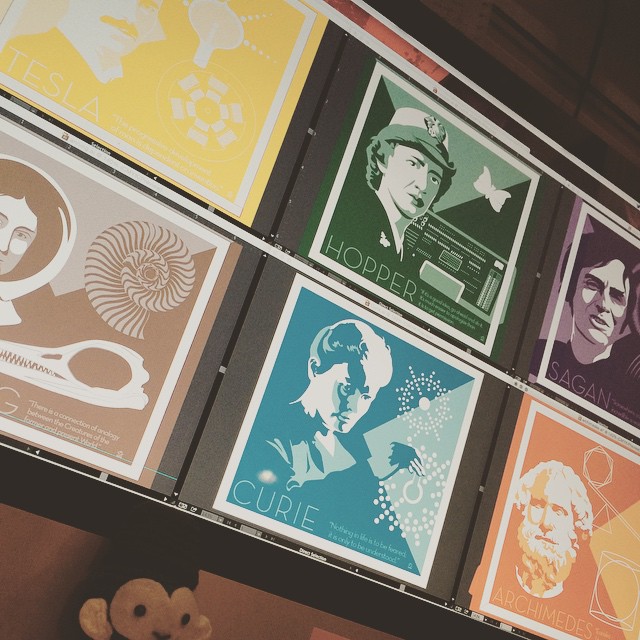 Diane Martin, who runs the DiHard Podcast, showed off some Nerdist and other temporary tattoos she'll be giving away at SDCC.
Artist Johnny Kmndz Rodriguez revealed a color ink book for Comic-Con via Instagram.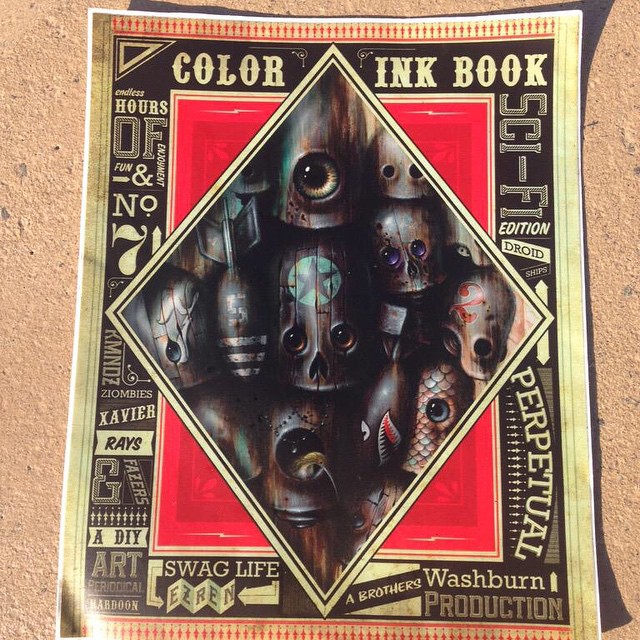 Anyone want @Kidrobot #junkomizuno #dunny & going to #SDCC2015 then keep a lookout for my #sdcchunt during @Comic_Con pic.twitter.com/3txGJc8U3z

— ChrisMorrow @Comic_con Curator (@morrowchris) June 20, 2015
Rock 105.3, a San Diego rock radio station, is giving away two one-day passes to Comic-Con. You can enter on their site between now and July 7.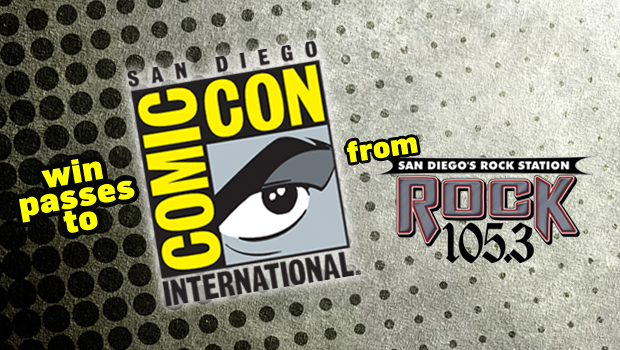 Artist Alex Ross will have several Comic-Con exclusives this year at Booth #2419, and they'll be "announced shortly", so keep an eye out.
Who's going to #SDCC 2015?#AlexRoss booth 2419 exclusives will be announced shortly. pic.twitter.com/cLHS4tKshO

— Alex Ross (@thealexrossart) June 20, 2015
Artist Joyce Chin showed off the cover for her 2015 sketchbook for this year's Comic-Con via Twitter.
Cover for my 2015 sketchbook for SDCC! Colors by Laura Martin! pic.twitter.com/BjEMTUw1Cf

— Joyce Chin (@TJoyceChin) June 20, 2015
Artist Jason Fischer will not only be signing at Felix Comic Art Booth #4612, but you can also score a commission from him. More information on Twitter.
https://twitter.com/StudioJFISH/status/609120978732322816
Mary Zorilita Bellamy, a freelance artist, mentioned on Twitter that if you have any of her My Little Pony: Friendship is Magic comic covers at Comic-Con, she'll sign them.
#SDCC2015 If you have any of my #MLPFIM comic covers you'd like signed I'll sign what you bring & might bring a few of mine with me to sell

— Zorilita – Mary Bellamy (@Mary_Bellamy) June 19, 2015
Although we've already reported that Jon Schnepp and his documentary The Death of Superman Lives: What Happened? will be at Comic-Con, Schnepp has now confirmed on Twitter that they'll also be selling DVDs and Blu-Rays, as well as signing copies.
@mobes20 yes, we will be at booth #3915, and we will have DVDs and blurays to sell and sign to you!!! @TDOSLWH @SD_Comic_Con @Comic_Con

— Jon Schnepp (@JonSchnepp) June 20, 2015
The last Gunpla.USA SDCC exclusive has been revealed via Facebook: an HGBF 1/144 Try Burning Gundam PP Clear Ver. The Burning Gundham appeared in the second half of the Gundam Build Fighters TV series, and this model is made in translucent plastic with sparkles to replicate the flow of Plavisky particles.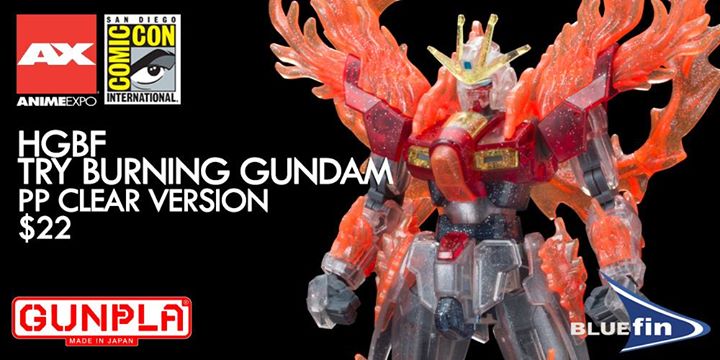 You can get this awesome Dark Circle Comics poster by @Drew_E_Johnson at @Comic_Con in just a few weeks! http://t.co/W10bETVmMJ

— Dark Circle Comics (@DrkCircleComics) June 19, 2015
Dan Goodsell, the creator of Mr Toast, has created a new exclusive for Comic-Con: Sleepy Leif. Only 200 were made, but a few have been made available online for purchase ahead of the show.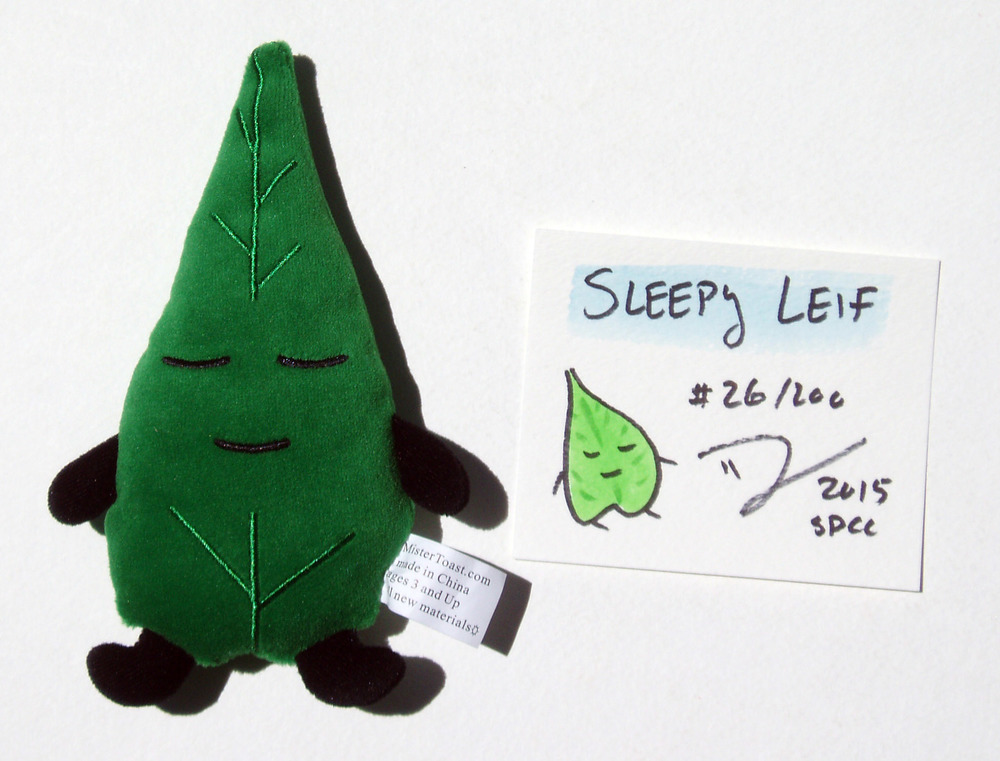 Dweores, which are used millions of times daily in Facebook's Messenger Stickers store, were created by artist John Ottinger — who is bringing them to life as highly detailed resin statues. At Comic-Con, Ottinger will be offering Kaso, one of the Village Protectors and star of the Dweores comic series, for $69.99. He'll also have a 6″ statue of the silly Dweore, Gay, for $59.99. Both statues will be available at Small Press Booth #N14.
Still need parking? Joe's Auto Parks, at 1350 6th ave, is offering 24 hour parking passes for $5/day. You can reserve your parking online now.
Artist Ash Evans revealed a print of Nutkin that will be at the art show during Comic-Con.
https://twitter.com/ThePhoenixx/status/612673273684361216
Although tickets to The Meltdown's SDCC show have sold out, there will be some tickets at the door. Stop by at 6:30 on the night of the show, July 10, to grab them.
Online tix for Meltdown with @JonahRay & @Kumailn SDCC on 7/10 at @americancomco are sold out but we'll have tix at the door! Be there 6:30!

— The Meltdown (@meltdown_show) June 21, 2015
Anything we missed? Let us know in the comments, drop us a line or tweet us at @SD_Comic_Con.