[UPDATE June 13] Ace Parking's sale opens today (Monday, June 13, at 9AM PT) to the general public. The parking sale is now live.

Here's a look at what's currently available, at time of publication: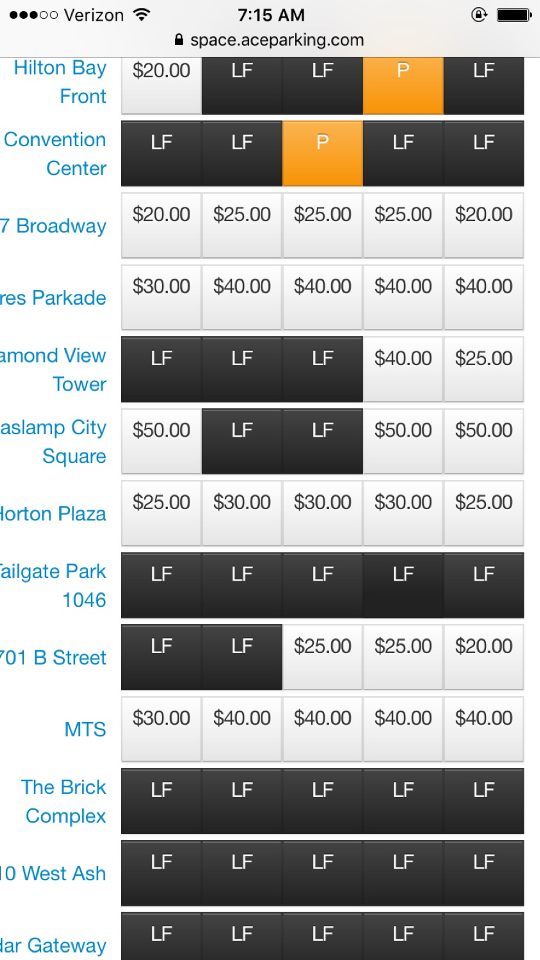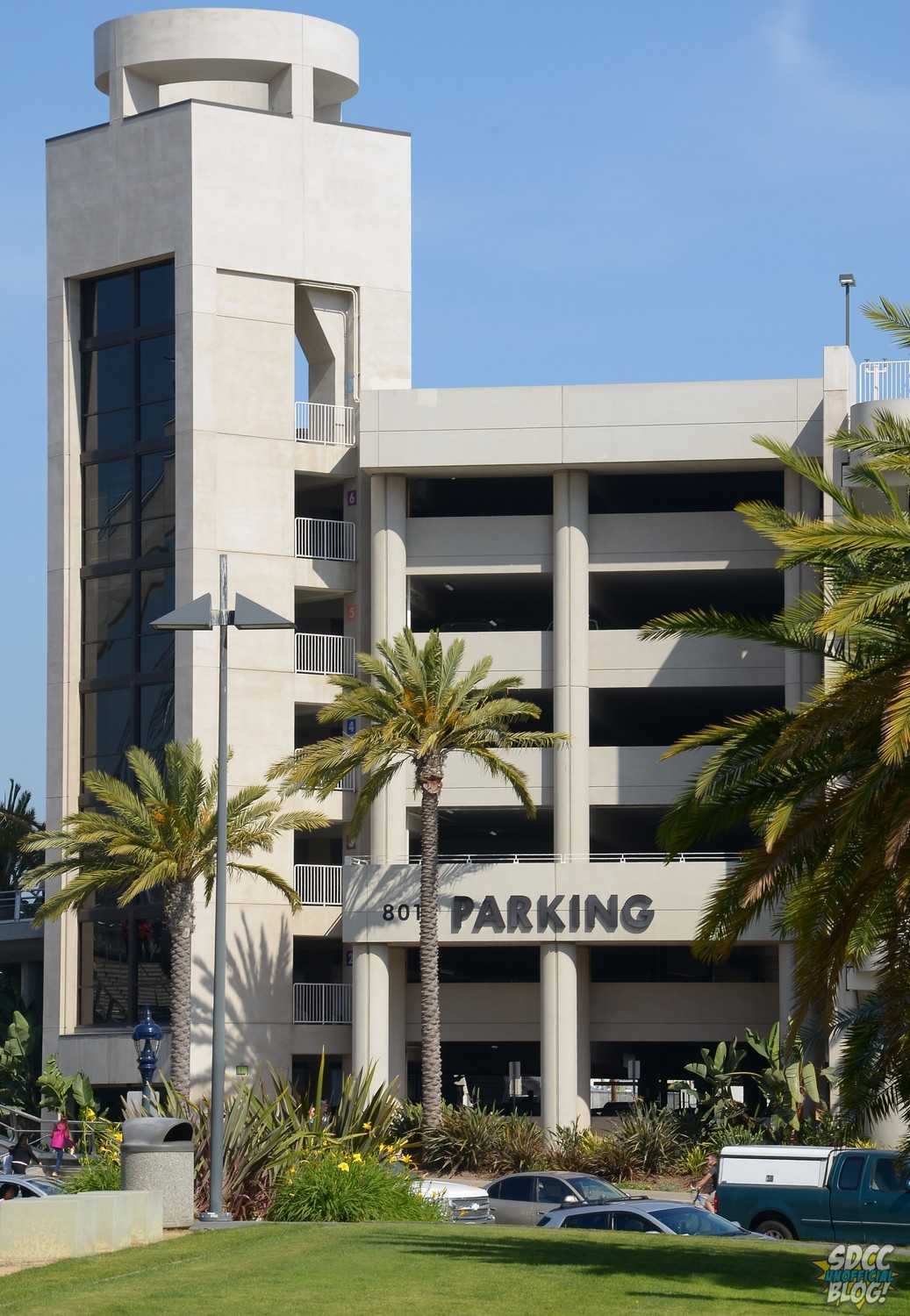 [PREVIOUS] Parking is the last major pre-convention hurdle for attendees leading up to San Diego Comic-Con. Whether you're a local resident or not staying at a downtown hotel, where you park is very important.
Ace Parking (who owns most of the parking in Downtown San Diego) moved to a lottery based system last year, and is using the same system this year. Based on their notification email, nothing is changing in the purchasing process so check out our Visual Guide from last year to (re)familiarize yourself with the process. Be aware that each group has four days to purchase their parking passes, from 9AM Monday until midnight Friday.
Before we get started on details for this year's sale, remember that the lottery system is only for a select number of the total parking spaces available. Even if you didn't get sorted into a group there will be parking available in the public online sale. We are projecting the date of the public sale to be June 13, as each group's sales start on six consecutive Mondays beginning May 2.
Also of note is that a limited amount of spaces "will be available for drive up parking the day of the event" at "the majority of the lots included in the online sale and others that are not included." For more details about the parking sale Ace has info and a FAQ on their site.
We also want to remind everyone that the San Diego Trolley has two stops downtown right across the street from the convention center. It's a great alternative for those who don't want to deal with parking.
But what about the parking? What lots are available? The list for this year has been posted on Ace's site, although some prices are still TBD. Below is the list as well as the Google Map Ace created for this year's lots. There are now 10 lots, as "Gaslamp City Square" and "701 B Street" are new this year.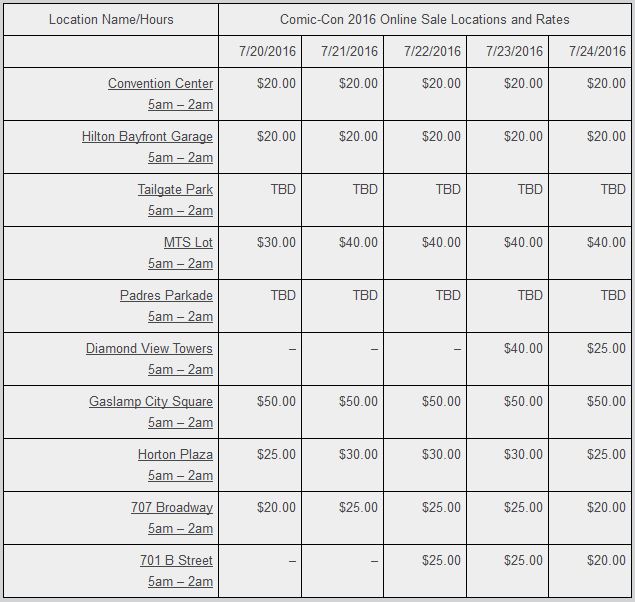 Next, the price you'll pay for parking (no, it won't be your soul). As mentioned, some pricing is yet to be determined. Last year the lots range from $15-40, with a per day service fee of $7, bringing the total daily price to $22-$47. This year some lots see a $5 per day increase, with others having no change. The only decrease is at 707 Broadway on Sunday, down to $20 from $25. The new lots, Gaslamp City Square and 701 B Street, are priced at $50 and $25(Fri/Sat)/$20(Sun) respectively. The service fee is changing to $7.95, up 95 cents from last year.
Finally, the decision on which lot to choose looms like a Galactus cloud in a bad Fantastic Four movie. For most, the convention center is the most convenient place to park. Not only is it the shortest walk, but you can easily store purchases and even bring a cooler with your own food and drink to enjoy during a long day. There's a reason it will likely sell out by the end of group two despite having double the number of spaces of any other lot except Horton Plaza: It's prime real estate.
The good news, though, is that the Convention Center lot was the only one to completely sell out in last year's lottery-based parking system before it opened up to the public – and there are lots of other lots to choose from.
The next most popular lot is the Hilton Bayfront with easy access to the Hall H side of the convention as well as the foot bridge over Harbor Blvd. to Petco Park and other offsite events. From there each lot is either across the street like Tailgate Park or further into downtown like Horton Plaza.
Since you buy each parking pass by the day, you can choose different locations if needed. If you don't have a badge for one or more days you may want to get parking in Tailgate or Diamond View Towers that will allow you quick access to the majority of offsite events. Since there are four days for each group to purchase spaces there isn't really a rush to be first unless you are worried that a particular lot will sell out. If you just want whatever is available then you can log in at any point during your group's access days and purchase your spaces.
Emails started to go out on April 25 and Ace said that they "will be responding to all entries whether selected or not with the outcome of the drawing." As of the time this article was posted, no one has received a negative selection email. All notifications so far have been for those selected for one of the six groups. If you entered and did not receive an email, first check your spam folder. If you still don't have an email you can ask questions directly to Ace Parking via their email cci-info@aceparking.com. It would be best to wait until you see others receiving emails that they have not been selected for a group before emailing Ace.
[UPDATE 5/6/16]
Today is the final day of Group 1 sales, ending at midnight. However, there are new lots listed on the sales site that were not there at the beginning of the sale. As you can see below Tailgate Park 1041, Padres Parkade, 601 West Ash, and Cedar Gateway have all been added. As of 2:30PM PT today, these are the available lots. Sunday under the convention center, and all days at The Brick Complex, are showing as full. The days at Diamond View and 701 B Street were never made available.
It is unclear why the final three locations on the list are full, as they were either never on sale or unlikely to sell out in Group 1. Either Ace Parking is holding them for drive up sales, holding them for later groups, or still working to determine how many spaces will be available. We'll keep updating every week during each group's sales.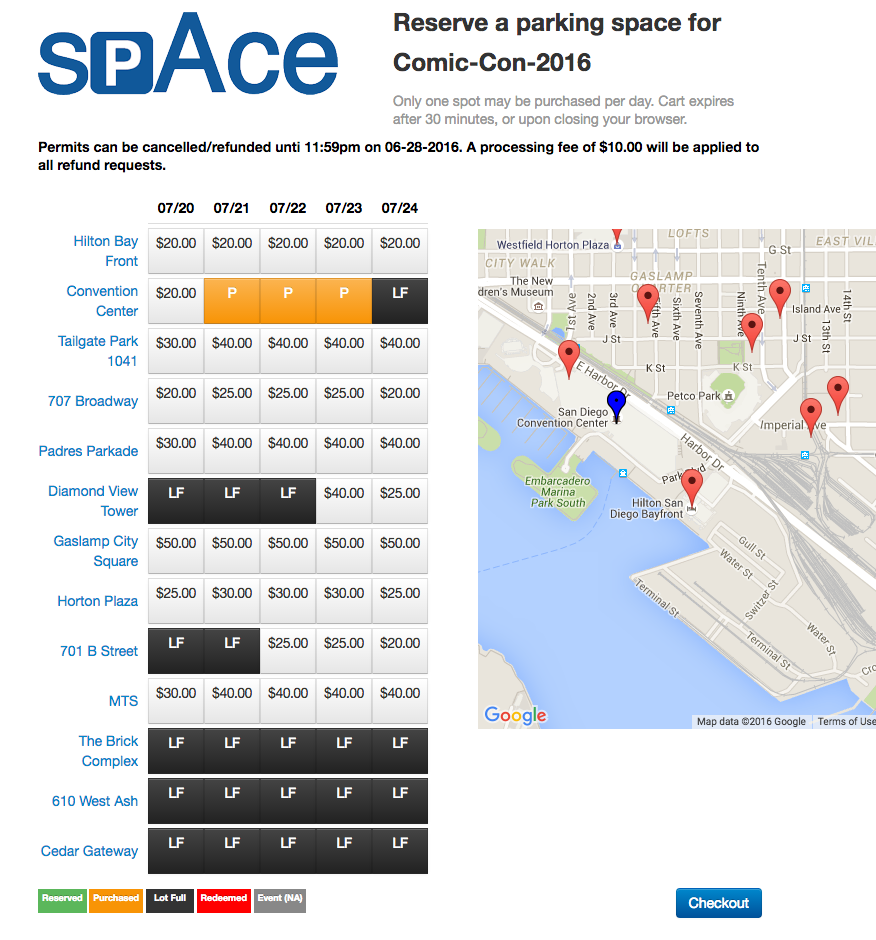 [UPDATE 5/2/16]
With the Group 1 sales starting today we are able to add the purchase page screencap. These are the lots, locations and prices you will see when purchasing this year.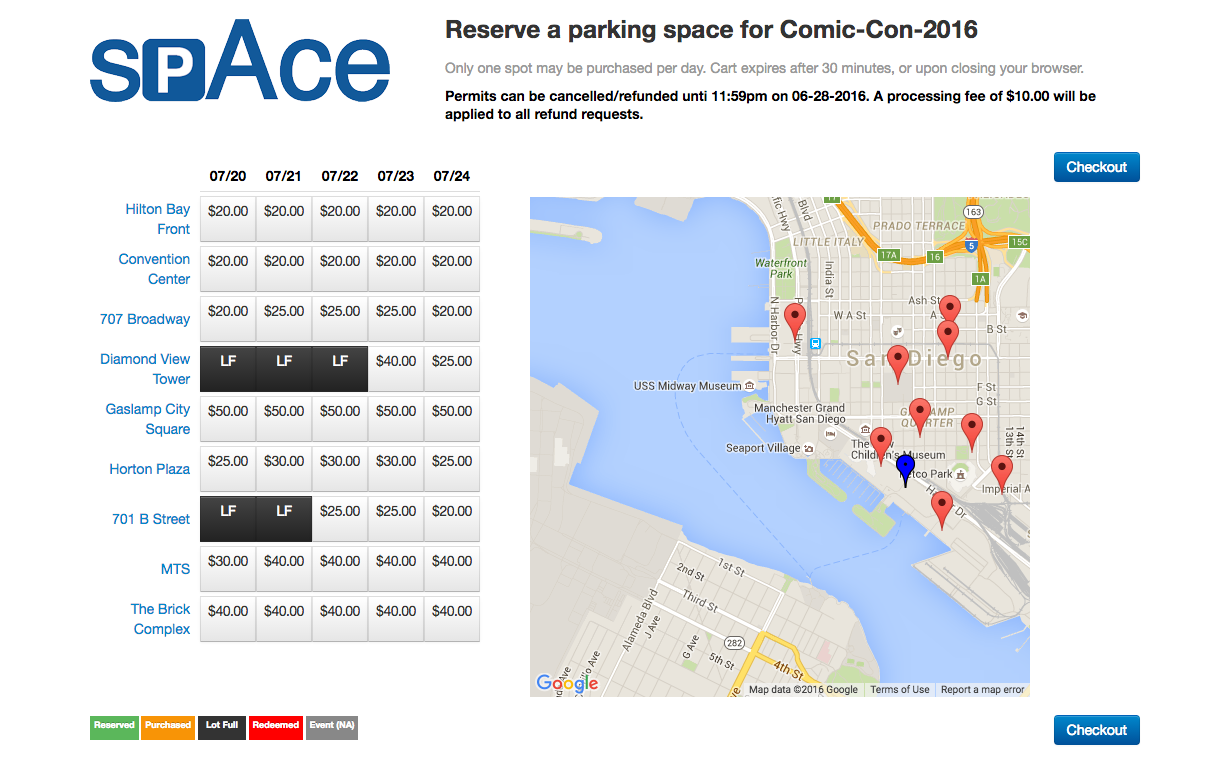 Did you get selected for a group in the lottery? What parking lot are you hoping to get? Let us know in the comments.