Last time on Dragon Bal… Wait, wrong program! This is part two of yesterday's Under the Tents, we had so much SDCC news we had to split it into two posts! This time around we have some pretty T-Rex plush dinos, a look at some Patrick Ballesteros art, Dr. Horrible news from the California Browncoats, and much more!
Here's a look at the news you might have missed:
Illustrator and toy designer BeeFy showed off two plush dinosaurs, Rexypoo and Brachiopoo, that are headed to the con. Rexy is 12-13″, with .5″ arms — like all T-Rexes.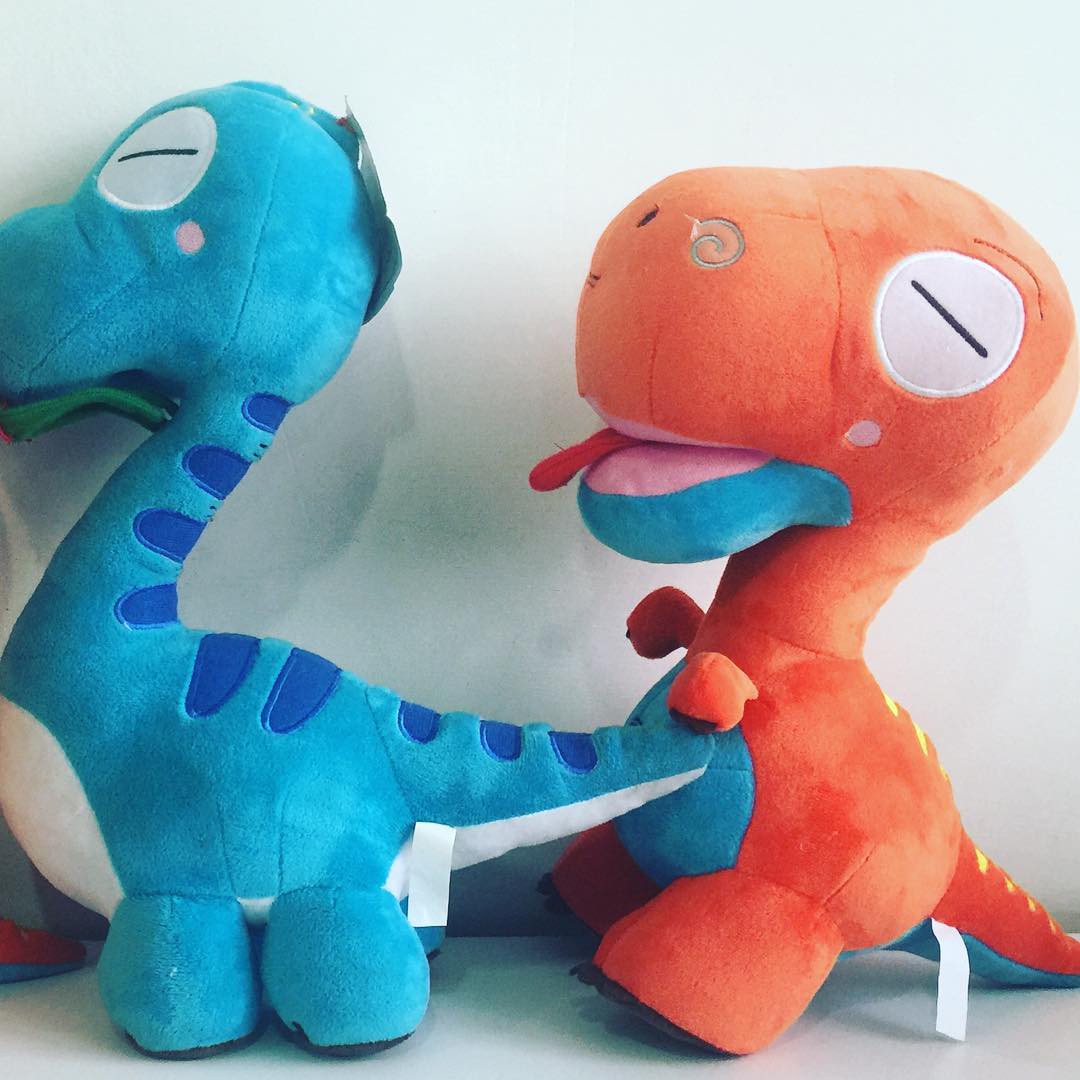 If I was rich I would hire someone to do all the crap I have to do to get ready for my booth at SDCC.

— aaronlopresti (@aaronlopresti) June 8, 2016
New York Times bestselling author Chloe Neill will also be at SDCC, though no word yet on if she'll have a booth, or be appearing on a panel, or something else.
Wolf's Empire: Gladiator co-author Morgan Grant Buchanan will be signing copies of his book at SDCC this year. No word yet on where, but we'll update with more once it's announced.
My cousin is going to #SDCC this year signing copies of his book. I'm so happy for him. If anyone is going, say hi! pic.twitter.com/t8jpZw6ApQ

— Sarah Mac 🇦🇺 (@SarahMac227) June 8, 2016
Emmy Award winning artist Thomas Perkins mentioned on Twitter that he'll be in Artist Alley at Table HH-21, along with his latest book.
Looks like my new book & I will be in at SDCC 2016 in Artist Alley at table HH-21! If you happen to be at there, stop by and say hello. 🙂

— Thomas Perkins (@TNPerkins4) June 8, 2016
IDW artist Diana Leto unveiled a San Diego Comic-Con exclusive variant for My Little Pony: Friendship is Magic #44, based on the iconic Labyrnith poster. Dance the magic dance over to SDCC to pick this one up.
My #MLP #Comicxposure #SDCC Exclusive #MyLittlePony #FriendshipisMagic #44 Labyrinth Variant #discord #DavidBowie!! pic.twitter.com/sKmzFksBm5

— Diana Leto (@dianaleto) June 8, 2016
And then you can get ready to sing-along all night long on Thursday, as the California Browncoats return with their annual Dr. Horrible Sing-Along panel, from 8:30PM-10PM on Thursday, July 21.
Six weeks to #SDCC2016. Our annual Dr. Horrible screening will be Thursday night from 8:30 – 10:00. Enter our horrible costume contest!

— California Browncoats – WonderCon Booth 889 (@CABrowncoats) June 8, 2016
Anne Wheaton, general all around awesome person who also happens to be the wife of Wil Wheaton, revealed that this year's premiere beer at HopCon will be a casked w00tstout 4.0 brewed with Michigan cherries and espresso beans. Yum, indeed.
https://twitter.com/AnneWheaton/status/740628862657126400
Clockwork Watch: Countenance, an interactive story told through several different mediums, is heading to SDCC. This is the final chapter according to the official Clockwork Watch website which has been a five year wait for fans. A special preview will be held at SDCC with more details to come.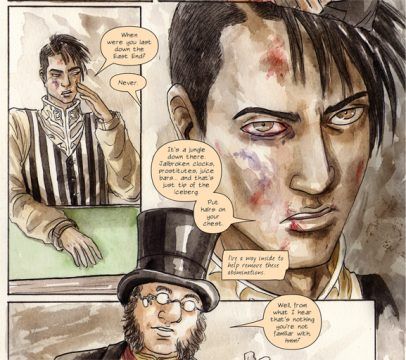 We've got some more Uglydoll news for you thanks to a recent tweet. We've mentioned that this year's Uglydolls will be a mash-up of your favorite Sanrio characters previously (and you can see a preview of the dolls in yesterday's Under the Tents), but what should excite fans is that they will have something "super unseen"! Uglydoll is also giving you the "Uglydoll promise" where prices will remain the same every day of SDCC.
sanrio x uglydoll will be there! … And something super unseen

— UGLYDOLLS (@uglydolls) June 8, 2016
Looks like the comic series Elfquest will be at SDCC this year! The official Twitter account responded to a fan's tweet, mentioning they won't have any signings until SDCC. Information on any Elfquest signing however is still TBD.
We had a signing recently at Atlantis Fantasyworld. Nothing schedule until SDCC. We don't have that schedule yet.

— ElfQuest – Celebrating 45 Years (@elfquest) June 8, 2016
https://twitter.com/JamesTheFourth/status/738884962548469761
https://twitter.com/JamesTheFourth/status/740225798590726144
Sarah Graley, who works on Rick and Morty from Oni Press, will be signing at the Oni Press booth at SDCC. You can see all of Oni Press' San Diego Comic-Con exclusives, including the Rick and Morty Lil' Poopy Superstar, over here.
Pick up this #SDCC exclusive cover by @katiecandraw !! & then also visit me, yer bud, signing at @OniPress booth 😉 pic.twitter.com/VPy9NpZrGd

— Sarah Graley 🏳️‍🌈 Book Kickstarter now live!!! (@sarahgraleyart) May 31, 2016
Current Wonder Woman Rebirth artist, Liam Sharp, is also heading to SDCC. No golden lasso was needed to get the information from Liam as he willingly tweeted out that he will indeed be in San Diego in July.
Thank you! And yes I will. 🙂

— Doc Sharpy (@LiamRSharp) June 8, 2016
Want to know what Collider will be up to at SDCC? Besides the giveaway they are doing, they'll be holding a fan meet and great along with Schmoes Know, however, details are still being worked out. Check out 18:05 in their latest episode of Collider Movie Talk starts the SDCC talk. Thanks to @elmachas for the info!
@SD_Comic_Con 18:05 they talk a bit about what @ColliderVideo will be doing at #sdcc: https://t.co/PE08scLfS1

— Pablo Machado (@elmachas) June 8, 2016
Kernel Films will be at SDCC with their own booth according to a recent tweet. They'll be teaming up with Ubisoft at the booth, presumably to further promote the upcoming Assassin's Creed.
https://twitter.com/KernelFilms/status/740536666427887617
Comic book artist Nicola Scott recently tweeted out that she will be making the July trip to San Diego for Comic-Con. Scott will not have a booth of her own, but will be doing signings and panels throughout the weekend. We will have the details as they are announced.
I don't have a booth or table at SDCC just doing signings and panels.

— ⚡️Nicola Scott⚡️ (@NicolaScottArt) June 8, 2016
No UTT is complete with out a little news from Patrick Ballesteros (our Editor-In-Chief mandates it) and this time we have a look at another piece debuting at SDCC via Patrick's Instagram account. Part of the "Daring Kids Trilogy", this print features Daredevil and the group known as The Hand.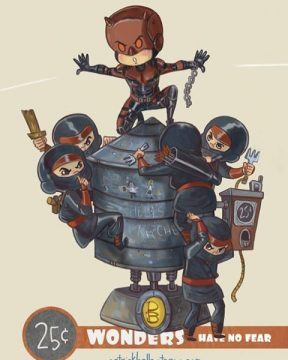 Comic writer and screen writer Paul Cornell will be heading to SDCC. This comes from his appearances section of his official website. Paul has worked on several titles including Doctor Who.
Author Pierce Brown, known for his Red Rising book series, revealed on Facebook that he'll be headed to San Diego Comic-Con this summer. No word yet on which booth you'll be able to find him at.
For fans of the webcomic The Ballad of Sally Sprocket & Piston Pete, we've got some news from you. Author Author Alejandro Lee revealed in a web forum that he's been working hard with our friends from Symbiote Studios on a limited line of toys for the series, and that they should make their debut at Anime Expo and SDCC 2016.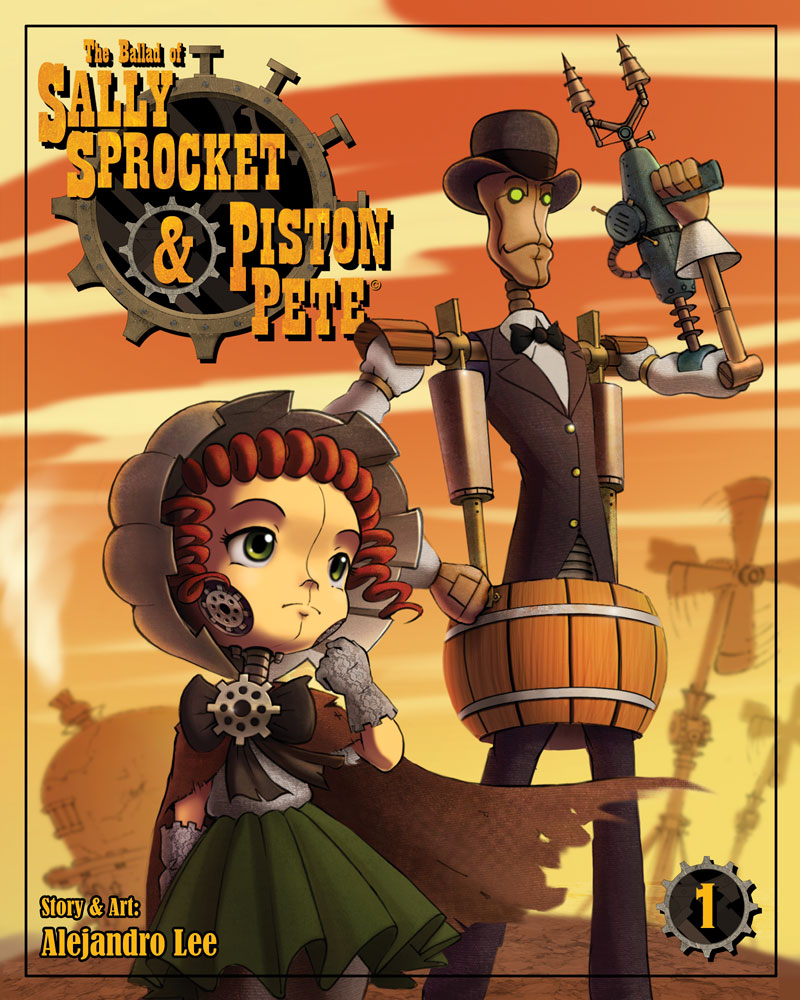 Remember that Star Wars: A New Hope work in progress we showed you from LEGO artist Dan Veesenmeyer just yesterday? It's been finished, and you'll be able to pick it up at SDCC.
Completed! My Lego #StarWars character art for #SDCC! 11×17, Inks & @copicmarker. pic.twitter.com/sn9HPOvH0B

— Dan Veesenmeyer (@dveese) June 9, 2016
Love Pokémon? Have a Saturday badge? Check out Pokémon XY Steam Siege, which will be pre-released on Saturday, July 23. There's also going to be a Pokemon Play Area in Mezzanine Rooms 14A and 14B, and you can find more information on Facebook.

Cyclops Print Works announced on Twitter that they'll have a "small handful" of Dave Perrillo's Feast print, inspired by the Disney Pixar short of the same name, at SDCC.
Small handful will be at SDCC 2016 booth #2643 on 7/23 & here is some for following on twitter (this one is signed): https://t.co/Yio4m33PJS

— Cyclops Print Works (@CyclopsPrints) June 9, 2016
Cheryll Del Rosario will be co-hosting a Masquerade 101 panel at Comic-Con this year — with more details TBA.
https://twitter.com/cheryll/status/739987093829472256
If you're a creative Avatar fan, this might be your time to really shine. The annual Avatar fan panel is currently seeking Avatar fan artists, musicians, writers, animators, sculptors, cosplayers, cartoonists, game developers, or anything in between. Find more information on tumblr.
Anything we missed? Let us know in the comments, drop us a line or tweet us at @SD_Comic_Con.