Artist Patrick Ballesteros has long been one of our favorite artists, and a mainstay for several years now at both San Diego Comic-Con and WonderCon in Artists Alley. He's best known for turning your favorite pop culture characters into kid-ified versions of themselves, offering a fresh take filled with plenty of childhood wonder in series like his popular 25 Cent Wonders or his "Can You Hear Me Now" series (where you can mix and match characters speaking long-distance to each other the old fashioned way: through a tin can!).
This year for WonderCon, Ballesteros is doing something different – he'll have mini originals each day of the convention, for just $45 each. These are available on a first-come, first-serve basis at Artists Alley A-07. It's a cool, affordable way to score some original art from Ballesteros. But of course, that's not all he's bringing to the convention.
In addition to his previously announced The Good Place and Peter Pan print exclusives, he's also bringing new exclusives for Zootopia, Pinocchio, and Dumbo. Ballesteros' 25 Cent Wonders collection is growing with "The Fast & The Furry-Ous", featuring Judy, Nick, and the rest of the Zootopia gang going for a joyride in Flash's car. The 6″x8″ piece is printed on fine linen paper, and will retail for $15. Each of the 75 limited edition prints come numbered and signed by Ballesteros.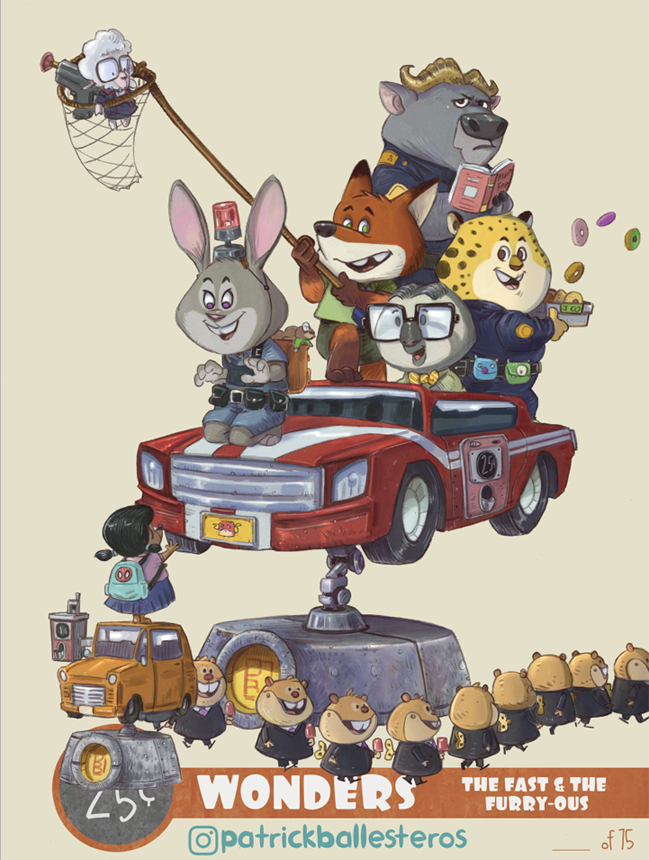 You don't have to wish upon a star for Ballesteros' next exclusive – but you may want to hurry to his booth. He's bringing a new limited edition set of his "Can You Hear Me Now" series to the convention – where characters connect to each other with a tin can line. One side of the two 4″x4″ inter-connecting set, titled "Soar Upon a Star", features Pinocchio and Gepetto, and the other side features Dumbo and Timothy. The combined set will retail for $15 – but as all of the prints feature the same Can You Hear Me Now line, you can mix and match to create your own character mash-ups.
Will you be stopping by Artists Alley A-07 to pick these up? Let us know in the comments.