We know you love our popular Attendee of the Week segment – but we thought it might be fun for you to learn more about us! So, the UBlog staff is telling you all about their favorite SDCC memories, food, and more.
We'll be kickstarting off our regular Attendee of the Week segments in a few weeks. If you'd like to be featured, simply follow the instructions here, and maybe you'll be chosen.

Sarah Lacey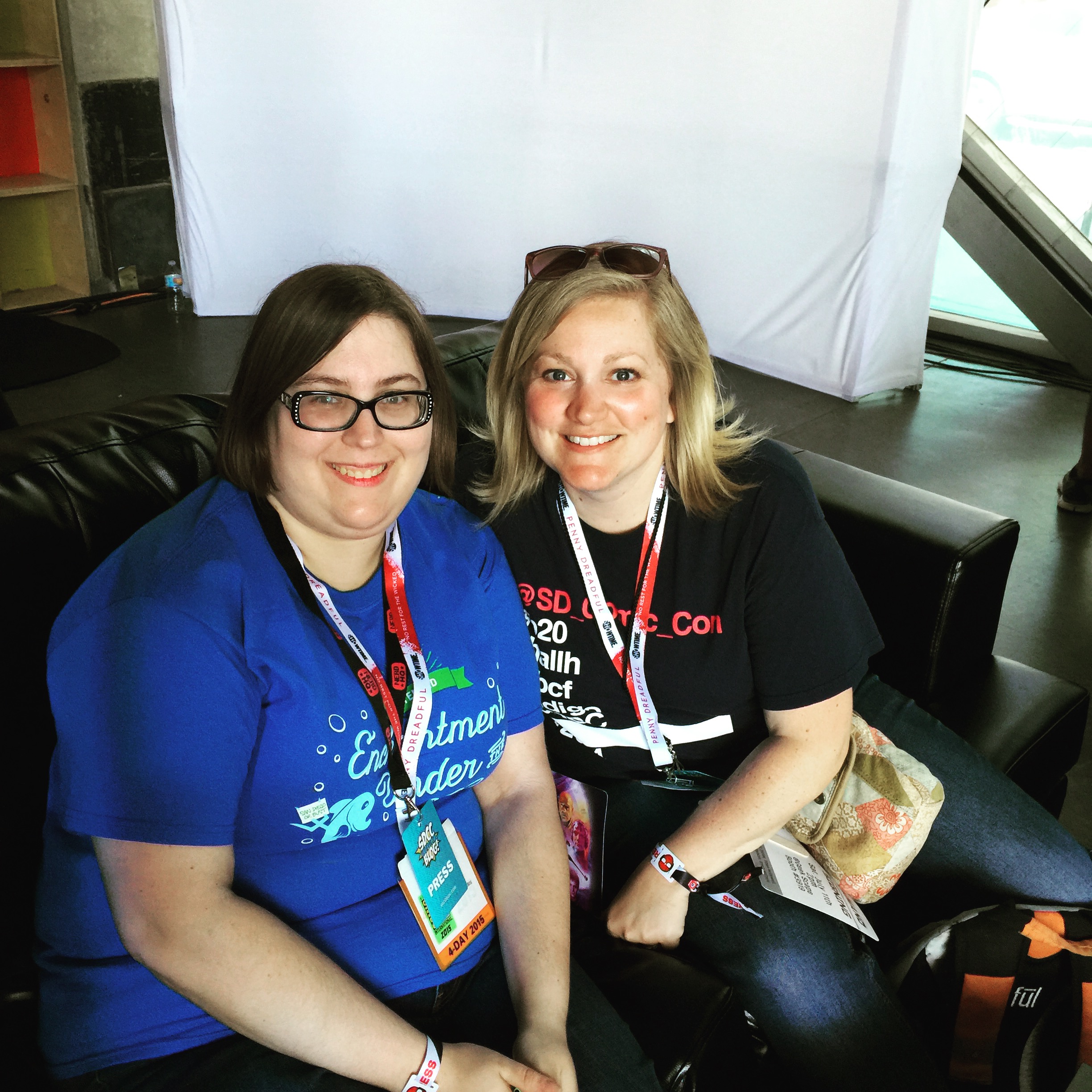 Where are you traveling from?
Michigan
How many years have you been with the blog?
2013.
How many years have you been attending?
Since 2010 with a few years off here and there.
What was your favorite panel and why?
I've always enjoyed certain CW and USA panels, Psych being a favorite. My very first SDCC I attended the Quick Draw and Voice Actors panel and they've remained one of my favorites because they were so much fun. I've never made it back to them even though I intend to every year.
What is your favorite exhibitor or artist booth and why?
Little Friends of Print Making (Captive Style booth #2046). They are a small print shop with small batch screen prints that are super cute. They aren't particularly comic or pop culture themed but the designs are fun and I've made it a tradition to buy a new print every year. I love the two that hang in my kid's rooms the most.
What's your favorite item you've ever taken home from the convention (swag, exclusive, merch, etc.)?
I have a few t-shirts from Marvel that are my favorites.
What was your favorite autograph session and why?
Last year I was lucky enough to win a WB auto for The LEGO 2 Movie. Chris Pratt, Elizabeth Banks, and Stephanie Beatriz were there and that was an amazing experience. It was actually the first time I've ever gotten and autograph at SDCC. I'm one of the few that loved the lottery system!
What is your favorite con snack?
I always buy a soft pretzel with cheese. They are terrible but I get them every year. Last year I got the Convention Center specialty chocolate bars, too, and they were delicious.
Tell us about your most memorable celebrity encounter?
I've seen a lot of celebrities and gotten to take pictures but the most memorable was my very first year. The first night, we were walking through the Hard Rock lobby and saw David Hasselhoff. Kerry and I were whispering to each other "it's David Hasselhoff!" and he heard us because we were not subtle and he nodded to us as he walked by and said "Hello, Ladies!" It's silly but it was one of the first encounters and it's always been a good memory.
What is (or was) your favorite offsite and why?
Last year was the first year I've been to offsites, surprisingly. I didn't know what I was missing! The Good Place offsite was like a wild ride even thought it wasn't a ride. The Taco Bell Demolition Man restaurant take over was so insane and well done.
What is your favorite restaurant in downtown San Diego?
There isn't a specific restaurant I've gone to enough to remember other than Mary Jane's, which isn't necessarily a favorite.
What is your favorite Comic-Con memory/moment?
There are too many to pick from. Every year there is something amazing that happens, even if it's just a fun moment with friends. No matter the panels/events I see year each, being able to spend time with my friends that I typically only see at SDCC is the best.
Do you have any advice for a first time attendee?
Don't overbook yourself. Don't worry so much about getting a ton of pictures during panels. Try to focus on it and really enjoy the moment. A few pictures is enough to look back and remember.