Patrick Ballesteros makes some of the cutest art this side of the galaxy, and he's bringing his 25 Cent Wonders, Can You Hear Me Now's, and mini originals to WonderCon again this year. You can catch him all weekend long at Booth #A-07 in Artists Alley.
[UPDATE March 29]
Patrick Ballesteros has one last pin reveal for WonderCon, a reminder to "be curious, not judgemental" and BELIEVE in yourself.
This is a two piece set, made of zinc alloy with gold plating. Character pin measures 1.5″ tall and can hold the 1″ wide sign pin using the magic of magnets.
A limited number of these pin sets, titled "Believe in Yourself," will be available at Patrick's Artist Alley table, #A-07 for $15.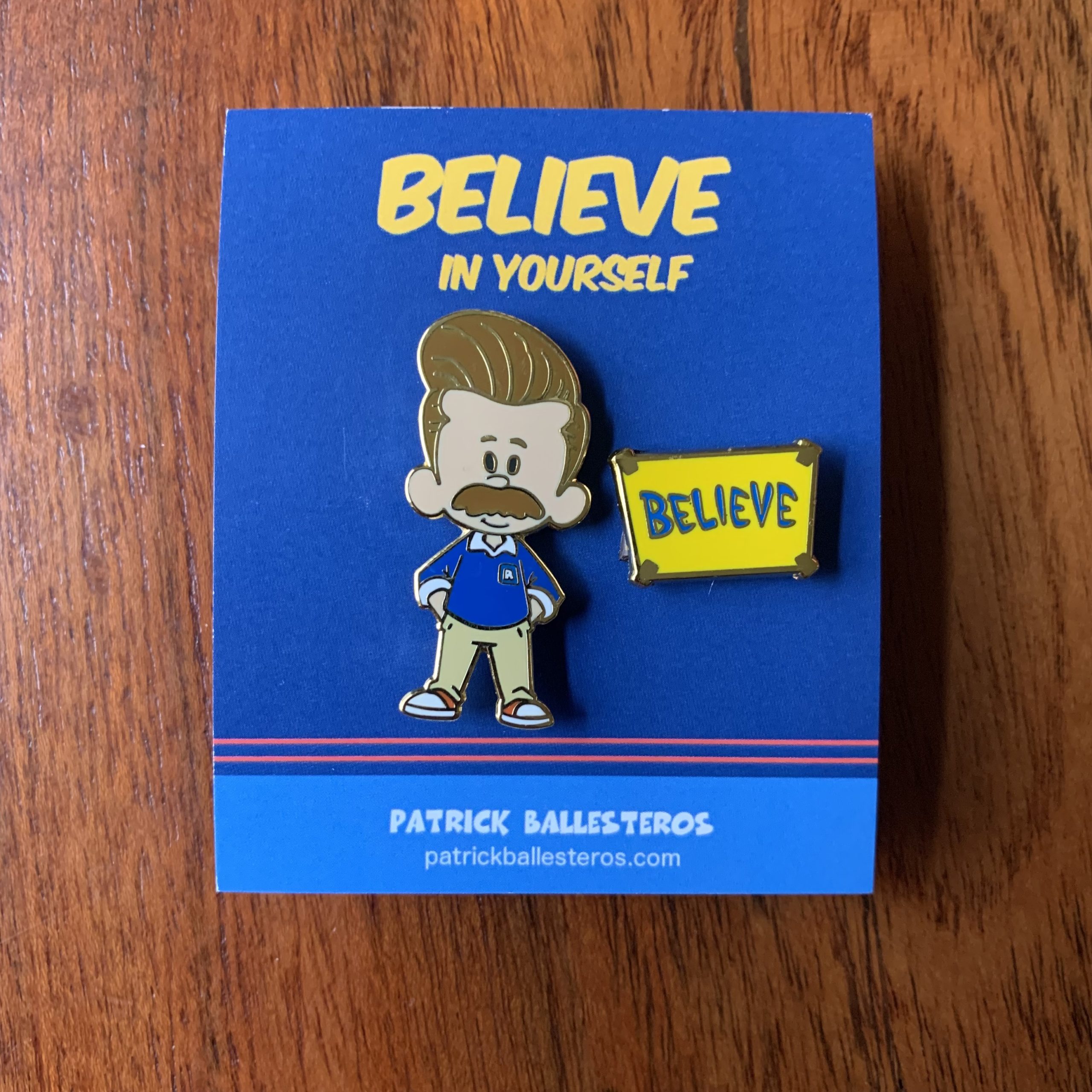 [UPDATE March 25]
Ballesteros' latest set of exclusives are ones you can really BELIEVE in. The two 1.5″x1″ enamel pins feature some of our favorite TV footballers in Ballesteros' signature kid-ified style. You can score them for just $12 each at WonderCon next week.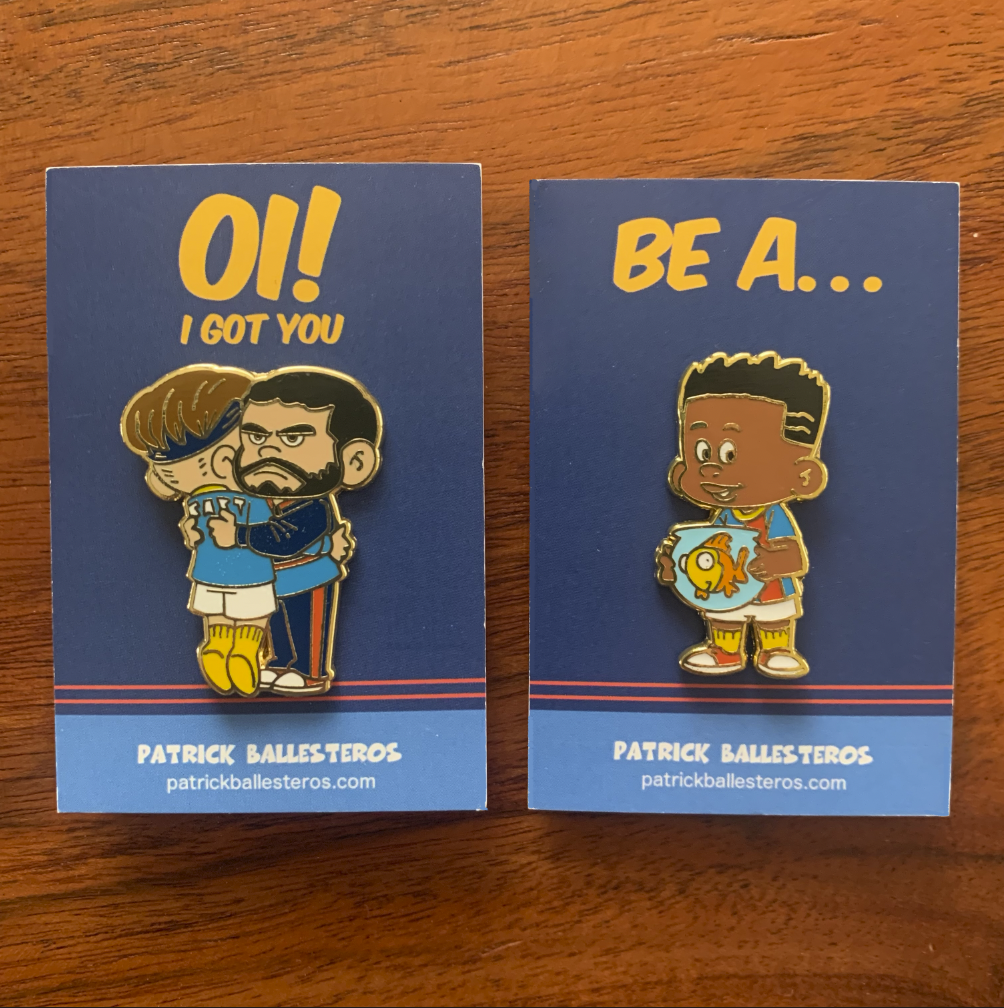 [UPDATE March 23]
You'll need to be a quick draw to get your hands on Ballesteros' latest WonderCon exclusive, the final piece of his five-set series. Your favorite bounty hunter (and friends) battle it out for the good of the galaxy in this 6″x8″ "The Good The Bad and The Cuddly" print.
It will be available, like the other four prints in the series, for $16 each and is a limited edition of 150 (with a limit of 2 per customer).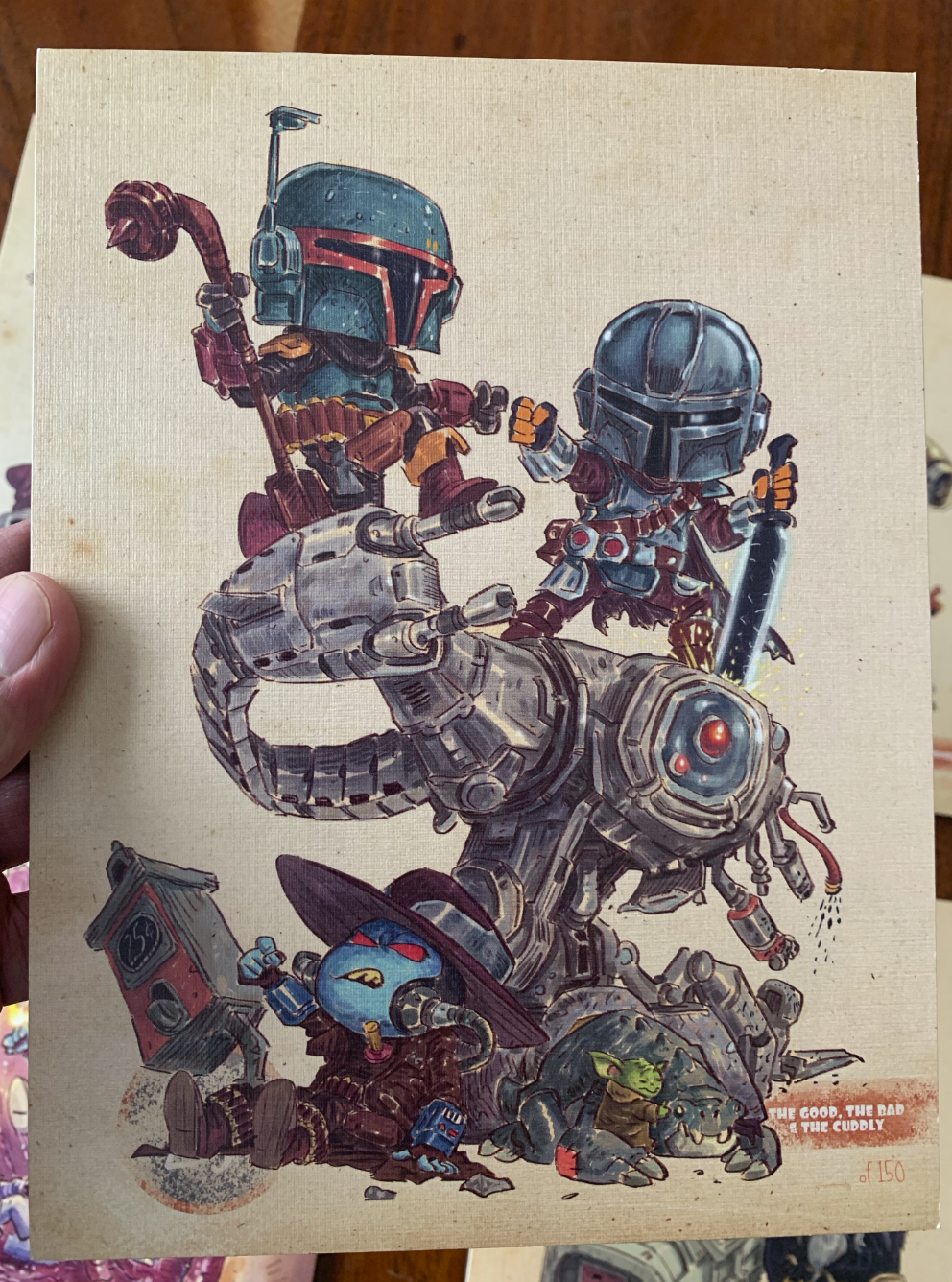 But if that's not enough galactic goodness for you, you can grab all five prints for a combined price of $70. Because of the small run, Ballesteros is guaranteeing 30 complete sets for WonderCon.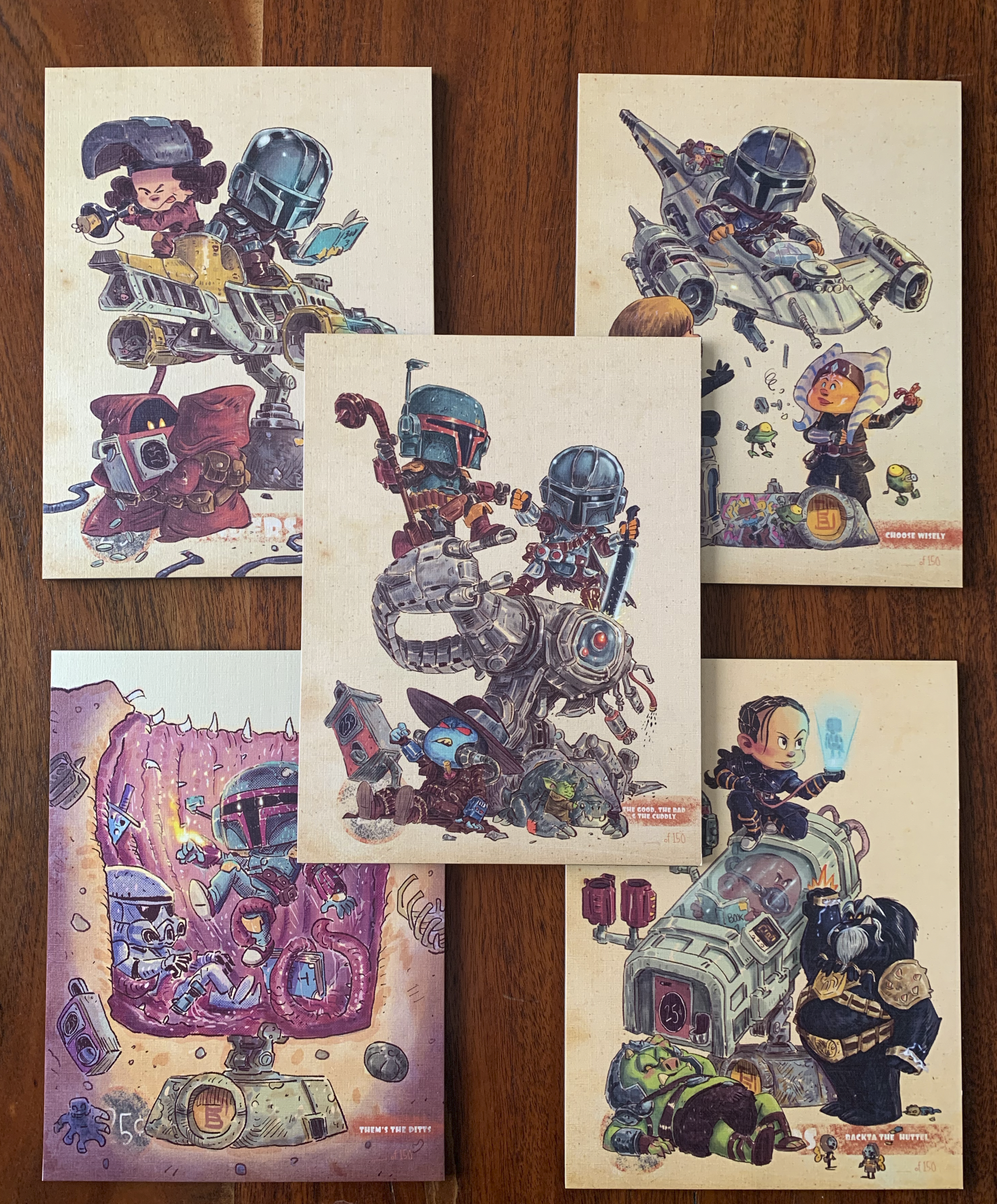 [UPDATE March 18]
Celebrate the magic of Ballesteros' artwork with an equally magical family, in these WonderCon exclusives. Patrick has created a brand new set of his "Can You Hear Me Now?" tin can series, where your favorite pop culture characters can communicate with each other in whatever combination you choose.
This latest set features the magical Madrigals (including a certain someone we do not talk about), plus a few animated friends. Traditionally, these exclusives could only be purchased in pairs, but for the first time you'll be able to mix and match and to buy them separately. Each 4″x4″ print is a limited edition of 100, and you can purchase them for $10 each (or get the entire set of six for a discounted $50). Since the edition run is so small, Ballesteros is guaranteeing at least 40 complete sets of this "Family Matters" set.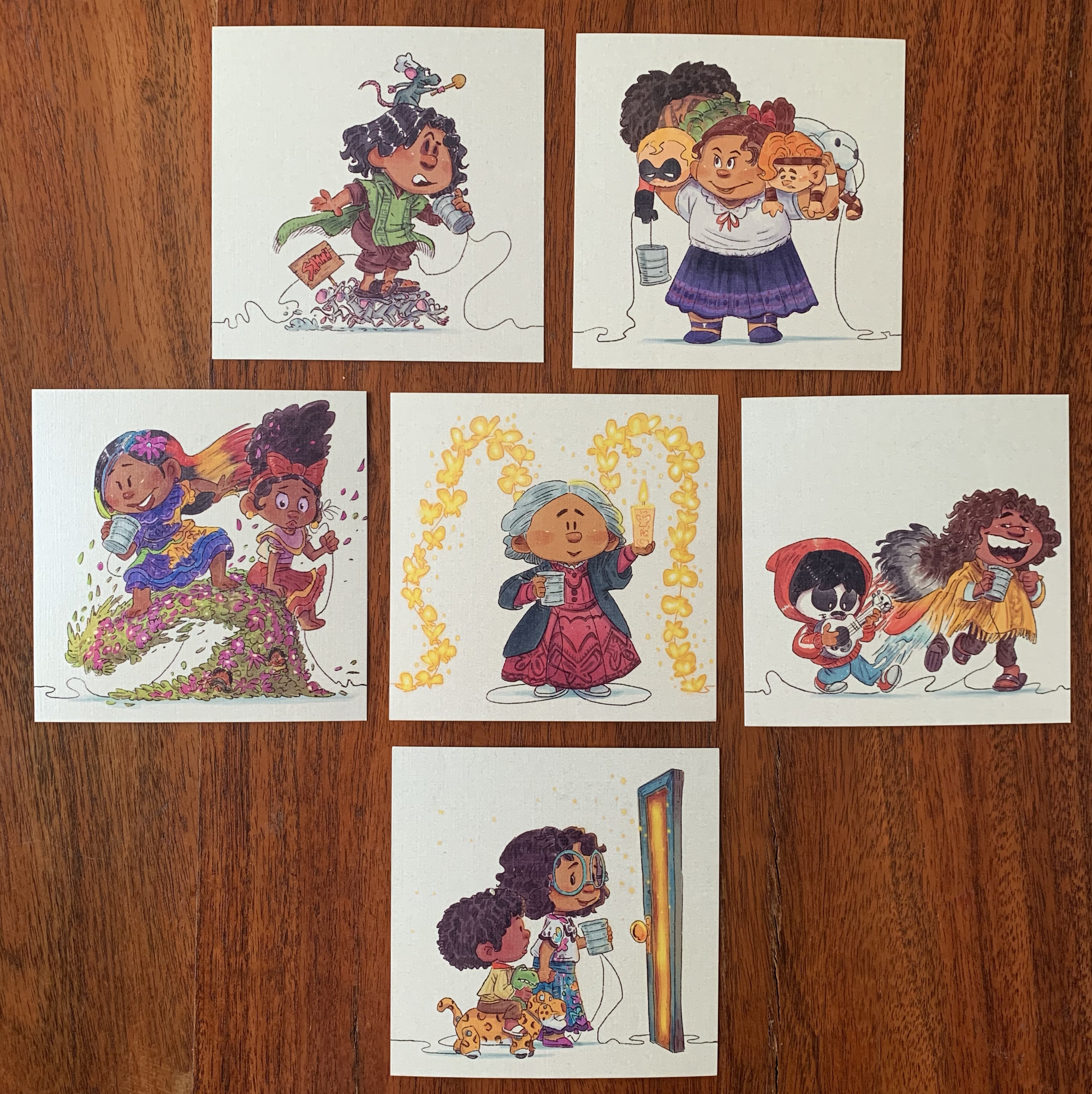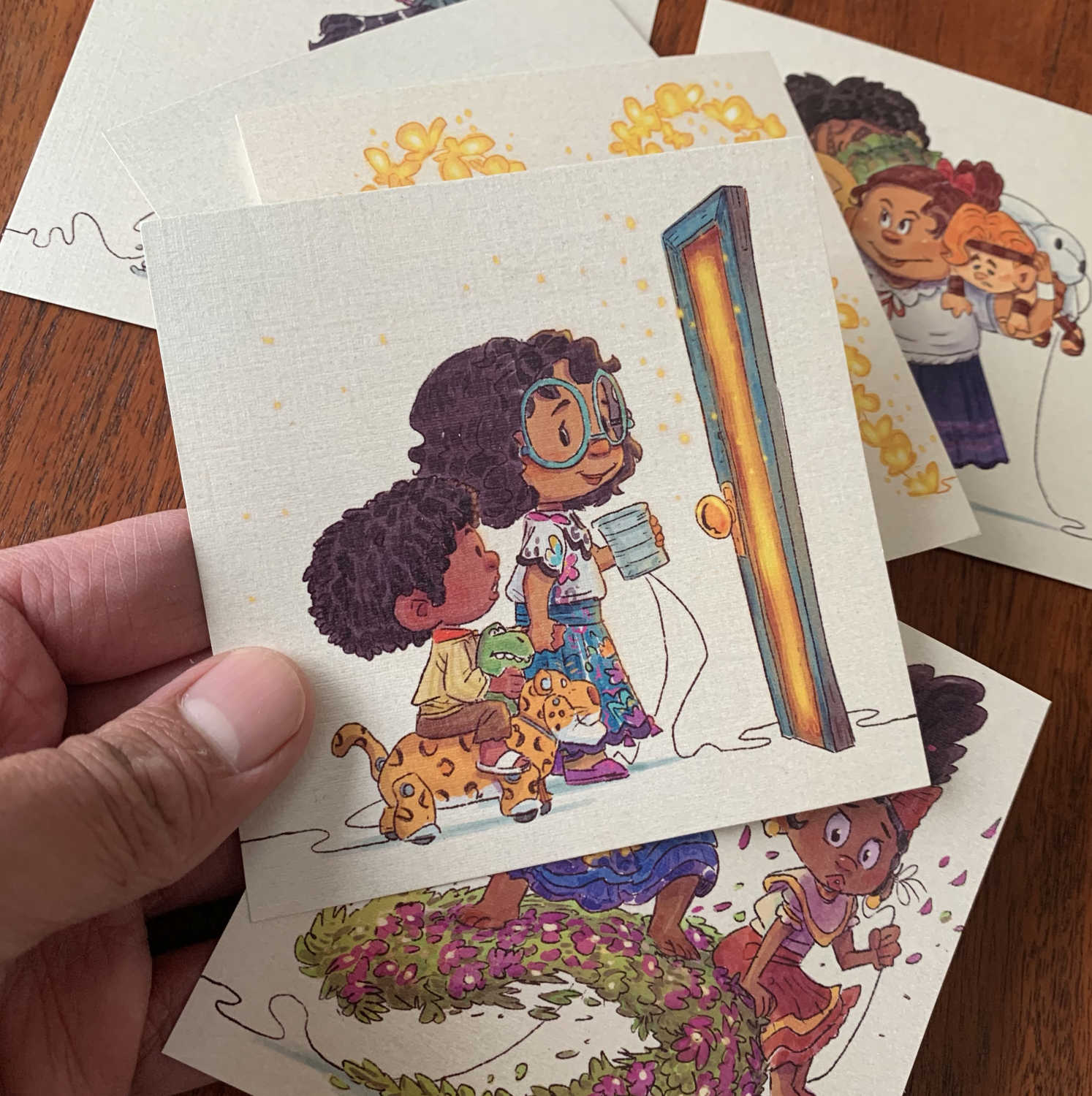 [UPDATE March 11]
Spider-Man, Spider-Man
Dances however a spider can…
In Ballesteros' latest WonderCon exclusive, he's combining his love for our favorite webhead and Filipino culture, as all your favorite characters perform a traditional Filipino folk dance called Tinikling.
The 6″x14″ print, aptly named "My Espidy Senses are TINIK-LING!", will retail for $25, and each fine art pearl linen print comes signed by the artist.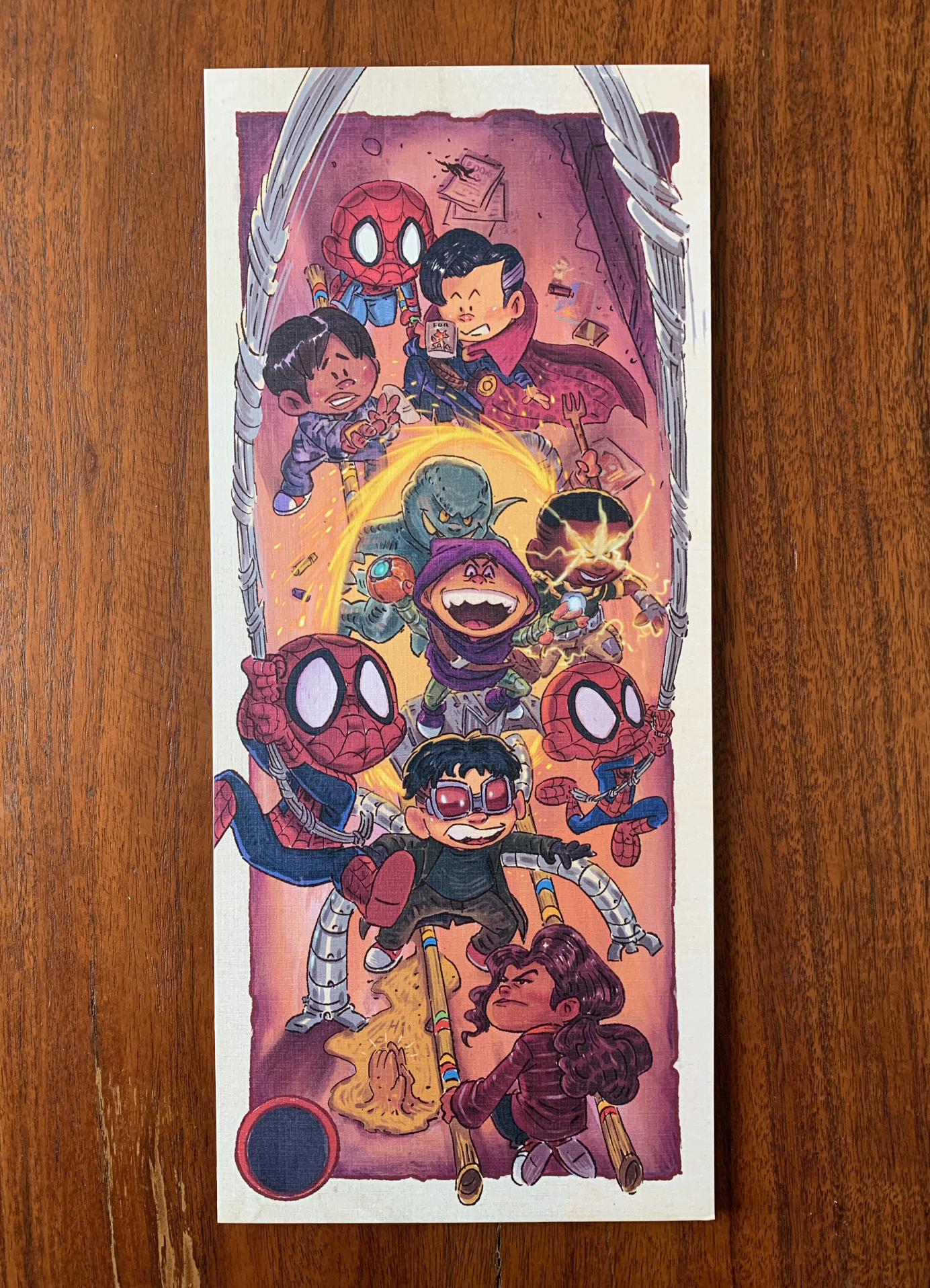 [UPDATE March 4]
Sunny day, sweepin' the clouds away, on my way to where the air is sweet… Can you tell me how to get, how to get to 11th Street?
The 11th Street Kids are taking over the block in Ballesteros' latest WonderCon exclusive, a Peacemaker-inspired 6″x14″ print with so many fun easter eggs and details throughout. If you really wanna taste it (and you do), then you can toss some non-invisible bones at Ballesteros at the con, and pick it up for $25. This exclusive will be available all days of WonderCon.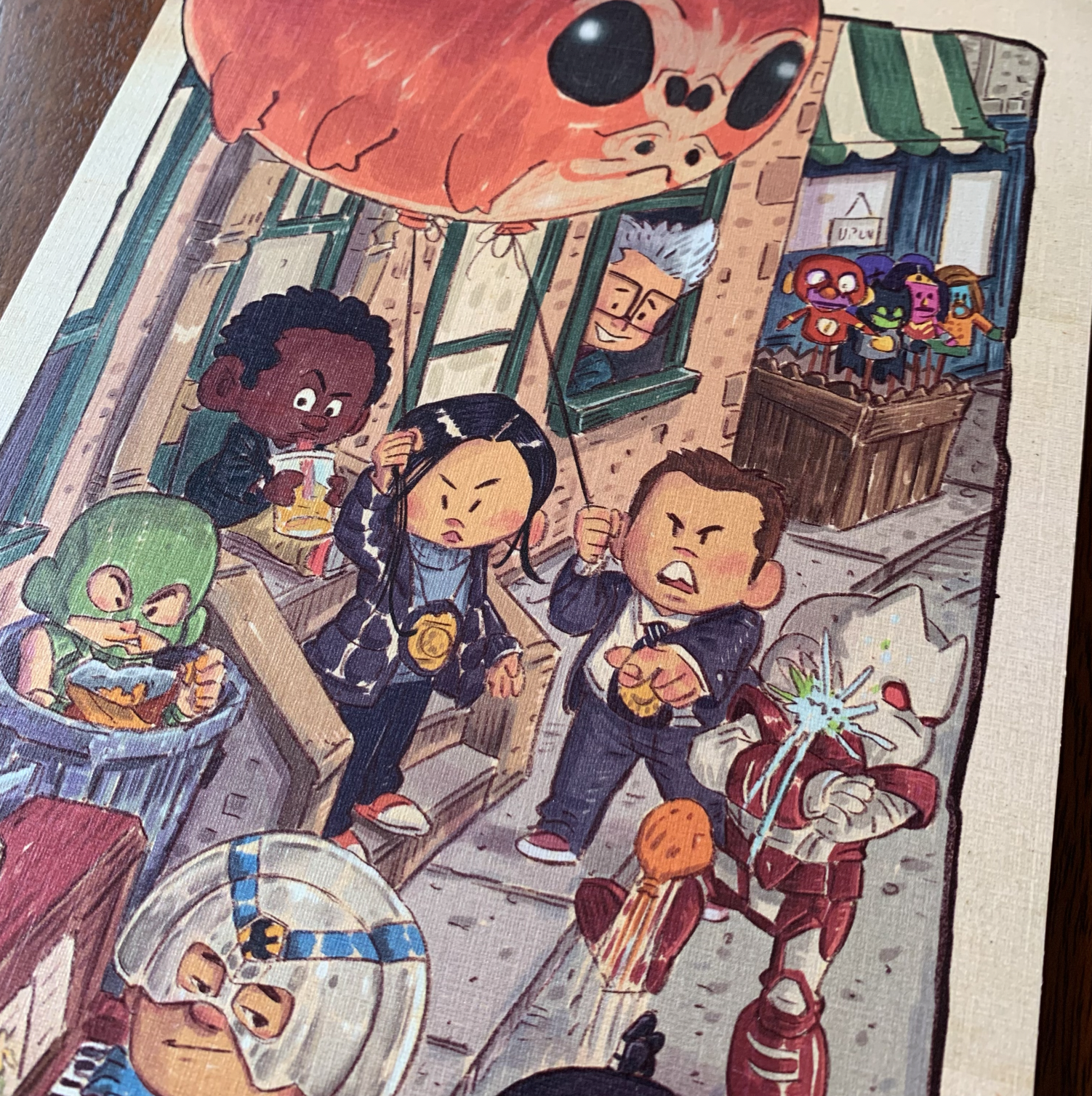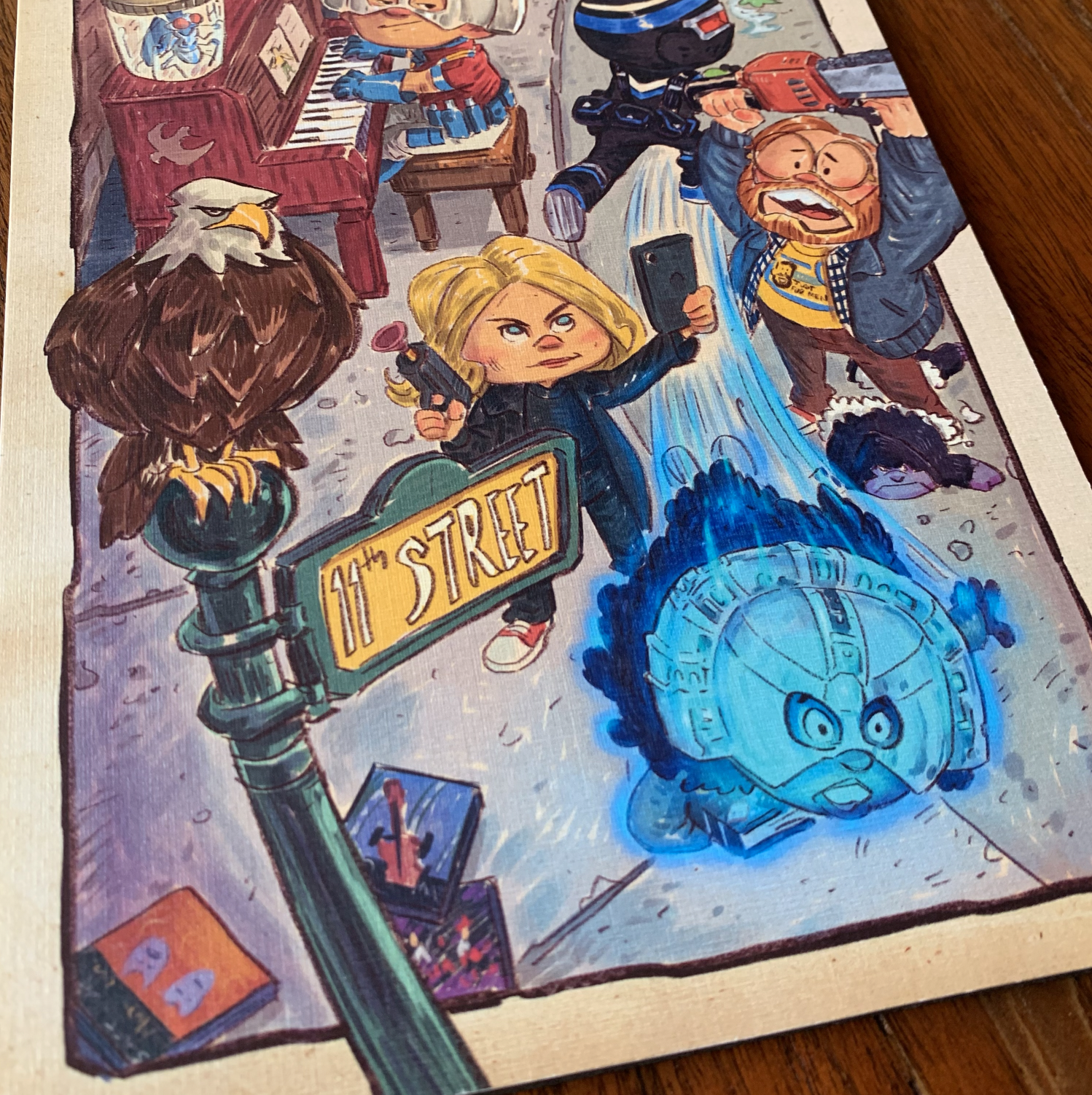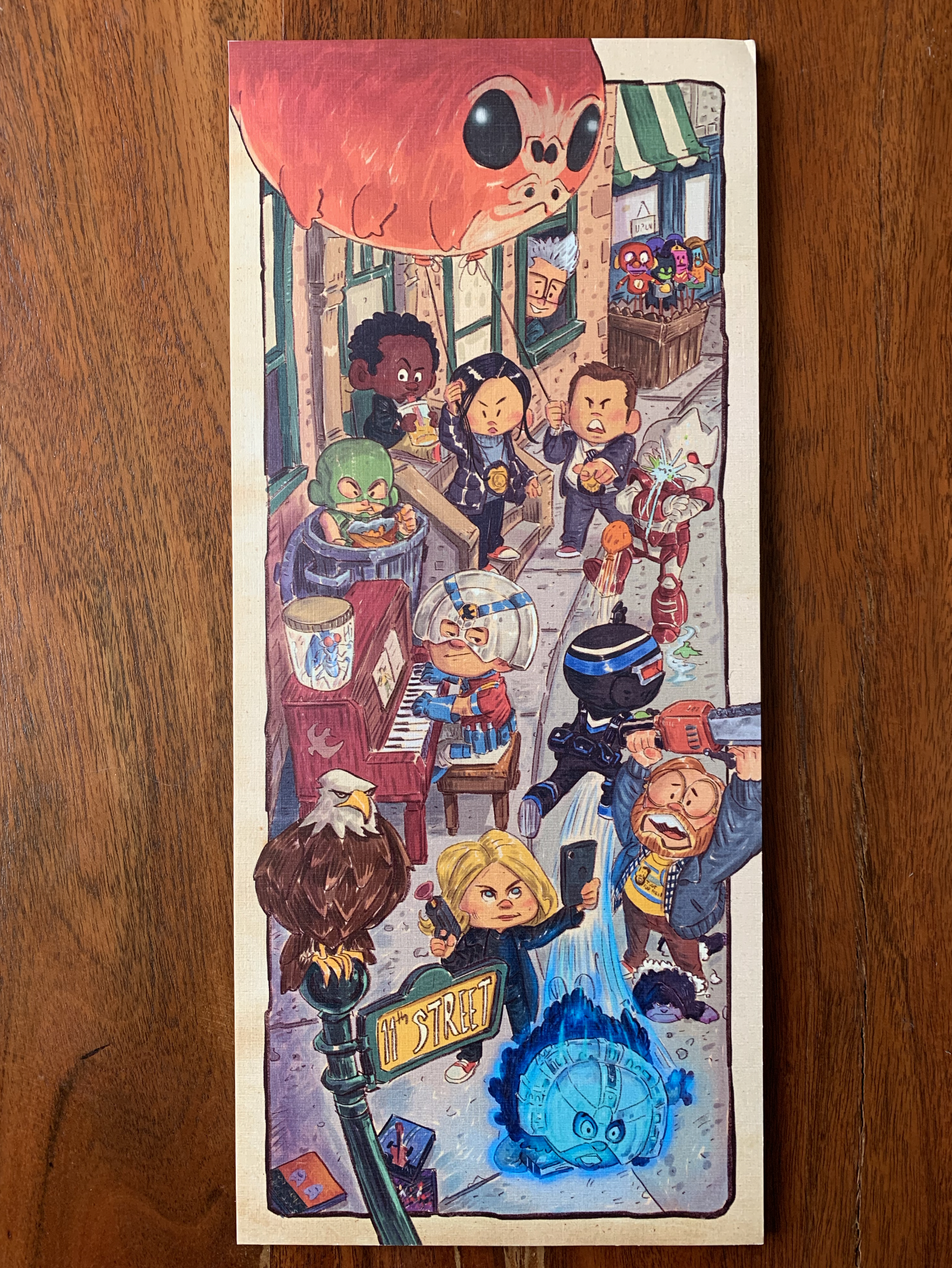 [UPDATE February 25]
Ballesteros has two brand new prints in his latest set, focused on the ongoing adventures of a certain bounty hunter from a galaxy far, far away. The two 6″x8″ prints — "Assembly Required" and "Choose Wisely" will each be available for $16, and each come signed and numbered by the artist. Each will be a limited edition of 150 pieces, available at WonderCon this spring.
Keep an eye on this space for the exciting finale of this 5-piece set.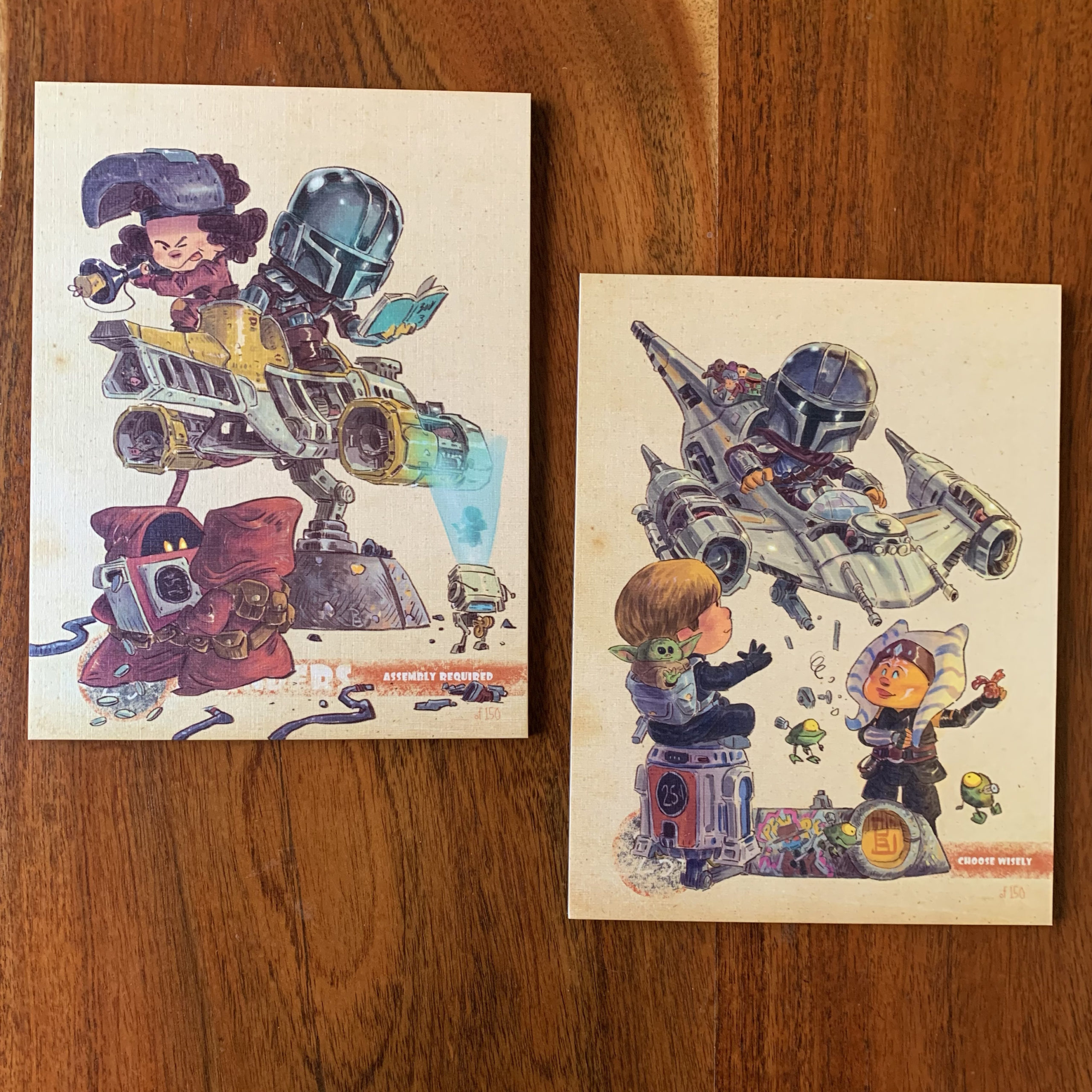 [UPDATE February 18]
Up first are two prints following our favorite bounty hunter and his galactic friends (and foes) as they battle their way through a galaxy far, far away. The two prints — titled "Them's the Pitts" and "Bacta the Huttel" — can be purchased separately for $16 each, or they'll be part of a larger set Ballesteros will be unveiling if you're the kind of person who likes to collect 'em all (and really, who isn't that kind of person? Sounds like Dark Side behavior to us.).
The 6″x8″ prints are each limited to an edition size of 150, and come signed and numbered by the Artist.