Taiwan toy company Beast Kingdom always bring their A-game to San Diego Comic-Con, with offerings from their many exciting licenses, which include Disney, Marvel, Pixar, Star Wars, Warner Bros., Universal, and more.
This year, you'll find them at Booth #2849, where have several exclusives, including:
EAA-122SP The Mandalorian Beskar Armor – $100
This 6-inch" EAA (Egg Attack Action) figure from Beast Kingdom's 'Entertainment Experience Brand' follows the launch of the first Mandalorian armored action figure with an electro-plated special release 'Beskar' armor. It combines high-grade manufacturing techniques to showcase a steel-like suit with a highly articulable figure, the EAA-122SP is a collectable fit for any protector of Grogu.
It features around 20 points of articulation, three interchangeable hands (punch, open, and hold) and comes equipped with a spear, pistol, Baskar spear, black sword, and jetpack.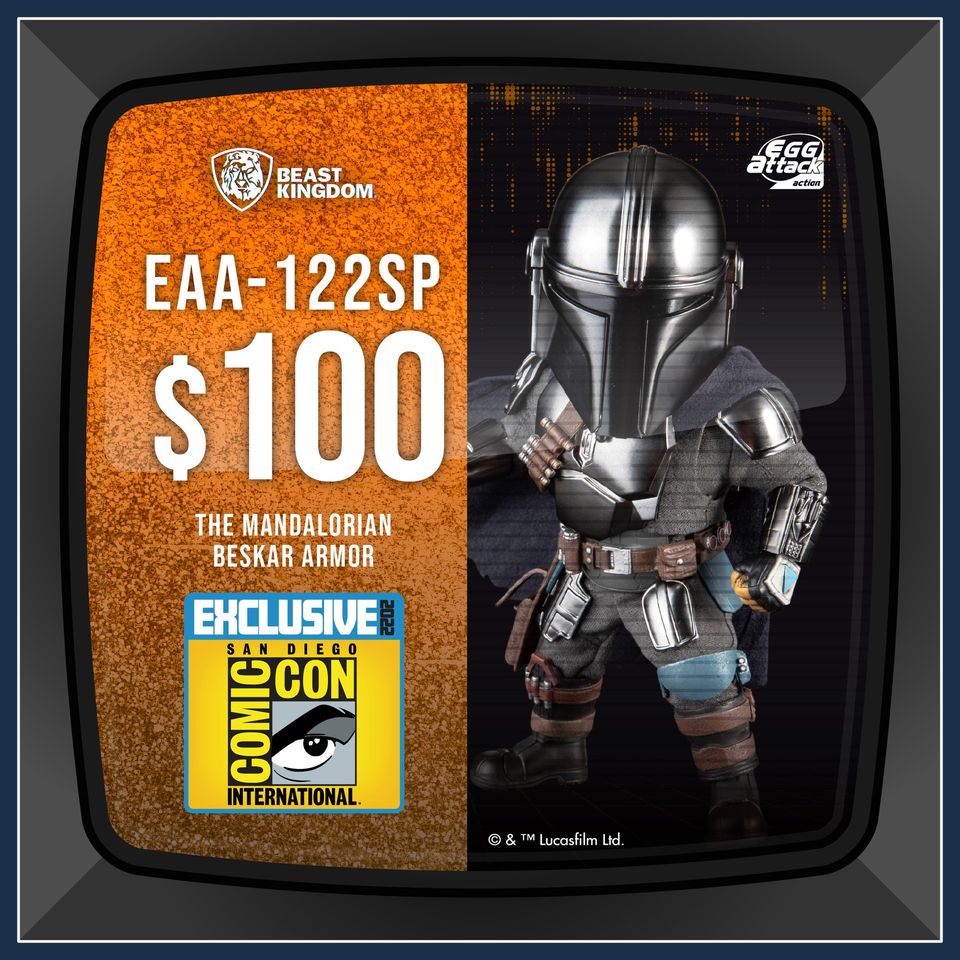 EAA-105SP Marvel Comics Iron Man STEALTH MODE – $100
Based on the designs of the classic comic 'Marvel Super Heroes', this limited edition EAA-105SP is an homage to the Stealth Suit Iron Man. Designed in an awe-inspiring indigo-blue, the highly articulable Egg Attack Action figure blends the stylized EAA design with the cool retro looking armor. Using high grade paint, the figure replicates the metallic, battle-damaged look of the armor.
Best of all, it features a built-in LED in the chest plate, two replaceable hand types (fist and gunner), two repulsor flight effects, two attachable missle and smoke trail effects, and a special branded figure base with bracket for easy display.