One of our favorite things about San Diego Comic-Con is the offsites — and the only thing we love almost as much as the offsites themselves is watching them come together each year as the city prepares for the con.
[UPDATE July 17 #4]
Parks & Cons caught a look at more offsite prep, starting with Camp Snoopy for Peanuts.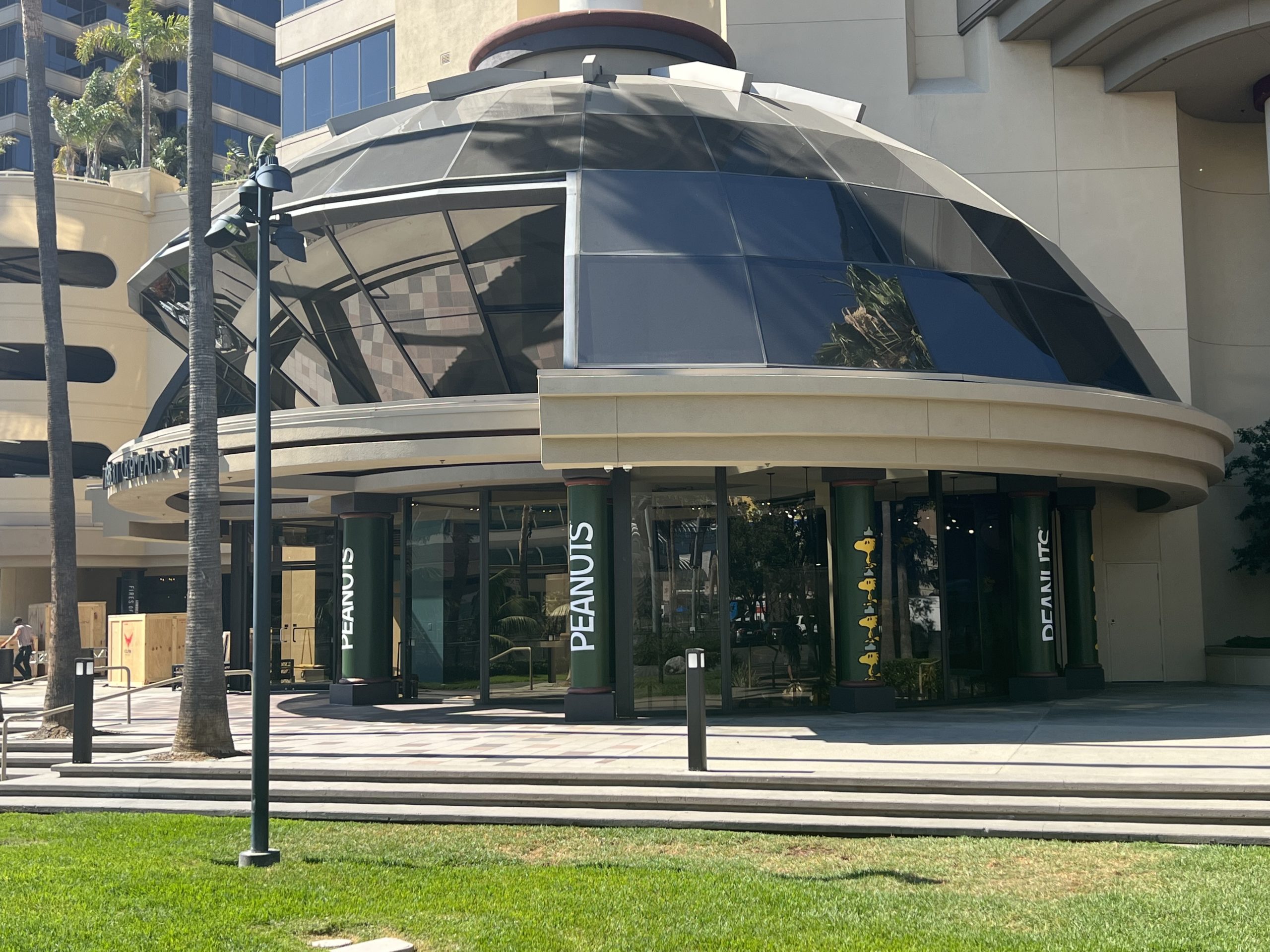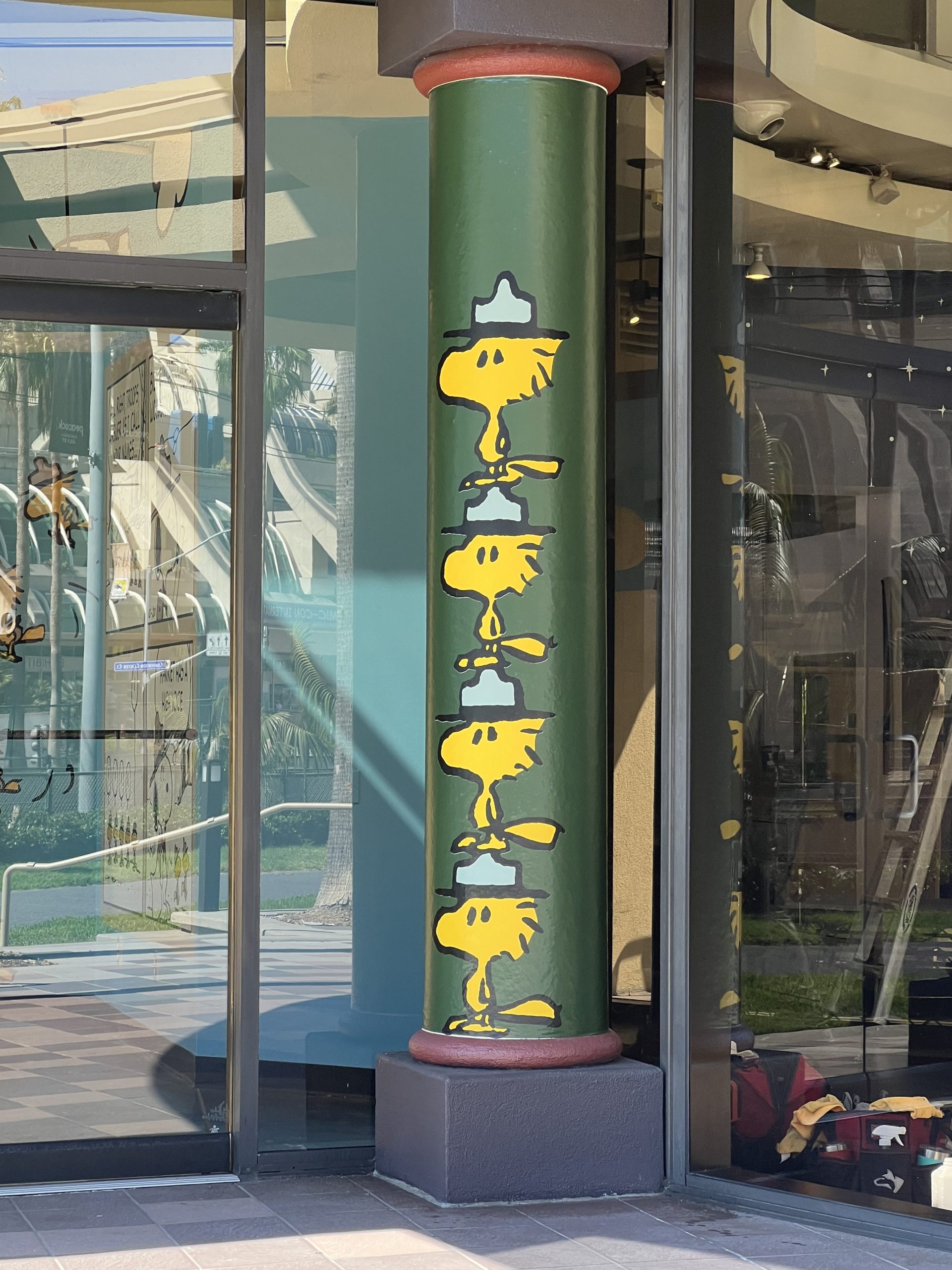 Nearby, the second Bandai offsite has also started prep work.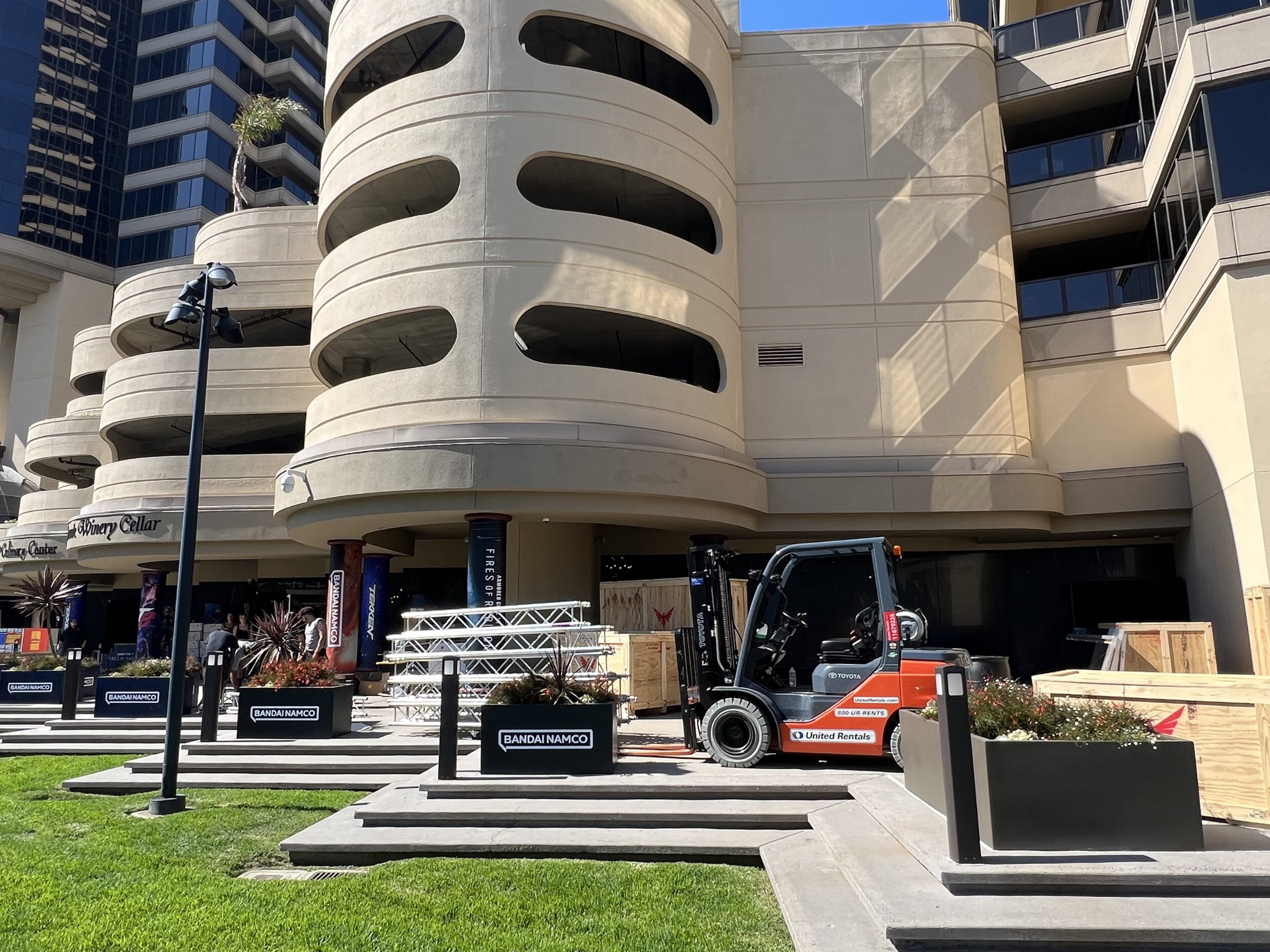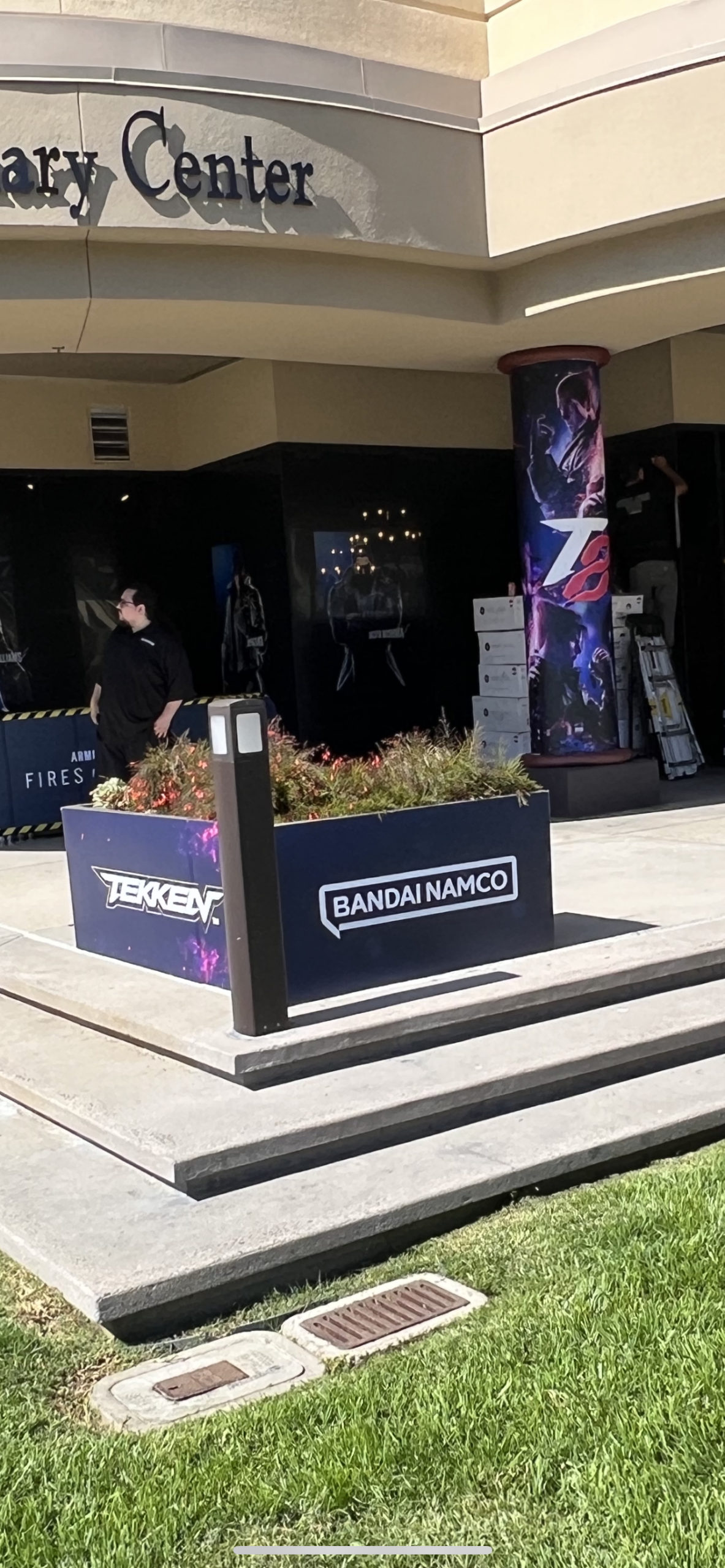 Next door, the Hero House is getting some outside signage.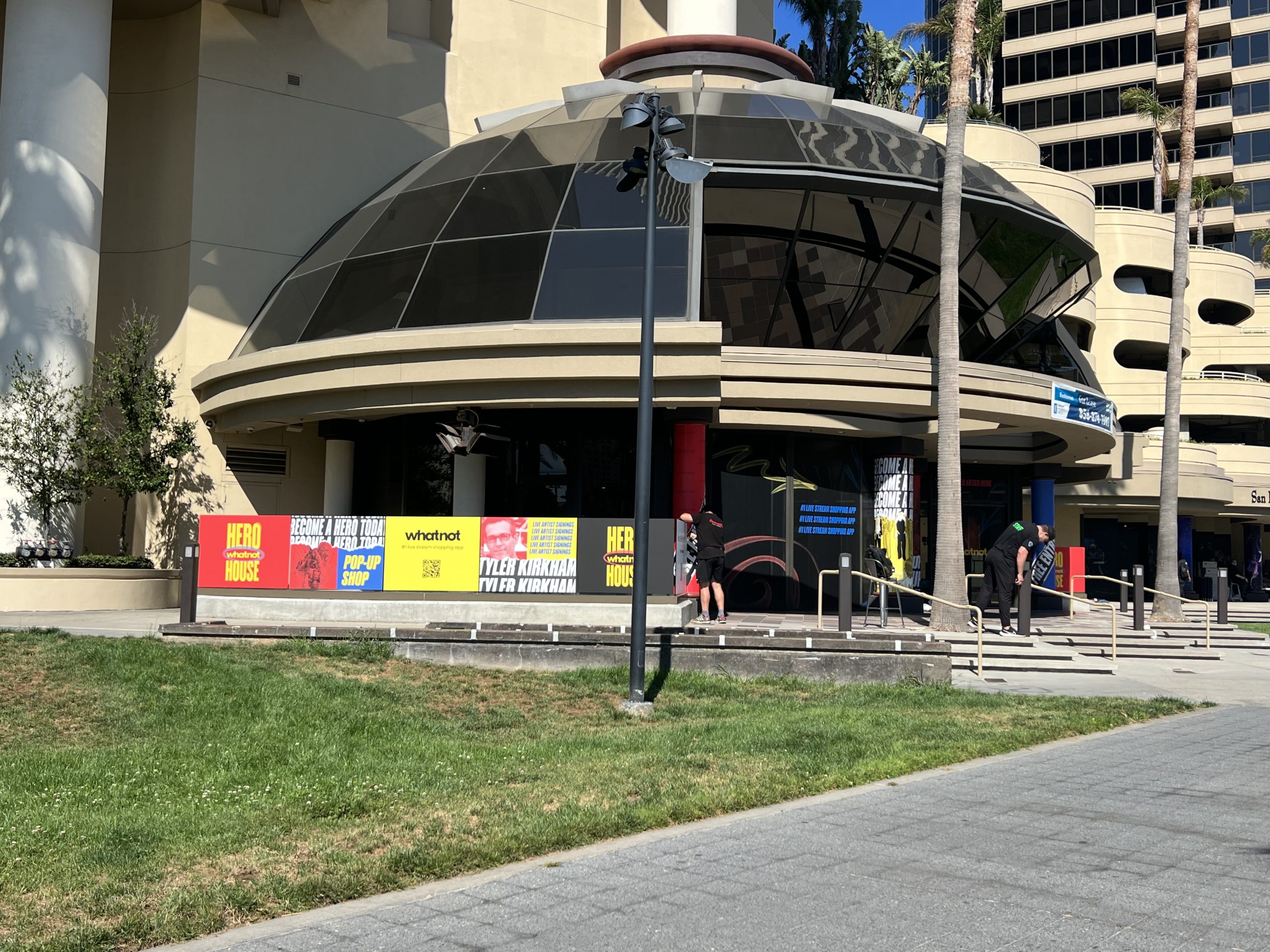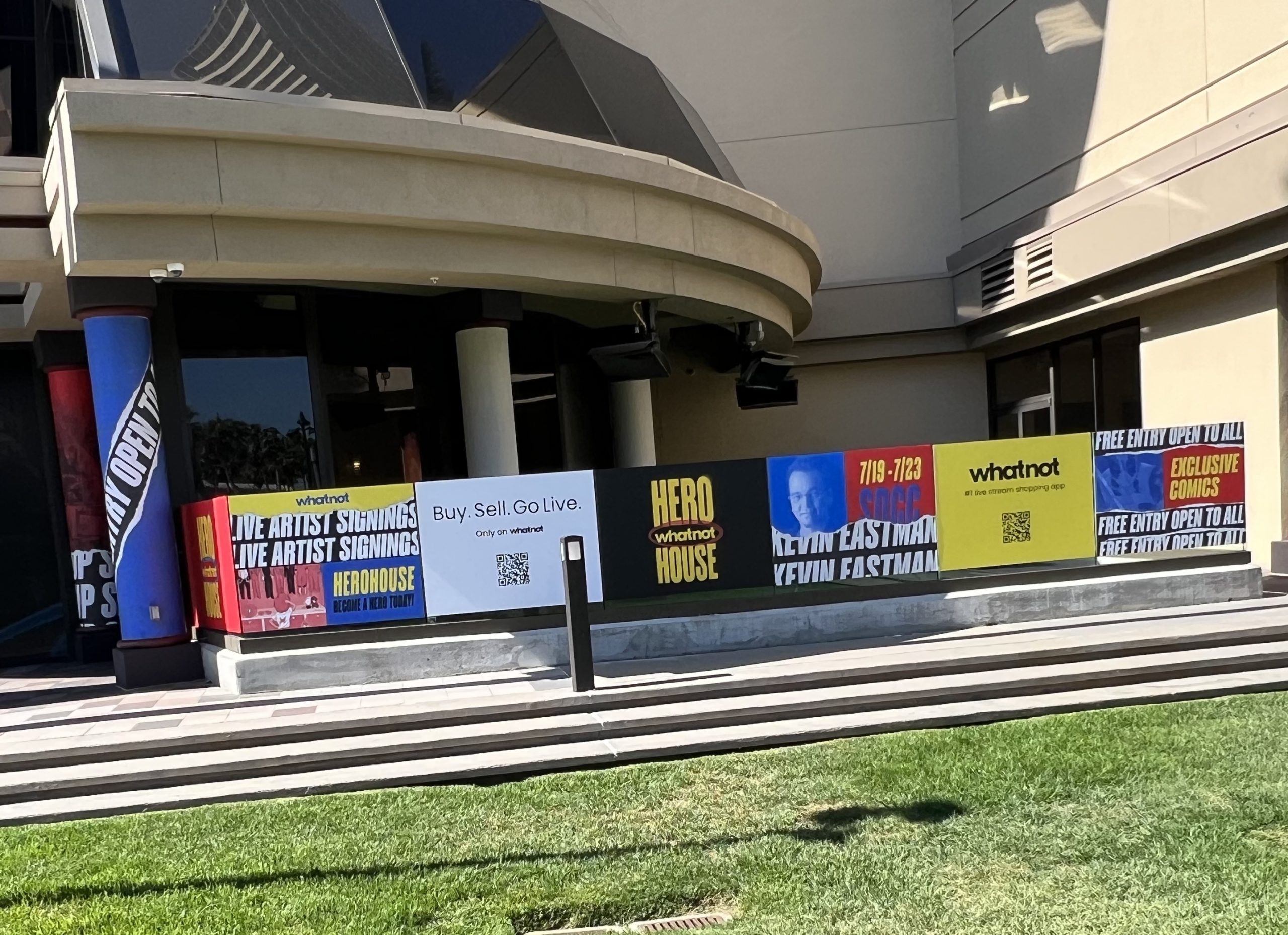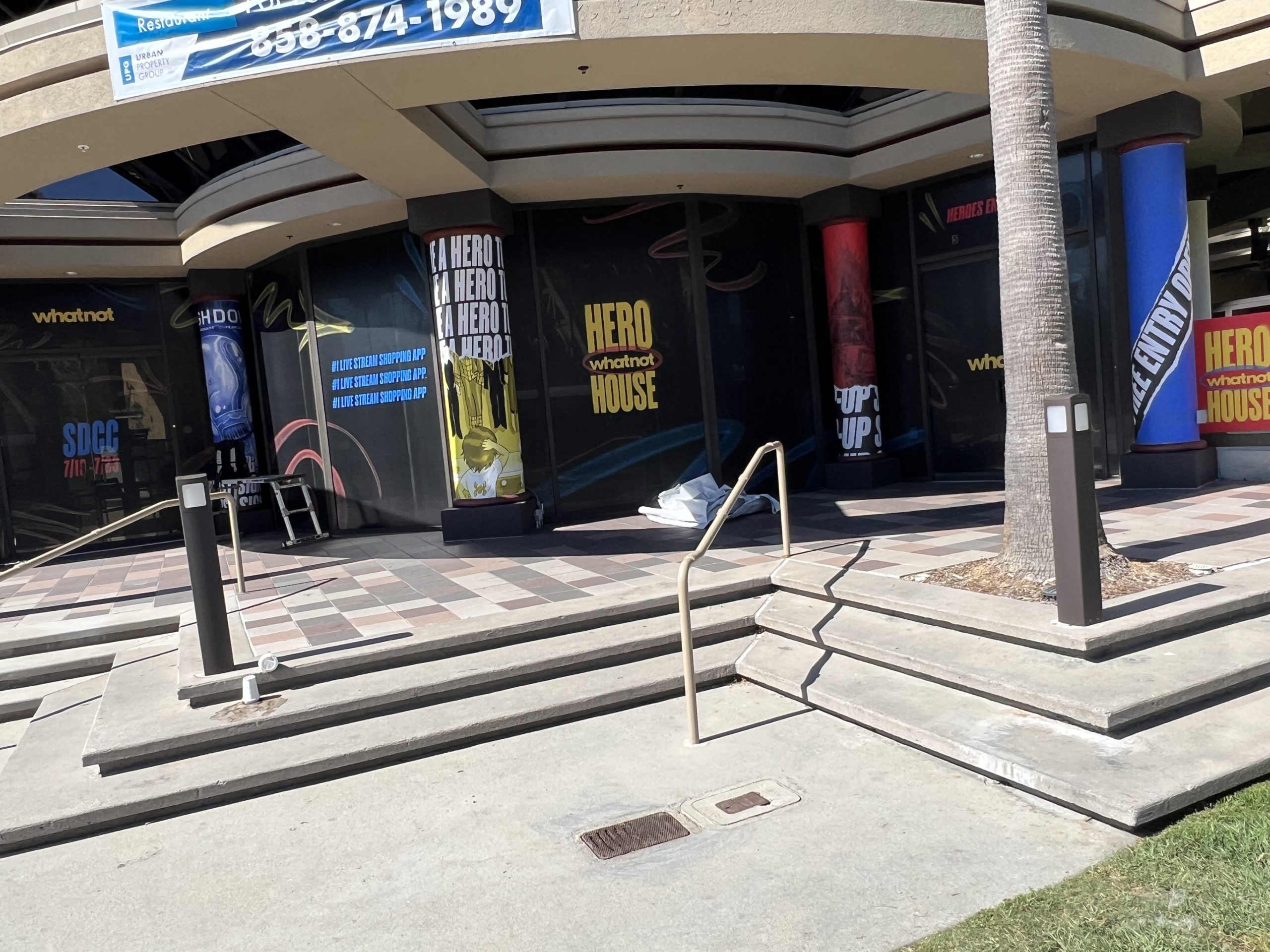 [UPDATE July 17 #3]
At the Marriott Marquis, Bandai has started making progress on this year's Dragon Ball offsite.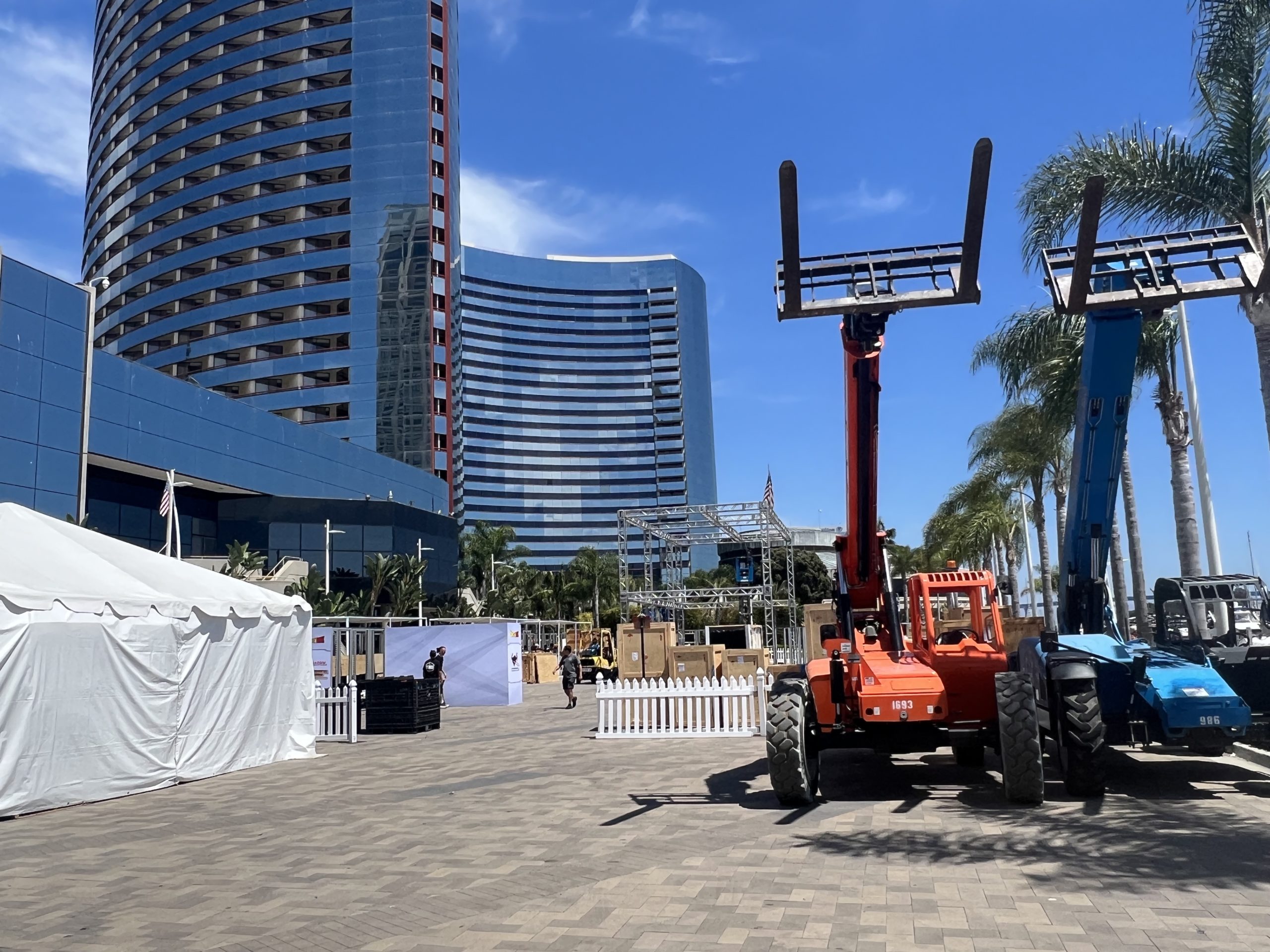 [UPDATE July 17 #2]
At Adult Swim, the inflatables are looking much less sad, and much more inflated.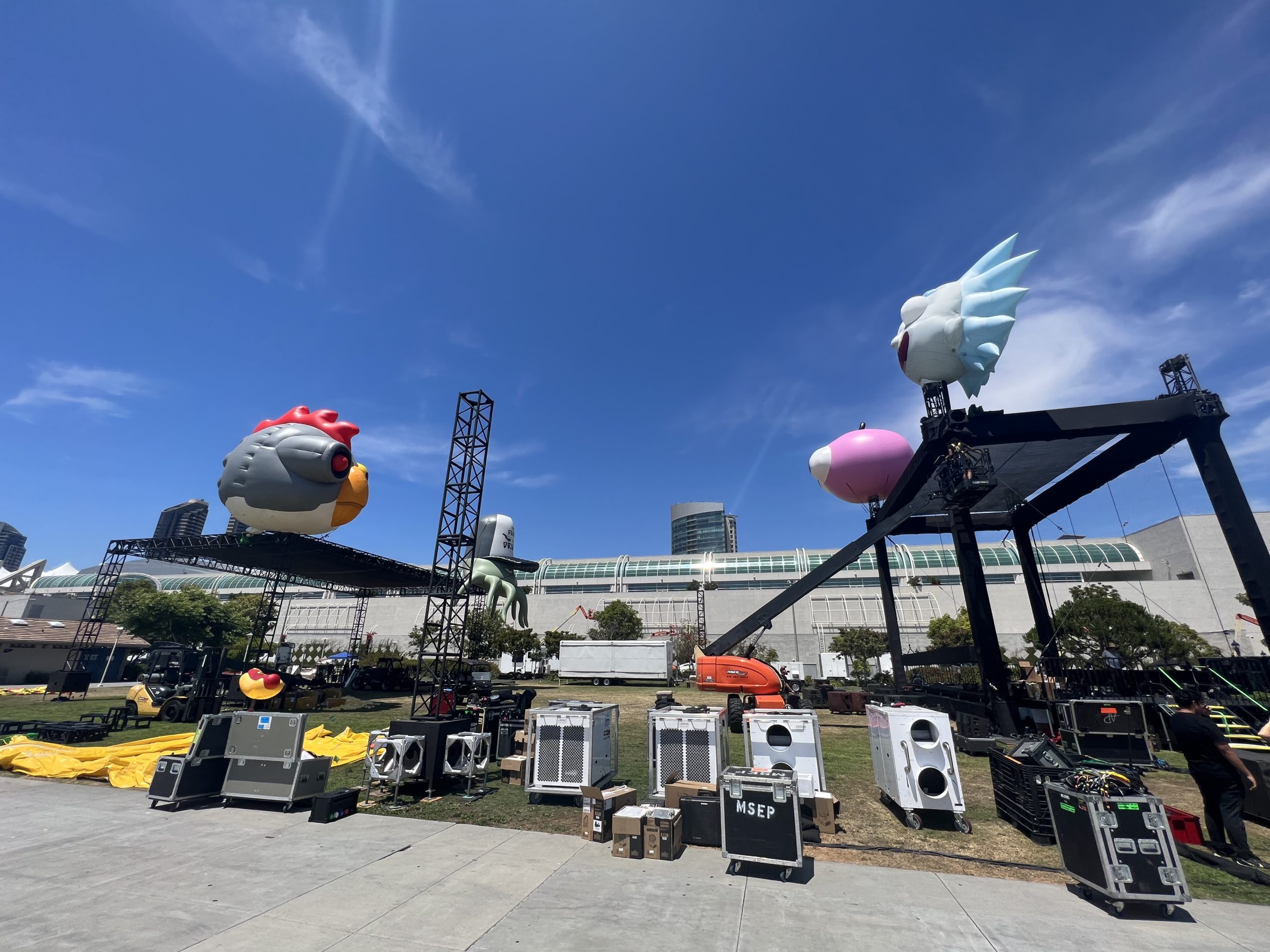 Over at FX, there's been progress, including some signage.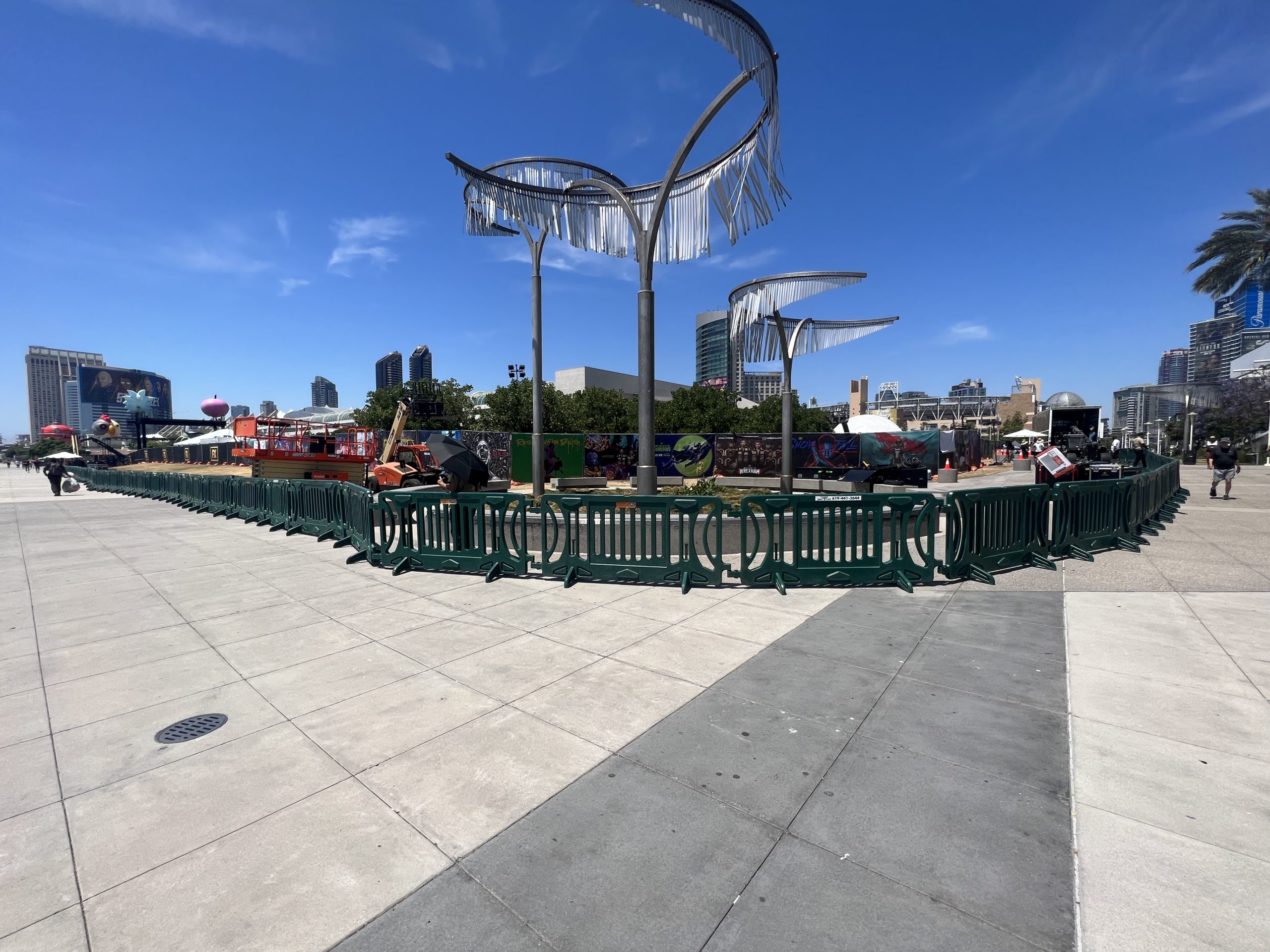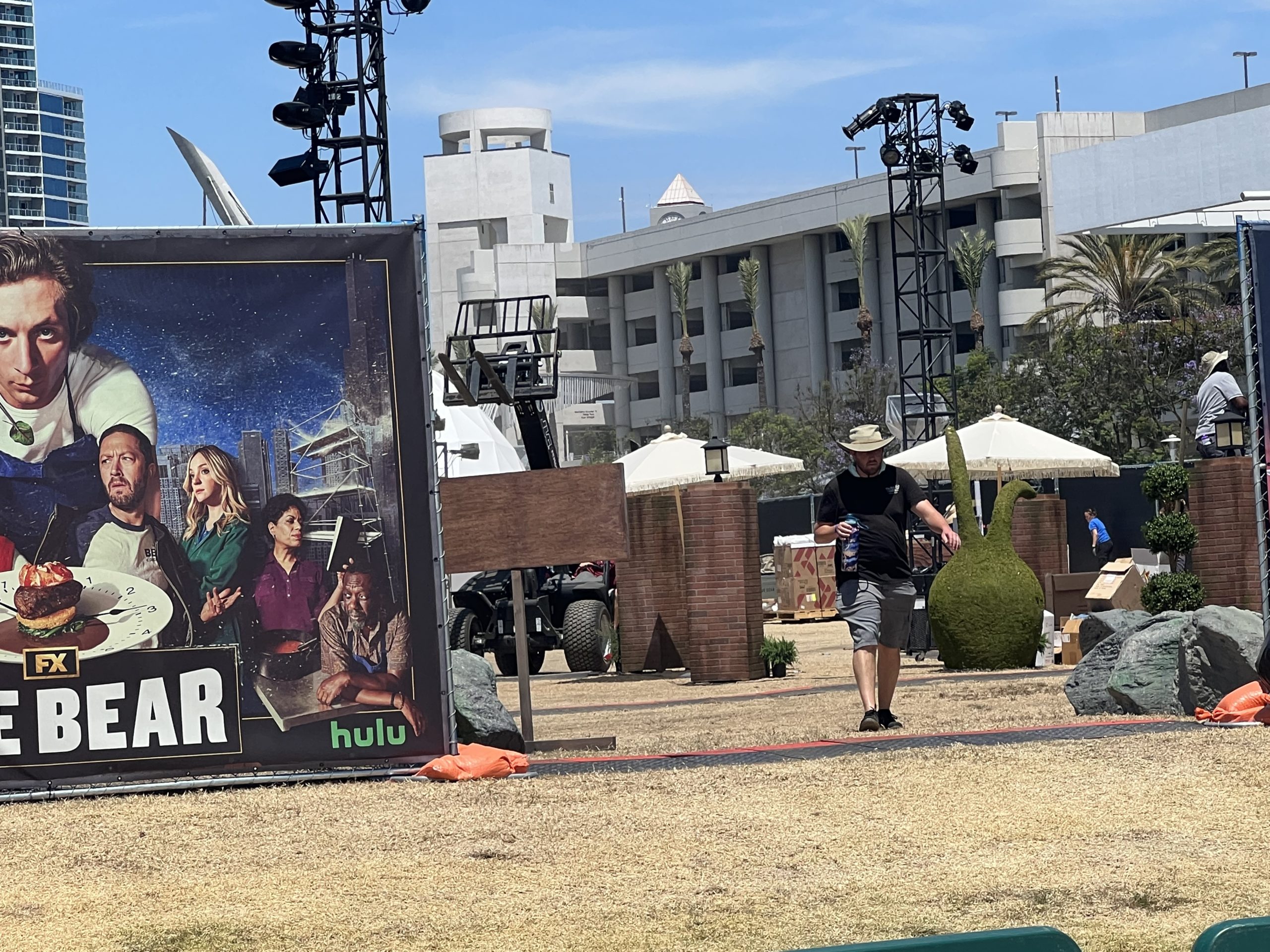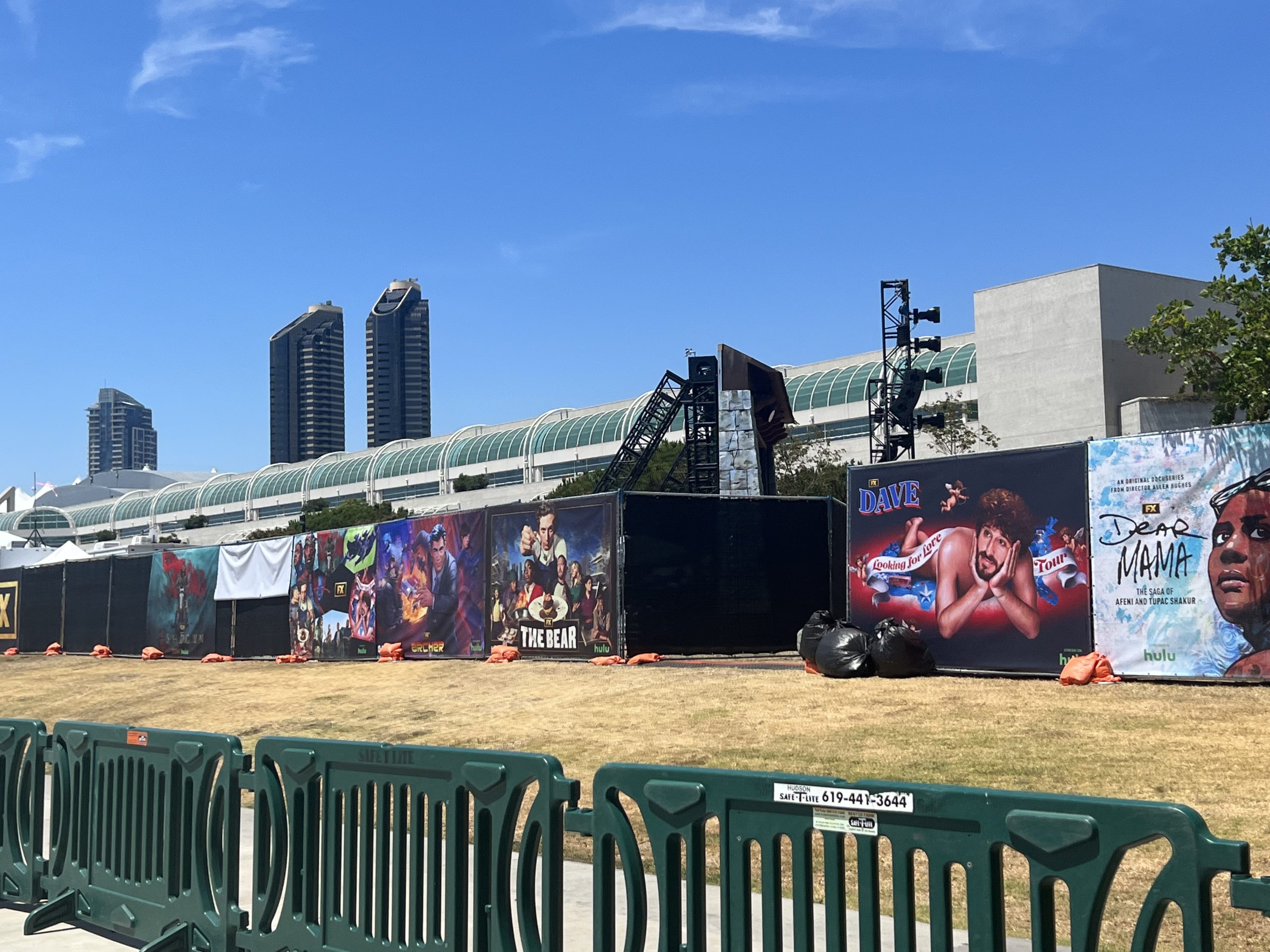 Meanwhile at Animayhem, there's lots of movement and photo ops being set up.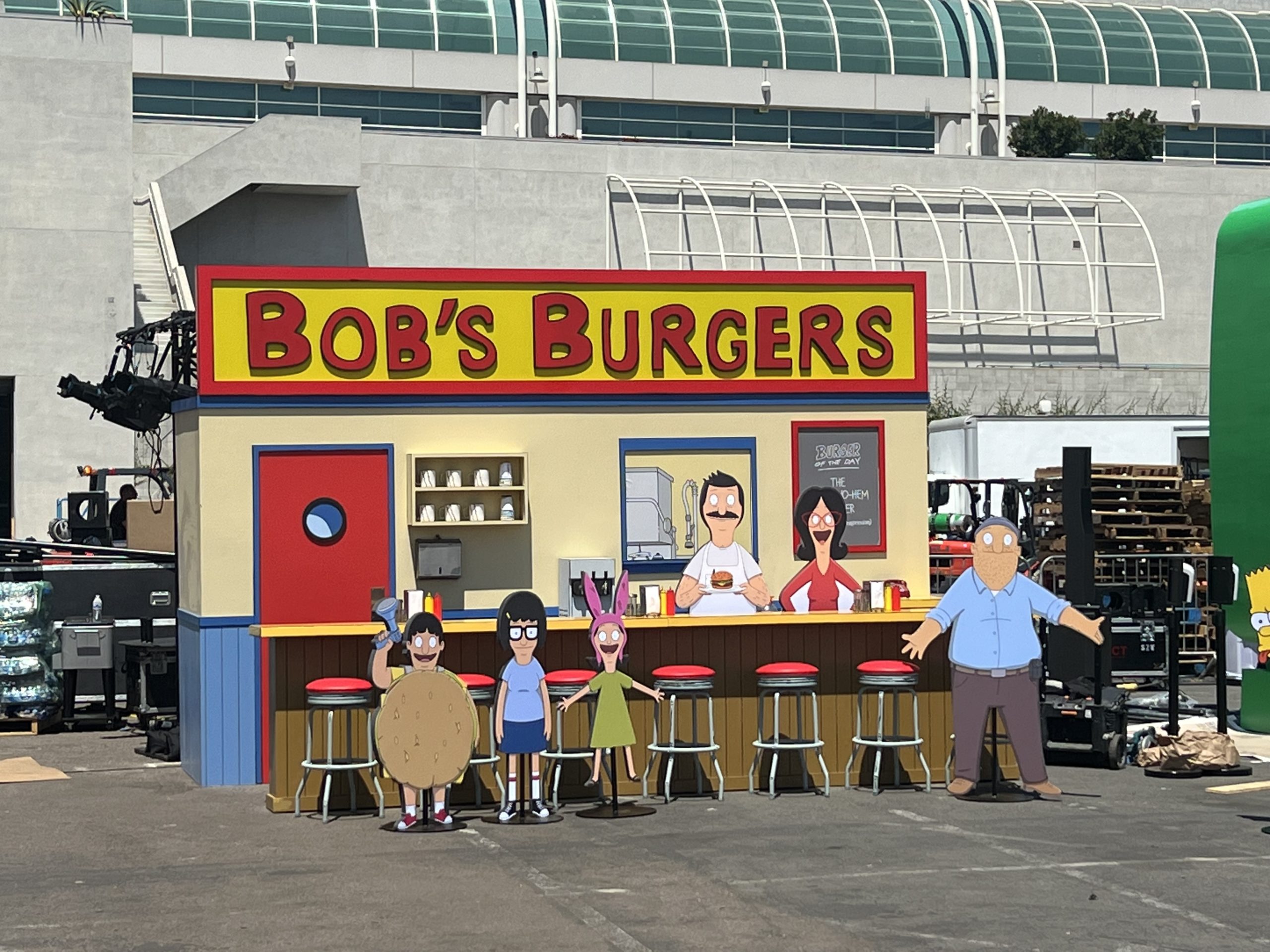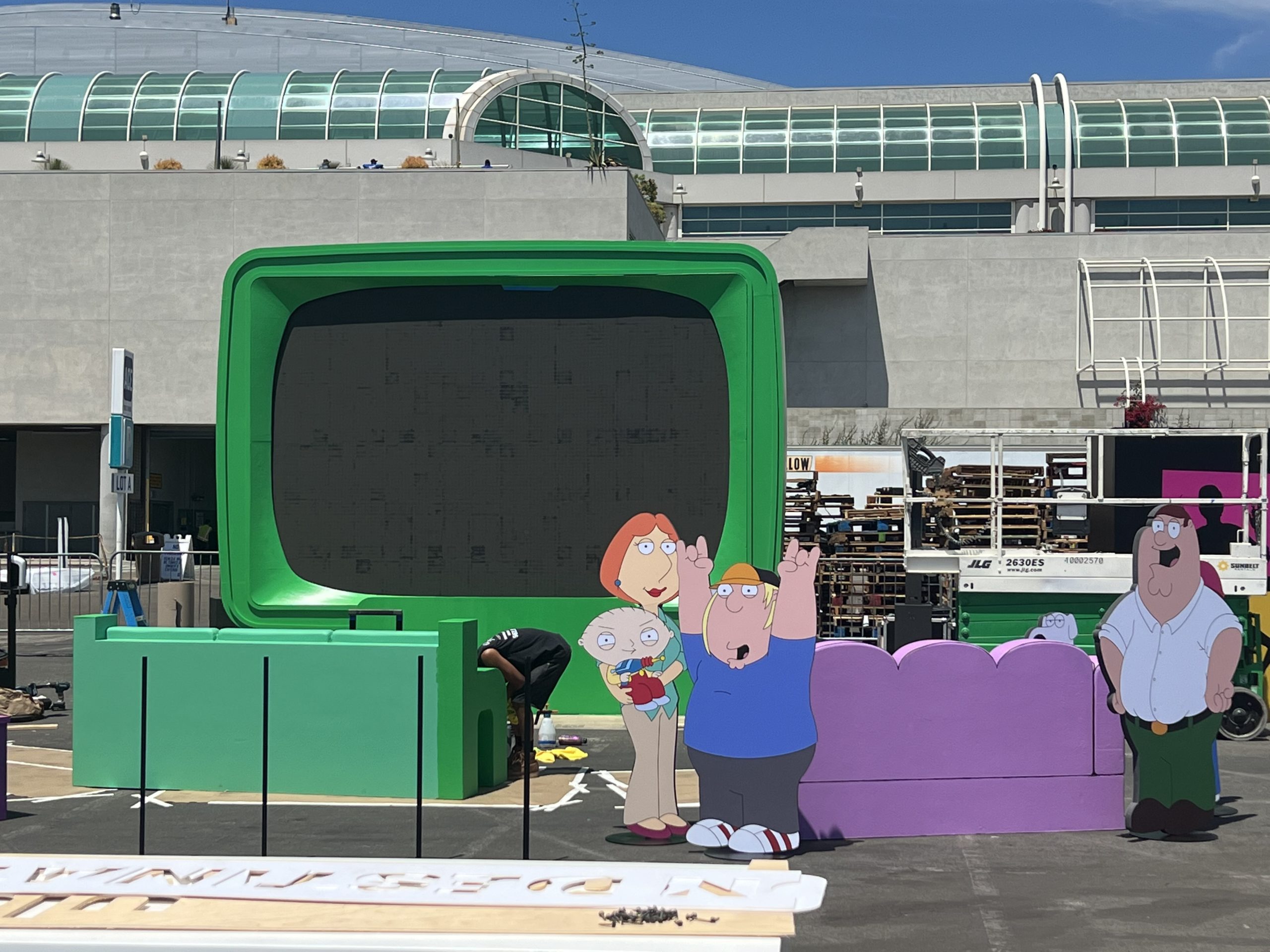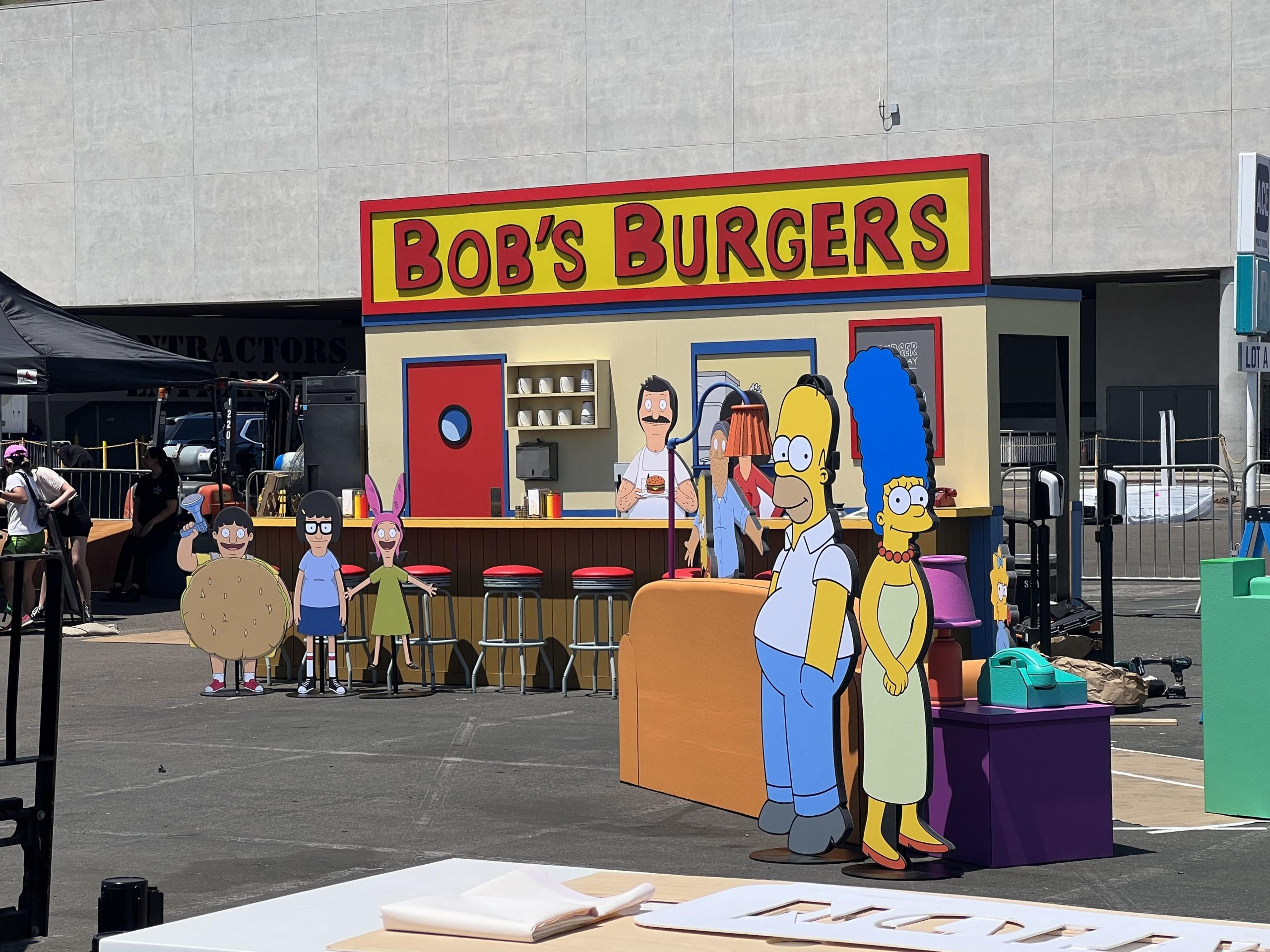 [UPDATE July 17]
Parks & Cons is back on the hunt, and they've uncovered the secret base of COBRA… aka the Super7 G.I. Joe pop-up store.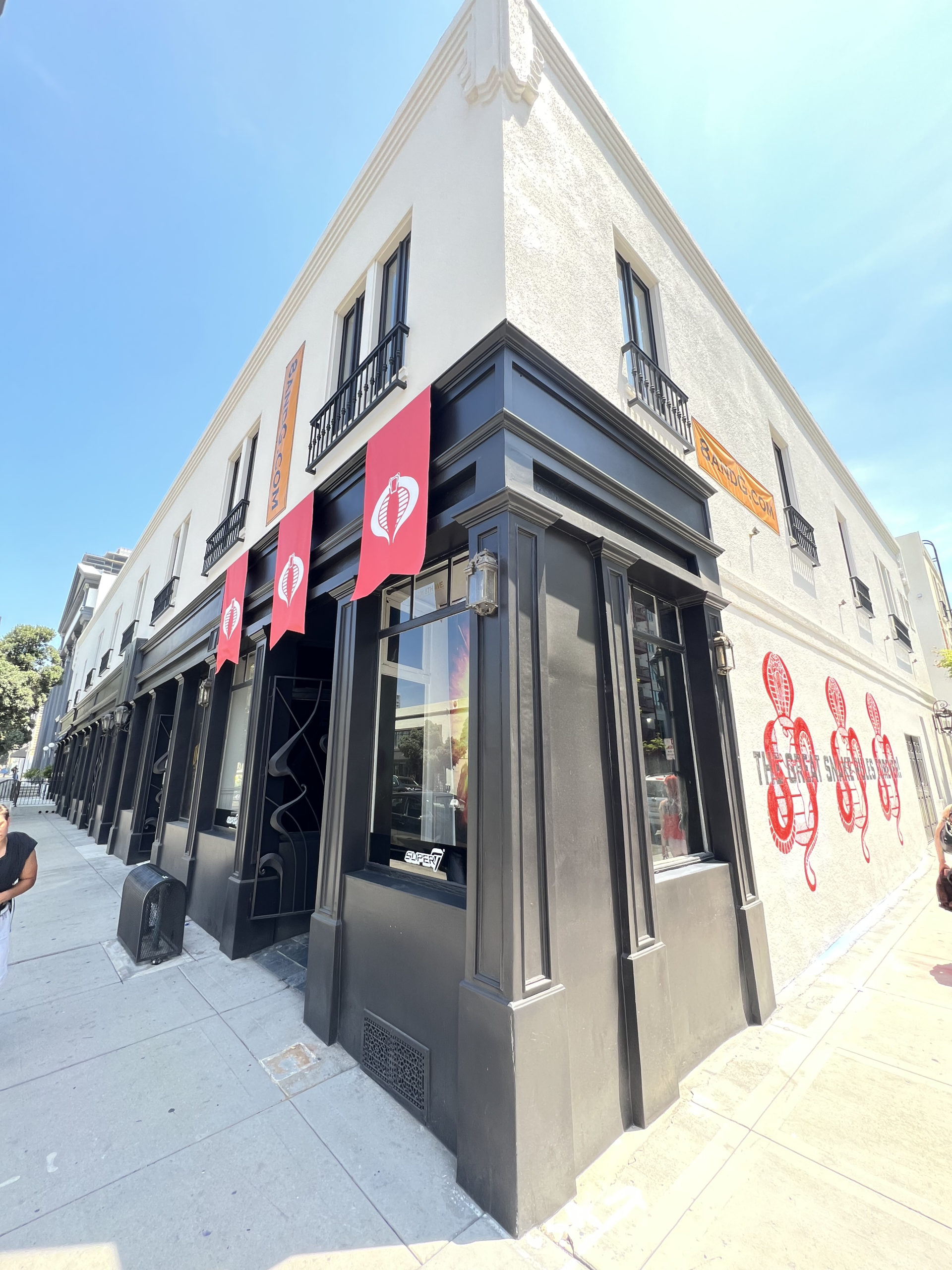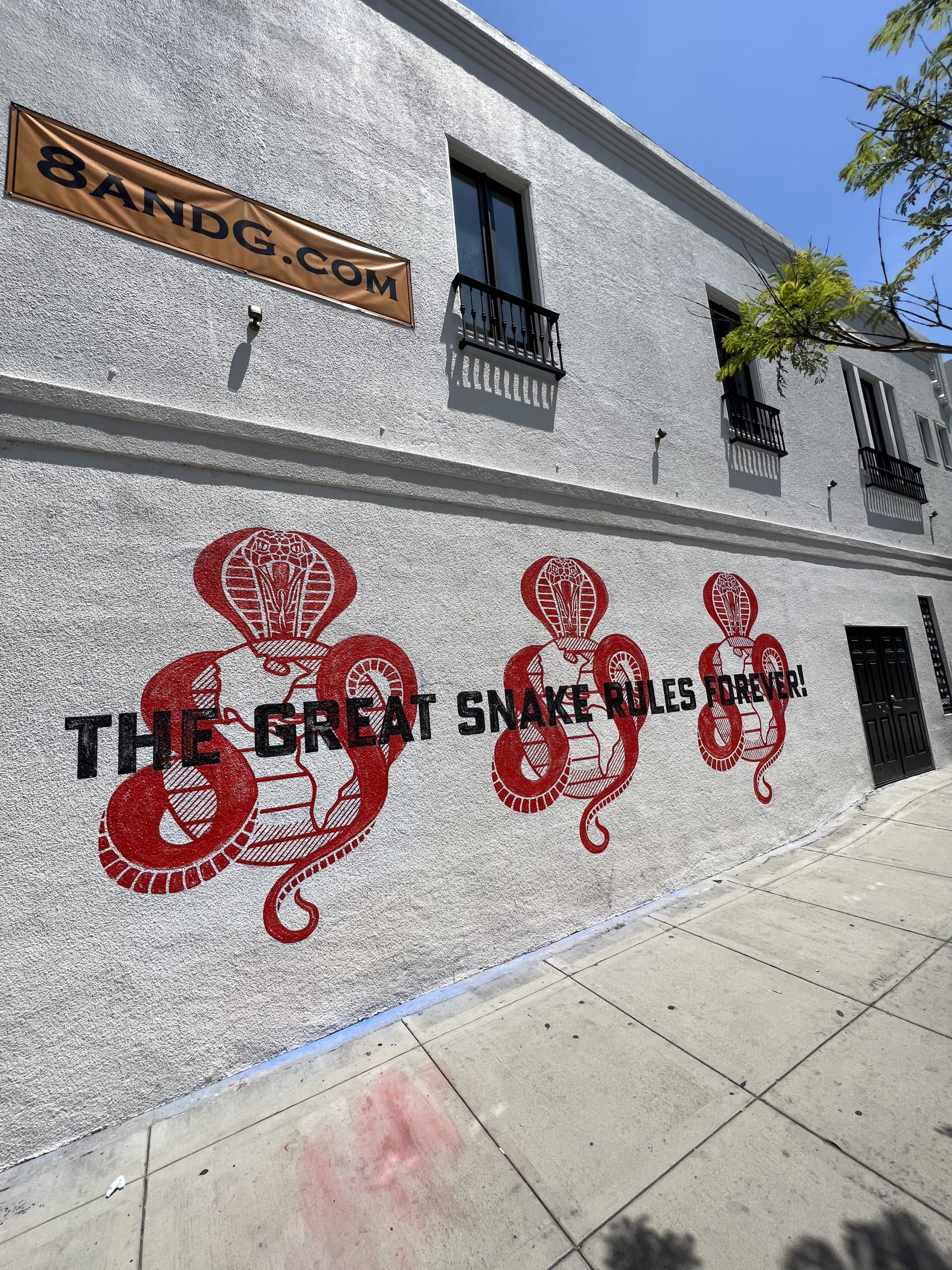 Over at the Roseanne Lanford Days offsite, work has just begun.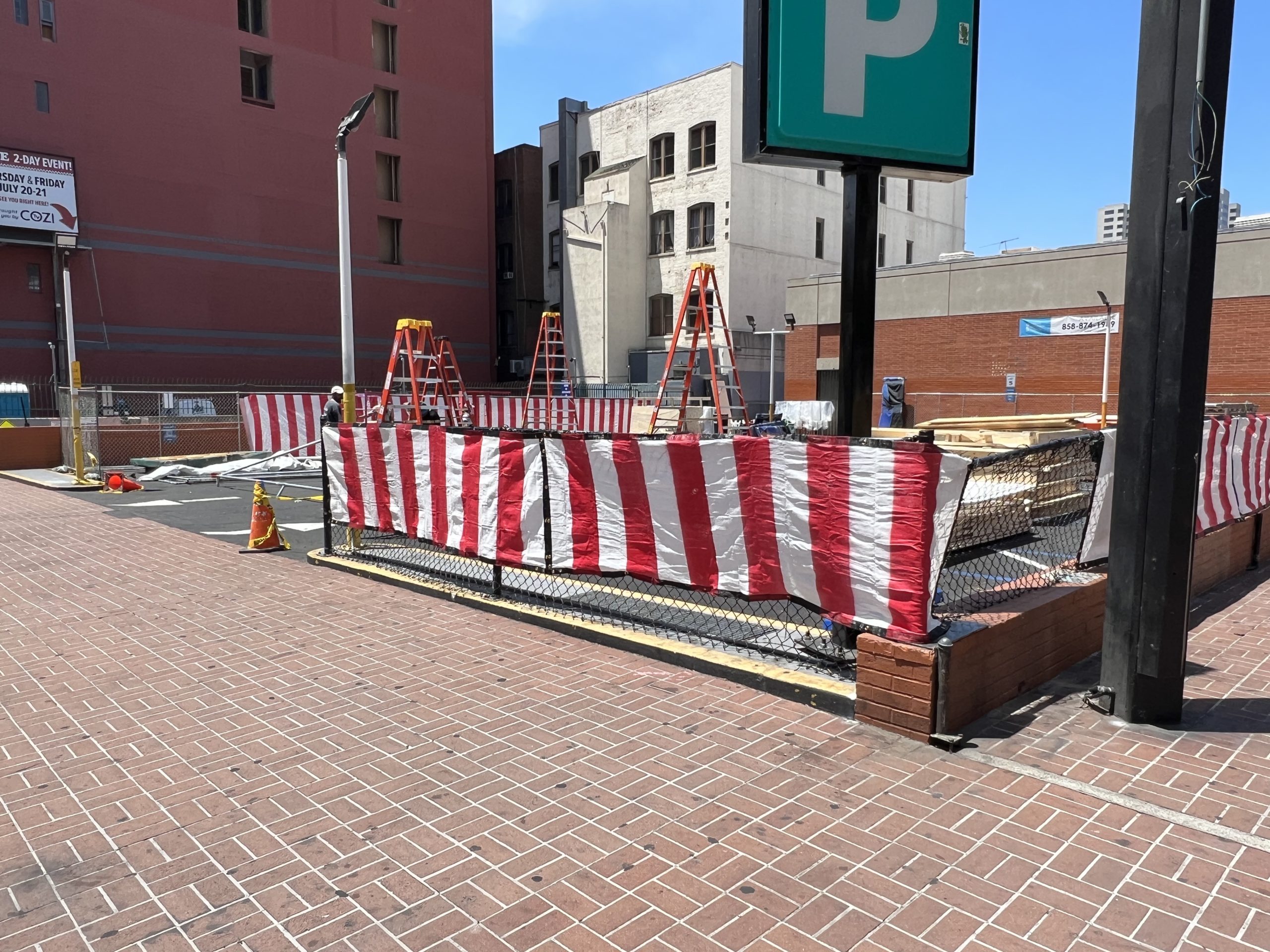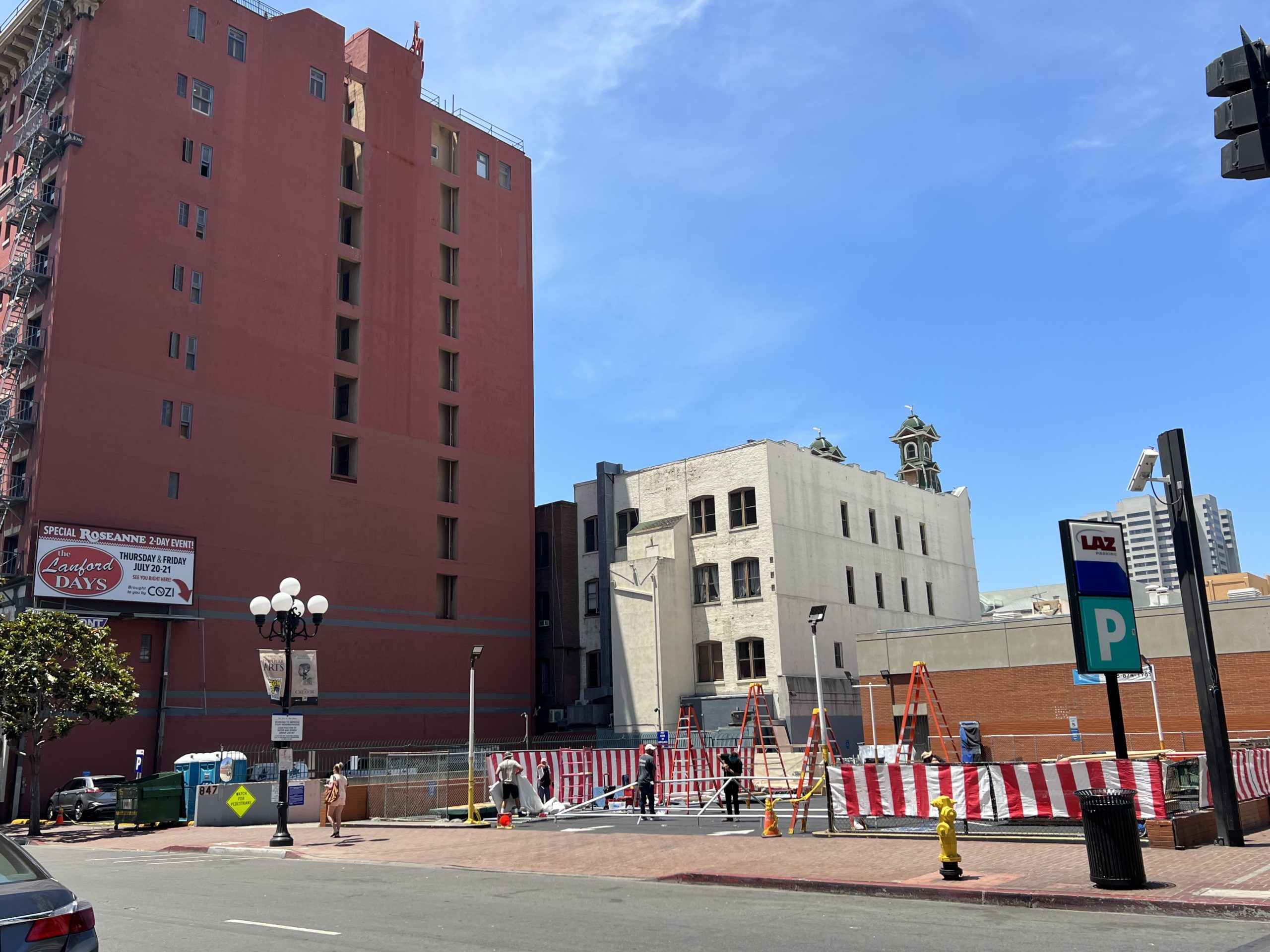 At Paramount+'s The Lodge, there are a few more signs out.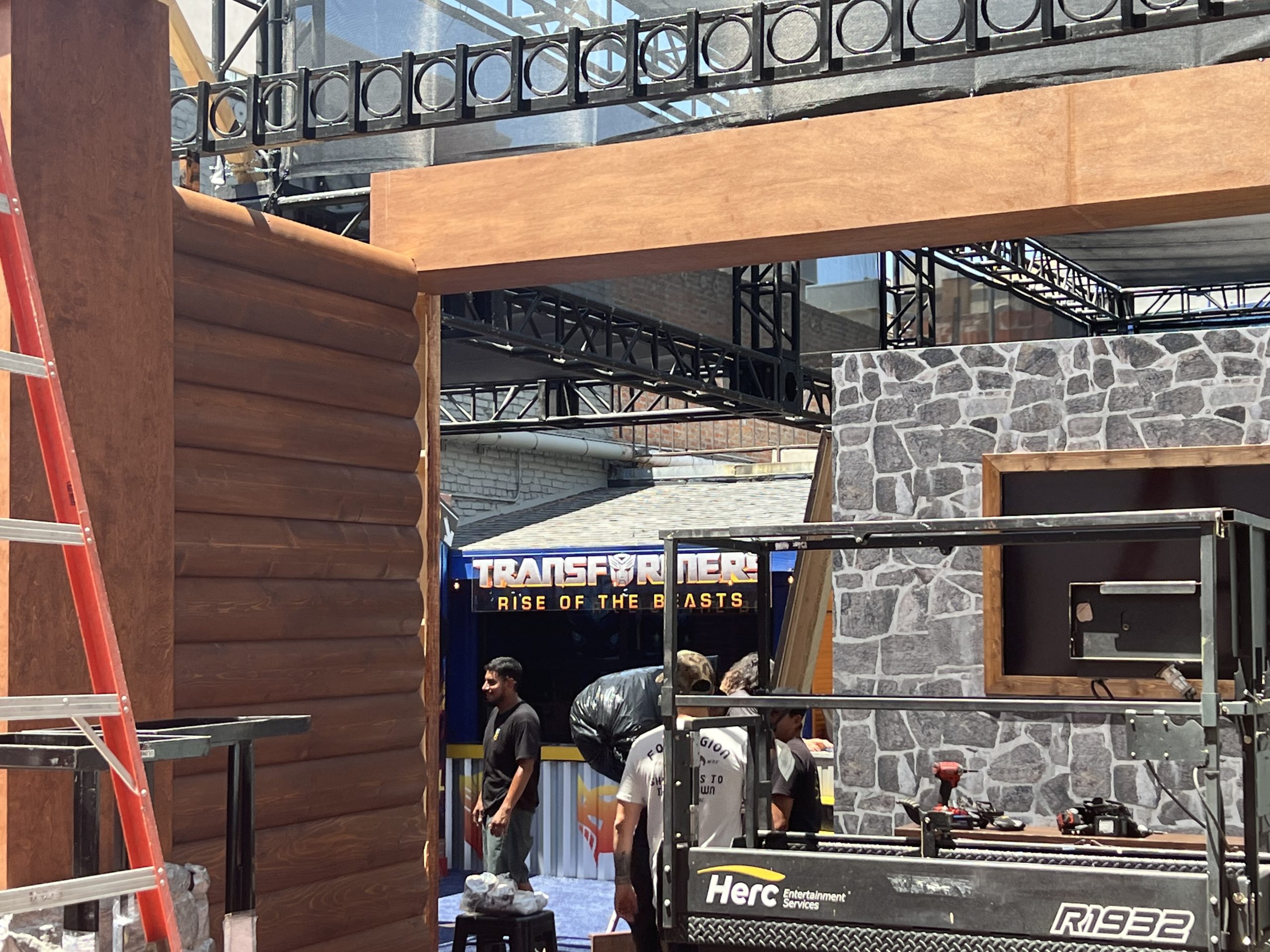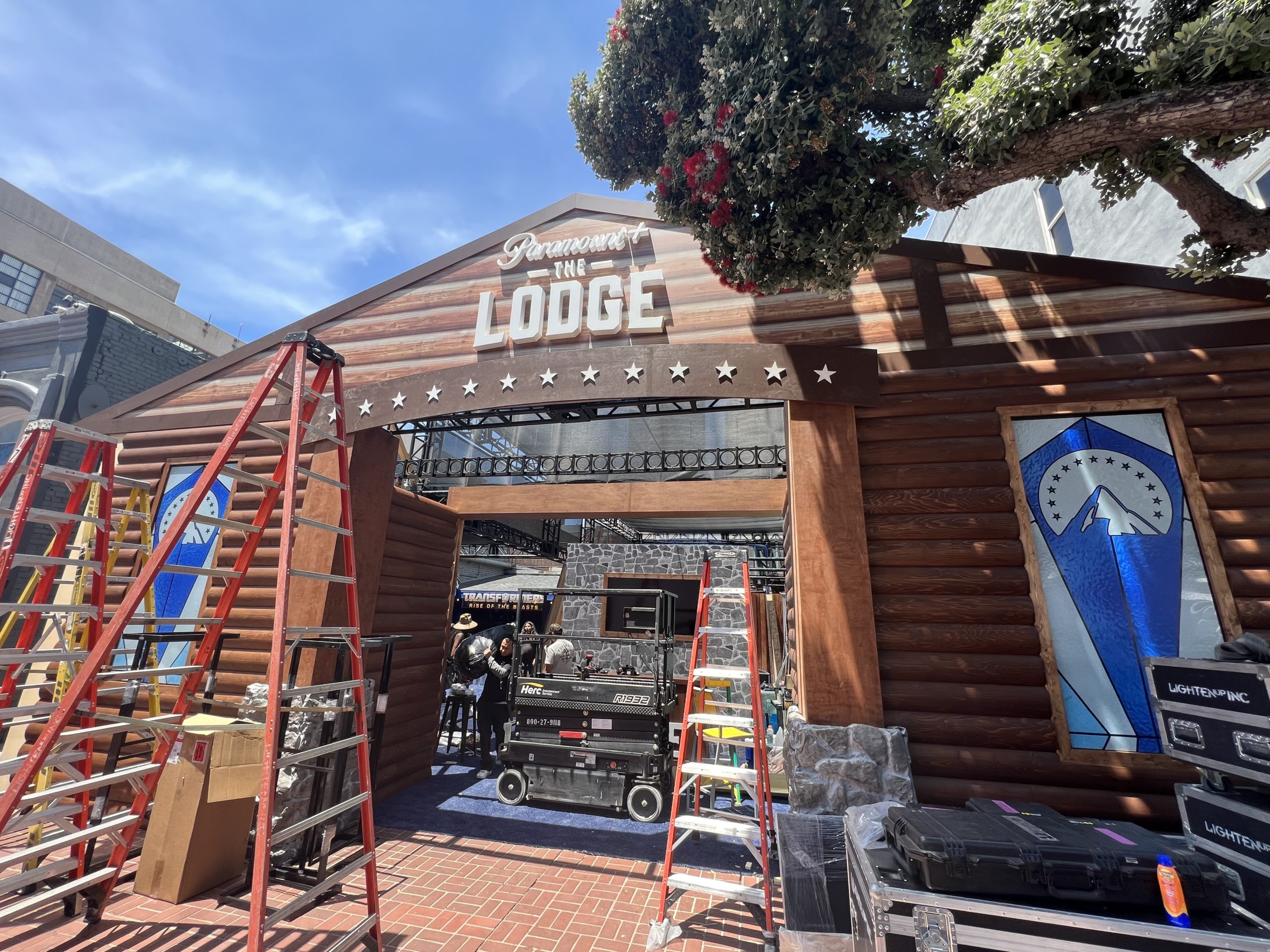 [UPDATE July 16 #2]
Over at FX, there's a fortress with some very distinct architecture and a giant screen. Could this be for Shogun? We suspect the footage they were showing was solely for testing purposes.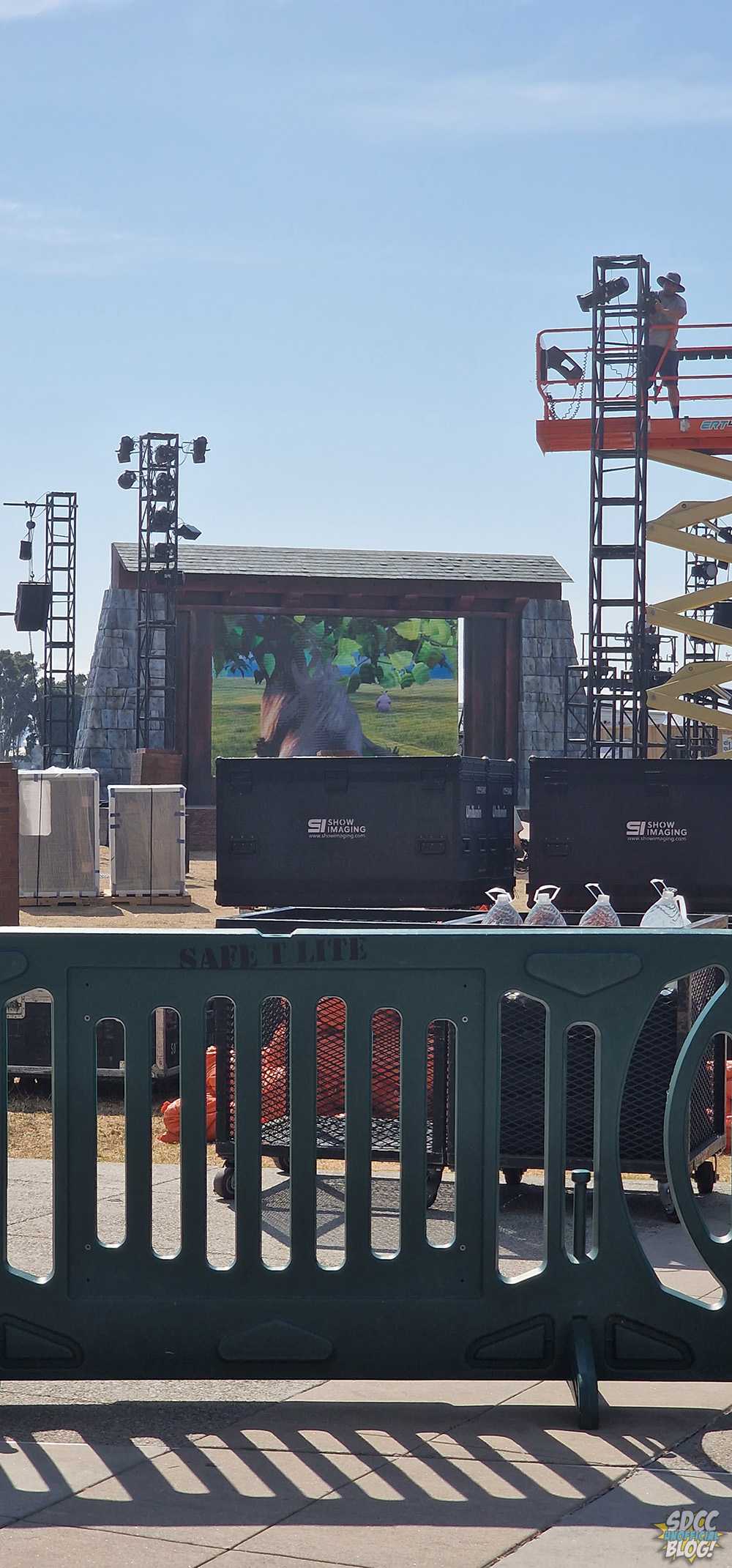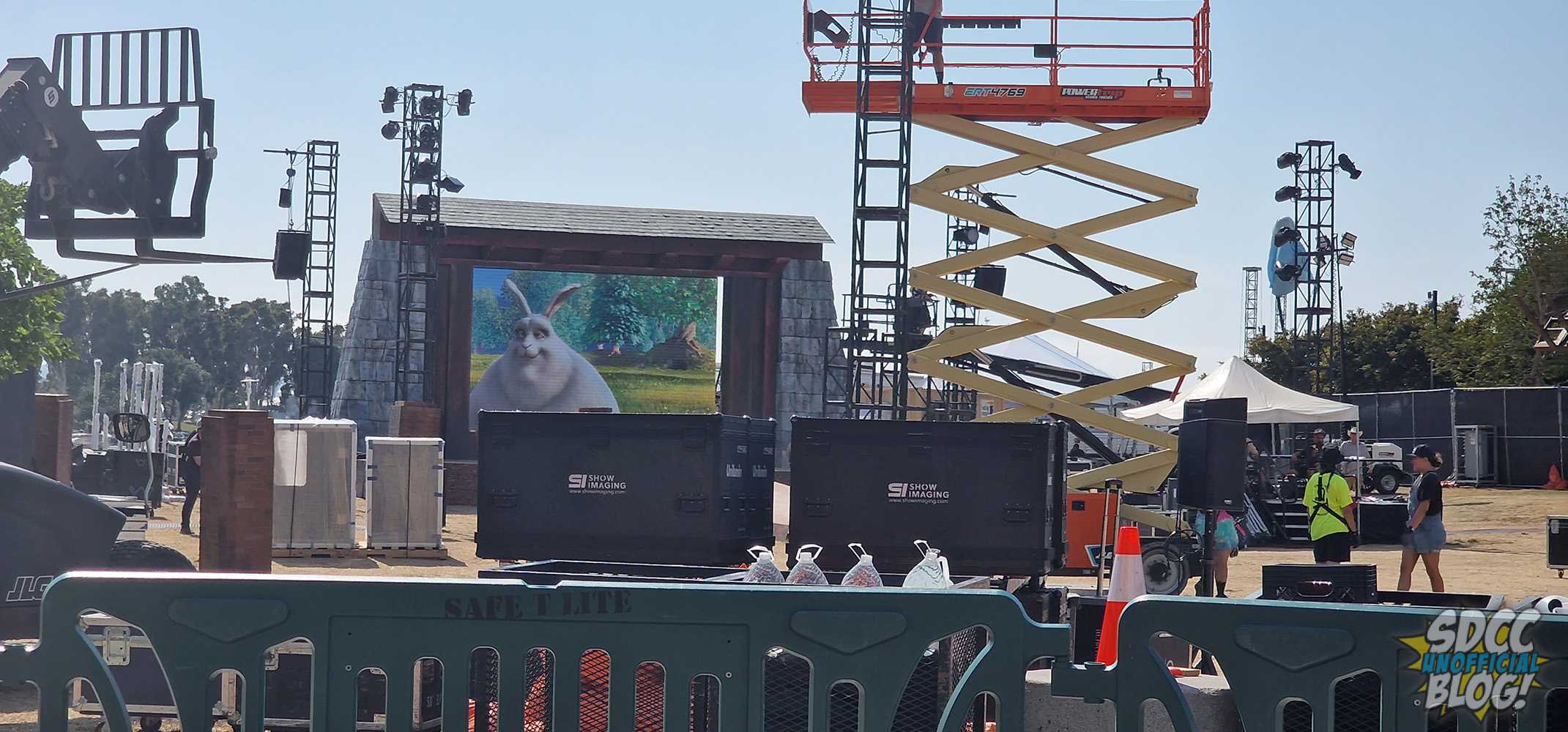 There's also been some updates over by the igloo, with a new white building also appearing.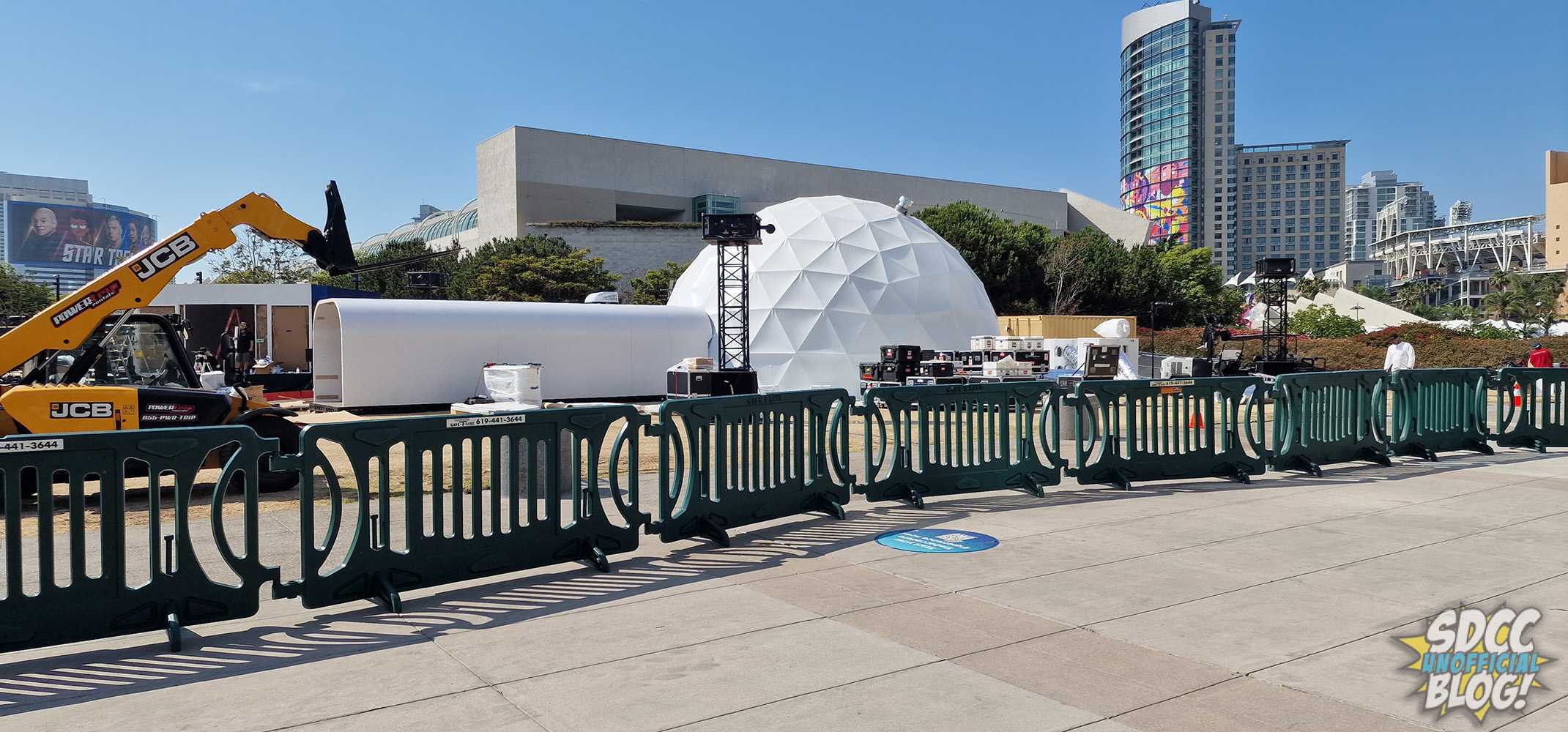 Nearby at Adult Swim, they're currently in the process of blowing up several inflatables, including Rick from Rick & Morty, what appears to be Robot Chicken, and Pim Pimling from Smiling Friends.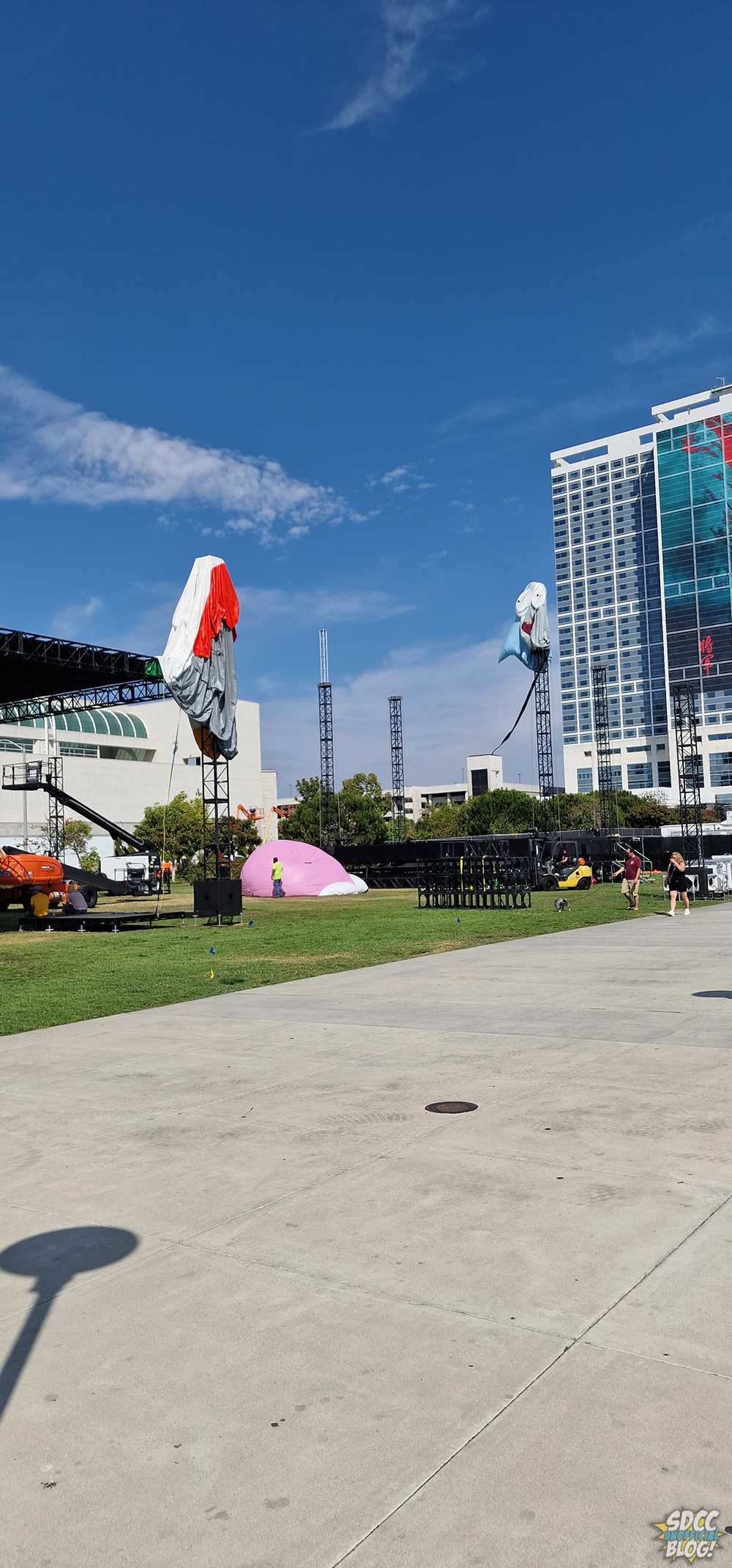 At Hulu Animayhem, we're intrigued by what appears to be a giant touchscreen near the Bob's Burgers setup.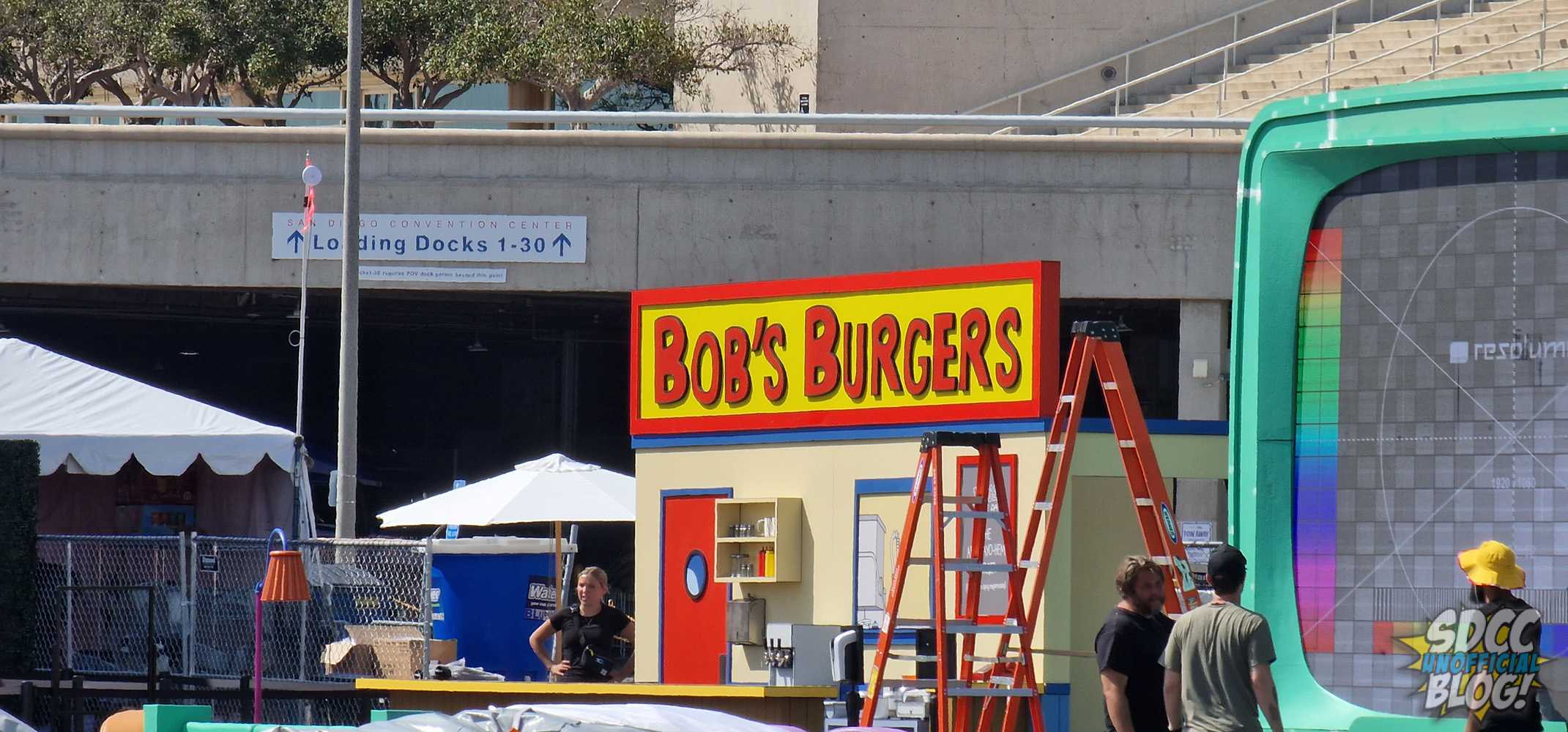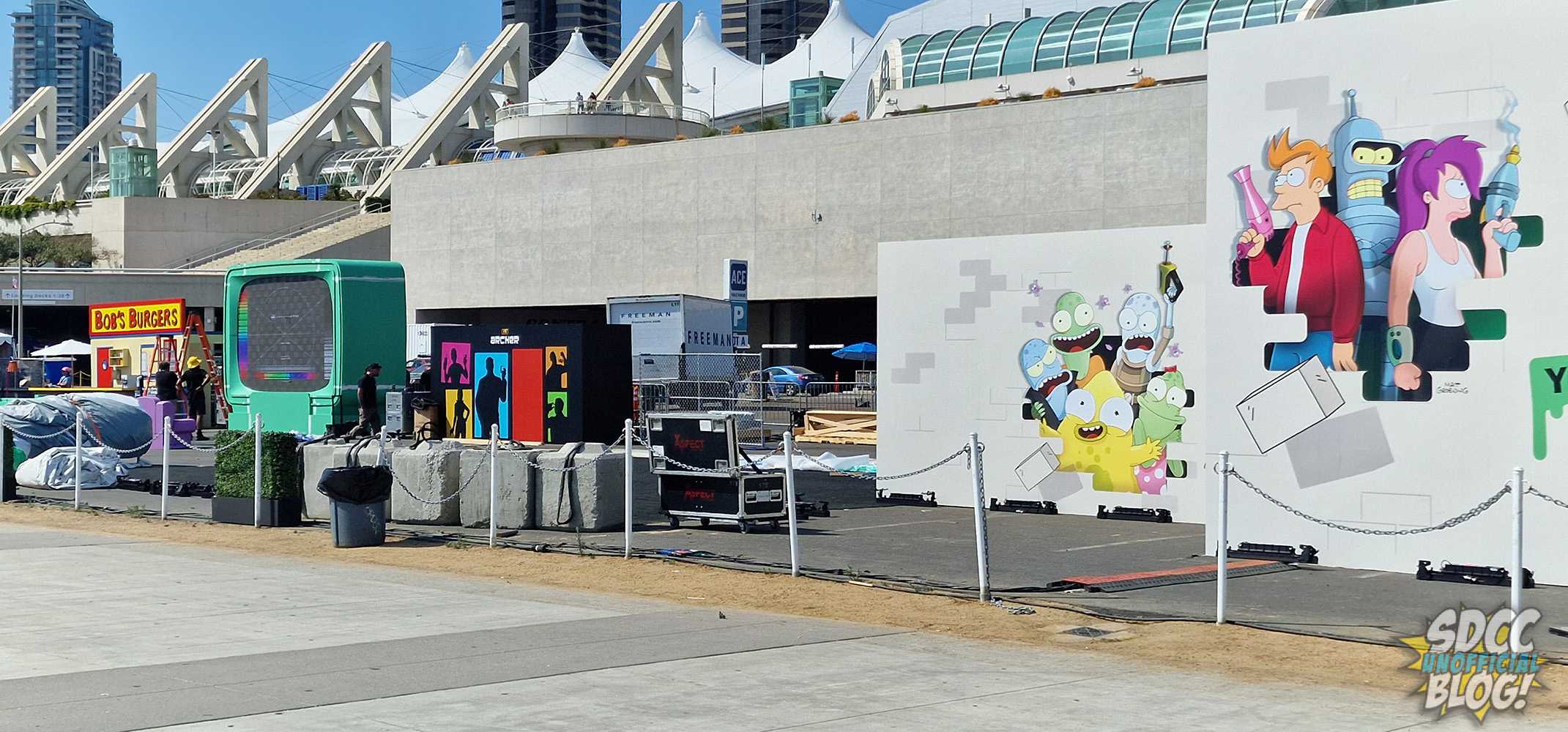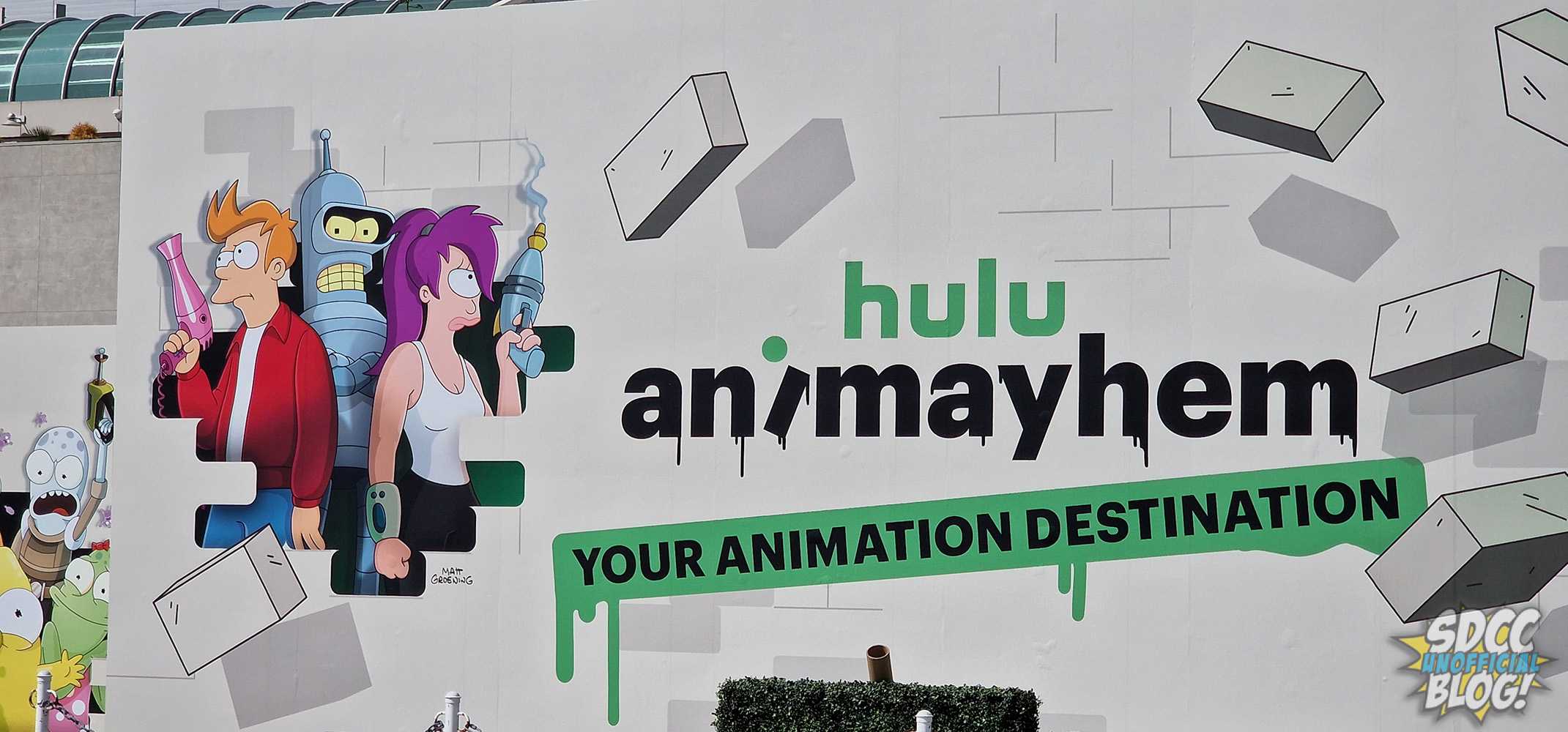 [UPDATE July 16]
Over at probably-but-not-officially FX, the dome appears to be an igloo! The icebergs make a lot more sense now.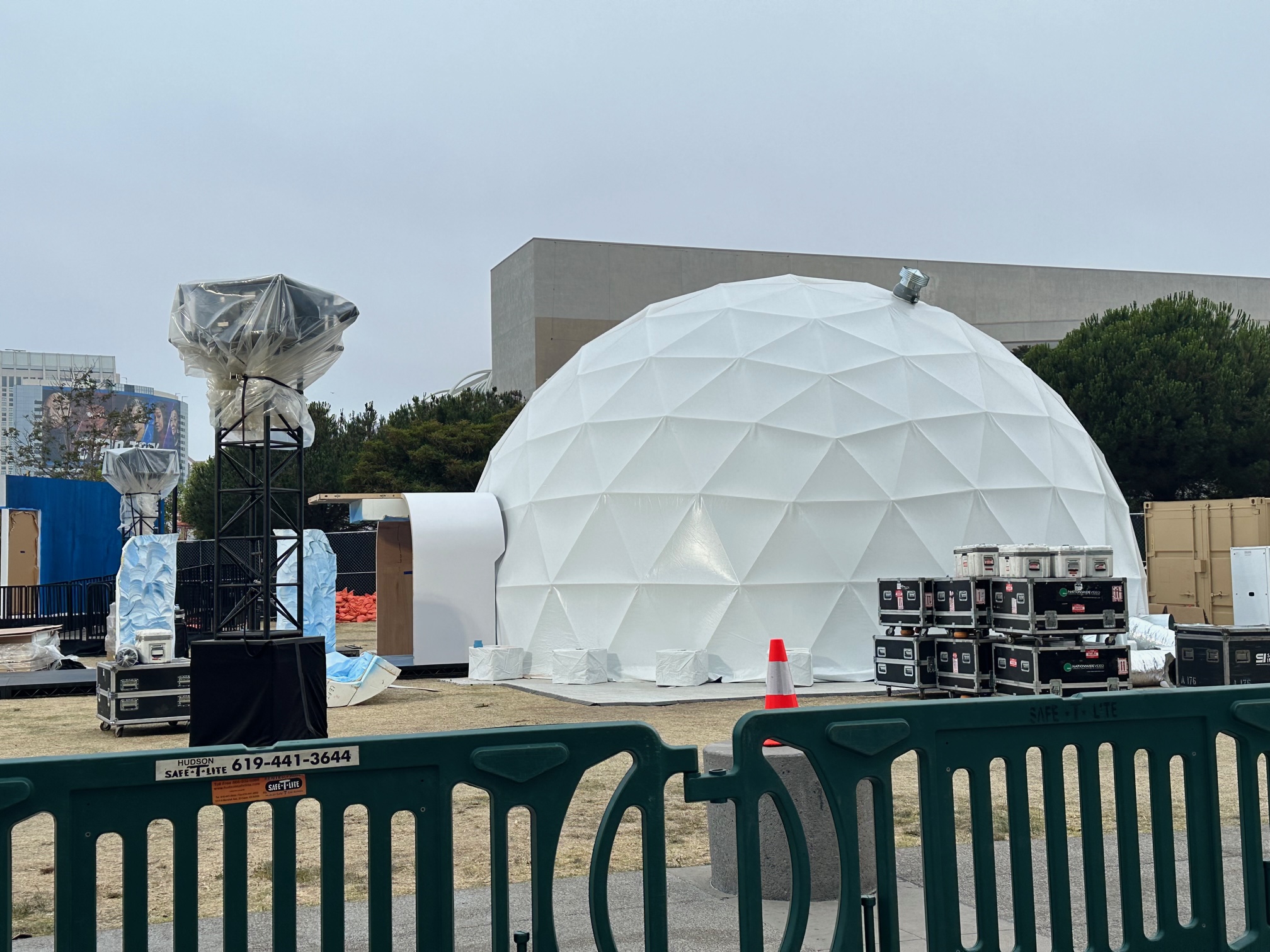 At Hulu Animayhem, there are more inflatables out, including the Futurama Planet Express.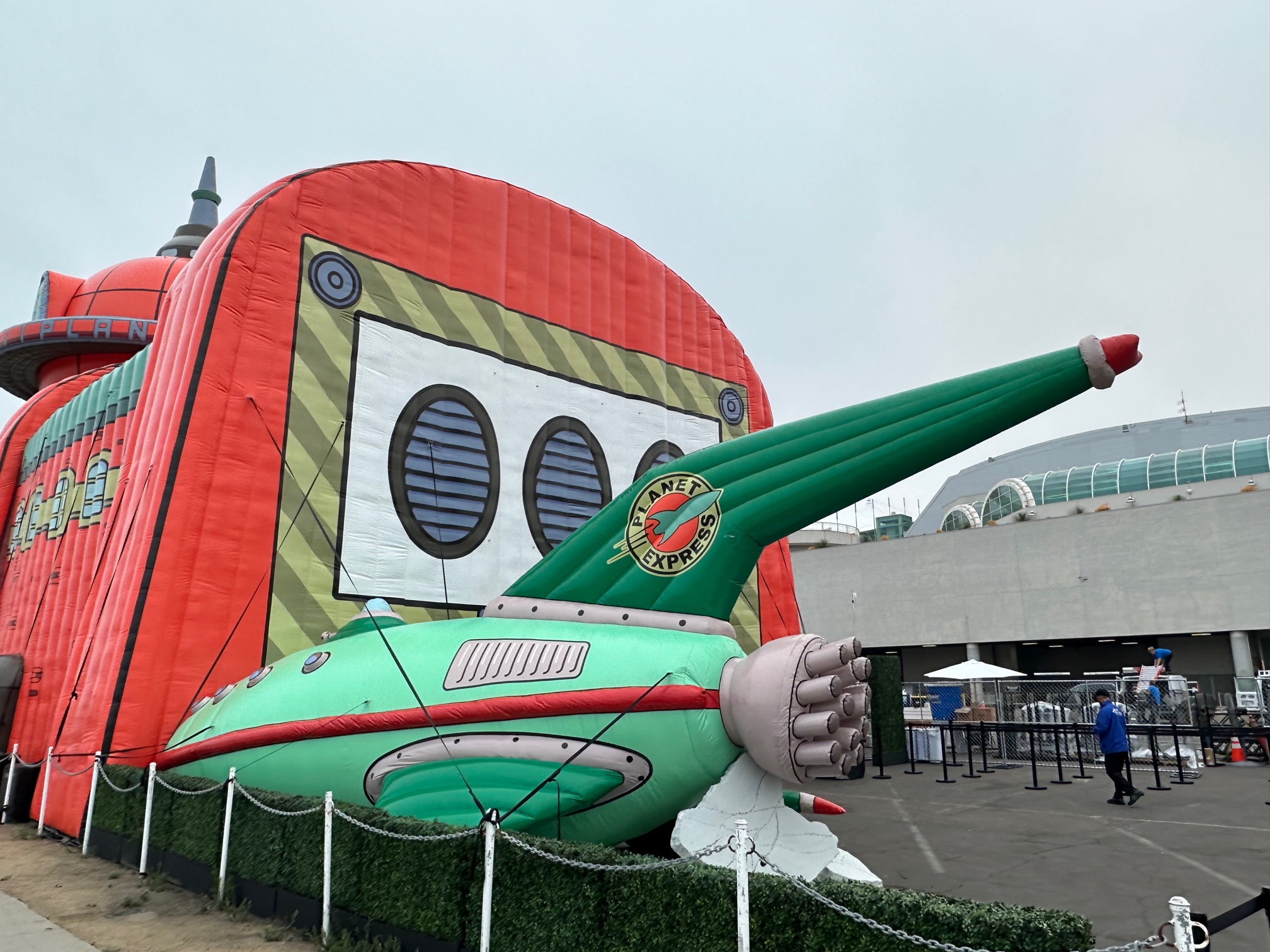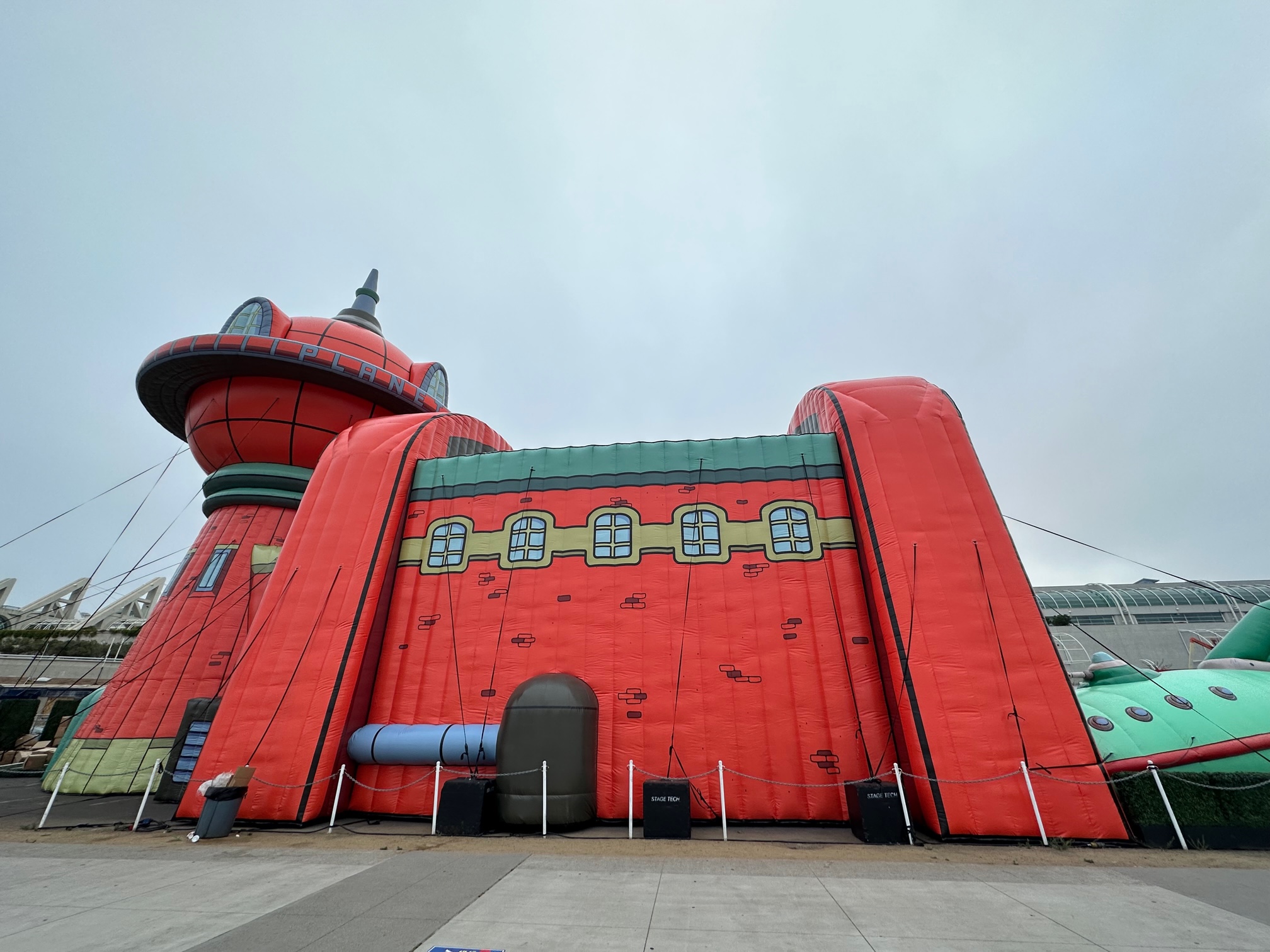 There's also been movement on some of the other builds.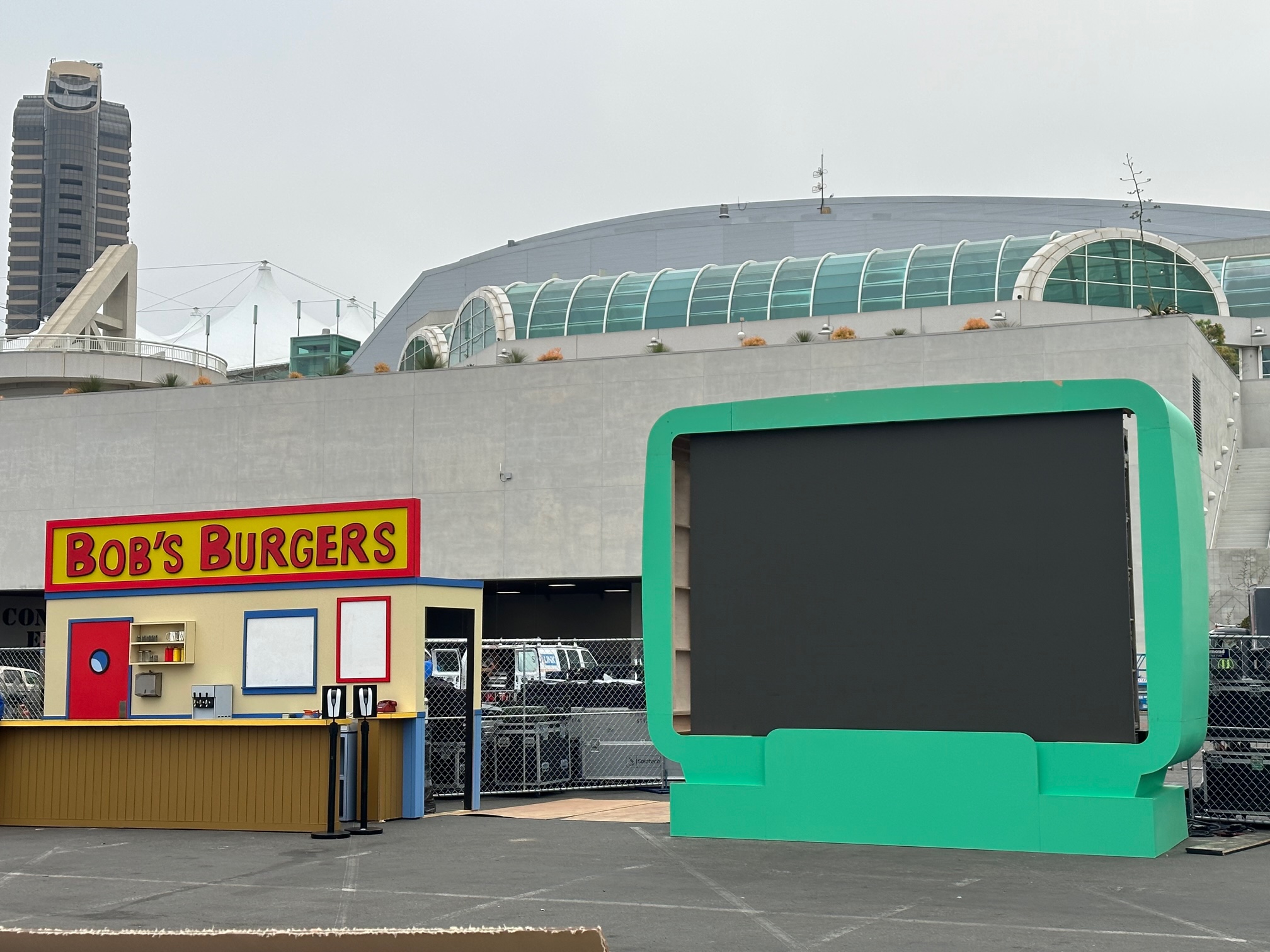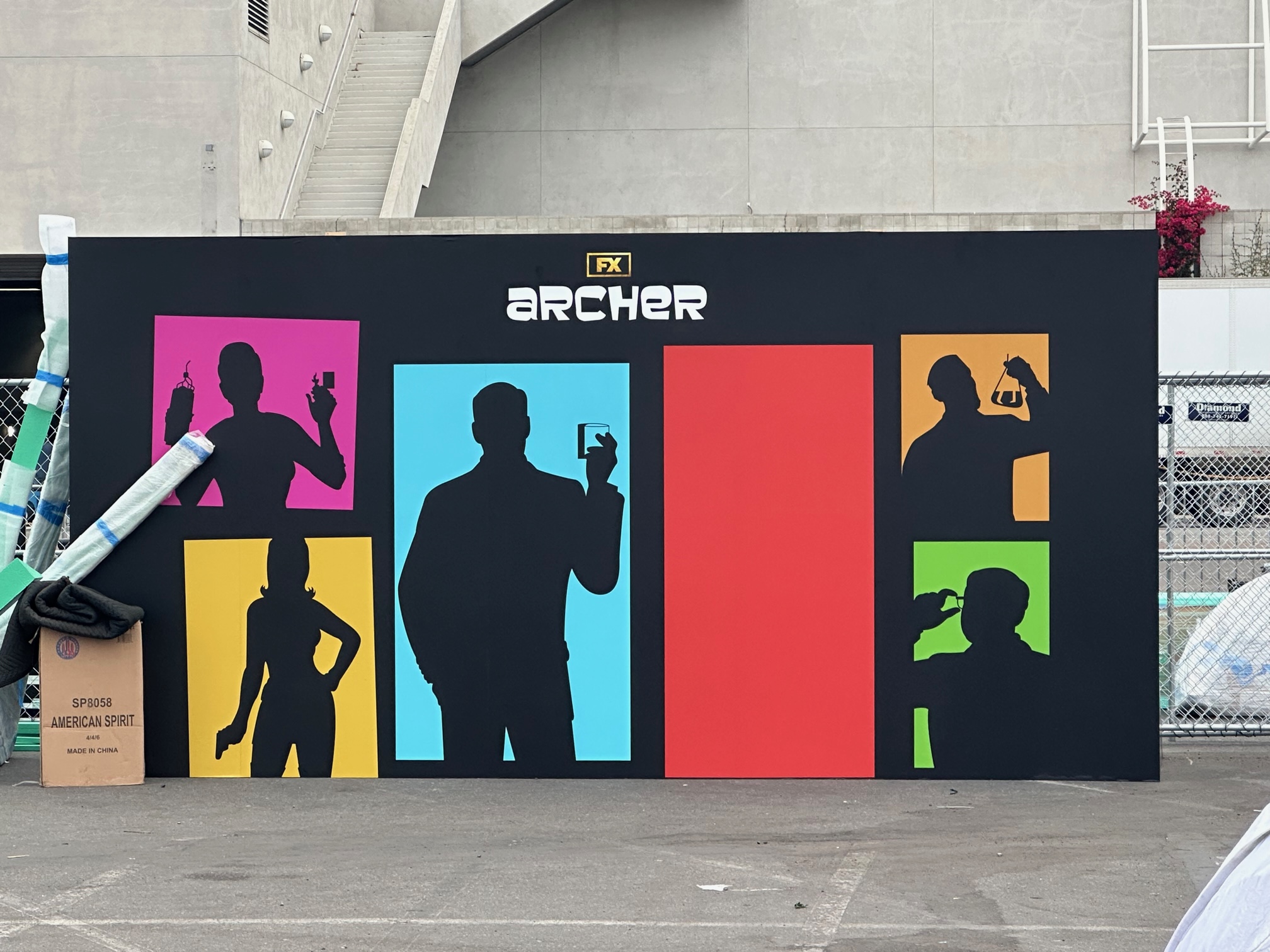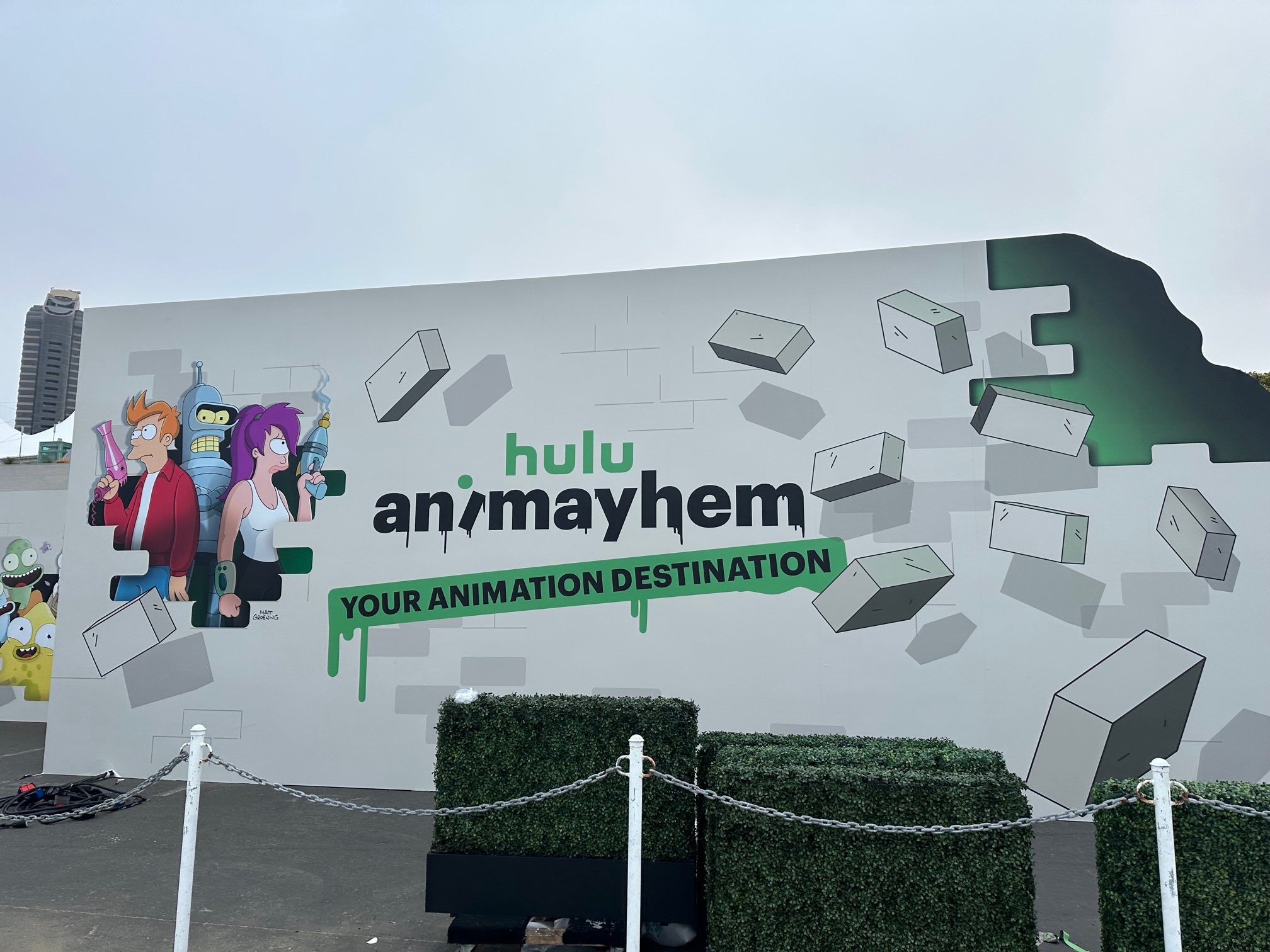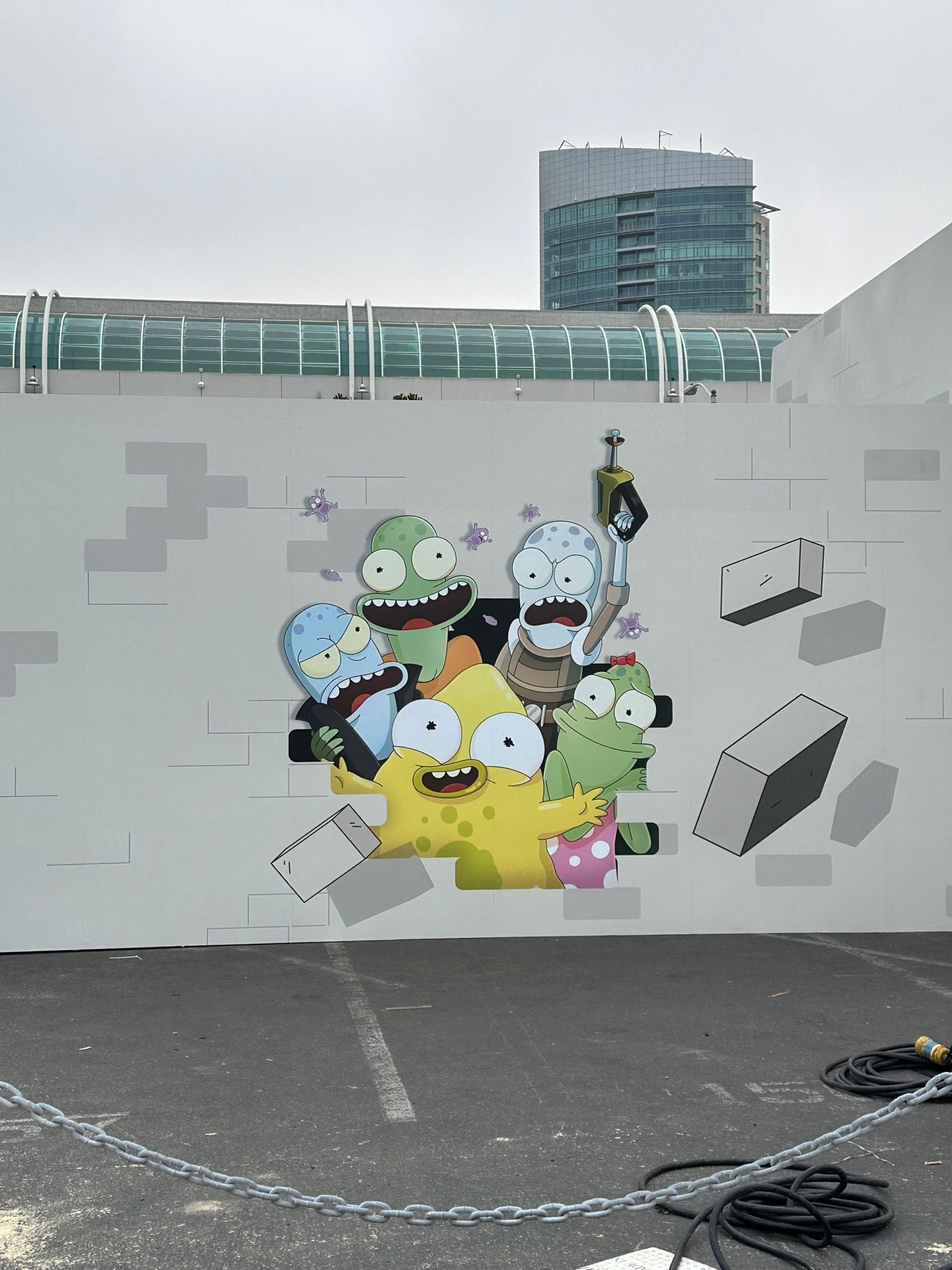 [UPDATE July 15 #2]
Over at the offsite that-is-probably-but-not-officially FX, there is… a dome!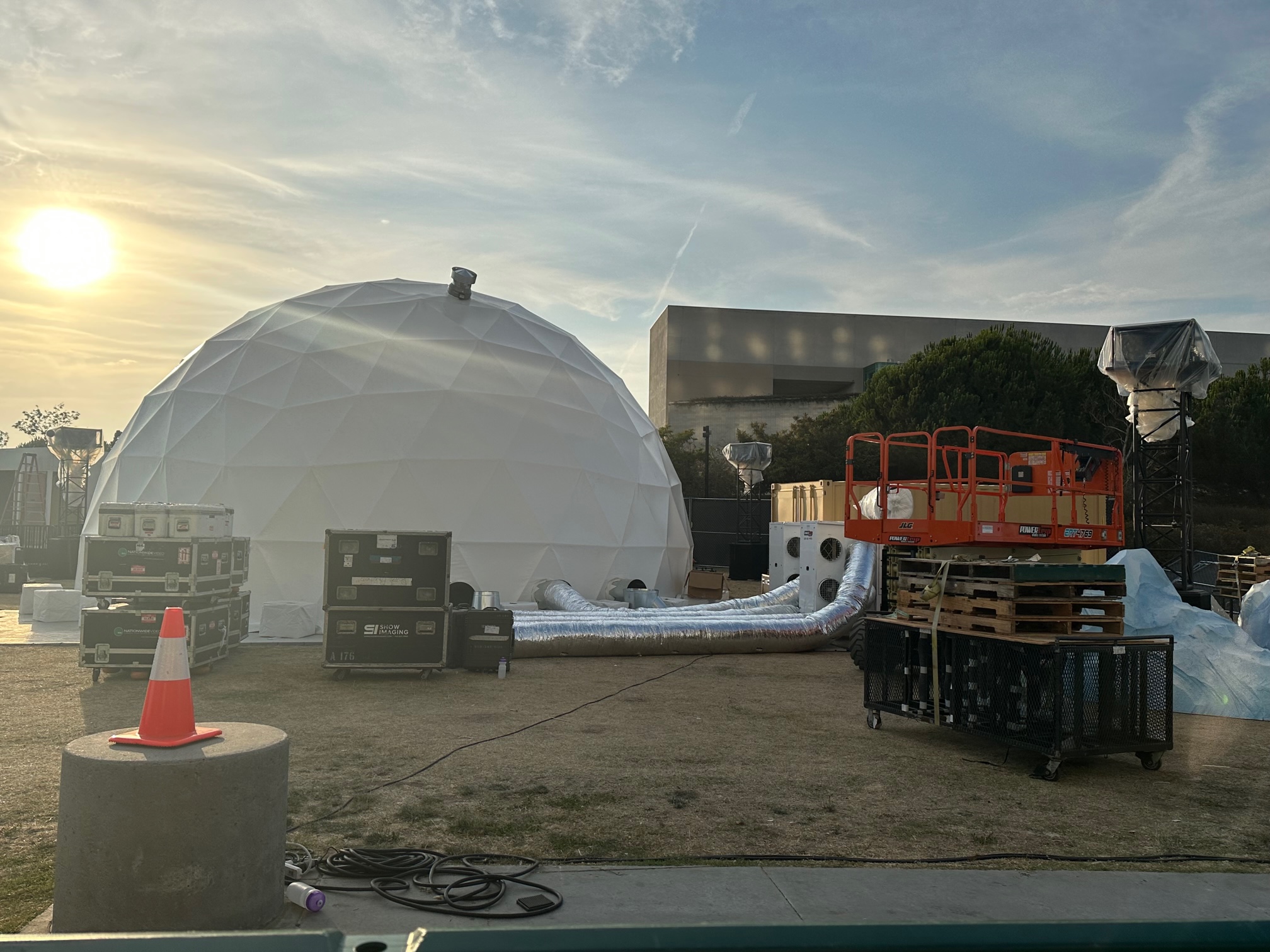 And what look to be icebergs? We have a sinking (no pun intended) suspicious that this could be for Shogun, but we really don't know.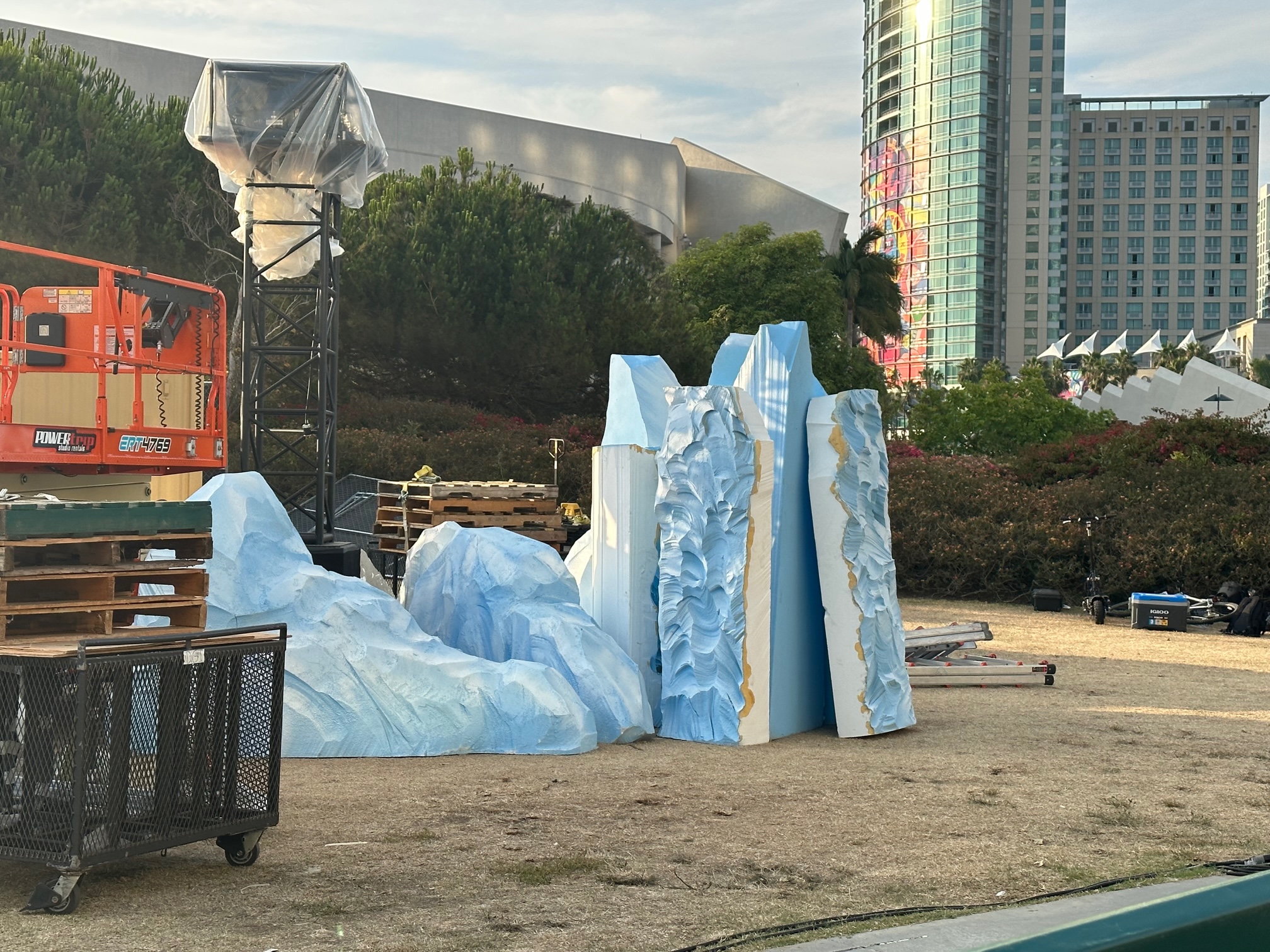 Elsewhere, Paramount+ continues their mega takeover at SDCC. Is any company going as all-out this year as Paramount+? We think not, honestly, between their trolley wraps, building wraps, and what sounds like one of the most fun offsites at the con. The exterior has lots of fun details featuring the logo.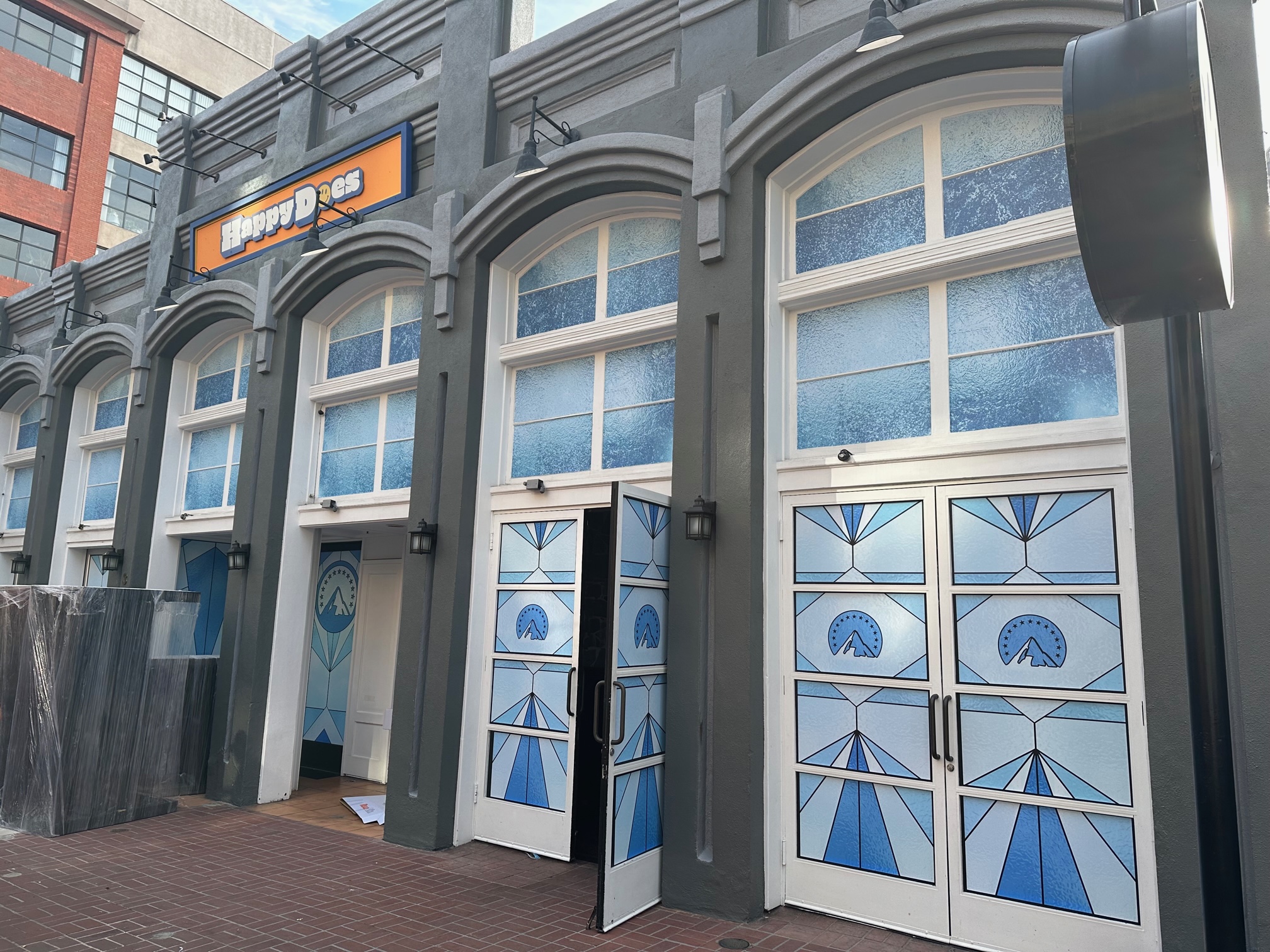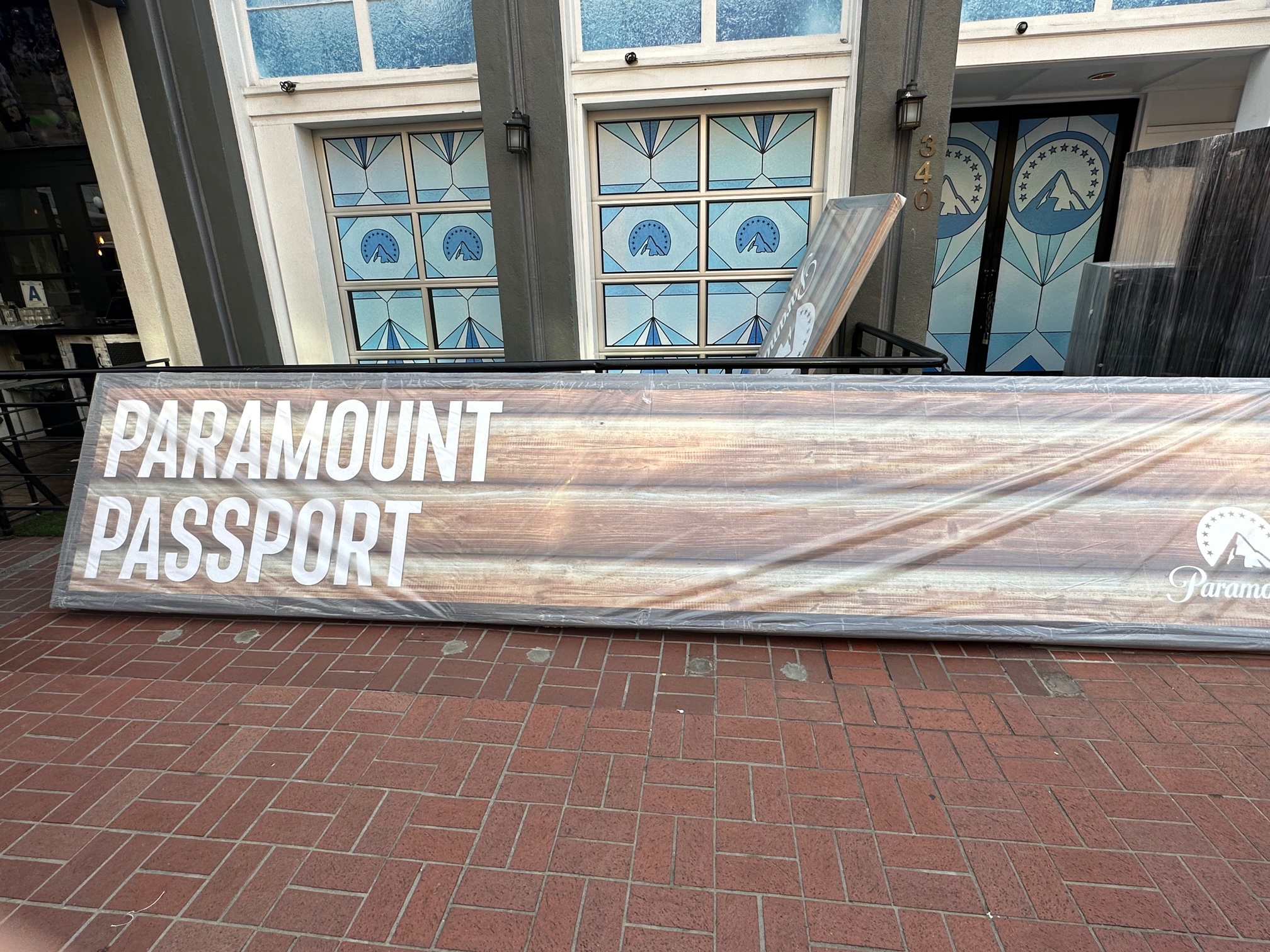 And we love the snowy mountains look on the inside of the door.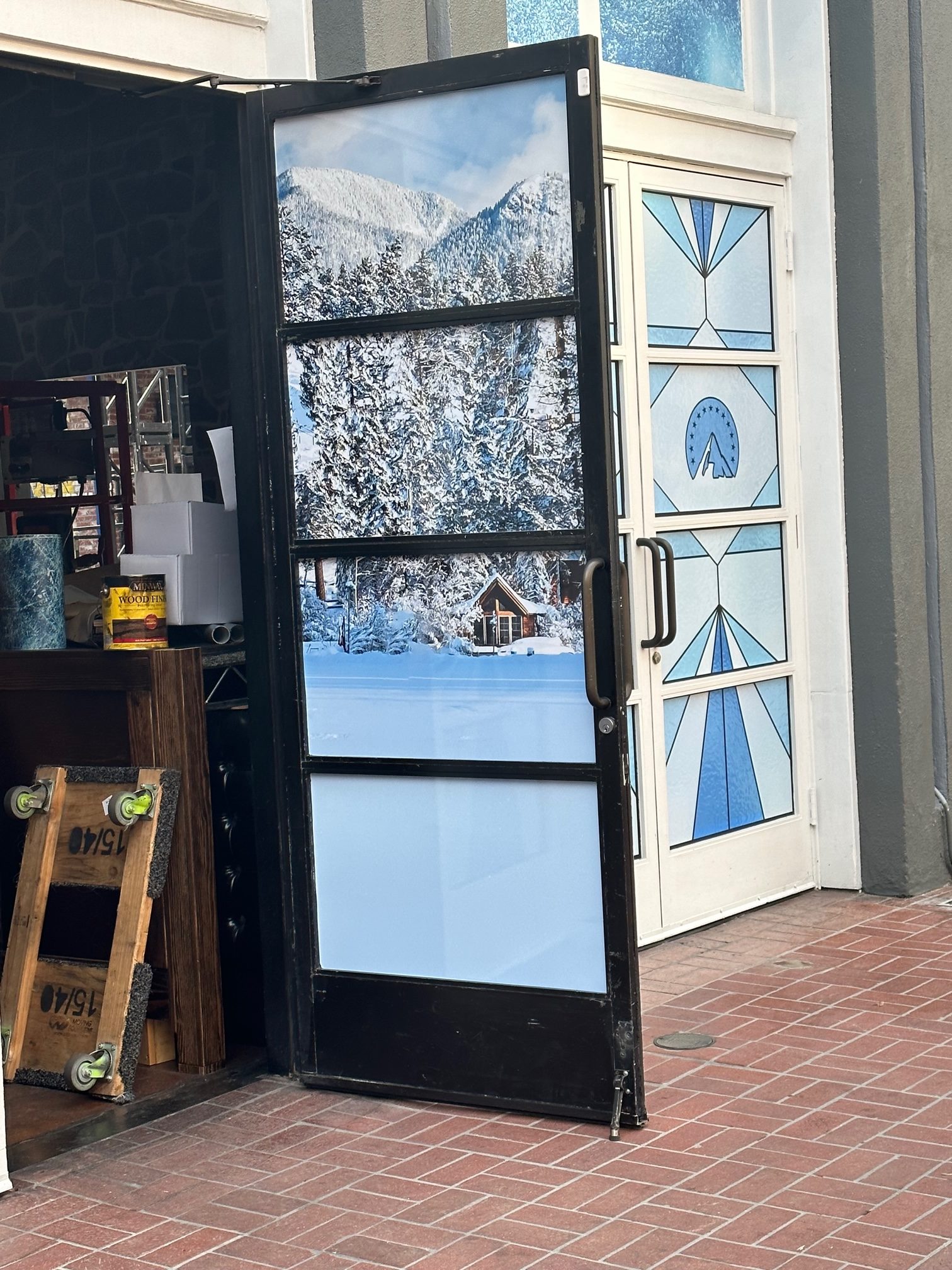 [UPDATE July 15]
Parks & Cons have now made the LEAP over to the site of the Quantum Leap activation (see what I did there?) which is near the location of Baja Rick's (formerly the Tin Fish).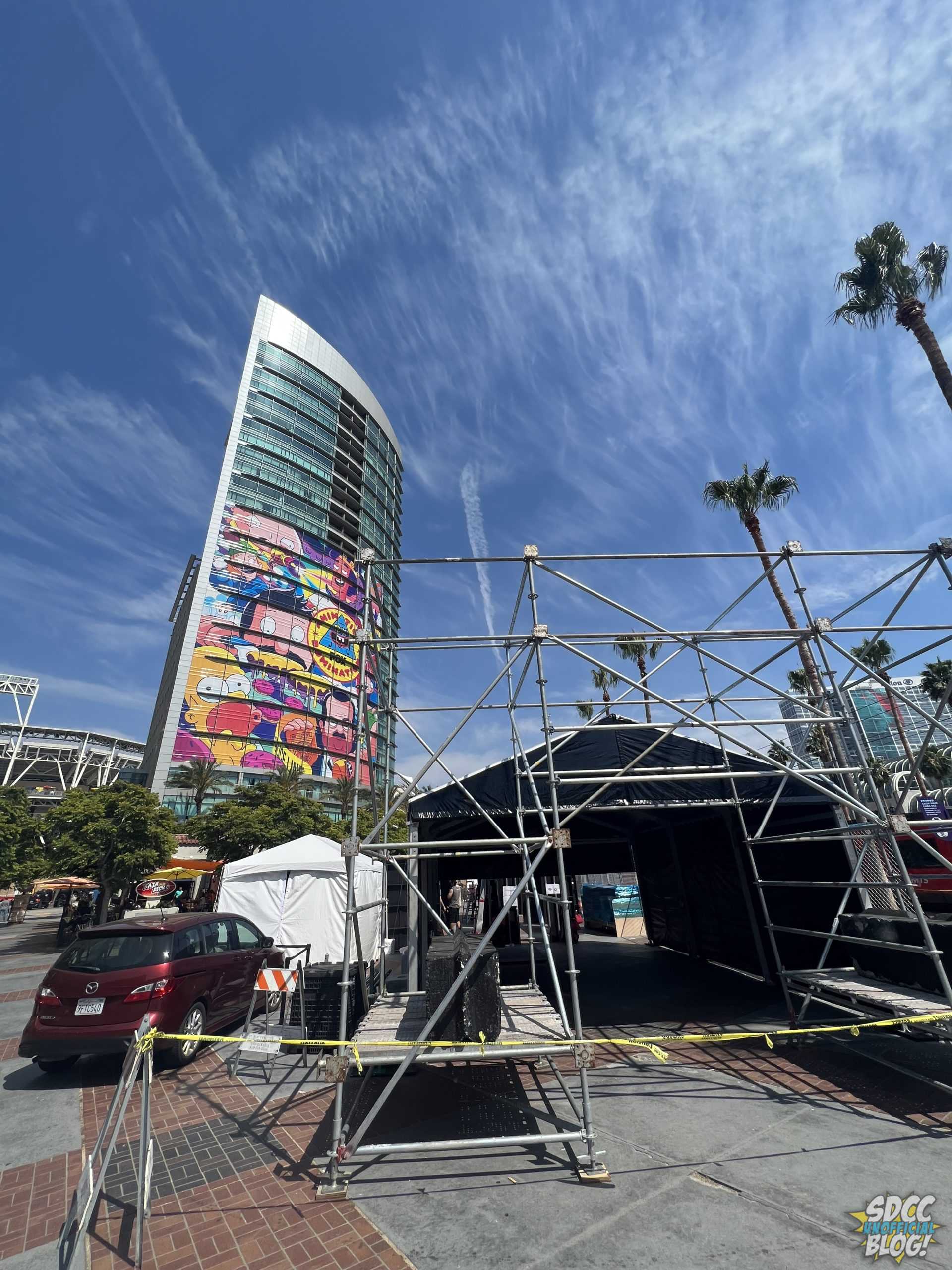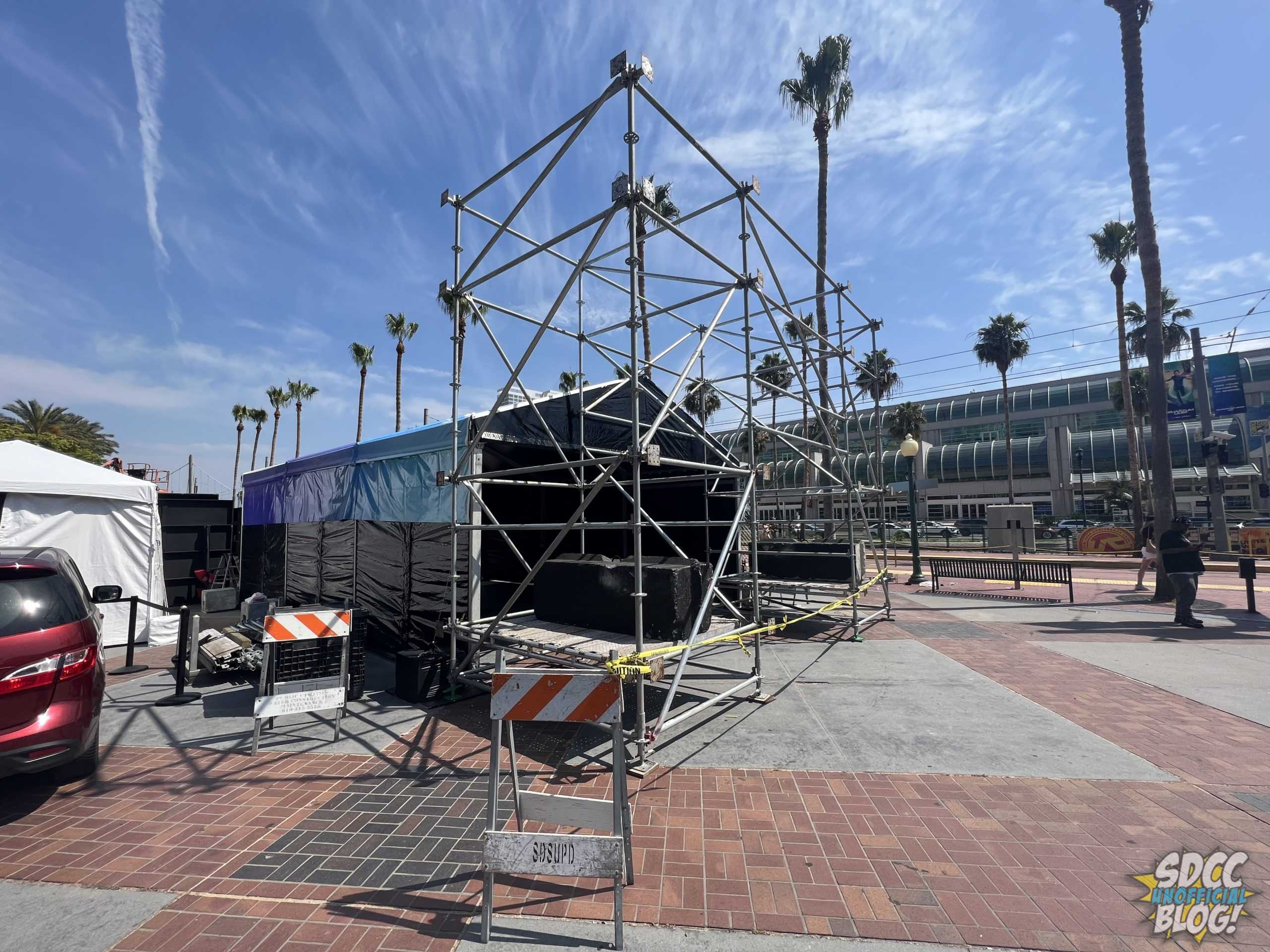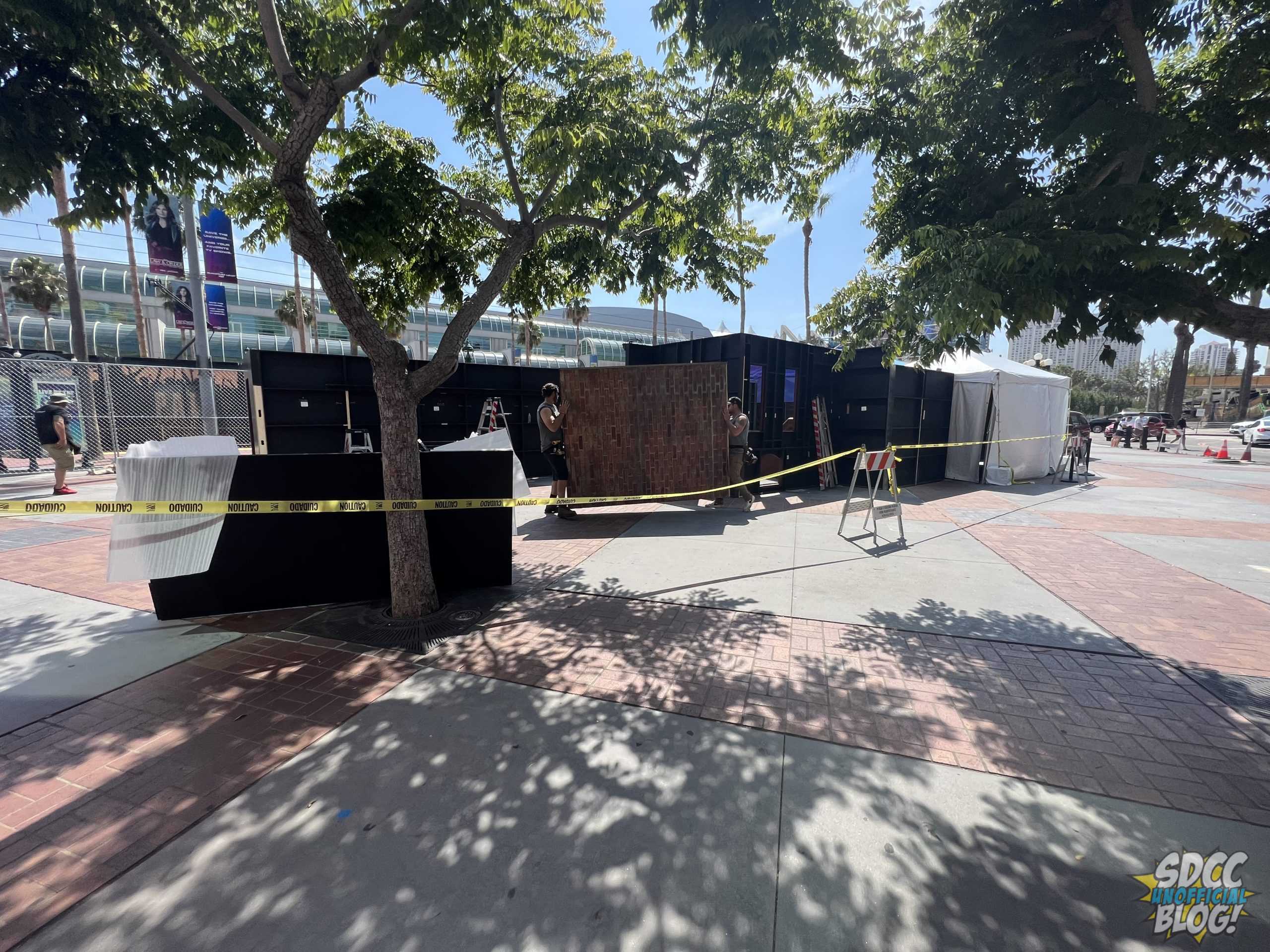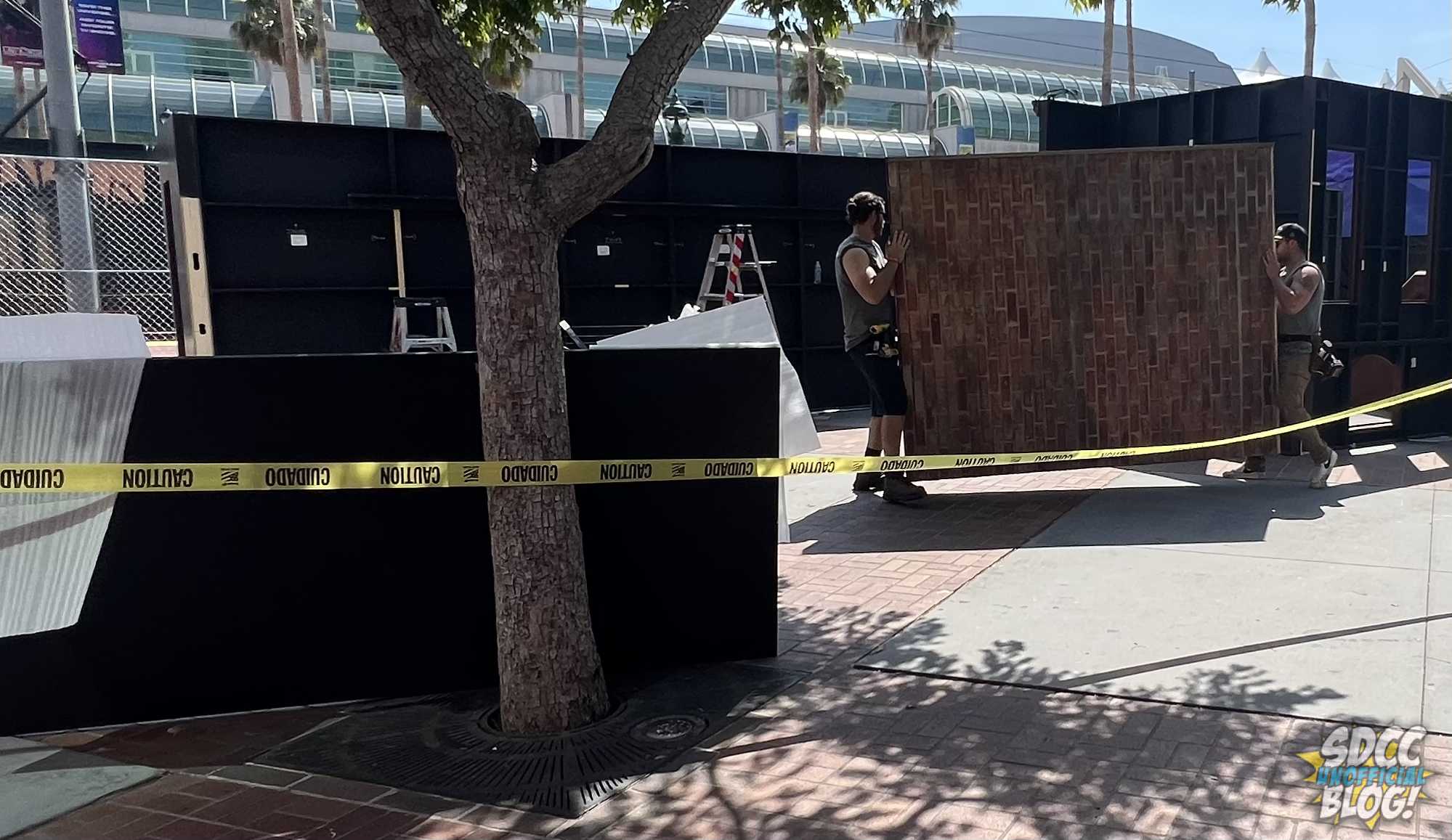 Park & Cons is still on the move and back behind the Convention Center they got some more action shots of the Hulu Animayhem set up, including parts of Futurama, which rises up as tall as the mezzanine, plus some Bob's Burgers and Archer. (Sidenote: look at all those trailer trucks for the Morgan Wallen concerts at Petco!)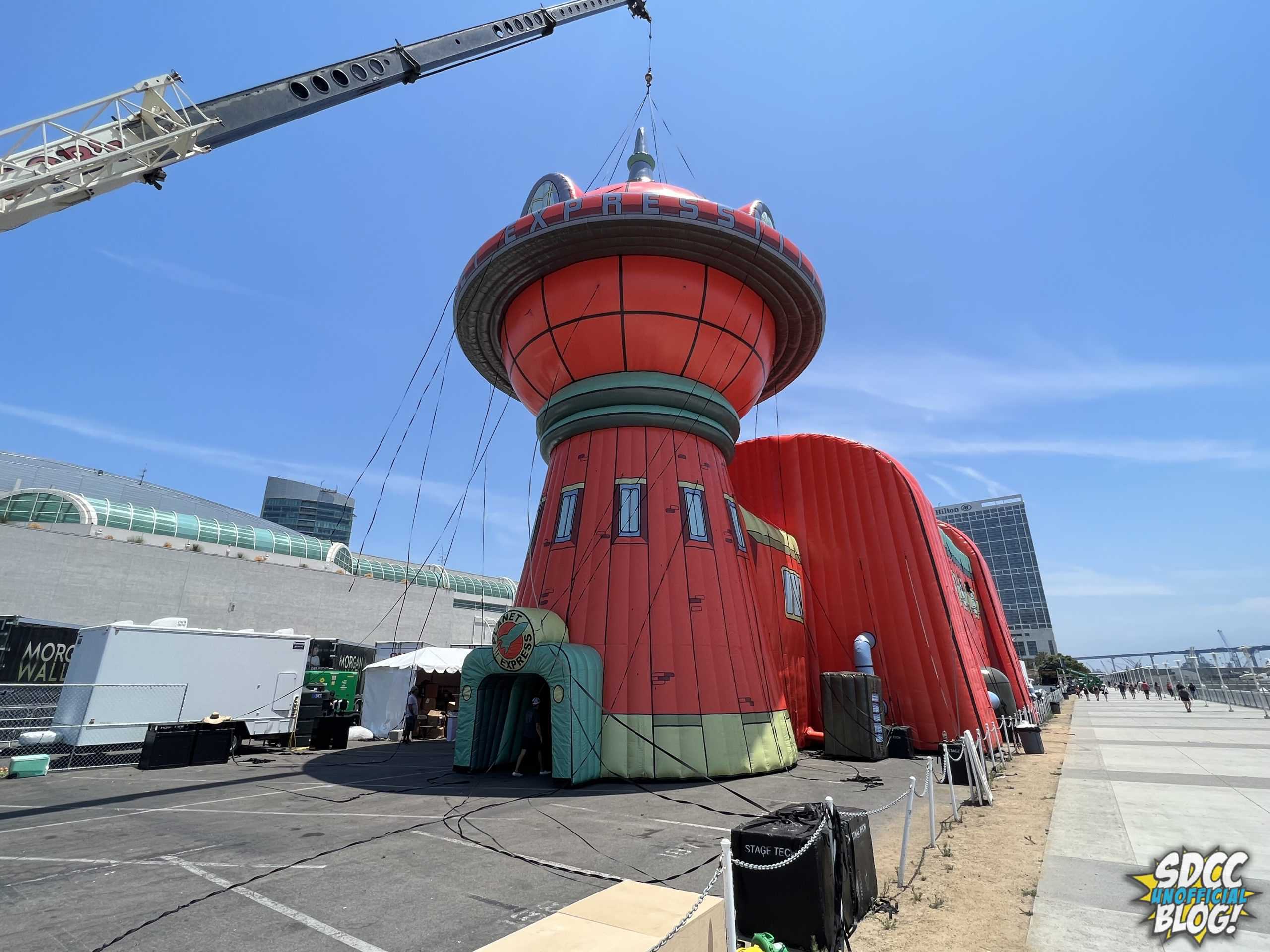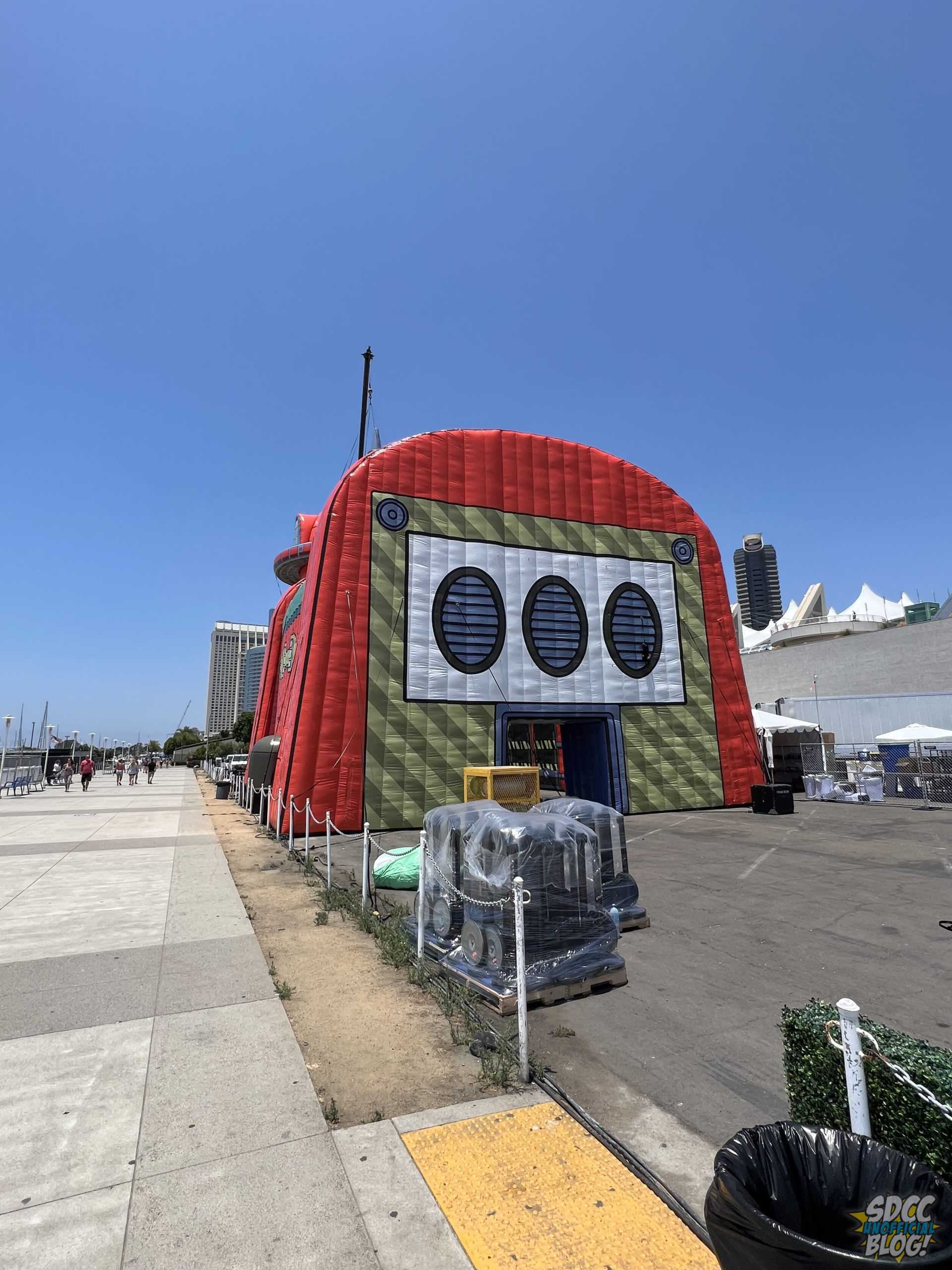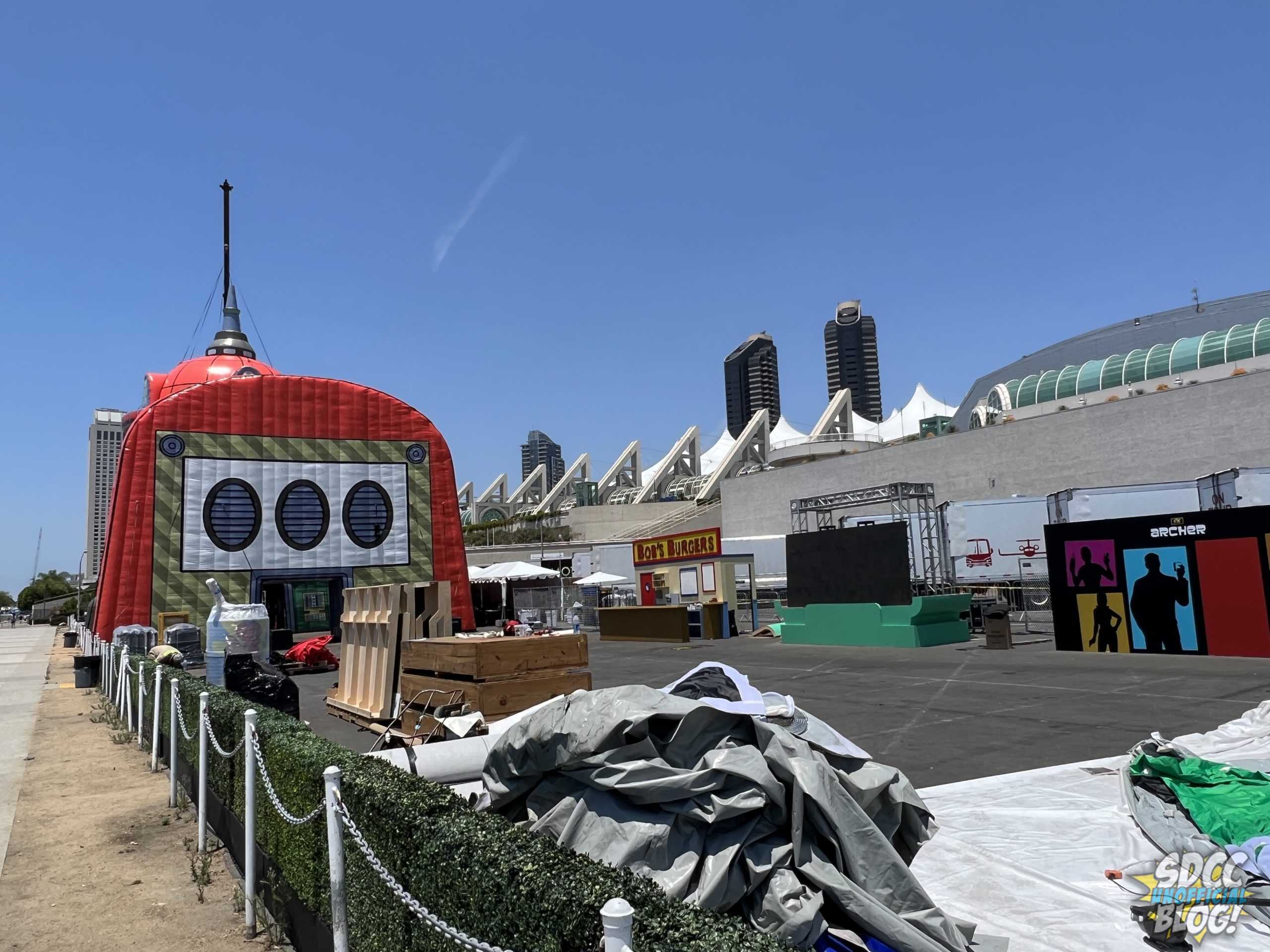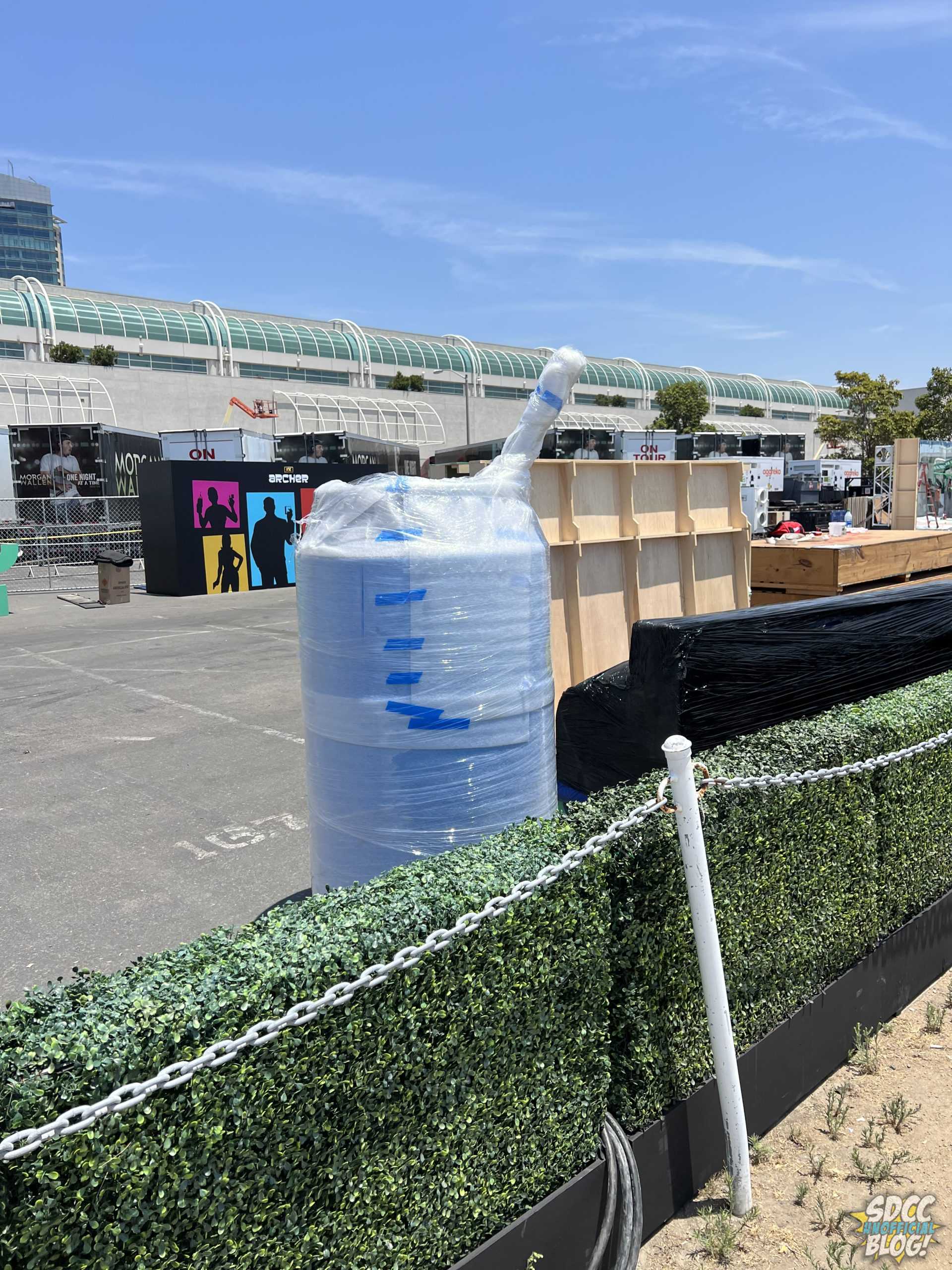 Parks & Cons found some clues that FX will be returning to it's usual spot near the Hilton Bayfront hotel! They also photographed the most recent additions to the Hilton Bayfront wrap, which started yesterday, and it confirms the wrap for the upcoming FX on Hulu limited series, Shōgun. Here are their photos of the current build in that FX location: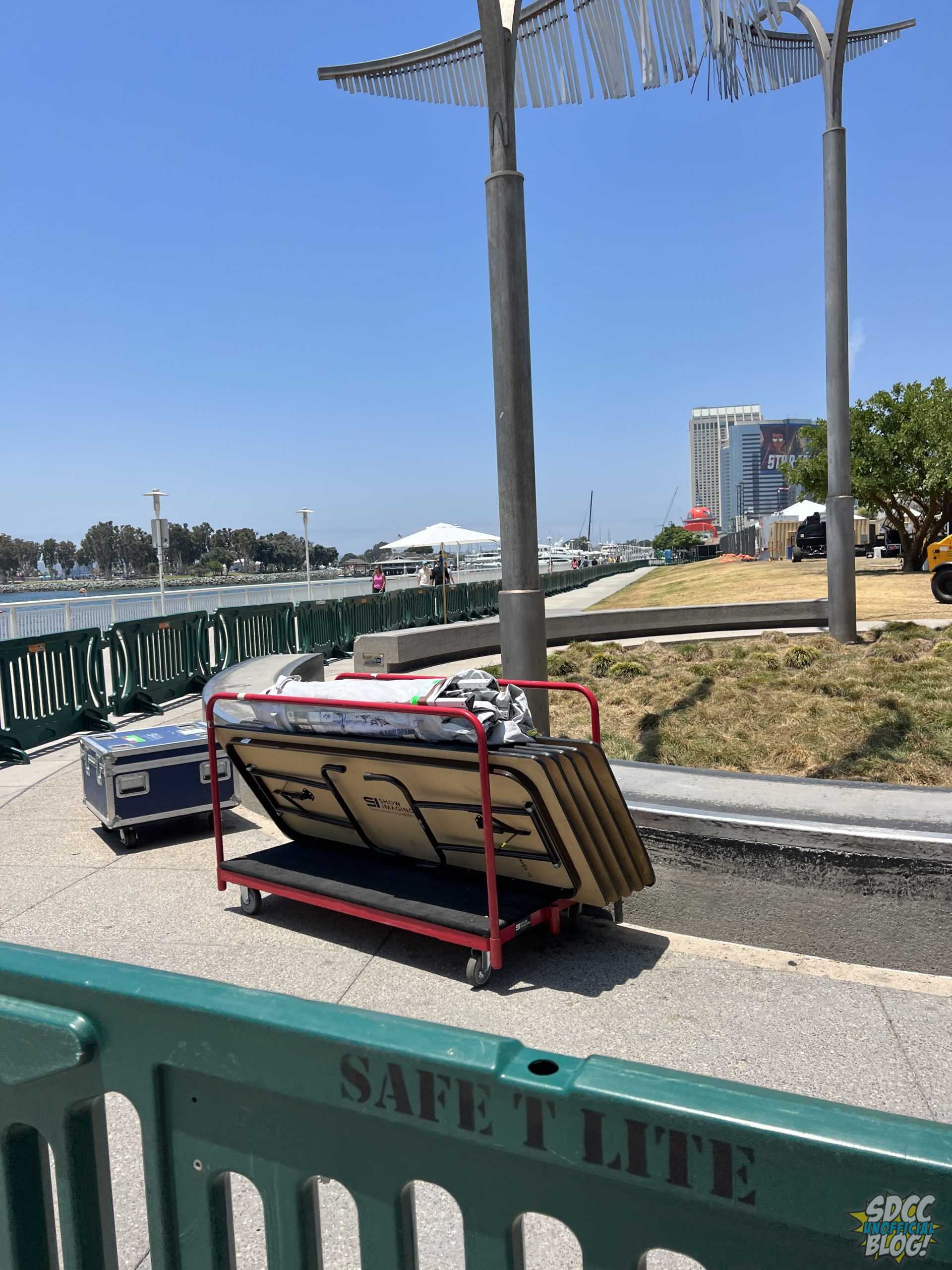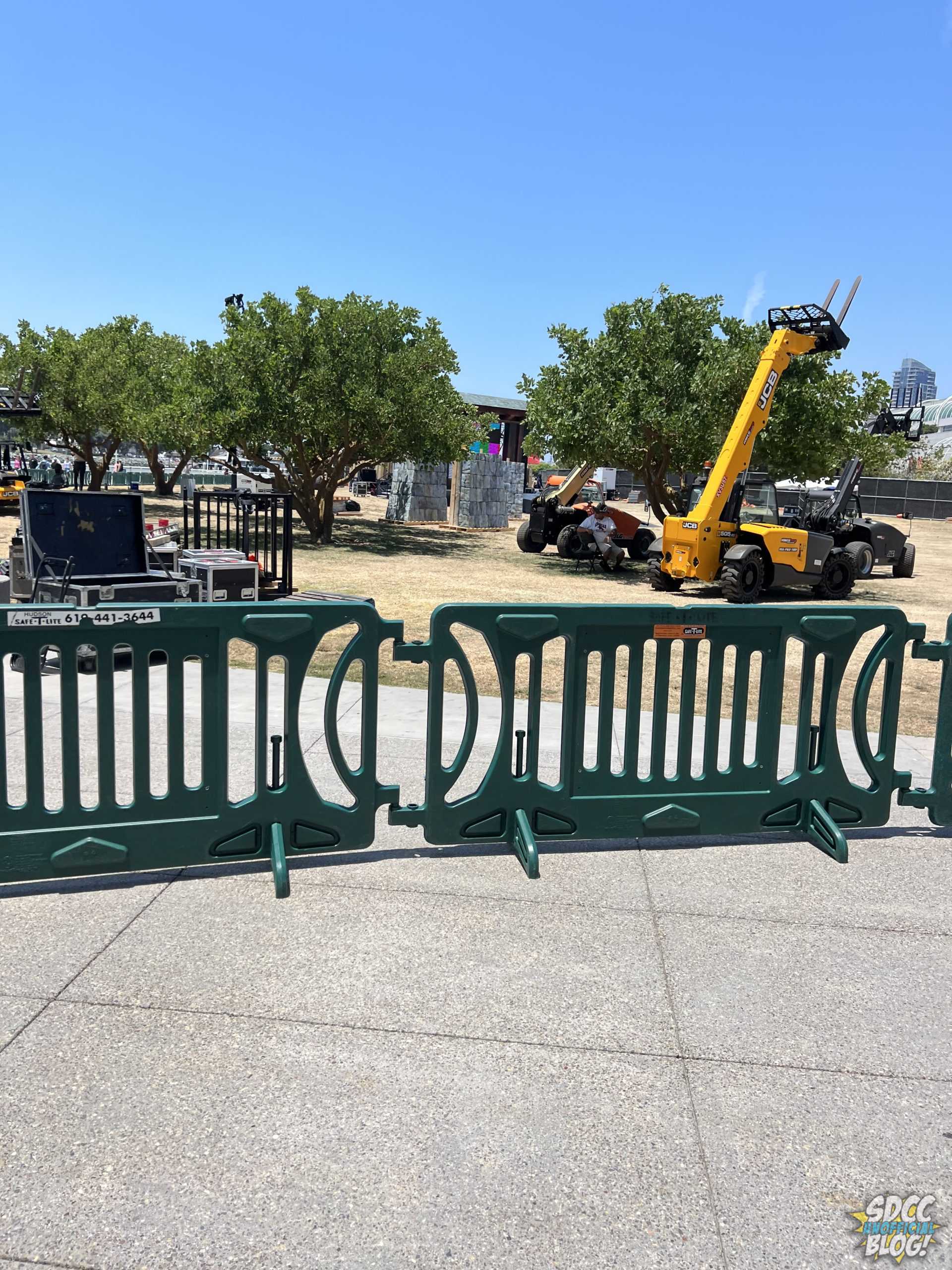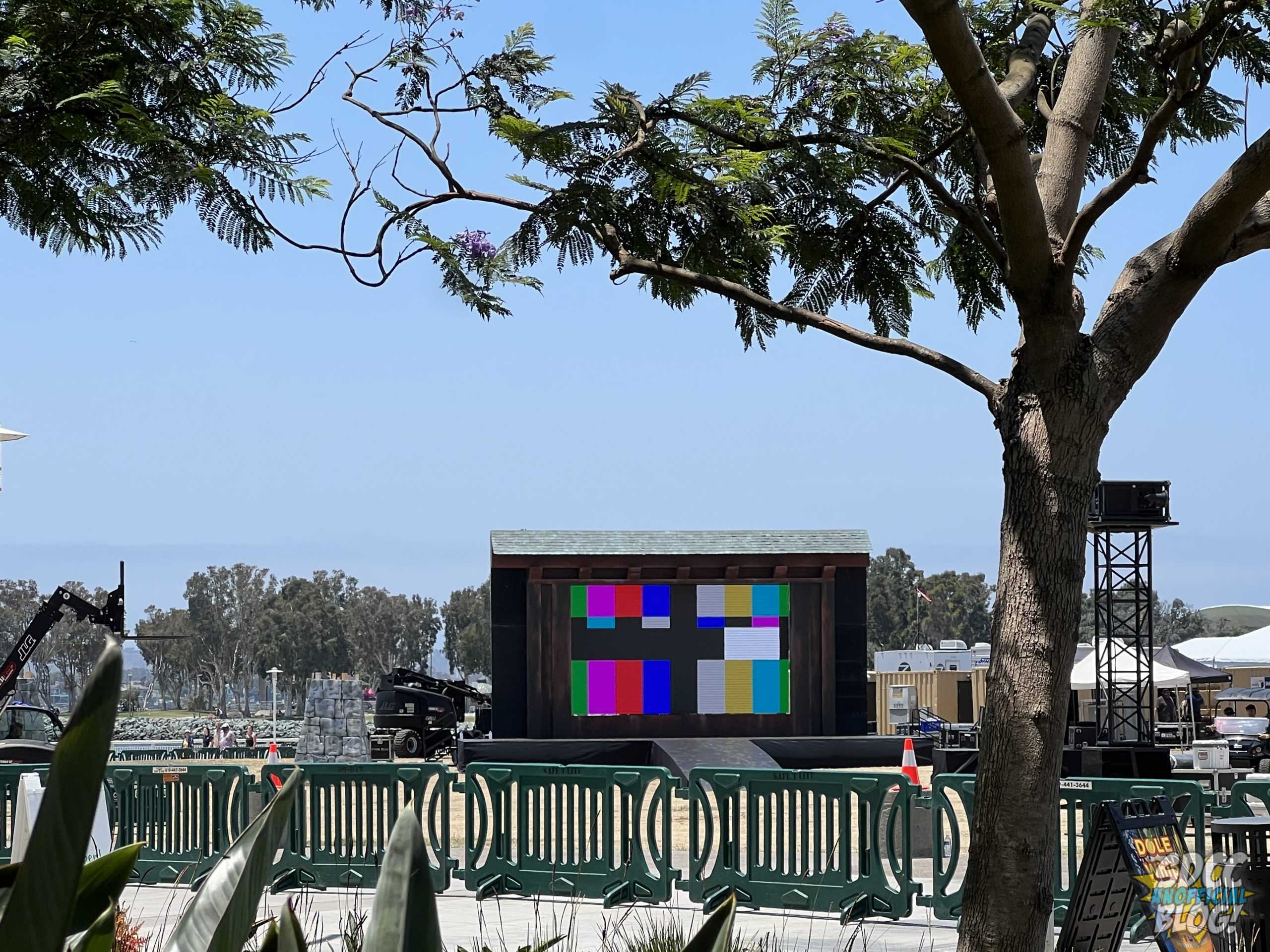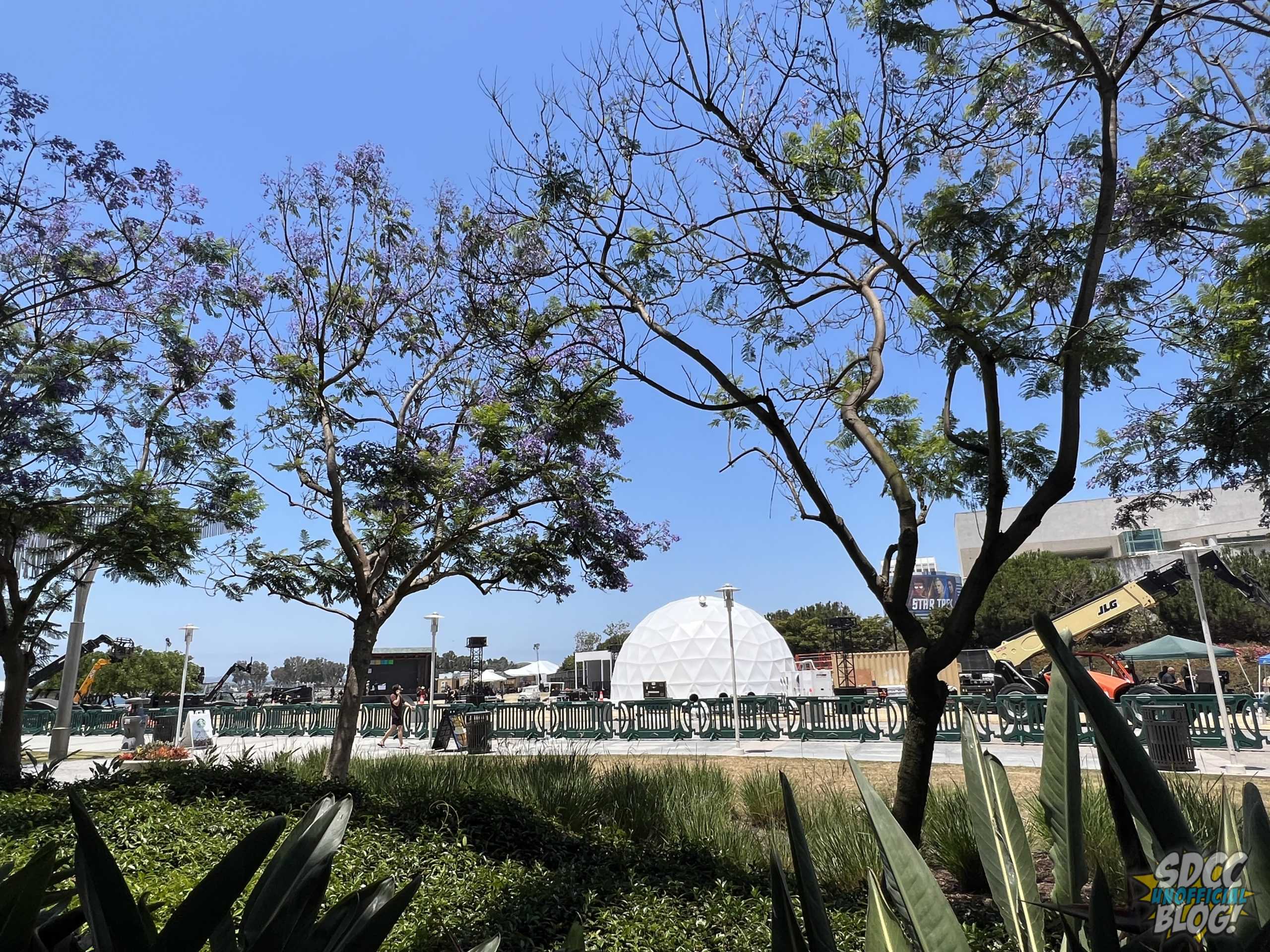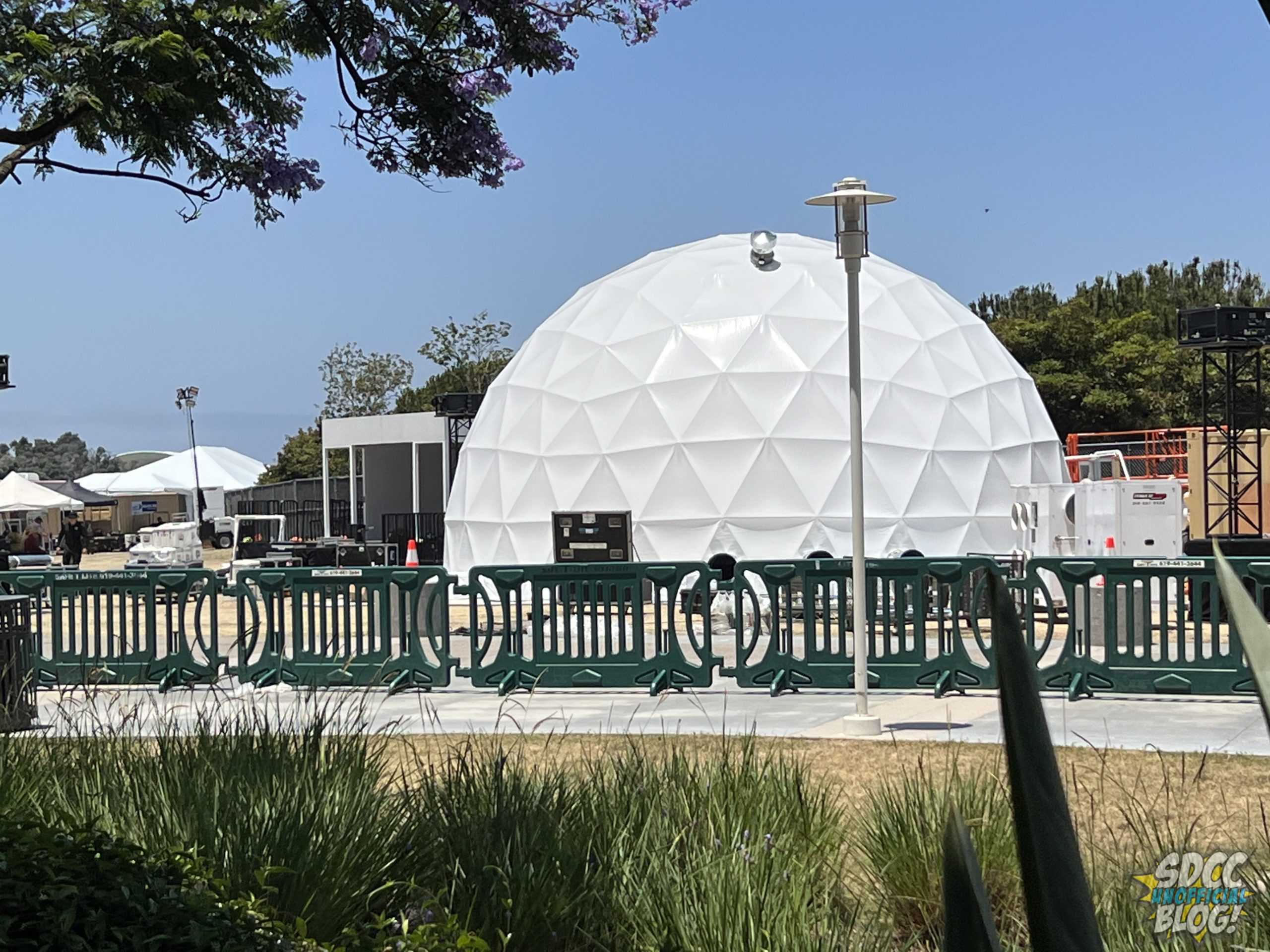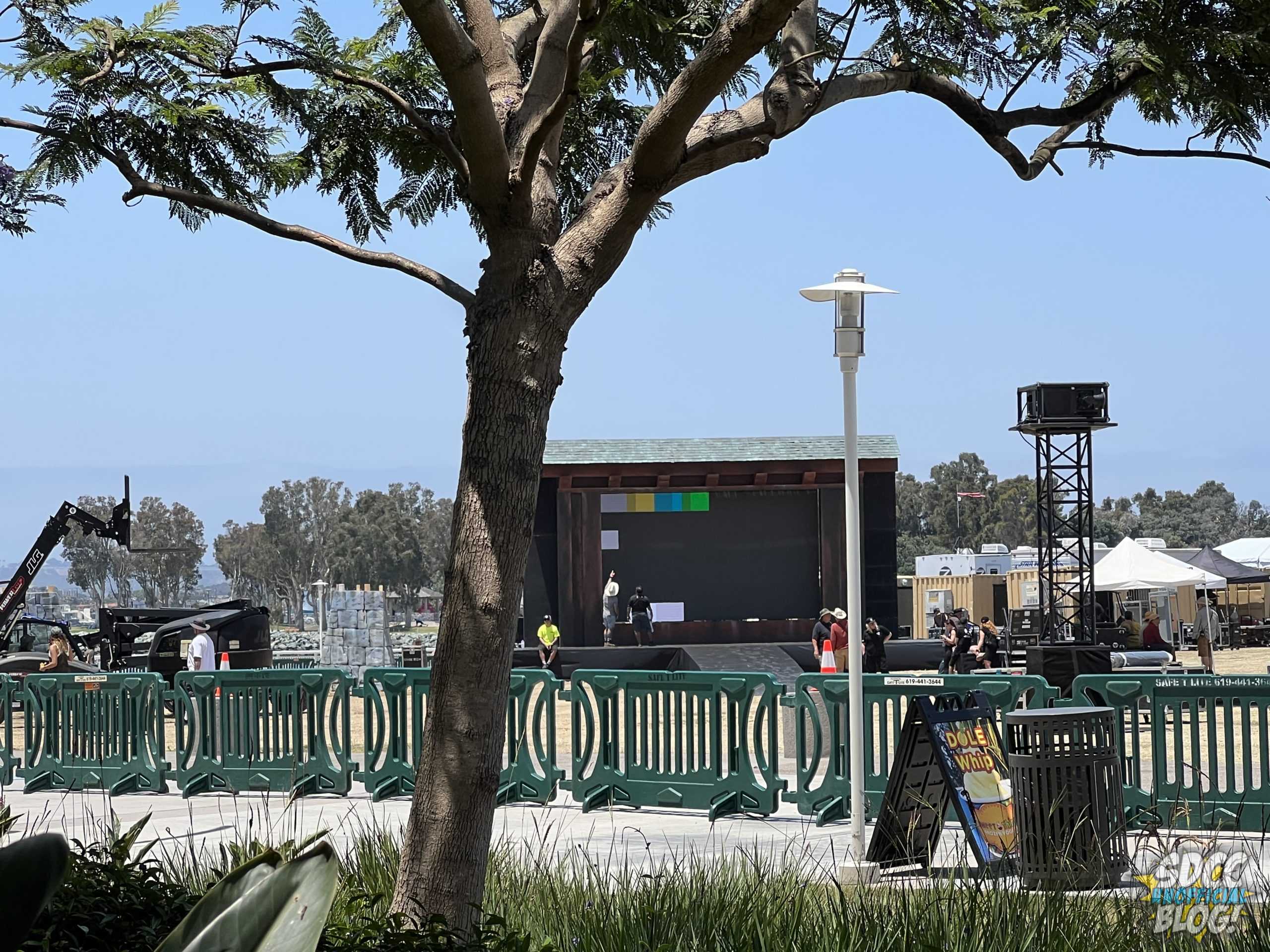 There is also a build for Hulu's new space taking place. Visit our Hulu offsite post for details!
[UPDATE July 13 #2]
Look, we know it's been a rough day for many of you as the thing we've been saying was possible for months has happened — both the WGA and SAG-AFTRA are currently on strike, and we wish them good luck in their efforts to get fair pay. Give 'em hell.
But who needs celebrities when there are $2 snow cones?!?!
The second Bandai offsite, which will be focused on Armored Core VI Fires of Rubicon and also feature a DJ, temporary tattoos, and more, is set for the San Diego Wine & Culinary Center (200 W Harbor Dr). And they may just have the best deal of the con with $2 snow cones??? And look at those alcohol prices! You will not find better prices in the Gaslamp! This is the most excited we've been all day and we're not even kidding! We really like snow cones, okay?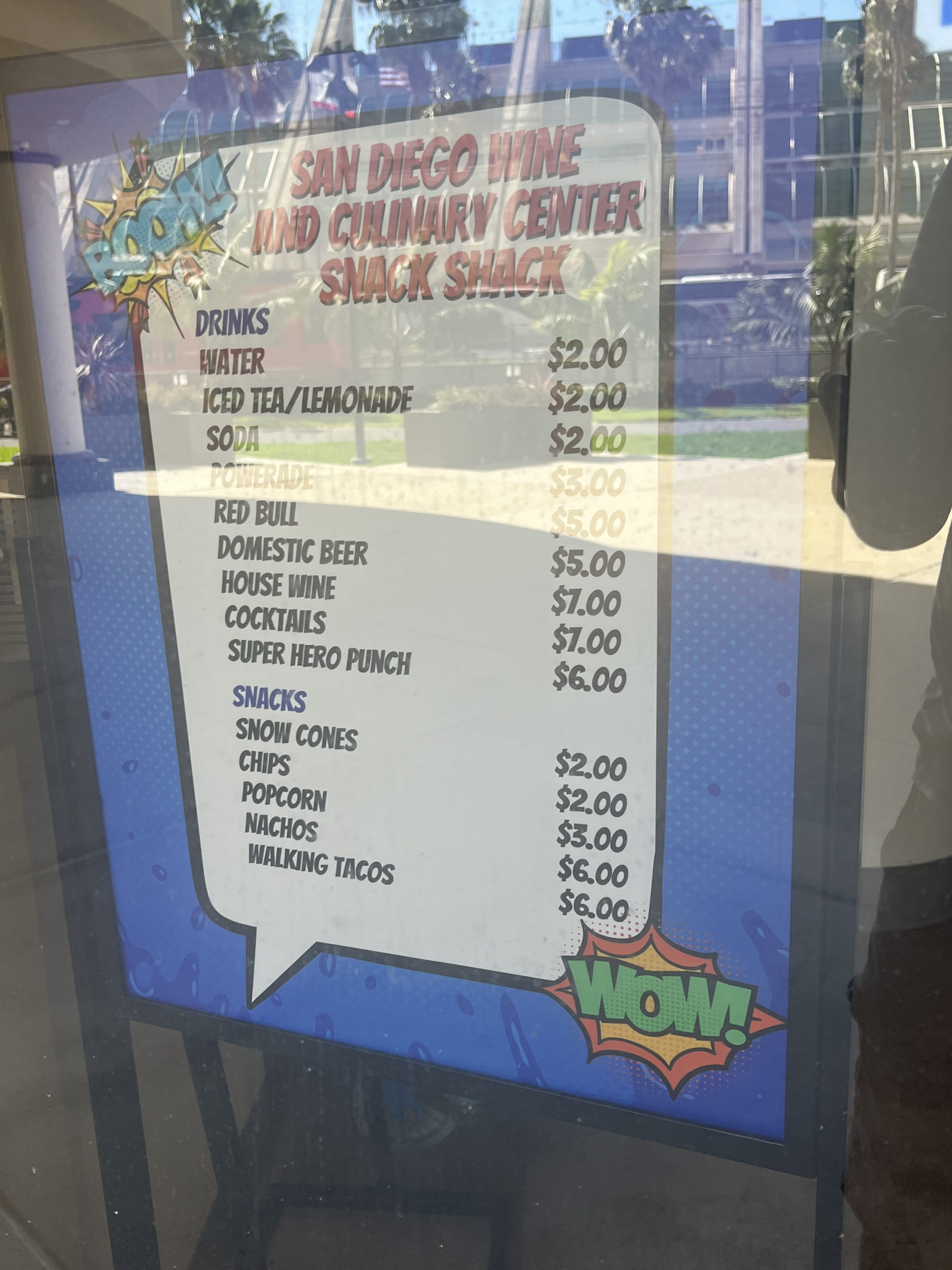 Elsewhere, two doors down, work has started on the Whatnot Hero House. But we bet they don't have $2 snow cones.
[UPDATE July 13]
Parks and Cons has the first look at what appears to be this year's NBC / Peacock offsite, presumably at Baja Rick's (formerly Tin Fish). In the general vicinity a few banners have gone up for "Quantum Leap HQ", teasing that you can "save the universe… and your favorite TV shows".
Whatever that means, it definitely doesn't appear to be entirely for Quantum Leap, as the banners also feature The Voice and Law & Order, as well as Chucky.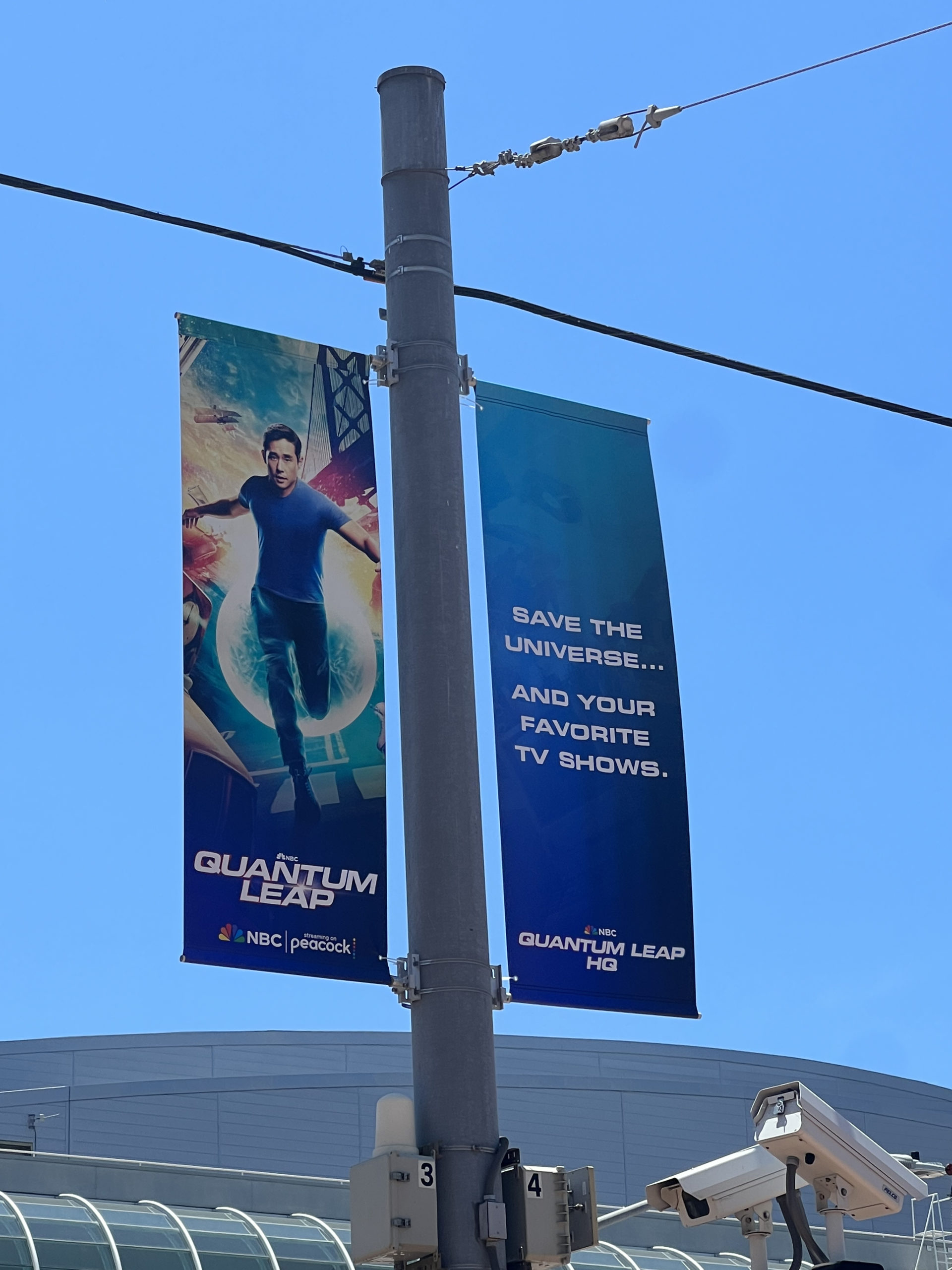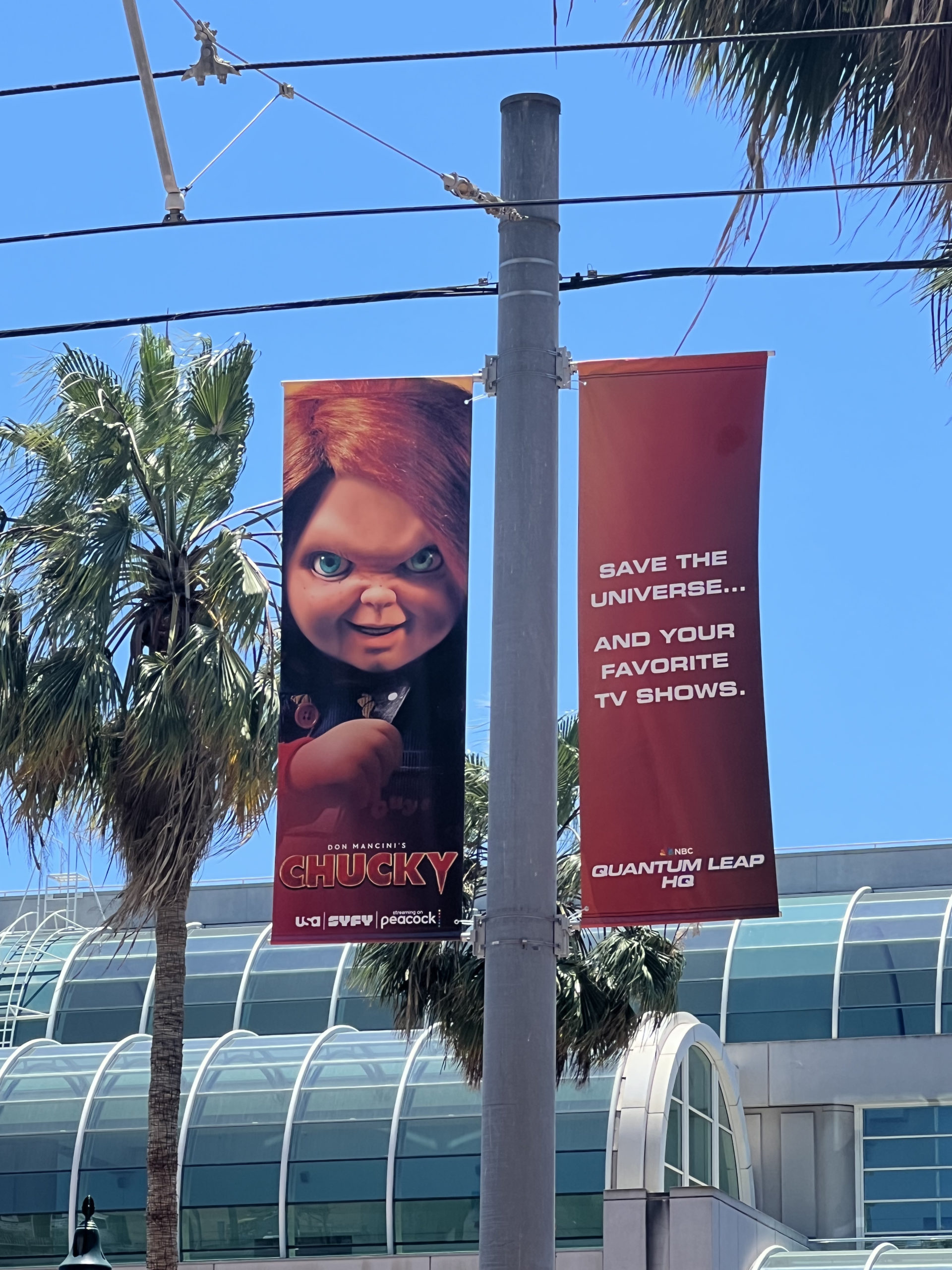 [UPDATE July 12]
@ParksAndCons is back on the trail today, and he's hunting down a closer look at the Sonic Speed Cafe at 910 J St.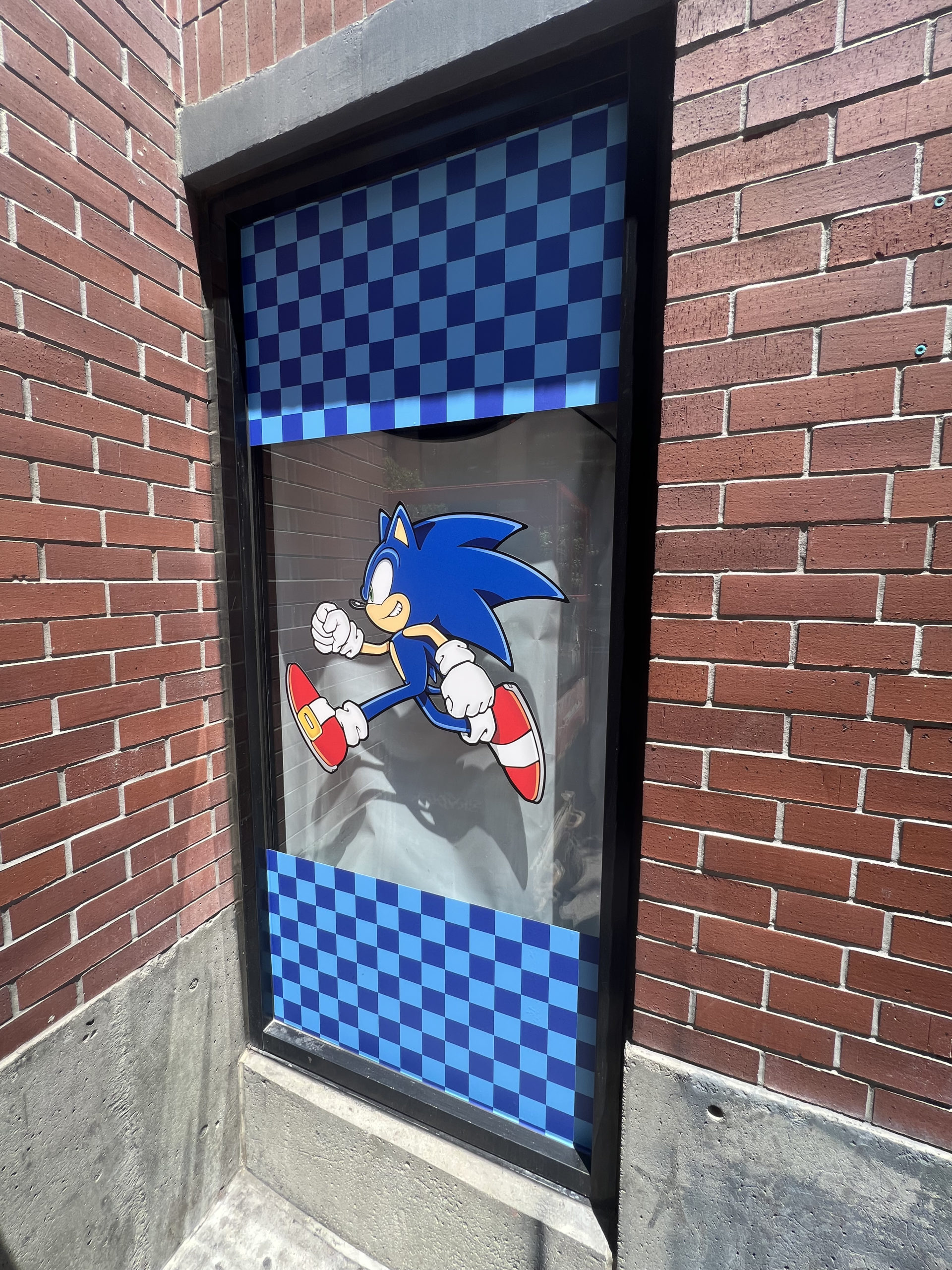 [UPDATE July 11]
If you've been waiting for news of the Sonic the Hedgehog Restaurant, then we're speeding in with an update. UBlog reader @royabagheri caught a look at the setup, and the restaurant appears to be taking over the Chick'nCone location at 910 J St, with Sonic overlays already going up.
[UPDATE July 10]
The Moxy hotel has been getting ready in a big way — with an artist recently painting anime-themed murals inside the hotel lobby and common areas. Parks and Cons was on-site to get a look.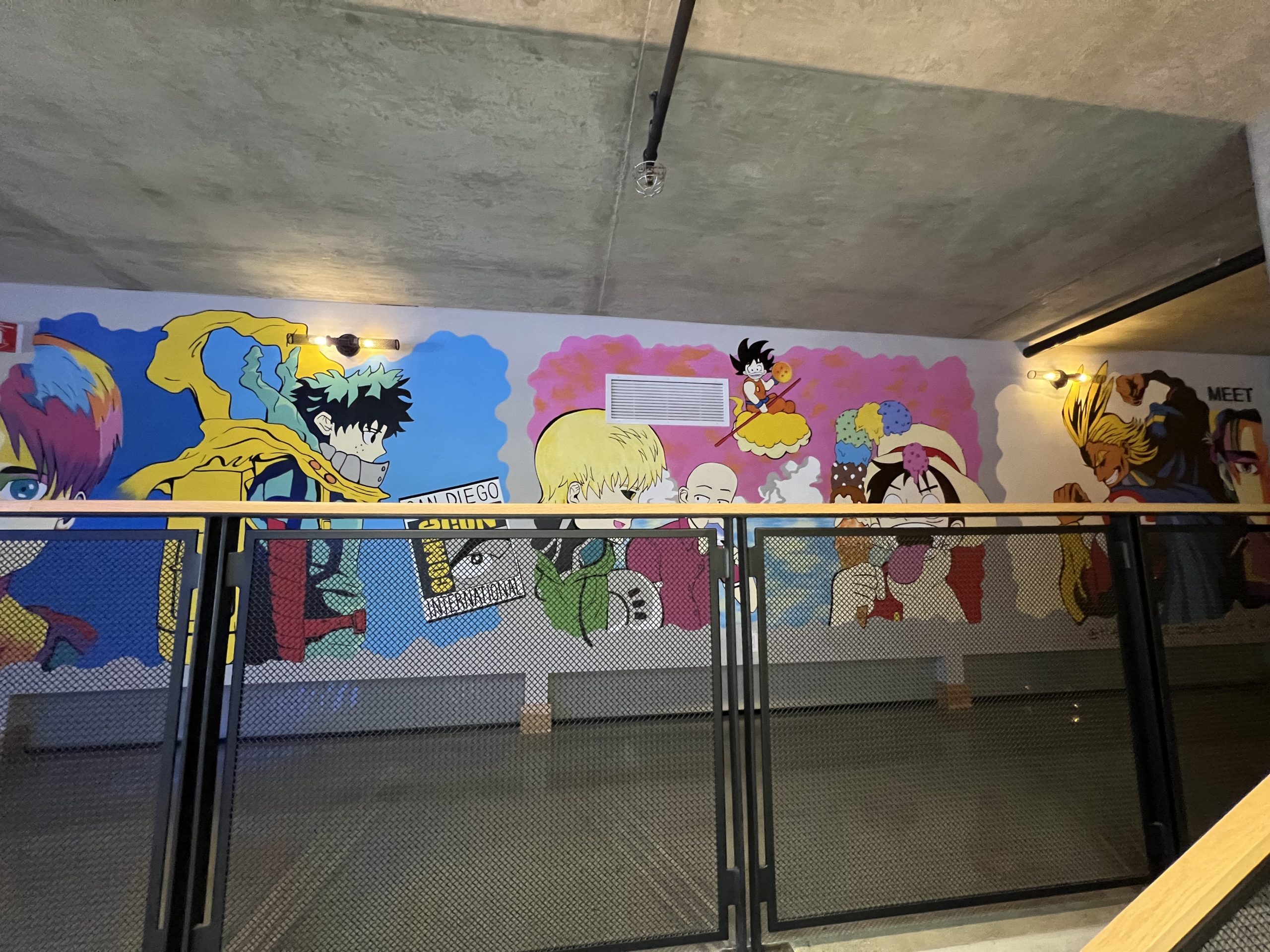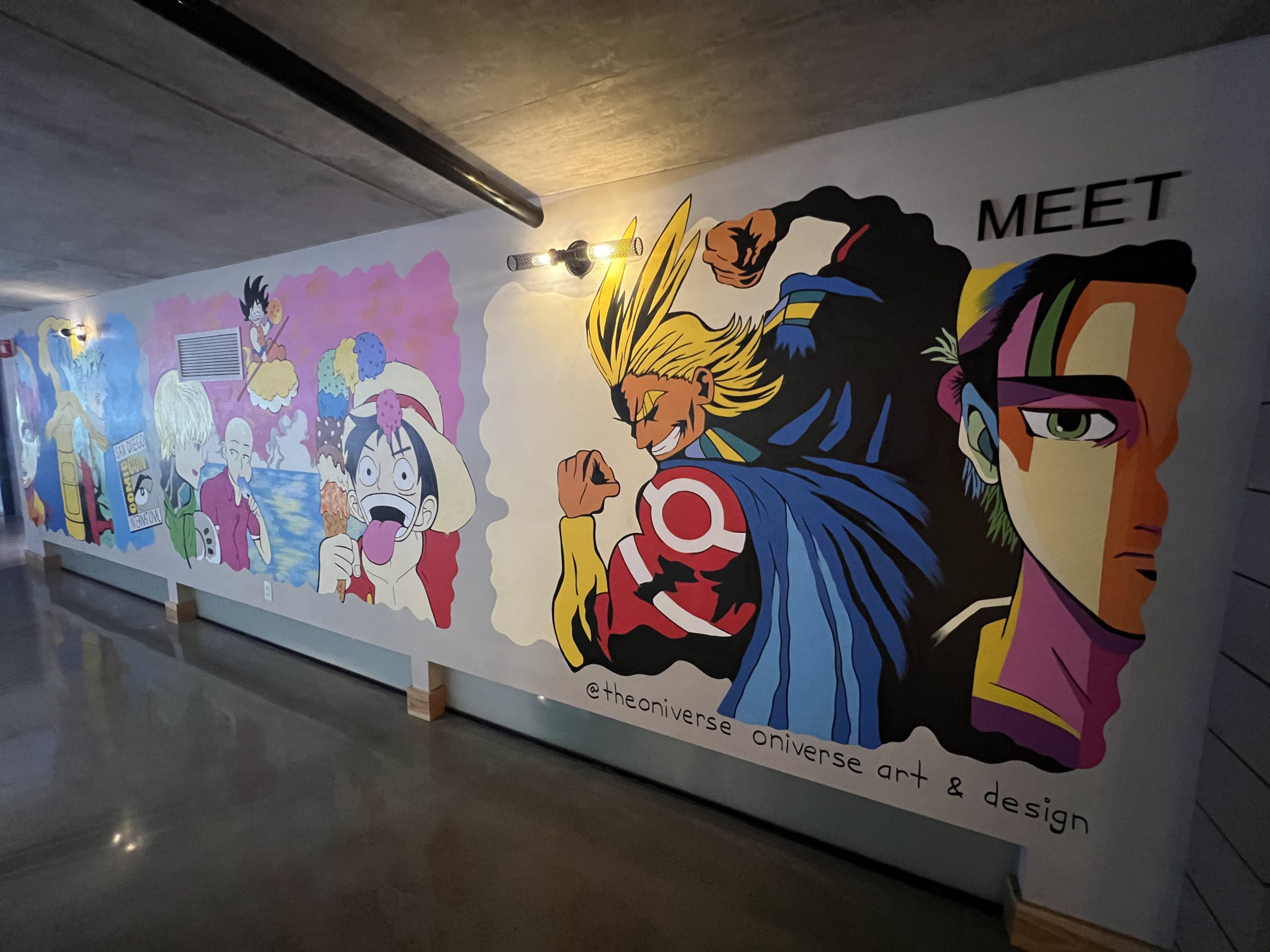 Meanwhile, over at the Roseanne-themed Lanford Days offsite from Cozi TV, there are now signs designating that the parking lot will soon be home to a special two-day event.