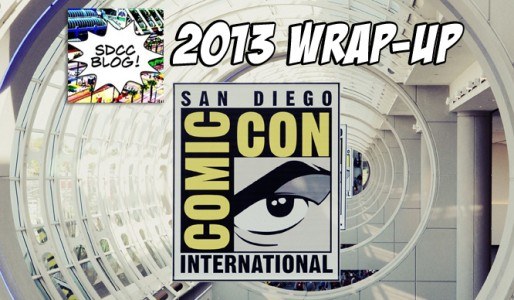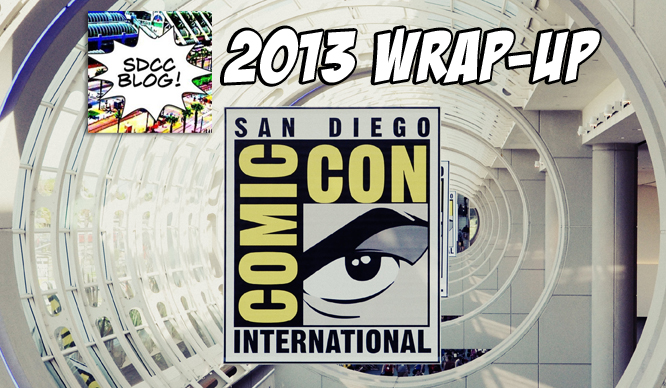 We've joked that covering San Diego Comic-Con was a year-round affair, but in looking back at the year that was, we didn't realize just how right we were.
To cap off 2013, we're taking a look at the top SDCC stories of the year, month by month. You can read Part 1 of our recap here.
Okay, here we are. The big month. The one that caused all those sleepless nights. Those keyboard-pounding moments. Probably a few tears. And many moments of elation from thousands of individuals lucky enough to take part in San Diego during SDCC.
If there is one thing synonymous with SDCC, unfortunately it has to be the lines. Comic-Con is famous for its miles-long lines for the two big venues, Ballroom 20 and Hall H, and this year was no exception. As a matter of fact, although CCI did a tremendous job of spreading out the crowds between the show floor, panels and offsite events around the city, lines were everywhere and longer than ever. To illustrate this, we strapped on a camera and walked the entire length of the overflow line for Hall H on Friday, one of its busiest days, to see just how long it would get. The result is a Goodfellas-like take to the end of the line, fourteen minutes later.
We had our favorites from SDCC 2013, but few come close to the big Warner Bros. Hall H panel on Saturday. Two and a half hours packed with announcements, stars, exclusive clips and many laughs. Suffice to say, there were many memorable moments to be had. Like this one, from The Lego Movie panel, where a kid during the Q&A goes "alpha" on moderator Chris Hardwick and the movie's creators.
Or this: One of the biggest roars heard from any panel audience, when Zack Snyder came out to announce 2015's Batman Vs. Superman Announcement:
The much-anticipated X-Files 20th Anniversary Reunion panel with Gillian Anderson, David Duchovny, Chris Carter, Vince Gillian and other cast and crew from the landmark show's history:
Relive the epic X-Men: Days of Future Past Panel, with its star-studded cast:
Obviously, Comic Con is now about more than just what happens inside the convention center. Even with epic offsite events like The Godzilla Encounter, our top pick would have to go to Nerd HQ. With panels that rivaled the convention going on across the street, the swanky lounge, and fun parties, we hope everyone got to experience this year's event.
Ah, the post-con blues. Months of build-up and anticipation gone in a blink of an eye. The weeks following SDCC are always filled with the lingering feels from all that awesomeness. For some, August means some well-deserved rest and relaxation. For us, it means immediately looking forward to 2014, which will be on Thursday July 24 through Sunday July 27.
Our live wrap-up show and naming our Best Moments of SDCC 2013.
Looking forward to 2014, we might already have our first big panel announcement, as Lost star star Michael Emerson indicated we might see a reunion panel for the popular TV show, which will be celebrating its tenth anniversary next year.
SDConCast LIVE – SDCC 2013 Wrap-Up Show – July 30, 2013
San Diego Comic-Con 2013: The Team's Favorite Moments
'Lost' 10-Year Reunion Panel A Possibility at SDCC 2014
With the fall came some of the most exciting Comic Con news of the year: that the San Diego Convention Center would be getting an expansion. With 35% more space being added to the exhibit hall floor space and a new ballroom that's 20% larger than Hall H, as well as making use of additional space like the Bayfront lawn and the rooftop, the new plans suggest a bigger, brighter future for Comic Con's to come. Of course, they also suggest construction until the 2018 projected completion date.
With Comic Con over, September and October also ushered in the second and third largest North American pop culture conventions: New York Comic Con and Fan Expo Canada. Our Compare series took a look at how both conventions measured up to the juggernaut that is SDCC, and while neither could re-create the atmosphere that downtown San Diego has fostered, both had their own unique offerings.
How Does New York Comic-Con Stack Up Against SDCC?
CA Coastal Committee Okays San Diego Convention Center Expansion, Completion Targeted for 2018 [UPDATE]
Our first SDCC 2014 exclusive was announced as early as November 4th, with MattyCollector quietly unveiling their DC Signature Collection Doomsday figure, for the first time ever fitted in his containment suit. It's never too early to begin making your Must Have list of exclusives for Comic Con, right?
We continued to examine how, and if, Comic Con really is the best of the bunch as far as pop culture and genre conventions go by taking a collective look at most of the largest conventions in North America with our infographic. In comparing attendees, number of panels, number of vendors, ticket price, square footage, and more, we found that SDCC doesn't necessarily top every category – but it still tops our hearts.
What category CCI doesn't top, however, is punctuality. In their effort to cut down on problems and glitches during badge pre-registration for 2014 that have plagued the sale in the past, CCI and Epic Registration pushed back their own deadline from "somewhere before December 31" to "early next year".  However, most attendees seem to be taking the news in stride, grateful for not having to check their e-mails for sale news during their Christmas dinner and for having the extra time to save up funds during one of the most expensive parts of the year.
MattyCollector Reveals Doomsday SDCC 2014 Exclusive
Infographics: How SDCC Compares To Other Conventions
Comic Con 2014 Pre-Registration Postponed
We'd like to close this phenomenal year by saying thanks to the hundreds of thousands of readers who visited us regularly. We're looking to make 2014 even better, so be sure to keep coming to us as your main source of SDCC news and information.
See you in January!