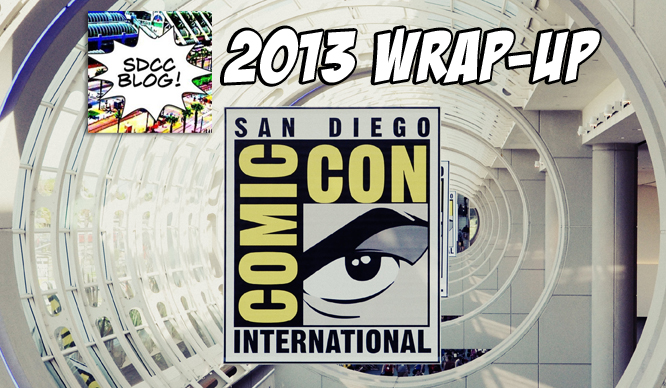 We've joked that covering San Diego Comic-Con was a year-round affair, but in looking back at the year that was, we didn't realize just how right we were.
To cap off 2013, we're taking a look at the top SDCC stories of the year, month by month.
On the first month of SDCC my true love gave to me…
While the weather outside was frightful, the first month of the year gave us news of our first confirmed studio appearance at SDCC 2013. Daniel Knauf, Executive Producer for NBC's Dracula series, went to Twitter while unveiling the show's cast to say the fall series would have "a huge bloody splash at this year's ComiCon in San Diego". As it turned out, Dracula indeed had a presence at SDCC, with a preview during the Grimm panel as well as the "The NBC Dracula Experience" offsite set up behind the Tin Fish across from the convention center.
Speculation on whether Marvel's Agents of S.H.I.E.L.D. would make an appearance at SDCC also began early in 2013. During the filming of the pilot, Felicia Day revealed during a Google+ Hangout for her appearance in a Supernatural episode that she would be visiting the set of the anticipated production, and that the show was "going to rock Comic-Con's face off." And yes, it did, with an exclusive pilot screening for Joss and 4,000 of his closest friends.
Lastly, open registration for badges wasn't even announced yet but that didn't stop CCI from kicking off their annual Early Bird Hotel Sale for Mission Valley and Airport-area hotels. Attendees who didn't mind taking the shuttle or driving in, in order to save a few bucks to spend during the convention, were able to book their accommodations and avoid the Mad Hotel Derby that took place just a month later.
SDCC 2013 Early Bird Hotel Sale Starts January 23
Will S.H.I.E.L.D. Be at SDCC 2013?
NBC Universal's "Dracula" To Take A Bite Out Of SDCC 2013?
The second month of the year held two major San Diego Comic-Con events for attendees and hopefuls: Open badge registration and hotel reservations.
Open badge registration, which is when the general public is allowed to purchase badges to SDCC, was held with the usual excitement, anxiety and controversy which generally accompanies it. At 9 AM PT on February 16, tens of thousands jammed their way into the EPIC online registration process, filling online lobbies to nearly 50,000 within minutes, before slowly letting folks move through checkout. by 10:35 AM PT, all 4-Day with Preview, 4-Day, Friday and Saturday single day badges were all accounted for, and CCI announced registration was closed.
Unfortunately, open badge registration has rarely been without issues, and 2013 was no exception. The "refresh" issue plagued many vying for badges, where once they secured a number in the online lobby, they were never progressed through the queue. This resulted in some users who were late in the queue to actually move through checkout before those who were in prior, and even caused CCI to react with an official statement acknowledging the issue and asking for examples as an effort to help resolve individual issues. It wouldn't be until June, with the badge resale, when the majority of those on the hunt had another crack at getting badges to SDCC 2013.
The second big event for attendees was the annual hotel reservation derby, which although didn't have the system issues which haunted the badge registration, was not free of controversy. What was at first a very seamless process soon collapsed into panic, as people began receiving their confirmation emails stating they didn't receive any of their hotel choices, and were completely shut out without a hotel reservation for the convention. Through our own analysis, Downtown hotels were cut off within two minutes of the reservation system opening. Anything after that, folks were were waitlisted or denied reservations from their top picks outright. Although many did eventually find hotel rooms, either outside of the Downtown area or through friends and followers kind enough to share their reservations, it was a alarm
Lastly, we had another big SDCC appearance confirmed in February, this time from X-Men: Days of Future Past director Bryan Singer, who tweeted from the set of the new film, which was in pre-production at the time. His tweet, asking "How many days until @Comic_Con? #XMen #DaysofFuturePast", teased the panel that would become one of the highlights of this year's show, before an official studio confirmation. We'd also like to brag for a second, for correctly speculating that not only would The Wolverine also make an appearance at the convention, but that "the guests on this panel will make this one of the hottest of the convention." Indeed.
Comic-Con 2013 Badge Registration Recap: The Highs and The Lows
Hotelpocalypse: The Day SDCC Hotel Reservations Died [Update 5: Big AM Update]
X-Men Sequel "Days of Future Past" Teased for SDCC 2013
After all of the dust settled in terms of badge registration and hotel bookings, excited attendees focused more on their expectations of the main event. March was full of both statements and teases from studios and officials regarding who, what, when and where things would be happening. Some of the confirmations ranged from online outlets like Hulu confirming a panel for the Awesomes, to Ryan Murphy confessing he hoped to bring American Horror Story to SDCC for the first time (which, sadly, didn't work out). We also received word that Ender's Game and The Amazing Spider-Man 2 would be featured on the Hall H stage, giving us an early picture of how the full line-up was shaking up.
Most speculation and rumors revolved around which movies would make it into Hall H, with likely contenders Kick-Ass 2 or R.I.P.D. . Folks also wondered how much of an impact Marvel would make at Comic Con, considering it was a D23 year and Disney traditionally held back their marketing for their own convention. However, even just a few short days after we began speculating, we heard rumblings that Marvel would be taking over Hall H with another lengthy, combined panel for Thor: The Dark World, Captain America: The Winter Soldier, and Guardians of the Galaxy. In the world of Comic Con news, things are constantly changing.
Perhaps the biggest surprise news of March, though, was that Nerd HQ would be growing in a big way. The Nerd Machine posted a small blurb on their site that the popular offsite would be relocating in 2013 to Petco Park, though specifics weren't yet known. The reaction was mixed at the time, with many fearing that the change to a larger location meant the 'small, intimate' feel of earlier years would be going away. It would be several more months before we'd find out just how wrong we were.
Ender's Game Panel Confirmed for SDCC; Spidey Too?
Marvel Studios Will (Hopefully) Be In Hall H This Year
Breaking: Nerd HQ Moving to Petco Park for 2013
With only three months before Comic-Con, news started coming in hot and heavy in April. One of the most surprising confirmations for the convention in 2013 was that Veronica Mars (with a special event for their Kickstarter backers) would be at the convention, though it wasn't yet known that they'd be holding their own panel in Hall H.
April was also the start of quiet rumblings about several things that became the main news coming out of Comic Con. Warner Bros. announced that they would be making a special announcement at the con, which we had speculated might be the existence of a Justice League movie. Of course, this turned out to be the Superman vs. Batman announcement, but maybe that Justice League film will be announced in 2014. And with March's Nerd HQ Petco Park reveal, we began speculating on just where in the park The Nerd Machine might take over. They wound up setting up camp in the Western Metals building, obviously, which was our top pick.
The ACE parking sale took place on April 22nd, and unlike badge sales, went off without a hitch. We also learned the details of the 2013 Masquerade, with one exciting new change – winners would also be awarded with complimentary, guaranteed badges to next year's convention! Have you been working on your cosplay, in case they do the same in 2014?
Lastly, April marked three big additions to the blog that we hope to bring you for years to come. First was the announcement of our big "Enchantment Under The SDCC" preview night party for our readers. We thank everyone for coming and making it such a success, and we're planning next year's to be bigger and better! Next was the beginning of what would become our most popular column, the "Under The Tents" daily news roundup. And lastly, who could forget our April Fool's Day post, with the 2013 schedule leak? We're still waiting for that Visionaries with Charlie Sheen panel, Entertainment Weekly…
Will Hall H Become the Site of a 'Justice League' Movie Reveal?
A Guide To Parking At San Diego Comic-Con
Masquerade Details Posted for SDCC 2013
Enchantment Under The SDCC Reader Party – Wednesday July 17 8PM
APRIL FOOL'S! Comic-Con 2013 Schedule Leaked! [UPDATED]
May typically kicks off a slew of SDCC-related news, and this year was no different.
The first of many Hasbro Comic-Con exclusives was announced in early May, and it was one of our favorites: the Boba Fett Black Series. Several other retailers began unveiling their exclusives shortly after, like DC Collectibles and their vinyls and action figures, a McFarlane Spider-Man Limited Venom Edition Guitar from Peavey and Crazy Cat Collectibles, and many others. Perhaps the biggest announcement, though, was that MattyCollector announced their annual online pre-sale, allowing users to grab their exclusives before the convention and then simply pick up their purchases at SDCC, stress-free.
We had the exclusive on Warner Bros. Pictures taking over Hall H on Saturday, and correctly speculated we'd get some stage time for Alfonso Cuaron's Gravity, and the first real footage of Godzilla. We had hoped for The Hobbit, but ongoing production would later prevent the second installment from attending.
May was also the month when CCI shook up badge resales. For the first time ever, it was announced that no 4-day badge options would be available in the resale, the online badge sale for those who weren't able to grab a pass during either pre-registration (those who attended the year before) or the general sale. Instead, all refunded badges were distributed amongst single day tickets. We've come a long way since SDCC sold out for the first time in 2009.
Hasbro Announces First SDCC Exclusive
Warner Bros. Pictures – Hall H Saturday July 20 CONFIRMED!
With only one month to go before the main event, June offered more Comic Con news than January through May combined.
The official schedule would be released starting July 4th, but prior to that, The SDCC Blog had cataloged 215 confirmed panels for this year's convention. We even had the exclusive on Castle not attending, and Marvel's Agents of S.H.I.E.L.D. and Once Upon A Time In Wonderland making their Comic Con debuts. FOX was the first to announce their complete lineup of panels as early as June 12, but they were quickly followed by ABC, Warner Bros., MTV, AMC, Nickelodeon, CBS TV Studios, Syfy, and more.
Our other big news scoop of 2013 was the big X-Files 20th Anniversary panel sponsored by TV Guide. Not only were we the first site to break the news, but we were also the first to confirm David Duchovny would be joining Gillian Anderson on stage.
The last of the badge sales, the resale, took place on June 12 as well, but just like earlier sales, this one was met with some frustration and even a few tears. Rather than the typical 'first-come, first-serve' type of sale CCI and Epic Registration had been using, for this final sale, they switched to a lottery. Only US and Canadian residents were eligible due to the laws on lotteries and drawings, and hopeful attendees who met the requirements had to sign up within two days to win a chance to try for badges. Sound complicated? It was.
Winning users were then contacted and allowed to buy two badges – one for themselves, and one for an extra person, regardless of whether or not they'd won the random badge drawing. It added an extra layer of difficulty in securing one of the few coveted badges remaining (and we mean few – CCI even announced they only had 3,100 Saturday badges left in the sale), but those who walked away victorious also undoubtedly had a boosted sense of accomplishment.
It wasn't all sweat and tears, though. We held a live reunion for many of the key players in Comic Con: Episode IV: A Fan's Hope, and shared the news of a Star Wars Fan Breakfast, which quickly became one of the hardest offsite events to get into.
In June, we also discovered a lot about what outside the convention center would look like. We learned of the Vikings: Interactive Waterway, the Ender's Game experience, MTV2's Party in the Park, and more.
In the world of exclusives, Gentle Giant, Entertainment Earth, Hasbro, Mattel and even Marvel rolled out most of their Comic-Con exclusives. Our own Shawn Marshall, The Con Fluence, shared his tips for how to make sure you didn't leave the convention empty-handed.
CONFIRMED: X-Files 20th Anniversary Panel at SDCC [UPDATE 4 – Duchovny, Anderson, Ballroom 20]
CCI Releases 2013 Badge Resale Info
The COMIC-CON EPISODE IV: A FAN'S HOPE Movie Reunion!
The Con Fluence Answers Your Questions on SDCC Exclusives
What news leading up to Comic-Con this year got you the most excited? Let us know in the comments!