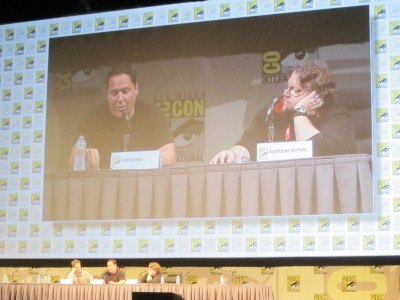 We've been asked quite a bit for this, and as we are uncovering more and more panels this year in our "Under The Tents" column we wanted to help out our readers by compiling all of the announcements and reveals into one single post.
We'll be updating this post all the way until the schedules are officially announced on Thursday, July 4.
PREVIEW NIGHT – WEDNESDAY JULY 17
THURSDAY JULY 18
Annoying Orange: Join the cast and crew of Annoying Orange for a slam-packed, manic musical mash-up, featuring: an exclusive look into the show's unique production process, an epic new episode premiere, a live musical number, a Toby Turner dance, and insight into the emerging creative bridge between Internet and traditional television entertainment. The Annoying Orange panel that includes Dane Boedigheimer (creator, Orange, Pear, Midget Apple, Marshmallow), Toby Turner (Nerville), iJustine (Passion Fruit), Tom Kenny (Coconut, Guava), Rob Paulsen (Broccoli Alien Overlord), Tom Sheppard (co-creator, director, Li'l Squishy, Old Man Banana), Gary Binkow (EP) and Conrad Montgomery (Cartoon Network Executive).
Beauty & The Beast (12PM-12:45PM): Paging all Beasties! Kristin Kreuk (Smallville) and Jay Ryan (Terra Nova)  along with executive producers Jennifer Levin (Without a Trace) andSherri Cooper (Brothers and Sisters) invite all #Beasties to join them for an exclusive discussion of what is ahead for #VinCat and the sophomore season of the breakout fan-favorite series from The CW network.  The cast and producers have a special surprise for fans at the panel which will be moderated by Jenna Busch from Fanhattan.com.
Dexter (6:30-7:30; Hall H): Stars Michael C. Hall, Jennifer Carpenter, David Zayas, James Remar, Yvonne Strahovski, and EP's John Goldwyn, Sara Colleton, Scott Buck and Manny Coto.
Divergent: Q&A with DIVERGENT'S filmmakers and cast, including novelist Veronica Roth, director Neil Burger, and cast members Shailene Woodley, Theo James, Miles Teller, Maggie Q, Ansel Elgort, Mekhi Phifer, Ben Lamb, Ben Lloyd-Hughes and Christian Madsen.
DreamWorks Animation Filmmakers Panel
Ender's Game (Hall H): The panel will include cast members Harrison Ford, Asa Butterfield, Hailee Steinfield and Abigail Breslin. Also in attendance are producer Bob Orci and director Gavin Hood.
Escape Plan(Hall H): Arnold Schwarzenegger and Sylvester Stallone
Ghost Ghirrls (1PM-2PM; Indigo Ballroom): Jack Black, Amanda Lund, Maria Blasucci, Jeremy Konner, Erin McPherson
Hannibal (6:45 PM-7:45PM; Room 6A): The panelists will include Bryan Fuller, Hugh Dancy ("Will Graham"), David Slade (executive producer/director) and Martha De Laurentiis (executive producer). [via IGN]
The Heart, She Holler (6PM-7PM; Room 25ABC): Patton Oswalt, Amy Sedaris, John Lee, Alyson Levy and Heather Lawless to participate.
I Know That Voice (4:45PM-5:45PM; Room 6BCF): Insider clips and a Q&A session with panelists John DiMaggio, Billy West (Futurama, The Ren & Stimpy Show), Tom Kenny (Spongebob Squarepants, Brickleberry), Rob Paulsen (TMNT, Pinky and the Brain), Dee Bradley Baker (Legend of Korra, Clone Wars), Fred Tatasciore (Hulk, Ben 10), Andrea Romano (Animaniacs, Pinky and the Brain), Tommy Reid (Producer) and Lawrence (Shapiro).
Intelligence (10AM-11AM): Josh Holloway (Lost) makes his highly anticipated return to television in the new CBS series INTELLIGENCE, with co-stars Meghan Ory (Once Upon a Time) and Marg Helgenberger (CSI: CRIME SCENE INVESTIGATION).
MAD: Get a glimpse behind the MADness with MAD television producers Kevin Shinick and Mark Marek.
Mattel Presents: How Toys Are Made (10-11AM; Room 25ABC): Join the Mattel Entertainment Brands Design Team for a journey through the history and evolution of Mattel action figures. From our earliest offerings through our latest brand launch of Max Steel®, we will take you through the last 35 years of our action figure portfolio, highlighting the significant advances and design innovations of our brands throughout the years. We also will have a Q+A with a panel of premier Mattel action figure designers and historians representing WWE®, MOTU, DCU, Max Steel®,Man of Steel™ and Batman™ that will take on any and all questions about our many action figure brands.
Mattel and WWE®: Bring on the Action! (1-2PM; Room 25ABC): Here's your chance to attend Miz TV with special guest Dolph Ziggler! The Miz will host as Mattel toy designer Bill Miekina and marketing manager Mitchell Camerondiscuss the latest in WWE® action figure news and give sneak peeks at upcoming product. You never know what surprises are in store! See you there!
Murder Police: Creators David Goodman and Jason Ruiz, as well as voice talent Will Sasso, Chi McBride, Peter Atencio and Justina Machado.
Nick Re-Mix (2PM-3PM; Room 7AB)
Psych: Panelists include Roday, Dulé Hill, Corbin Bernsen, Lawson and Timothy Omundson, along with Kirsten Nelson. Also joining the panel are creator and executive producer Steve Franks, and executive producers Chris Henze and Kelly Kulchak. The night before, the show will hold an exclusive midnight screening of the upcoming Psych: The Musical two-hour episode airing this winter on USA.
The Sidekick (3PM-4PM; Indigo Ballroom): Panelists will include Rob Benedict, Michael J. Weithorn, Josh Meyers, Jordan Peele, Martin Starr, Richard Speight Jr. and cinematographer Steve Lubensky. The Sidekick also stars Ike Barinholtz, Jason Ritter, Sam McMurray, Laura Silverman and Fred Stoller.
South Park: The Stick of Truth (6PM; Room 6BCF): The creators of South Park, Trey Parker and Matt Stone, will discuss their upcoming South Park videogame, South Park: The Stick of Truth. Parker and Stone will talk role playing games, their vision for an interactive South Park adventure, and creating The Stick of Truth, the epic quest to become… cool.
Star-Crossed (11AM-12AM): Join Matt Lanter (90210, Star Wars: The Clone Wars), Aimee Teegarden (Friday Night Lights), Grey Damon (Secret Circle, Nine Lives of Chloe King) along with executive producers Adele Lim (One Tree Hill), Meredith Averill (THE GOOD WIFE), Josh Appelbaum and Andre Nemec (Mission Impossible, Alias), and Scott Rosenberg (Gone In 60 Seconds, Con Air) for a first-look at a futuristic story of forbidden love,STAR-CROSSED, from The CW network.
Teen Wolf (6PM-7PM): Teen Wolf cast members Tyler Posey, Dylan O'Brien, Tyler Hoechlin, Crystal Reed, Holland Roden, Daniel Sharman, Max Carver, Charlie Carver and Executive Producer Jeff Davis are taking Comic-Con by storm again, and giving fans an exclusive first-look at an all-new trailer, along with the latest scoop from season three during the Q&A session. [via EW.com]
TV Guide Magazine Celebrates The X-Files' 20th Anniversary (3:30PM; Ballroom 20): TV Guide Magazine Los Angeles bureau chief Michael Schneider leads a panel that is scheduled to include series creator Chris Carter, actors Gillian Anderson and David Duchovny, plus writers/producers David Amann, Vince Gilligan, Howard Gordon, Darin Morgan, Glen Morgan, John Shiban, Jim Wong and more guests to come.
Web Creators Assemble! (7:30pm; Room 24ABC): Joining the: panel will be Jane Espenson (tv writer/producer Once Upon a Time, Buffy), Brad Bell (Husbands), Tara Platt (Shelf Life), Katrina Hill (Gamers Anon), Alex Langely (Super Knocked-Up), Sandeep Parikh (The Guild, The Legend of Neil) and Jourdan Gibson (The Cell).
Wilfred (4PM-5PM; Indigo Ballroom): Screening and Q&A:  Elijah Wood stars as "Ryan," a young man struggling unsuccessfully to make his way in the world until he forms a unique friendship with "Wilfred," his neighbor's canine pet, played by Jason Gann, who co-created and starred in the Australian version of Wilfred in 2007. While everyone else sees Wilfred as just a dog, Ryan sees a crude and surly man in cheap dog suit. Join Jason Gann with Wilfred co-stars Fiona Gubelmann and Dorian Brown as well as showrunners Eli Jorné and Reed Agnew and executive producer David Zuckerman as they discuss bringing this unique, live-action comedy to life.
Adobe Photoshops and Artists (3PM-4PM; Room 30CDE): Adobe Photoshop insights from the Photoshop Team and Pro artists.
Artist as Band: Rise of the Artist Entrepreneur (7:30PM-8:30PM; Room 8): With Donato Giancola, Stephan Martiniere, Alfred Paredes, Daniel and Dawna Davis (Steam Crow).
Blu-Ray Producers Panel (4PM-5PM; Room 5AB): The Digital Bits returns with a panel featuring some of the best special edition content creators and indie BD studios in the business.
Comics and the Violent Past (10:30AM-12PM; Room 26AB): Ghenwa Hayek (Claremont McKenna College) examines how graphic fiction has flourished in Lebanon as a post-war generation copes with the burden of memories and a younger generation thirsts to know more. Andrew J. Friedenthal (University of Texas at Austin) compares Justice Society of America comics in the Golden Age with the 1980s' retconned account of their World War II adventures to show how escapist literature helps us deal with history as it happens and after. Sam Cannon (University of Texas at Austin) investigates how Fábio Moon and Gabriel Bá's graphic novel Daytripper calls into question racial and national identities as well as the possibility of survival in contemporary Brazil.
Crossover Series: Comics to College Writing (1PM-2PM; Room 26AB) Writing instructors Rich Shivener (Northern Kentucky University), John Silvestro (Miami University), and Alex Jenkin (Miami University) discuss how they incorporate Batman, Scott McCloud, Will Eisner, and select indie comics into freshman-level college courses with diverse audiences, even those who are not fans of comics, considering both comics and academic writing as different methods to express arguments, narratives, and ideas. They reveal how students can use academic writing to analyze, realize, and understand comics, and comics to think about the limitations of academic writing and what it can and cannot show.
Geek Therapy: How Superheroes Empower All of Us (12PM-1PM; Room 26AB)—Psychologist Patrick O'Connor (The Chicago School of Professional Psychology; Comicspedia) and Licensed Psychotherapist Josué Cardona (Geek Therapy Podcast) discuss geek culture, the psychology of superheroes, and the therapeutic value of comics. Laura Vecchiolla and Elizabeth Smith (The Chicago School of Professional Psychology) and Licensed Psychologists Frank Gaskill and Dave Verhaagen (Southeast Psych) join them to provide the ultimate expertise on the healing power of superheroes. Travis Langley (Batman and Psychology: A Dark and Stormy Knight) moderates.
Horror Comics panel (7PM) – Adam Egypt Mortimer, Twisted Twins Productions
Horror Masters of the Web (11:30AM; Room 24ABC): FEARnet's own editor-in-chief Lawrence Raffel will be on the panel, along with Shock Till You Drop's Ryan Turek, Bloody Disgusting's Evan Dickson, Dread Central's Heather Wixson, JoBlo's Jimmy O, and Rotten Tomatoes' Grae Drake.
How to Get New Coverage (for Small Press) (10:30AM-11:30AM; Room 8)
How To: Motion Books (12:15PM-1:15PM): Covering the essential steps for creating dynamic Motion Books, soon to be a new tool on deviantART.
Insight Into Indie Publishing (1PM; Room 9): This year's panelists are BuyIndieComics.com and DWAP Productions creator Dale Wilson; Todd Harris; Dani Dixon, entrepreneur/creator of Tumble Creek Press; Larry Welch, former senior art editor at Malibu Comics and currently freelance comic book inker for Marvel and Black Inc! Imprints; Andre Owens, "Force Galaxia" creator; TV and film story illustrator, comics creator and winner of the inaugural "Glyph" Rising Star Award, Robert Roach. HOUR #2: Hollywood screenwriters and graphic novel producers Brandon M. Easton (ThunderCats (2011), Transformers: Rescue Bots), Geoffrey Thorne (TNT's Leverage, Ben 10), Jonathan Callan (Ben 10, Generator Rex), veteran screenwriter Tony Puryear (the Schwarzenegger film Eraser) and actress/writer Erika Alexander – "Maxine Shaw" from Living Single & (Concrete Park graphic novel from Dark Horse).
Keep 'Em at the Edge of Their Seats (4PM): Roger Hobbs, James Rollins
The Legendary Animators of Classic 60s Cartoons (5PM): Legendary and award-winning animators Bob Singer and other artists from Disney, Warner Brothers, & Hanna Barbera.
MEGA64: DECADE OF PERFECTION (8PM)
Not Guilty Due to Zombification (8PM-9:30PM; Room 7AB): Guests: @LawATMultiverse, @jefftrexler, Broadcast Thoughts (@BTdocs)
Not So Strange Bedfellows: The Relationship Between Comics and Pro Wrestling (8PM-9PM; Room 9): Guests: Rik Offenberger (First Comic News.com), Francis Szyskowski (The Massacre Twins), Todd Tochioka (Working Snug.com), Scott Lost (Scott Lost-Art), and Rob Van Dam (WWE Monday Night Raw).
Ode to Nerds (1:45PM): Chuck Palahniuk
The Pitching Hour (12PM-1PM): Distinguished panel of Pros from TV/Film Comics and Gaming teach you how to exploit & protect your dreams.
PodcrashShow LIVE (7PM; Room 25ABC): Guests: Adrianne Curry, Chris Gore, Stephen Kramer Glickman, Yoshi Obayashi
The Scoop at Simon & Schuster (7PM-8PM; Room 9)
The Secrets of Writing (11AM-12PM; Room 32AB): Bruce Boxleitner (Lantern City), Jimmy Diggs (The Crypto-Historians), Matt King (The World of Steam) and Marc Scott Zicree (Space Command).
Teaching Comics (2PM-3PM; Room 26AB): Aaron Kashtan (Georgia Institute of Technology) discusses why and how instructors can use comics to make students more aware of the materiality of media, both when analyzing media artifacts and when producing media artifacts of their own. Jeremy Johnson (University of Minnesota) describes empirical research on how teachers taught middle school students about the Holocaust by using comics creation to share a non-fiction, research-based story. Peter Carlson (Green Dot Public Schools, UCLA) and Antero Garcia (Colorado State University) share the findings from their own research on how comic books can serve as tools to foster dialogue and nurture relationships that empower students.
Teenage Mutant Ninja Turtles: Action Figure Showcase (2PM-3PM; Room 25ABC): Hear what's now, new and next for our favorite action figures! The panel will offer sneak peeks at future toys and attendees can ask questions of 'team green' members who've worked on all three incarnations of the Turtles since their debut decades ago.
Toy Break Panel (8PM-9PM; Room 32AB): Join us to find out how action figures, mini figures, plush characters, and resin collectibles come to life with the help of veteran toy makers George Gaspar (October Toys), Scott Tolleson (Stolle Art), H. Eric 'Cornboy' Mayse (The Four Horsemen), and Jay Garcia (MANA Studios). Moderated by Ayleen Gaspar (Toy Break).
An Unofficial Sneak Peek of The Hobbit: The Desolation of Smaug (5:30PM-6:30PM; Room 6A): TheOnering.net returns to Comic-Con bringing the latest reports and rumors from the set of The Hobbit along with surprise guests!
Video Games to Movies: Is the Golden Age Upon Us? Moderated by journalist Ben Fritz, panelists include Adrian Askarieh (Hitman, Fox's Agent 47, CBS Films' Deus Ex, Nu Image's Kane and Lynch); Blur Studio's Tim Miller (Batman: Arkham, Halo, Fox's Deadpool, and Legendary's Gravel adaptation); Justin Marks (Street Fighter: The Legend Of Chun-Li, He-Man, and EA's vidgame Army Of Two: The 40th Day); EA Entertainment VP Patrick J. O'Brien (DreamWorks' Need For Speed); Kevin Tancharoen (New Line's Mortal Kombat, Mortal Kombat: Legacy); C. Robert Cargill (Sinister, Deus Ex); and Ian Moffitt (Head of Premium Programming, Machinima).
The Writer's Journey: Breaking in to Hollywood and Comic Scriptwriting (2PM-3PM; Room 9): Guests: Brandon Easton
FRIDAY JULY 19
The 100: Series stars Eliza Taylor, Thomas McDonell, Marie Avgeropoulos, and Henry Ian Cusick join executive producers Matthew Miller and Jason Rothenberg.
Adventure Time: What's ALGEBRAIC and SCHMOWZOW and RIGHTEOUS all over? It's Adventure Time! Holy Stuff! Cartoon Network is bringing its hit original comedy series Adventure Time to San Diego Comic-Con 2013! As if chatting up the coolest kids in the cartoon kingdom wasn't enough; get ready for your eyeballs to be fixed on some never-before-seen content, and your jaw to drop at a rad surprise…or two. So come on, grab your friends! Let's get this party started! The panel features: Adventure Time creator Pendleton Ward (Lumpy Space Princess), Jeremy Shada (Finn), John DiMaggio (Jake), Tom Kenny (Ice King), Olivia Olson (Marceline), Kent Osborne (Head of Story) and Adam Muto (Supervising Producer).
Almost Human: Step into the future with series stars Karl Urban, Michael Ealy and executive producer J.H. Wyman.
Archer (5PM-6PM; Indigo Ballroom): Screening and Q&A: Archer is an animated comedy that revolves around the International Secret Intelligence Service (ISIS) and its employees who use every covert operation and global crisis as another excuse to undermine, sabotage and betray each other for personal gain. Join the voice cast of H. Jon Benjamin, Aisha Tyler, Chris Parnell, Amber Nash and Lucky Yates, plus series creator Adam Reed and executive producer Matt Thompson as they discuss bringing this animated series to life.
The Amazing Spider Man 2 (Hall H): Andrew Garfield
Assassin's Creed IV Black Flag (2PM-3PM; Room 6BCF): Featuring a live demo and in-depth look at the Golden Age of Pirates, meet and ask questions to the current torchbearers for the Assassin's Creed franchise including Assassin's Creed IV Black Flag writer Darby McDevitt, comic book writer Brenden Fletcher and legendary comic book artist Todd McFarlane.
Banshee: Panelists include EP Greg Yaitanes, EP Jonathan Tropper and stars Antony STarr, Ivana Milicevic, Hoon Lee and Lili Simmons.
The Big Bang Theory: In a panel sure to be filled with debate and discussion — and more than a few surprises — executive producers Steven Molaro and Bill Prady and the writers of The Big Bang Theory take fans behind the scenes of TV's #1 comedy.
Blacklist: James Spader, Megan Boone, Diego Klattenhoff and EPs Jon Bokenkamp, John Eisendrath and John Fox will preview the freshman drama.
Bob's Burgers: The entire cast, featuring H. Jon Benjamin, Dan Mintz, Eugene Mirman, John Roberts, Kristen Schaal and Larry Murphy, will be on hand for the screening and panel.
Bones: Creator and EP Hart Hanson, EP Stephen Nathan and star David Boreanaz all return with unseen footage and a Q&A session.
Brickleberry: A full new episode of season two will debut with an intro from creators and eps Waco O'Guin and Roger Black.
Children's Hospital (1PM-1:45PM; Indigo Ballroom): Creator/star Rob Corddry and executive producers David Wain and Jonathan Stern join cast members Lake Bell, Erinn Hayes, Ken Marino and Rob Huebel for a sneak peek of the show's upcoming fifth season.
Cloudy With a Chance of Meatballs 2 (Hall H): Anna Faris, Terry Crews, Cody Cameron, Kris Pearn
Defiance (10:30AM-11:30AM; Room 6A): Earth has changed, and entertainment will never be the same. Join Grant Bowler (Nolan), Julie Benz (Amanda Rosewater), Stephanie Leonidas (Irisa), Tony Curran (Datak Tarr), Jaime Murray (Stahma Tarr), Jesse Rath (Alak Tarr), Executive Producer Kevin Murphy and more from Syfy's groundbreaking multi-platform series as they discuss the overwhelming success of Defiance (the show and game) and share exclusive details from the second season.  Moderated by Maureen Ryan, TV Critic for Huffington Post.
Elfquest (6:30PM; Room 24ABC): Samantha Thorpe will join creators Wendy and Richard Pini, producing partner Paula Rhodes and Managing Editor of Boing Boing Rob Beschizza as they celebrate three and a half decades of the longest-running fantasy graphic novel series and surprise fans by what's planned as the story builds to its most ambitious chapter yet, "Final Quest"; which will be published by Dark Horse in the fall.
The Eric Andre Show and Hot Package (2:30PM-3:15PM; Indigo Ballroom): Eric Andre, Hannibal Buress, Derrick Beckles to participate. 2:30-3:15 p.m., Indigo Ballroom.
Extraction: Filmmaker Tony Giglio hopes to bring "Jon Foo, Falk Hentschel, Joanne Kelly and Sean Astin".
Falling Skies: The Falling Skies panel will feature series stars Noah Wyle, Moon Bloodgood, Will Patton, Drew Roy, Connor Jessup, Colin Cunningham and Sarah Carter, along with executive producers Remi Aubuchon and Greg Beeman. Sci-fi fan favorite and series guest star Doug Jones will round out the panel. Wil Wheaton will serve as the moderator.
The Following: Become a follower with stars Kevin Bacon, Shawn Ashmore and Valorie Curry joining executive producers Kevin Williamson and Marcos Siega.
Grimm Fairy Tales Animated (12PM-1PM; Room 4): Zenescope Entertainment co-founders and co-producers Joe Brusha (Grimm Fairy Tales, Neverland, Oz) and Ralph Tedesco (Grimm Fairy Tales, Inferno, Salem's Daughter) along with director/producer Jon Schnepp (The Venture Bros, Metalocalypse, ABCs of Death) discuss the Grimm Fairy Tales Animated pilot. Come find out about this horrific re-imagining of the Grimm Fairy Tales from Zenescope Entertainment, Titmouse Inc and Schneppzone.
Haven (3PM; Room 6DE): Eric Balfour, Emily Rose, Adam Copeland, Colin Ferguson, Lucas Bryant
Helix (11:45AM-12:45PM; Room 6A): Leave sunny San Diego behind for an icy chill as the team behind Helix (Executive Produced by Battlestar Galactica's Ronald D. Moore) discusses Syfy's hotly anticipated new series. Get an inside look at the thriller about a mysterious outbreak at a desolate Artic outpost. The truth will spread!  Moderated by Entertainment Weekly's Geoff Boucher.
Husbands (8PM): Guests: Jane Espenson, Brad Bell
The Legend of Korra (11:15AM-12:15PM; Ballroom 20):
Marvel's Agents of S.H.I.E.L.D.: Panel to include Joss Whedon, Marvel's head of TV Jeph Loeb and additional special guests, including Clark Gregg.
Mattel Presents: Mattypalooza 2013! (11AM-12PM; Rom 25ABC): It's that time again! Join us for the toy panel to beat all toy panels – Mattypalooza! Celebrating our 5th year at SDCC, come get the inside scoop on your favorite collectables from Mattel: Masters of the Universe® Classics, DC Comics™ Signature Series, Watchmen™, Ghostbusters™ and more! Plus as a special bonus attendees will have the opportunity to vote on an upcoming MOTUC monthly figure: Huntara vs. Lord Masque – you decide who gets made! Be there for a major announcement as Mattel partners with one of the biggest names in pop culture to bring you exciting new collectables you will have to see to believe! The panel will also include an insightful Q & A with Mattel toy designers, Mattel Marketing Manager Scott "Toy Guru" Neitlichand special guests The Four Horsemen. It's the place to be for the world premiere of tons of new toys and collectibles!
Mattel and DC Comics – A Celebration for Collectors of All Ages! (3-4PM; Room 25ABC): For fans of all ages, from kids to seasoned collectors, you won't want to miss the exciting news, reveals, giveaways, and even the trivia game that this panel has to offer! Ruben Martinez and Bill Benecke (Mattel toy designers), Jessica Sikca andDanielle McLachlan (Mattel marketing team), Julian Montoya (VP, Warner Bros. Consumer Products), Kevin Kiniry (VP, Creative Services DC Entertainment), a member of the Warner Bros. Interactive Entertainment (WBIE) team, members ofThe Four Horsemen Toy Design Studios, and other special guests will celebrate the BATMAN™ Classic TV Series and MAN OF STEEL™ product lines, announce ALL NEW product lines, reveal upcoming products, and give you a few special sneak peeks from the DC Comics™ and Batman™ toy lines. There will be a Q&A, a trivia game that you won't want to miss and an exciting toy giveaway for everyone who attends! Join us for this celebration for collectors of all ages.
Mortal Instruments: City of Bones: Lily Collins, Jamie Campbell Bower, Robert Sheehan and Kevin Zegers, director Harald Zwart and author Cassandra Clare.
Nikita: Nikita makes its Comic-Con farewell with stars Maggie Q, Shane West, Lyndsy Fonseca, Aaron Stanford, Melinda Clarke, Devon Sawa and Noah Bean joining executive producer Craig Silverstein.
NTSF:SD:SUV (1:45PM-2:30; Indigo Ballroom): Paul Scheer, Karen Gillan, Jon Stern, Curtis Gwinn, June Raphael, Martin Starr, Brandon Jackson to appear.
Orphan Black (7PM-8PM; Room 7AB): Tatiana Maslany, Jordan Gavaris, Dylan Bruce and co-creators Graeme Manson and John Fawcett.
The Paranormal and Extraterrestrial Squad (4:45PM-5:45PM; Room 5AB): Join producers Milo Ventimiglia (Heroes) & Russ Cundiff and creators/stars John Dale & Michael Hobert as they introduce a new digital series about the misadventures of a ragtag group of ex-community college students searching for paranormal and extraterrestrial (PET) activity.
Regular Show: Care to join the not so regular cast and crew for an eventful hour of OVER THE TOP regular? Yeeeeeeeeuh you do!! Cartoon Network brings the magic makers of its Emmy Award®-winning original comedy series Regular Show to San Diego Comic-Con 2013! Check out exclusive content and get the inside scoop on your favorite slackers, and some of their closest friends. The panel features: Regular Show creator, JG Quintel (voice of Mordecai), William Salyers (voice of Rigby), Sam Marin (voice of Benson, Pops, and Muscle Man), Sean Szeles (Supervising Director), Toby Jones (Storyboard Artist) and Calvin Wong (Storyboard Artist).
Riddick: Guests: Vin Diesel, Katee Sackhoff
Robocop (Hall H): Joel Kinnaman, Abbie Cornish, Samuel L. Jackson
Robot Chicken: Co-creators/executive producers Seth Green and Matthew Senreich are joined by head writers/co-executive producers Douglas Goldstein and Tom Root, actor/writer Breckin Meyer, writer/director Zeb Wells, and DC Entertainment Chief Creative Officer Geoff Johns, to discuss the Emmy-winning series. Come watch a sneak peek and get your questions answered about the upcoming new season and the next Robot Chicken DC Comics Special. Keith Crofford, vice president of production for Adult Swim, will moderate the panel.
Sleepy Hollow: EPs Alex Kurtzman and Roberto Orci (Fringe) and Len Wiseman will unveil the new project with an exclusive, world premiere screening of the Pilot followed by a Q&A with fans featuring series lead Tom Mison and Nicole Beharie.
Stan Lee's World of Heroes (10:15AM; Room 6BCF)
Teenage Mutant Ninja Turtles (2:15PM-3:15PM; Room 6A)
Tom Clancy's Splinter Cell Blacklist (5-6PM; Room 23ABC): Ubisoft Toronto's Creative Director Maxime Beland, Game Director Patrick Redding, and Art Director Scott Lee will provide an in-depth look at Sam Fisher and his latest, most thrilling mission to date. Comic Writer Nathan Edmondson will also provide details on the companion comic, Splinter Cell Echoes.
TV Guide Magazine Fan Favorites: Moderated by president/editor-in-chief Debra Birnbaum, a lively discussion filled with behind-the-scenes scoop. Panelists (subject to change) include Candice Accola (The Vampire Diaries), Kristin Bauer (True Blood), Katie Cassidy (Arrow), Henry Ian Cusick (Lost), Yvonne Strahovski (Chuck, Dexter), Giancarlo Esposito (Revolution, Breaking Bad), Danai Gurira (The Walking Dead), Tyler Hoechlin (Teen Wolf), and Joseph Morgan (The Originals).
The Venture Bros.: Show creators Jackson Publick and Doc Hammer will discuss the original series, now in its fifth season, and answer fan questions. They will be joined by the voice of Brock Samson, Patrick Warburton (Seinfeld, The Tick).
Veronica Mars: Rob Thomas, Kristen Bell, Enrico Colantoni, Ryan Hansen, Jason Dohring, Tina Majorino, Krysten Ritter, Chris Lowell, Percy Daggs III and Francis Capra.
Vikings (6-7PM; Room 6A): Panel to include Travis Fimmel, Katheryn Winnick, Clive Standen, George Blagden, Gustaf Skarsgard, and Jessalyn Gilsig, with Michael Hirst (Writer/Creator), and Dirk Hoogstra (EVP and General Manager, HISTORY).
The Walking Dead: Andrew Lincoln, Norman Reedus, Steven Yeun, Lauren Cohan, Danai Gurira, David Morrissey, Chad Coleman, Scott Wilson, Executive Producer and Showrunner Scott Gimple, Executive Producer Gale Anne Hurd, Executive Producer Robert Kirkman, Executive Producer David Alpert and Executive Producer and Special Effects Make-up Supervisor Greg Nicotero.
All Shapes and Sizes Welcome: Body Image & Women's Issues in Entertainment (7PM-8PM): Leah Cevoli (Robot Chicken), Miracle Laurie (Dollhouse), Adrianne Curry (1st Winner of America's Next Top Model), Helenna Santos-Levy, Dani Lennon (Bite Me), Chrissy Lynn Kyle (Cosplayer), Elisa Teague (Editor-In-Chief Cupcake Quarterly Magazine), Gloria Shuri Nava.
The Art of Collaboration and the Collaboration of Artists — The Feature Film Art Department: The Art of Collaboration –and the Collaboration of Artists –(12:30PM-1:30 PM; Room 24 ABC): Moderator: Supervising Art Director John Dexter (also Pirates of the Caribbean 2 & 3), Conceptual Model Maker Jeff Frost (Star Trek Into Darkness), Lead Vehicle Designer Daniel Simon (Tron: Uprising), Graphic Designer Karen TenEyck (The Lone Ranger), Set Designer and Assistant Art Director Clint Wallace(Men in Black 3, Enders Game as Art Director).
The Casting Society of America Presents: The Casting Directors (2:20-3:20; Marriott Hall 2): Moderated by Lora Kennedy (Warner Brothers, EVP, Features Casting. CD, Man of Steel). Panelists: Roger Mussenden (X-Men: Days of Future Past), Sharon Bialy (The Walking Dead), David Rapaport (Arrow) and
Randi Hiller (Walt Disney Studios, VP Casting. CD, The Avengers).
Comics Theory (2PM-3PM; Room 26AB) Scott Daniel Boras (Winona State University) examines the sensory experience of reading comics, what it means to be a collector, and other aspects of materiality that might be lost or left behind when comic books go digital.  Neil Cohn (University of California, San Diego) will summarize what the latest research from cognitive neuroscience tells us about what happens in your brain when you read comics.  Kay K. Clopton (Ohio State University) analyzes how speech, sound, and emotive effects feed into the experience of reading American and Japanese women's comics.
Costume Designers Guild: Welcome to the New Age (5:30-6:30PM, Room 24ABC): Today's top Costume Illustrators from the Costume Designers Guild IATSE Local 892 talk about their latest projects and the changing world of illustration in the digital and 3D age. Q & A to follow. Featured panelists include: Keith Christianson (Man of Steel, Star Trek), Phillip Boute Jr. (Hunger Games: Catching Fire, Man of Steel), Constantine Sekeris (Star Trek, G.I. Joe: Retaliation), Alan Villanueva (Oz, the Great & Powerful, Enders Game, Defiance), Christian Cordella (Captain America 2: The Winter Soldier, Oblivion, 300: Rise of an Empire). After the panel, the Costume Illustrators will be available in the Autograph Hall for meet and greets and to sign autographs.
Cup O' Joe (3:15PM): Brian Michael Bendis.
Drawing Stories: What's New in YA Graphic Novels (12PM-1PM; Room 25ABC): Hope Larson, the author of "Who is AC"? Signing to follow in the autographing area.
Fan Fiction panel (2PM; Room 29A): Guests: Amber Benson (Buffy the Vampire Slayer), Rachel Caine (The Morganville Vampires series), Heidi8 Tandy (Fictionalley.org), Christina Lauren (tby789/LolaShoes, Beautiful Bastard), V. Arrow (The Panem Companion), and Anne Jamison (professor teaching courses on fanfiction at the University of Utah).
GeekED (8PM-9PM; Room 9): Join a panel of education professionals including Andrea Alfi (ABC Unified School District), Alex Belisario (UC Santa Cruz), Alfred Day (St. Mary's College), Eugene Frier (University of North Texas), Brian MacDonald (Rutgers University), and Emily Sandoval (University of Southern California) as they discuss how to appreciate and celebrate the geek in all of us!
Heroes/Creators: The Comic Art Creations of Civil Rights Legends (1PM-2PM; Room 26AB)—Civil rights leaders have long used the communicative power of the combined image and word to discuss voter registration, non-violent resistance, and human rights.  Inspired by the graphic novel trilogy March, co-written by Congressman John Lewis and Andrew Aydin and illustrated by Nate Powell, Joseph R. Givens (Louisiana State University), Andrew Aydin (March: Book One; Georgetown University), Stanford Carpenter (Institute for Comics Studies), Damian Duffy (University of Illinois at Urbana-Champaign), and John Jennings (University at Buffalo) will discuss the rich history of creative collaboration between civil rights leaders and comic creators.
How to: Fan Art (12PM-1PM): The Business of Fan Art with $makepictures, $damphyr from deviantART and *BrianKesinger.
Legends of the Knight: Batman and the Inspirational Power of Heroic Stories (10:30AM-11:30AM; Room 26AB)—The most important Batman tales are not in comic books, TV shows, or Hollywood movies. They are within the people for whom the Dark Knight has become a symbol.  Brett Culp will premiere segments from his documentary film Legends of the Knight and speak with Travis Langley (Batman and Psychology: A Dark and Stormy Knight), Vasilis Pozios (Broadcast Thought), Patrick O'Connor (Comicspedia), and Alan Kistler (Comic Book Resources) about how the modern myth of Batman inspires real people in areas of creativity, education, and overcoming adversity.
Masculinities/Femininities (11:30AM-1PM; Room 26AB): Sheila Malone (University of California, Los Angeles) investigates how Batwoman and Batgirl displace the male hero in order to fight crime and live out narratives that befit a superhero/ine in a contemporary non-hetero world where queer, disabled and renegade motorcycling are super/powerful.  Jaclyn Hymes (California State University Northridge) expands Sedgwick's theories of homosociality by applying them to Maggie and Hopey's fluid sexualities in Jamie Hernandez's "Locas" stories.  Using the lens of queer theory, Eric Schlegel explores how Wonder Woman, Superman, and Batman's distinct experiences of identity can help LGBTQ individuals, and then in turn society as a whole, understand our own identities.
Motion Picture and Television Illustrators of the Art Directors Guild —(4:30PM–5:30 PM; Room 24 ABC):  Moderator Tim Burgard (White House Down, Rise of the Planet of the Apes), Donna Cline (Bones), Gabe Hardman (Inception), Patrick Rodriguez (Pirates of the Caribbean: On Stranger Tides), Peter Rubin (Man of Steel).
Psychology of Star Trek vs. Star Wars (7:30PM-8:30PM; Room 24ABC): Join Dr. Andrea Letamendi & Dr. Ali Mattu as they bring their popular intergalactic sci-fi battle to San Diego Comic-Con. Alongside special guest panelists John Champion & Bryan Young, these two geeky psychologists once again step into the pop culture ring to debate the science behind the heroes, villains, relationships, and societies of these legendary franchises.
Scream Factory in the Bloody Flesh! (6:30PM-7:30PM): Join Cliff MacMillan (Scream Factory DVD Producer) and Jeff Nelson (Scream Factory Marketing Director) as they take you behind the scenes of Shout Factory's Scream Factory, introduce exclusive footage, and announce future releases. The panel will be moderated by Sean Clark (host, Horror's Hallowed Grounds)
Steampunk 101 (10AM-11AM; Room 25ABC): With the explosion of steampunk's popularity, many are still wondering; what exactly is steampunk?
Steampunk as a Super Culture (5PM-6PM; Room 29A): Panelists are: Paul Guinan (Creator of Boilerplate: History of a Victorian Era Robot); Brian Kesinger (Disney Artist & author of Walking Your Octopus); Trevor Crafts (Executive Producer, Lantern City), & Thomas Willeford (Founder, Brute Force Studios & author of Steampunk Gear, Gadgets, and Gizmos: A Maker's Guide to Creating Modern Artifacts).
Tarzan, Carson of Venus, and the Next 100 Years of Adventure! (10AM-11AM; Room 28DE)
Titan Comics (12PM): All attendees will receive a limited edition poster!
Tricks of the Trade (5:30PM-7PM; Room 2): Pro and Industry inside advice on art, acting, writing, filmmaking, comics and more.
Ultimates (12:30PM): Brian Michael Bendis
With Great Powers Come Great Storytelling (1PM-2PM; Room 28DE): Mark Kruger, author of "Overpowered". Signing to follow in the autographing area.
Writing for TV: From First Draft to Getting Staffed (10:30AM-11:30AM; Room 24ABC)
SATURDAY JULY 20
*Note: Warner Bros. Pictures is confirmed for Hall H on Saturday. We're still awaiting confirmation on what their panels will be.
[adult swim] Presents: Dave Willis (Squidbillies, Aqua TV Show Show) and Ned Hastings (Squidbillies, Aqua TV Show Show) will discuss the return of long-running animated series Aqua TV Show Show and Squidbillies. Christy Karacas (Robotomy) will preview season 4 of Superjail! and JJ Villard (Monsters Vs. Aliens) and Tommy Blacha (Metalocalypse) will discuss the upcoming new series King Star King. Also fans will get an exclusive look at new Adult Swim series Mr. Pickles from creators Will Carsola and Dave Stewart (Funny Or Die Presents Nick Swardson's Pretend Time).
American Dad: The American Dad panel will include world premiere of a song from the never-before-seen Christmas episode.
Arrow: Chills turn to thrills in this session with stars Stephen Amell, Katie Cassidy, David Ramsey, Emily Bett Rickards and Colton Haynes joining executive producers Greg Berlanti, Marc Guggenheim and Andrew Kreisberg.
The Awesomes: Hulu original animated series about a superhero task force. Panelists include Seth Meyers, Mike Shoemaker, Taran Killam, Kenan Thompson, Josh Meyers and more.
Bates Motel (10AM; Room 6A): Stars Vera Farmiga, Freddie Highmore, Max Thieriot, Olivia Cooke and Nestor Carbonell join executive producers Carlton Cuse  and Kerry Ehrin.
Being Human (4PM-5PM; Hilton Bayfront Indigo Ballroom): Itching to know what goes on behind the scenes of Syfy's smash hit series Being Human? Give in to your temptation and join cast members Sam Witwer (Aidan), Meaghan Rath (Sally), Sam Huntington (Josh), Kristen Hager (Nora) and Executive Producer Anna Fricke as they discuss what's in store for the new season.  Moderated by Aaron Sagers, entertainment journalist (CNN.com/MTV.com) and geek culture expert.
Captain America: Winter Soldier: Possibly part of a combined Marvel panel.
Cartoon Network New Comedies: UNCLE GRANDPA, STEVEN UNIVERSE and CLARENCE: Be the first to see an exclusive sneak peek of Cartoon Network Studio's all new line up of chuckle-inducing comedies! The panel will feature Uncle Grandpa creator Pete Browngardt, creative director Audie Harrison, and Adam Devine (Workaholics) as the voice of Pizza Steve; Steven Universe creator Rebecca Sugar and creative director Ian Jones-Quartey; and Clarence creator Skyler Page. All your questions are sure to be answered and your anticipation is sure to be electrified!
Cosmos: A Space-Time Odyssey: Brannon Braga, Neil deGrasse Tyson, Seth MacFarlane
Family Guy: A season 12 preview is on the schedule, along with Seth Green, Alex Borstein and surprise guests.
Futurama: Most of the voice cast from the series will be on hand to discuss the resurrected (and re-canceled) cartoon and introduce scenes from the upcoming "Last Episode Ever."
Grimm: David Giuntoli, Silas Weir Mitchell, Russell Hornsby, Reggie Lee, Sasha Roiz, Bitsie Tulloch, Bree Turner, Claire Coffee and EPs Todd Milliner, David Greenwalt, Jim Kouf and Norberto Barbara will be on the panel. A special preview of NBC's upcoming drama Dracula will also be screened.
How I Met Your Mother: The very Con-friendly cast — Josh Radnor (Happythankyoumoreplease), Cobie Smulders (The Avengers), Jason Segel (Freaks and Geeks), Neil Patrick Harris (Dr. Horrible's Sing-Along Blog), Alyson Hannigan (Buffy The Vampire Slayer) — join the eps for their first ever panel.
I, Frankenstein: Yvonne Strahovski
Lost Girl: Season Three and Beyond (7:15PM-8:15PM; Room 6BCF): Prodigy Pictures and Giant Ape Media present a fae-tastic panel with cast members Kris Holden-Ried (Dyson), Ksenia Solo (Kenzi) and Zoie Palmer (Lauren), joined by Jay Firestone (Executive Producer) and Emily Andras (Executive Producer) for a Q & A session moderated by Vanessa Piazza (Producer). Get behind the scenes tidbits and the first look sneak peek at Season 4.
Mattel Presents: Monster High™ 2013: Where SCREAMS come true! (11AM-12PM; Room 25ABC): Celebrate the freaky fabulous year of 13 with the Monster High™ Team! Get a freak peek at exclusive scenes from the newest Monster High™ DVD, 13 Wishes (this fall from Universal Studios Home Entertainment). The freaky talented Monster High™ voice actors, including: Erin Fitzgerald (voice of Abbey Bominable™, Spectra Vongergeist™, Scarah Screams™ & Rochelle Goyle™), Debi Derryberry(voice of Draculaura™) and America Young (voice of Howleen Wolf™& Toralei Stripe™) will discuss the making of the ghouls' latest adventure.
Once Upon a Time: Panel to feature cast and producers.
Once Upon a Time in Wonderland: Panel to feature cast and producers.
The Originals: Series stars Joseph Morgan, Claire Holt, Phoebe Tonkin and Charles Michael Davis join executive producer Julie Plec.
Person of Interest: Executive producers Jonathan Nolan and Greg Plageman join members of the cast for their third visit to Comic-Con. (You're being watched.)
Rick and Morty (5PM-5:45PM; Room 25ABC): Dan Harmon, Justin Roiland, Ryan Ridley, Spencer Grammer, Kari Wahlgren to preview the new animated comedy.
Revolution: Series stars and creator/executive producer Eric Kripke power up this panel.
The Simpsons: The 25-year-old cartoon promises never-before-seen footage from guest director Guillermo del Toro, among other things.
Strike Back: Cast members include Philip Winchester, Sullivan Stapleton, Dougray Scott, Milauna Jackson and writer Michael J. Bassett.
Thor: The Dark World: Possibly part of a combined Marvel panel
The Tomorrow People: Practice your teleportation skills and get to this session featuring series stars Robbie Amell, Mark Pellegrino and Peyton List with executive producers Greg Berlanti, Phil Klemmer and Danny Cannon.
True Blood: Kristin Bauer
The Vampire Diaries: Comic-Con veterans Nina Dobrev, Paul Wesley, Ian Somerhalder, Kat Graham and Candice Accola join executive producers Julie Plec and Caroline Dries.
Warehouse 13 (5PM-6PM; Hilton Bayfront Indigo Ballroom): Go behind the scenes of America's top-secret supernatural storage facility with Warehouse 13's Eddie McClintock (Pete), Joanne Kelly (Myka), Saul Rubinek (Artie), Allison Scagliotti (Claudia) and Jack Kenny (Executive Producer).  Take a look back at four out-of-this-world seasons and get a glimpse of what's in store for the fifth and final season of the beloved Syfy series.  Moderated by Entertainment Weekly's Geoff Boucher.
ABC Knows Talent (5PM; Room 30CDE): ABC Talent Development writers/directors, including writer Chuck Kim (Heroes) and director Rob Greenlea.
Avatar Fan Legacy Panel (11AM-12PM; Room 29A)
Costume Designers Guild: Poppin' Some Tags (4:30-5:30PM, Room 24ABC): Celebrity Costume Designers from Costume Designers Guild IATSE Local 892 dish the dirt on designing and bringing to fruition the costumes for today's hottest blockbuster films. Featured panelists include: Trish Summerville (Hunger Games: Catching Fire, Girl with the Dragon Tattoo), Gary Jones (Oz, the Great & Powerful), Christine Bieslin-Clark (TRON, Watchmen, 300), Isis Mussenden (Wolverine, Chronicles of Narnia), Mayes Rubeo (WWZ, Avatar). Moderated by Actor Ron Perlman (Hellboy, Sons of Anarchy)
Enterprise Bridge Restoration Q&A Panel (5:30-6:30PM; Room 26AB): Guests: Larry Nemeck, David Gerrold, Doug Drexler.
Film and TV Production Designers of the Art Directors Guild —(10:30 AM – 11:30 PM – Room 24 ABC)
Moderator Jim Bissell (Mission Impossible: Ghost Protocol), Corey Kaplan (Scandal, The X-Files), Alex McDowell (Man of Steel), Robert Stromberg (Oz the Great and Powerful, Avatar), Tom Sanders (After Earth, Saving Private Ryan).
Funding Your Dream – Kickstarter Fundraising (6PM-7PM; Room 9): Panelists Bryn Pryor (Cowboys & Engines), Richard Hatch (Coybows & Engines), Jimmy Diggs (The Crypto-Historians), and Marc Scott Zicree (Space Command).
How To: Creators + Audience (12:15PM-1:15 PM): The next chapter in Storytelling with $techgnotic, `yuumei, *BrianKesinger, =DeevElliott and *HalHefnerART.
How to get an Audience into your Main Character's Shoes (3:05PM-4:05pm; Marriott Hall 2): Whether your Main Character is a hero, a villain, a sidekick, or a one-of-a-kind original, empathizing with a Main Character is essential if you want your audience to experience your story at a personal level. Even the meanest Main Character is sympathetic when you get inside his head. This workshop gives you several surefire, practical techniques to get your audience squarely involved in your Main Character's personal issues.
J. Michael Straczynski Spotlight (5:30 PM)
Japan and Global Influence (12PM-1:30PM; Room 26AB): Dexter L. Thomas, Jr. traces the effect that Yutsoko Chusonji's work had on the hip-hop scene in Japan, both as an "edutainment" writer and as the woman who personally bankrolled Japan's first ever hip-hop radio show.  June M. Madeley (University of New Brunswick, Saint John) investigates the readership, viewing, and meaning-making practices of manga readers and anime viewers outside Japan, in particular in English translation.  Jonathan Valdez (San Diego State University) examines activism from the Asian American community by focusing on comics in Secret Identities: The Asian American Superheroes Anthology and Shattered: The Asian American Comics Anthology, arguing that these anthologies seek to dethrone longstanding Orientalist stereotypes.
Live Forever: The Ray Bradbury Odyssey (12PM-1PM; Room 25ABC): Guests: Joe Mantegna, Malcolm McDowell, Edward James Olmos, Dennis Franz
1PM
The Poster Session (1:30PM-3:30PM); Room 26AB—The CAC's poster session gives attendees the opportunity to interact directly with presenters.  Come talk one-on-one with these scholars about their projects!
Roddenbery Presents Panel (3PM-4PM; Room 25ABC)
Team Cul de Sac: Join Chris Sparks, editor and organizer of the Eisner Award Nominated Team Cul de Sac: Cartoonists Draw the Line at Parkinson's book. Joining him are several contributors who will talk about the creation of this amazing original cartoon art book that was done in tribute to Richard Thompson, Reuben Award winner and the creator of the comic strip "Cul de Sac."
Urban Fantasy (10AM-11AM; Room 7AB): Guests: Kevin Hearne, Marlene Perez, Max Gladston, Richard Kadrey, Liesel Schwarz, Jim Butcher
Watch Dogs (6-7PM; Room 23ABC):  Aiden Pearce, the protagonist in Watch Dogs is a tech-savvy modern-day vigilante who can hack the infrastructure of Chicago at a moment's notice. But just how realistic are Aiden's abilities? Hosted by Aisha Tyler, panelists will include security consultants from Kaspersky Lab® to talk about hyper-connectivity and the realities of how secure we really are. Kevin Shortt, lead story designer, will explain what it's like writing for a next-generation game, as well as unveiling never-before-seen footage.
What Is A Superhero? Professional and Scholarly Views (10:30AM-12PM; Room 26AB)—Contributors to What is a Superhero (Oxford University Press, 2013) explore the definition of the superhero and the role of the supervillain in the genre from a range of disciplinary, scholarly, and professional perspectives.  Co-editors Robin Rosenberg (Huffington Post) and Peter Coogan (Washington University in St. Louis), are joined by contributors John Jennings (University at Buffalo), Stanford Carpenter (Institute for Comics Studies), Dana Anderson (Maine Maritime Academy), Paul Levitz (Legion of Super-Heroes), and Fred Van Lente (Brain Boy).
When Grrls Fall in Love (11AM-12PM; Room 23ABC): Cassandra Clare, author of "Mortal Instruments" series. Signing to follow in the autographing area.
SUNDAY JULY 21
Ben 10: Omniverse: It's Hero Time! Set your Omnitrix for "AWESOME" with the Ben 10 Omniverse Panel, highlighting the Cartoon Network hero of a million alien faces! Join voice talent Yuri Lowenthal (Ben 10), Bumper Robinson (Rook), Paul Eiding (Grandpa Max), and Eric Bauza (Dr. Psychobos), as well as the guys who help make it all happen, Matt Youngberg (Supervising Producer), and Derrick Wyatt (Art Director), as they talk about the show, premiere an unseen episode, and much more!
Beware the Batman: The Dark Knight makes his return to television in this new action-packed CG animated series. Producers Glen Murakami and Mitch Watson will give fans a peek behind the cape.
Community: Gillian Jacobs, Danny Pudi, Yvette Nicole Brown, Alison Brie, Jim Rash, Ken Jeong and EPs Dan Harmon and Chris McKenna return to San Diego. The panel will be moderated by Chris Hardwick.
It's Always Sunny in Philadelphia (3PM-3:50PM; Hall H): Screening and Q&A. The Gang returns to Comic-Con with "Mac" (Rob McElhenney), "Dennis" (Glenn Howerton), "Charlie" (Charlie Day), "Dee" (Kaitlin Olson), and "Frank" (Danny DeVito). Room: Hall H. Moderator: TBD.
Mattel Presents: Max Steel®: Rise of Elementor World Premiere Screening! (12–1PM; Room 7AB): Be the FIRST to see Max and Steel team up to take on their biggest threat yet in Rise of Elementor. You will get to watch this exciting 2-part broadcast event for Max Steel® before it airs on Disney XD this fall! Will our heroes be able to defend Copper Canyon and rescue Ferrus™ from the evil Dredd™? Join us to find out, and receive a free toy giveaway!
Sons of Anarchy: Creator Kurt Sutter and stars Charlie Hunnam, Katey Sagal, Ron Perlman, Maggie Siff, Kim Coates, Mark Boone Junior, Tommy Flanagan, Theo Rossi, Dayton Callie and Jimmy Smits are all on board for the closing day panel.
SpongeBob SquarePants (1PM-2PM; Room 6A)
Supernatural (Hall H): Returning to Hall H are cast members Jared Padalecki, Jensen Ackles, Misha Collins and Mark A. Sheppard with executive producers Jeremy Carver and Robert Singer.
Hall H
Teen Titans Go!: Producer Aaron Horvath joins members of the voice cast, including Greg Cipes and Scott Menville, for this screening and Q&A. Go!
Under the Dome: The dome has descended upon Chester's Mill and there is no way in or no way out! Get a sneak peek of what's in store for the town and its residents as they become sealed off from the rest of the world in this summer's critically acclaimed series based on the bestselling book by Stephen King, from Amblin Television. Stars Dean Norris (Breaking Bad), Mike Vogel (Bates Motel) and Rachelle Lefevre (Twilight) will be joined by executive producers Brian K. Vaughan (Lost) and Neal Baer (Law & Order: SVU).
501st Legion Costuming Panel (11AM-12PM; Room 29A): Our skilled panelists will go over some of the basics to get you started on making your own costumes. Come check out what it takes to join the ranks of Lucasfilms preferred Imperial Costuming Club, the 501st Legion.
The Battle for Multicultural Heroes (4PM; Room 7AB)
Comics Battle Drawing Contest (10AM)
Comics and the Punk Aesthetic (1PM-2:30PM; Room 26AB): Comics have long had a connection with subculture.  In the punk movement, comics found an aesthetic which could help preach a message to the counter-culture.  This panel examines how both mainstream and underground comics have borrowed and used the punk aesthetic for their own means.  Christopher B. Field (Southern Illinois University-Carbondale) discusses OMAC by Jack Kirby and how the under-appreciated work uses the punk aesthetic.  Michael MacBride (Minnesota State University) examines how punk music and Justin Green's Binky Brown react differently to male sexuality.  Christopher Douglas (Southern Illinois University) compares the aesthetic of the Japanese cyber-punk manga AKIRA to the bosozoku motorcycle gangs of the 1980s.  Keegan Lannon (Aberystwyth University) discusses Grant Morrison's The Invisibles as a punk manifesto.
The Culture of Comic-Con: Field Studies of Fans and Marketing (2:30PM-3:30PM; Room 26AB): Comic-Con offers students of popular culture an amazing venue to study how culture is marketed to and practiced by its fans. Alissa Butler (University of Massachusetts-Boston), Krystal Dean (Wittenberg University), Charity Fowler (Virginia Commonwealth University), Regina Gasser (Wittenberg University), Kenneth J. Garrett (Lynchburg College), Kenley Hoover (Lynchburg College), Nathan Knoebber (Wittenberg University), Sarah Lavinder (Lynchburg College), Lauren Levitt (New York University Steinhardt), and Jessica Stephenson (University of Nebraska-Lincoln) present initial findings from a week-long ethnographic field study of the intersection of fan practice at the nexus of cultural marketing and fan culture that is Comic-Con 2013.  Matthew J. Smith (Wittenberg University) moderates.
End Bullying: Responding to Cruelty in Our Culture (4PM; Room 4)
Full Time Creative Work on Part Time Schedule (4PM-5PM; Room 24ABC)
Harry Potter: Still Magic Fan Panel (4:15 PM; Room 6DE): Sixteen years after we first went to Hogwarts, fans are still discussing, creating and gathering online and in person to share our love for J.K. Rowling's stories, and for the fandom! Look back, ahead and into the Mirror of Erised with forever HP fans including moderator Heidi Tandy (FictionAlley.org), Joey Richter & Brian Rosenthal (Team StarKid/A Very Potter Senior Year), Mark Oshiro (MarkDoesStuff.com),  Harrison Homel (International Quidditch Association), Leslie Combemale (ArtInsights), Alex Carpenter (The Remus Lupins) and Lauren Bird (HP Alliance).
Red Giant (2PM; Room 4): Creators scheduled to appear on Red Giant's one-hour panel presentation include Benny Powell (Wayward Sons), David Campiti (Exposure), Jinky Coronado (Banzai Girl), Terry Keefe (Tesla), John Gallagher (BuzzBoy), and Bobby Crosby (Last Blood). In addition, Red Giant can now confirm that actress and creator of Porcelain Ana Alexander will be joining the panel.
The Secret History of the Siegel and Shuster Lawsuits (10:30AM-11:30AM; Room 26AB)—Five years after the Siegel heirs won a historic victory and regained a share of the Superman copyright, a higher court has set aside the verdict and also shut down the Shuster estate's claim. As we face the final chapter of the Superman copyright dispute, this panel will explain what is really happening. What crucial details were overlooked or misinterpreted? Is there still hope for other creators?  Or does Superman's 75th anniversary mark the end of truth, justice and the American dream?  Moderated by The Beat's Heidi MacDonald with commentary by Siegel and Shuster biographer Brad Ricca (Case Western Reserve University), this panel features the legal analysis of Jeff Trexler (Fordham Law School), whose influential commentary on the Superman lawsuits set a new standard for comics-related legal analysis and also became part of the case.
What Are We Seeing Here? Negotiating Religious Presence and Purpose in Comics, Comix, & Webcomics (11:30AM-1PM; Room 26AB): This panel examines the intersection of religion and comics in two ways: the presentation of religion in comics and comics' influence on religion and society. Toby Braden Johnson (University of California, Riverside) discusses depictions of Islam in Teenage Mutant Ninja Turtles Adventures, considering both the comics' creators and the analysis of the comics themselves and bringing to light comics' role as a source of social and religious commentary. Sean Sagan (University of California, Riverside) analyzes the True Komix religious tracts published by new religious movement Family International during the 1970's-80's and asks how this group's sexualized theologies manifest in comic exegesis. Cori Knight (University of California, Riverside) considers acts of creation present in the webcomic Girl Genius. Set in a scientific world, the way the comic's characters create freely or undertake acts of self-creation merits investigation.
What's Behind the Door? Fiction That Thrills (1PM-2PM; Room 7AB): Brandon Mull, author of "Chasing the Prophecy". Signing to follow in the autographing area.
X-Men comics panel (12:30PM): Brian Michael Bendis
Date not yet announced:
Apocalyptic/Zombie: Nick Cole
Battlestar Galactica (35th Anniversary panel)
Epic Fantasy: Robin Hobb
The Maze Runner: James Dashner to attend, possibly not film cast.
Monsters & Mortals: Brom
Nerdist: Chris Hardwick
The Sandman: Overture: Brought to life by renowned artist J.H. Williams III, the new 6-issue miniseries  set for release on October 30, will also be the subject of an all-star panel featuring Gaiman, Williams and artists Dave McKean and Sam Kieth.
Science Fiction and the Future: David Wellington
Sherlock: The panel will include Steven Moffat (co-creator, executive producer and writer), Mark Gatiss (co-creator, executive producer and writer) and Sue Vertue (producer). We're told the actors will not be attending (not too surprising, since Benedict Cumberbatch and Martin Freeman are landing big-screen projects) but there will be "surprises."
Superman 75 panel: Featuring an all-star roster of guests, including Jack Larson (the original Jimmy Olsen from *Adventures of Superman*), first-time Comic-Con panelist Tim Daly (*Superman: The Animated Series*) and reigning animated Supergirl Molly Quinn (Castle) to comics luminaries Paul Levitz, Grant Morrison and Dan Jurgens plus talent from the current blockbuster, "Man of Steel," and a first look at the animated short chronicling the character's rich history, produced by "Man of Steel" director Zack Snyder.
Witches and Fey: C. Robert Cargill
The World's End: Edgar Wright, Simon Pegg, Nick Frost
Know of a panel we missed? Let us know in the comments, drop us a line, or tweet us at @SD_Comic_Con.