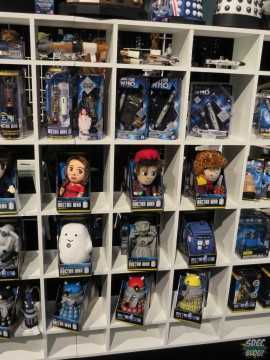 Call it Comic-Conditioning.
We hit the convention floor this week at the toy industry's biggest gathering, the annual Toy Fair trade show in New York City. Many popular SDCC exhibitors were present at Toy Fair, so we asked them to spill the beans on their convention exclusives.
Some did, but most couldn't because their designs were still pending and couldn't talk until the ink was dry on any approvals with the license holders. Others were busy trying to make a deal that would secure them that valuable license to bring to SDCC.
With that said, here's information on the exclusives you should expect to see in San Diego this year.
Icon Heroes brought attendees some nice He-Man exclusives last year, and the company was showing off its expanded line of He-Man and She-Ra merchandise during Toy Fair, like their Princess of Power letter opener. They were also showing off their newly-acquired Star Trek license, and we were told that the company will indeed have a Star Trek SDCC exclusive this year, but just can't show it yet until the final design has been approved.
Factory Entertainment, which brought us Archer and Game of Thrones exclusives last year will be back with five SDCC exclusives for 2014. We promised we wouldn't spoil their surprise, but we can tease that if you liked what they offered last year, you will love this year's line-up. The one specific exclusive we can say is a new Write Ems Dark Knight/Superman 2-pack, from the company's new Write Ems product line of DC-licensed collectible character pencils. Here's a look: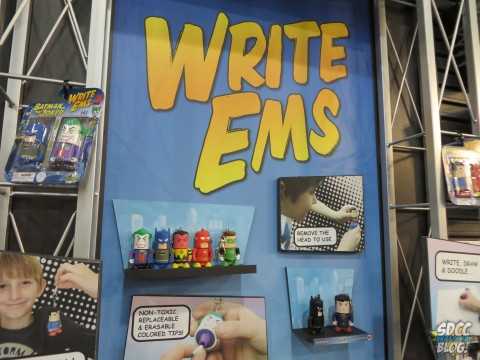 Everyone's favorite Mimoco, maker of those adorable licensed Mimobot designer USB drives, will be back and debuting their new line of BatteryBots, which were part of a successful Kickstarter campaign that was successfully funded this past fall, at SDCC. Mimoco is looking to leverage their current licenses and will have Adventure Time and Star Wars BatteryBots among the first wave available in San Diego. Here's a picture of the Finn BatteryBot: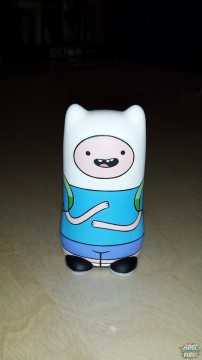 Square Enix was showing off gray prototypes of their upcoming DC Play Arts Kai figures, including their first-ever villains in the series – Harley Quinn, Joker and Darkseid. The company, which released a special variant Batman Play Arts Kai figure at last year's SDCC, said their exclusives for 2014 would most likely be from a comic license, and couldn't specifically say if it would be one of the gray prototypes shown (hint hint).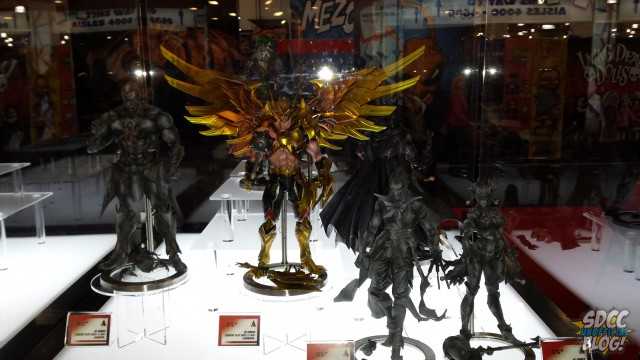 Lastly, we previously covered the Doctor Who exclusive that was lost in the transfer of the license from previous-holder Bif Bang Pow! Well, the current license holder, Underground Toys, was at Toy Fair and showing off a wall of new Doctor Who merchandise so impressive it would make a Dalek blush. We stopped by and talked with Underground Toys, which ironically is located in San Diego, about the possibility of producing an SDCC exclusive for this year, but sadly they said there are no plans at the moment to do so.
Which exclusives are you most interested in? Let us know in the comments.
[portfolio_slideshow size=large]