Hope everyone is enjoying the weekend, sipping some Lemonade by the pool and chilling with this week's SDConCast with our phenomenal guest, Doug Kline of The San Diego Comic-Con Survival Guide. We've got a ton of new SDCC info for you to check out in today's UTT, with news from a couple of big voice actors, more exclusive artwork from some great artists, and some swag news. Check it out.
And don't forget to check our Offsite Event calendar, presented by Eventbrite. New events added daily. Like the Thrilling Adventure Hour on July 26 – new details and ticket sale info.
Here's the news you might have missed:
Artist Mingjue Helen Chen posted on her tumblr page she will be taking commissions at Comic-Con this year. And via twitter, Chen also teased the cover of her latest sketchbook via Twitter, which will be at SDCC "if all goes well in the next few weeks".
If all goes well in the next few weeks, I'll have this ready for SDCC! pic.twitter.com/kZ8gJv61nM

— mingjue helen chen (@MingjueChen) June 20, 2014
It was just a couple of weeks ago when we saw Amy Mebberson's SDCC table banner that she'll be sharing with James Silvani. Now the artist tweeted out pics of Silvani's artbook you'll be able to get at the table (F07, by the way), along with "other goodies, coming soon".
Coming to SDCC booth F-07! New sketchbook by @SilvaniArt!! I will have other goodies, coming soon 🙂 pic.twitter.com/D658BdVCFm

— Amy Mebberson (amymebberson on HIVE) (@amymebberson) June 18, 2014
Bill Farmer, the voice of Disney's Goofy, will be appearing at the Business of Voice Acting panel, per a post on his Facebook page.
If you missed that chance to have breakfast with George R. R. Martin during Comic-Con, never fear, because there's still two more meals in the day. Three if you count brunch in this case, as the author has added another "Hand at the Table" prize level on his Prizeo charity auction to share second breakfast with a lucky reader on Sunday July 27. The auction includes "a signed map of Westeros and an exclusive campaign T-shirt". Oh, and did we say it was only $25,000?
Alex Ross keeps cranking out the SDCC artwork, again courtesy of a tweet from Sal Abbinati, like this beautiful X-Men print:
Alex Ross- xmen poster for #SDCC2014 @headgeek666 @MYGEEKTIME @morrowchris @GeekTyrant #comics pic.twitter.com/iLxDy3C08X

— Sal Abbinanti (@SalAbbinanti) June 20, 2014
Artist Patrick Ballesteros posted a new "Wonders" sketch on his tumblr page, and said he would be posting a new one every Friday leading up to Comic-Con. You'll be able to find Ballesteros in Artists Alley, table D08.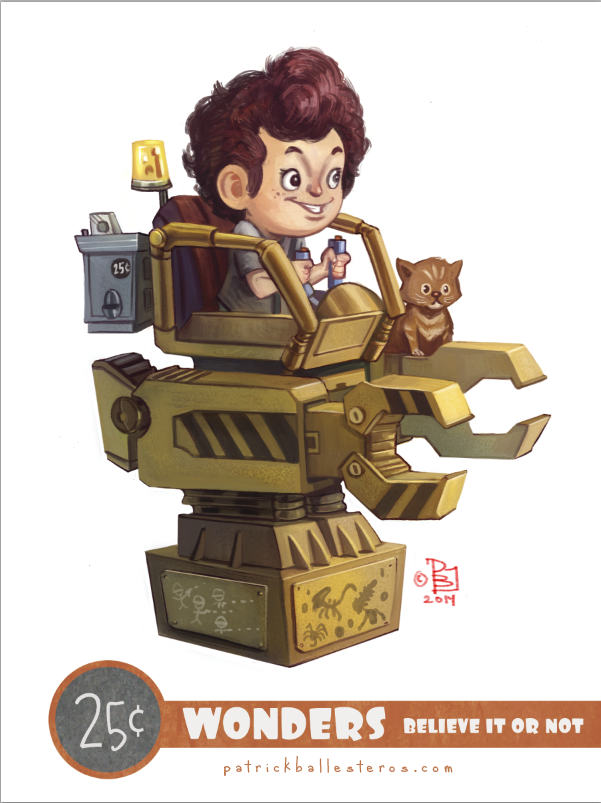 More Penguin book freebies! The publisher will be handing out advance copies of New York Times Best Selling Author Marie Lu's The Young Elites during Comic-Con, according to this Instagram post.
Andy Price, artist for IDW's My Little Pony comics, revealed via Twitter will be at SDCC in Artists Alley.
It's official gang – I WILL BE AT SAN DIEGO COMIC CON!! See me in artist alley! Huzzah!!!@Comic_Con

— Andy Price (@AndyPriceArt) June 14, 2014
The voice of Batman, Kevin Conroy, tweeted his SDCC schedule in less than 140 characters earlier today, listing a panel for the upcoming DC Animated project Assault on Arkham on Friday; taking part in the Batman 75th panel on Saturday; and signings for Friday through Sunday.
Schedule for SDCC: Friday: signing WB booth, panel Assault on Arkham, Saturday; signing table, panel Batman 75 yrs , Sunday: signing table

— Kevin Conroy (@RealKevinConroy) June 21, 2014
Anything we missed? Let us know in the comments, drop us a line or tweet us at @SD_Comic_Con.